MLB Fun Watch: The 5 Greatest Moments of May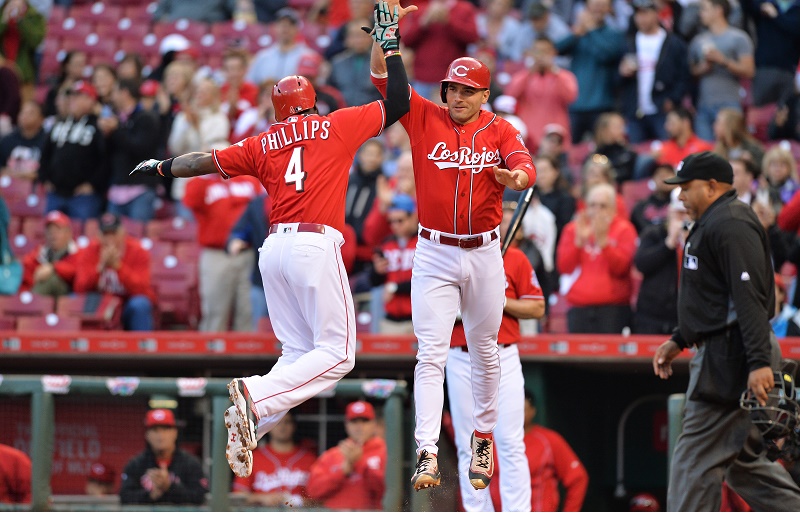 Remember the good ol' days in Major League Baseball? Guys didn't just swing fists when they got into fights; they sometimes swung bats at each other's heads, as did Juan Marichal in 1965. If you pimped a home run or simply took big a swing, you were surely getting drilled in the back at the pitcher's earliest convenience. Those days were fun. Nowadays, the best you can do is get on a 5-Hour Energy commercial or the cover of GQ.
We kid, of course, but there have been prominent ballplayers calling for more of the f-word on the field in the modern game. Bryce Harper himself has launched  a campaign to "Make Baseball Fun Again," in fact. Here at the floating MLB desk of Sports Cheat Sheet, we take these pronouncements seriously, much like the esteemed Joey Votto did following Harper's decree.
"Bryce asked us," Votto told the Cincinnati Enquirer. "It's not what the game can do for you, it's what you can do for the game. We're out here trying to make baseball fun again." While Votto and his colleagues get after it on the front lines, we promise to make their fun-making efforts known. In this first edition of MLB Fun Watch, we offer up the five best moments of May.
1. Brandon Phillips sends Uribe into a panic
Bryce Harper didn't have to enlist Brandon Phillips to make things fun again; the Reds' second baseman has been on the job for years. During a May 19 game versus Cleveland, he got the portly Juan Uribe with a fake hidden-ball trick. As you can see in the video, Uribe took his eye off the ball after the catcher tossed it back to the pitcher.
Lost in his thoughts, he ambled back to second. That's when Phillips stepped in with the empty-glove tag. No harm done, Juan! But everyone — umpire included — got a good laugh out of it. Cincinnati is a bad team, and they had lost 10 in a row heading into Memorial Day weekend. Phillips offers a lesson in how to keep things light amid the gloom. It's a game, we hear.
2. Jose Fernandez beans Raymond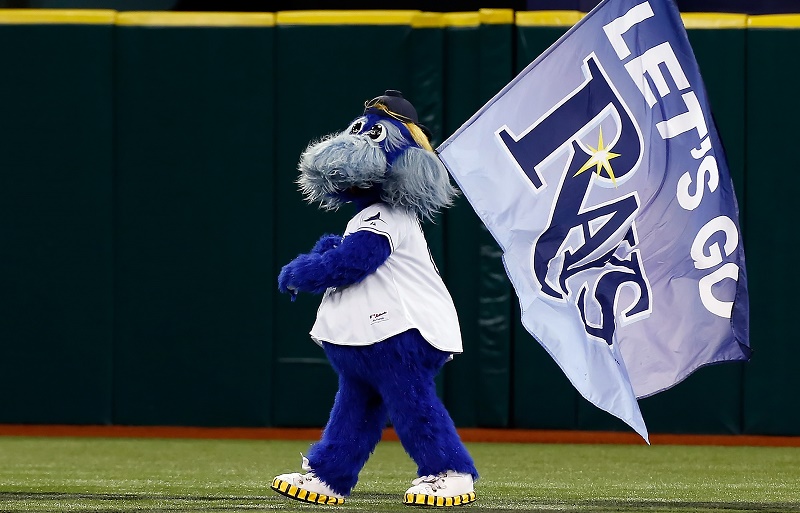 If you want to have fun watching a baseball game, show up at the park on a day Jose Fernandez is pitching. You're going to get an awesome display of power on the mound, of course, but the Marlins ace knows how to put on a show regardless of his stuff on a particular day. Take the May 26 game in Tampa, when Fernandez unleashed his wrath on Raymond, the Rays mascot who bumbles around Tropicana Field.
According to multiple reports, Fernandez drilled Raymond with a pitch for getting too close to him during pre-game warmups. "He was all over my business," he told the Tampa Bay Times. "I'm trying to concentrate. It was a little change-up that came out of my hand. Just part of the game, man. This is a game and I love to have fun." Fernandez may have a loose interpretation of fun here — mascot plunking? — but we have to give him bonus points for creativity. No video of the assault has yet to turn up online.
3. Daniel Murphy dekes Cespedes

Things may have been grim for Matt Harvey when the Mets faced the Nationals in mid-May, but Daniel Murphy was keeping things light on this play when old teammate Yoenis Cespedes was advancing on a base hit. Murph pulls out the old decoy play on La Potencia, somehow convincing the Mets slugger he had a play on the line drive to right. Obviously, he did not, but Cespedes paused just enough to ensure he would not make third base. Murphy gave him the goods a little afterwards with a ruse-appropriate smirk and flick of the chin.
4. Mike Napoli's triple
Sometimes, it doesn't take hijinx per se to make baseball fun; all you have to do is be yourself. That's the case in this example of Mike Napoli going for three on May 24 against the White Sox. Napoli seizes the opportunity when Melky Cabrera fumbles the ball in left-center. The relay throw is also juggled, and there never is a play at third base. Napoli could have walked into third if he wanted. Instead, he belly-flopped, bounced up, and dragged his chin on the ground while reaching safely on the triple.
5. Joey Votto torments Phillies fans
On May 15 in Philadelphia, Votto took his fun campaign to the Citizens Bank Park faithful, and a good time was had by all. First, Votto denied the crowd a grounder that went foul, citing the section's treatment of him during the game justification. Fair enough. Then, Votto was back at it in the dugout, pump-faking balls that never did get thrown to Phillies fans. The crowd was laughing every step of the way. He even had some fun with reporters afterwards, telling them it was more than just a coincidence.
"I have no problems with any of the Philly fans, except for the Philly fan kids," he said, smiling broadly. "I can't stand kids here. Kids drive me crazy, Philly fans especially." If Harper needs a co-chair for the campaign, we think he's found his man. In closing, we didn't find any examples of Harper doing anything to make the game particularly fun last month. Better luck in June, Bryce! MLB Fun Watch will keep an eye open.
Connect with Eric on Twitter @EricSchaalNY