MLB: The 5 Greatest Achievements of Mike Piazza's HOF Career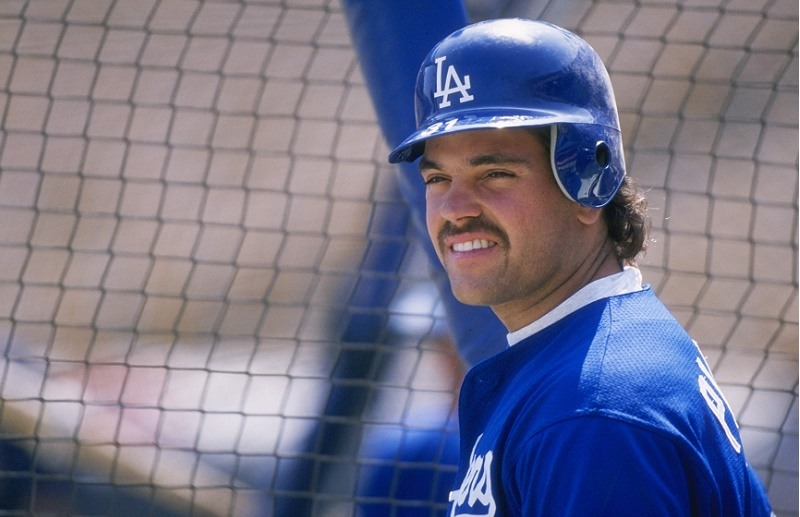 Upon entering the baseball Hall of Fame in 2016, Mike Piazza has the sort of eye-popping career stats you expect from an immortal. There are the 10 Silver Slugger awards; the 427 home runs; the .308 batting average and .922 OPS; the 1993 Rookie of the Year honors; and the 12 All-Star Game appearances. These numbers came over 1,630 games (of 1,700 total) at catcher.
But the magic of Mike Piazza was far greater than the sum of these stats. Anyone living in New York after the 9/11/01 World Trade Center attacks recalls what the man meant to a city trying to recover. For what seemed like an eternity (it was actually seven seasons and change), that trademark Piazza energy had an uncanny effect on New York fans and opponents alike — he was the Mets' Jeter, and a worthy mirror of the Yankees great from across town.
In hopes of creating an all-time highlight reel, here are the five greatest achievements of Piazza's Hall of Fame career, in no particular order.
1. Draft pick No. 1,390 wins Rookie of the Year
You may have heard Piazza was selected in the 62nd round of the 1988 draft. As a favor to Dodgers legend Tommy LaSorda, a friend of the Piazza family, Los Angeles took the young man out of Phoenixville, Pa. with pick No. 1,390. According to LaSorda, the organization didn't contact Piazza for months after the draft and apparently had no intention of signing him.
After being sent to the Dominican Republic to learn the catcher position (among a variety of other slights), Piazza clawed his way through the Dodgers system and eventually got his big-league debut in 1992. In his first full season the following year, he hit .318 and crushed 35 home runs on his way to becoming 1993 NL Rookie of the Year. Few have overcome such long odds in baseball, and few ever will.
2. The 9/11 home run to beat Atlanta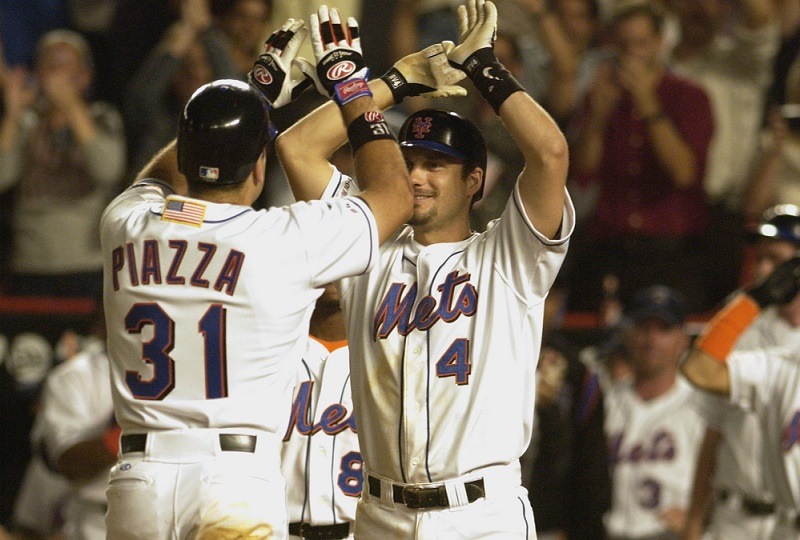 While Derek Jeter always had a flair for the dramatic, few modern New York sports moments equal Piazza's epic home run on September 21, 2001. Just 10 days earlier, terrorist attacks on the World Trade Center shook the city to its core, and this game was the first chance for people to watch baseball while smoke still wafted out of the Financial District and families grieved over the loss of loved ones.

With the Mets trailing Atlanta 2-1 in the bottom of the eighth inning, Piazza launched a two-run moonshot that sent a wave of spontaneous joy through the stands at old Shea Stadium. The home run was as clutch as it was glorious: The Mets were still in the thick of the NL East race at that point, trailing the hated Braves by 4.5 games. Piazza's game-winner left the Amazin's 3.5 back at the end of play.
3. The extraordinary 1997 season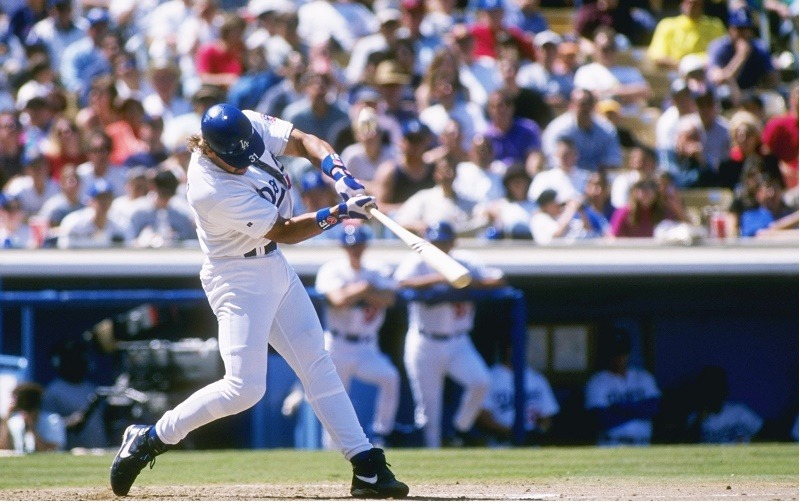 Piazza's 1997 campaign was one for the record books and is easily one of his greatest achievements. While catching 139 games, the 28-year-old hit .362 with 40 HR, 32 doubles, 201 total hits, a 1.070 OPS, and a league-best 185 OPS+. Somehow, he placed second in MVP voting that year (God won, apparently), but his 8.7 WAR from that season has never been equaled by a backstop.
Piazza never reached greater heights in his career. His next best performance came the following year when he posted a 6.3 WAR for LA, Florida, and, finally, the Mets, where he landed for the final 109 games of the season.
4. The 2000 NLCS vs. St. Louis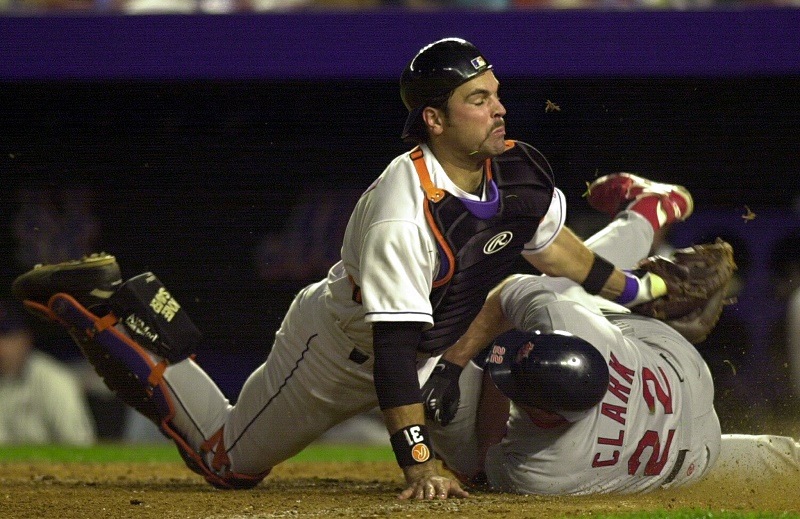 Mike Hampton pitched 16 scoreless innings, including a complete-game shutout in the Game 5 clincher, to nab MVP honors in the 2000 NLCS. Fair enough, but Piazza's performance in that series was legendary in its own right. He hit .412 with 2 HR, 3 2B, and a 1.487 OPS in five games (22 PA); he also drew five walks and never struck out.
Can a batter be more dominant in a playoff series? It is hard to imagine how, and Piazza silenced talk of his inability to hit in the postseason for good with that NLCS onslaught. It's what Hall of Famers do.
5. Greatest hitting catcher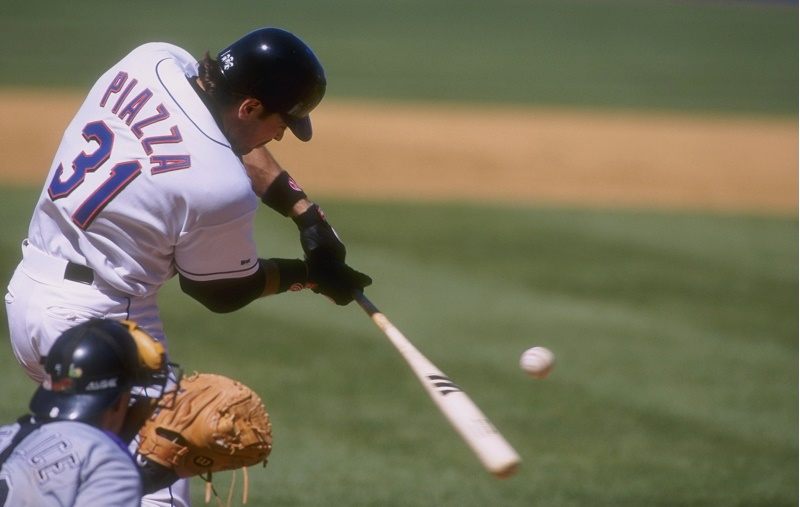 How would you like to break down Piazza's standing as the greatest hitting catcher in MLB history? There are the 396 home runs, which no one has ever topped (he hit 427 total). Once you consider the fact that he played in two terrible hitters' parks — Shea and Dodger Stadium — this accomplishment looms even larger. Then there is the .308 batting average, .377 OBP, and .922 OPS.
Forget about catchers, few players hit .300 with that home run power these days; when they do they are handed the MVP trophy — no questions asked. If you squat behind the dish like Piazza did for 16 seasons, the achievement becomes impossible to ignore. On his fourth ballot, the 2016 Hall of Fame voters got it right.
Connect with Eric on Twitter @EricSchaalNY
Statistics courtesy of Fangraphs.com and Baseball-Reference.com.