MLB: The 10 Greatest Hitters of the 1990s
Major League Baseball saw a tremendous rise in offensive production in the '90s, especially toward the end of the decade. At that time, players were bulking up and hitting more home runs than ever before. Many of those players went on to have borderline Hall of Fame careers — even if there are questions about performance enhancing drugs and some weird injuries that kept them out for long periods of time. Here are our 10 greatest hitters of the 1990s (with a minimum 900 games played).
1. Mark Grace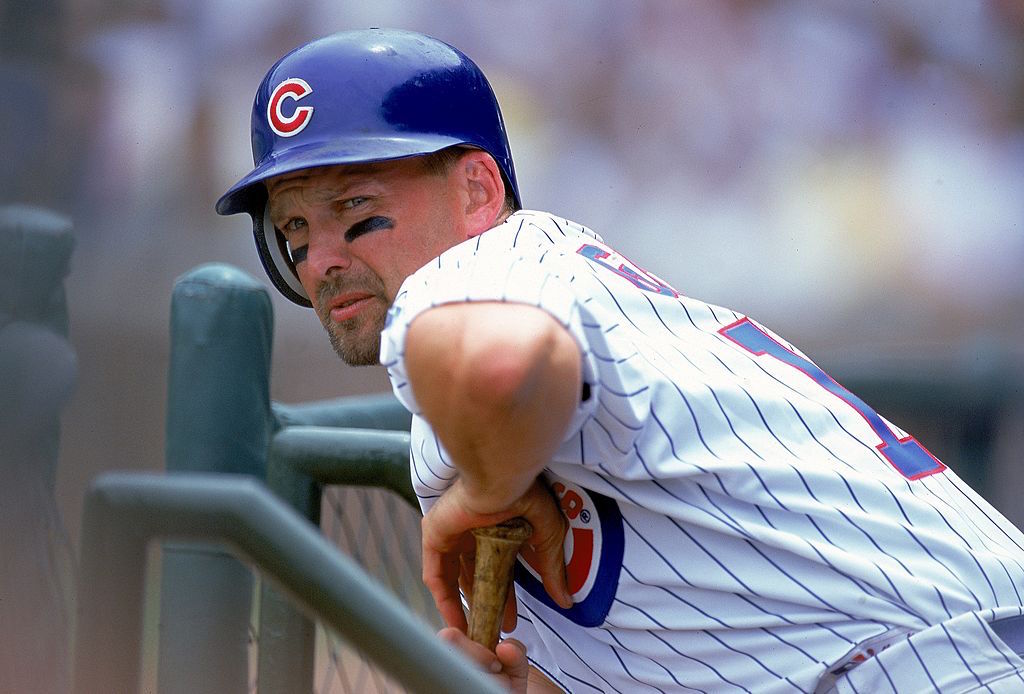 He may not have had the home run totals of others on the list, but his resume dictates that he make it. Grace only clubbed 117 home runs in the '90s, but he also hit .310 with a .385 OBP, a 122 OPS+, and he led the entire decade in total hits accumulated with 1,754. Gracie's best year came in 1995, when he led the league with 51 doubles and hit .326/.395/.516. He accumulated 35.9 Wins Above Replacement (WAR) as a first baseman during the decade, which of course also includes defensive value, which isn't factored in to our list.
2. Mark McGwire
From a purely good hitter who was lesser on power to a powerful masher who wasn't nearly the hitter as the rest on the list, Mark McGwire was one of the true sluggers of the era. All baseball fans will recall the home run race of 1998, when he set a new record for homers hit in a single season with 70 — at least until the record was broken in 2001. Splitting his time between the Oakland A's and St. Louis Cardinals in the '90s, McGwire hit .268/.411/.615 with 405 home runs and 46.3 WAR, all while playing in an average of just 122 games per season.
3. Mike Piazza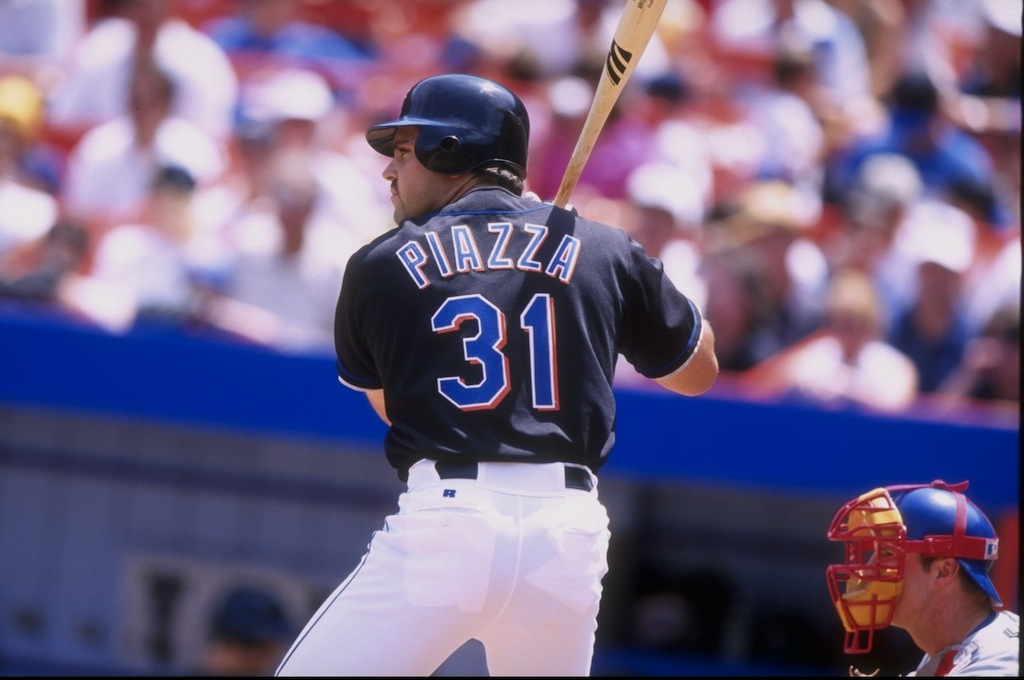 Mike Piazza didn't get to play in the major leagues during the entire decade. He played the fewest games of anyone on the list — at just 981 — but he's still one of the most notable players from the decade. Playing primarily at catcher for the Los Angeles Dodgers, New York Mets, and briefly the Florida Marlins, Piazza hit .328/.391/.575 with 240 home runs in the '90s. He is likely the best offensive catcher to ever play the game, and he finished the decade with a total 41.5 WAR — less than others on the list, but still great considering his total games played.
4. Edgar Martinez
One of the more underappreciated hitters of his era due to his status as primarily a designated hitter, Edgar Martinez was one of the rocks of the '90s Seattle Mariners. He hit .322/.430/.532 with 196 home runs during the era with a 154 OPS+, and his best season came in 1995 when he hit .356/.479/.628 — leading the American League in batting average, on-base percentage, and doubles. He compiled 51.6 WAR in those 10 years, which includes the 1993 and 1994 seasons when he totaled only 131 games played.
5. Larry Walker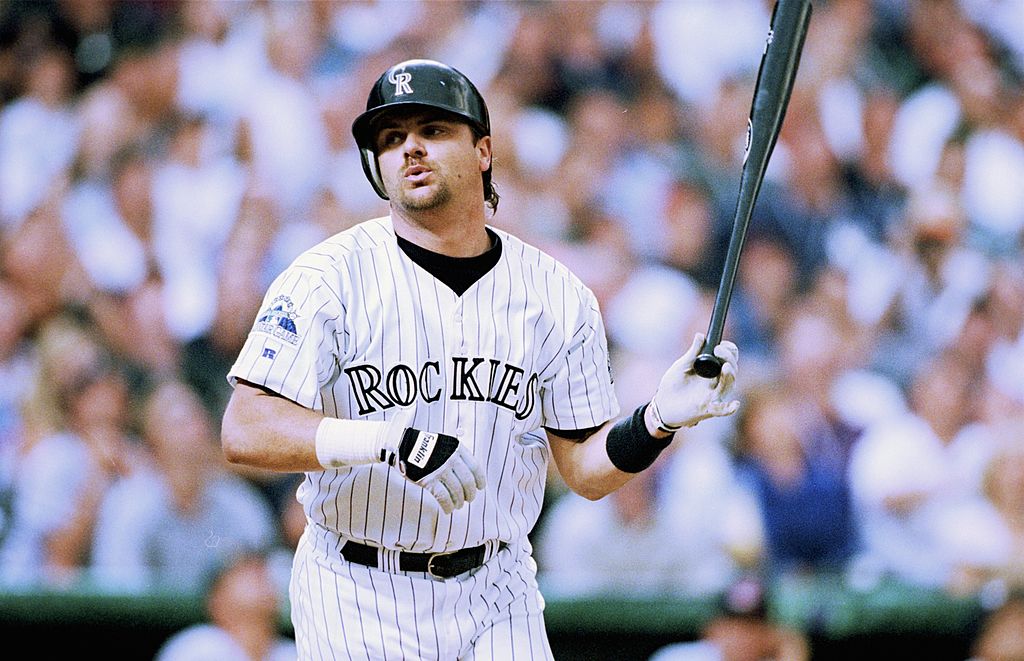 Larry Walker may be best known for how his offensive numbers skyrocketed as a benefit of moving from playing his home games in Montreal to Colorado. He had what is likely the best three-year stretch of any player on this list, hitting .369/.451/.689 with 109 home runs from 1997–99. He won the league MVP for his efforts in '97 and finished the decade with a .961 OPS and 261 homers amassed. His WAR total for the decade came in at 47.7.
6. Tony Gwynn
Amazingly great in the '90s, Tony Gwynn was already 30 when the decade began. That goes to show just how awesome of a hitter Gwynn was in his career with the San Diego Padres, posting a .344 batting average for the decade and a .394 average in the famously lost 1994 season that ended early because of the player strike. Gwynn was flawed, to be sure, as he didn't walk much and hit only 88 total home runs in the 10 seasons, but he is a generational hitting talent nonetheless. In 1,273 games, he struck out just 188 times and accumulated 32.4 WAR.
7. Jeff Bagwell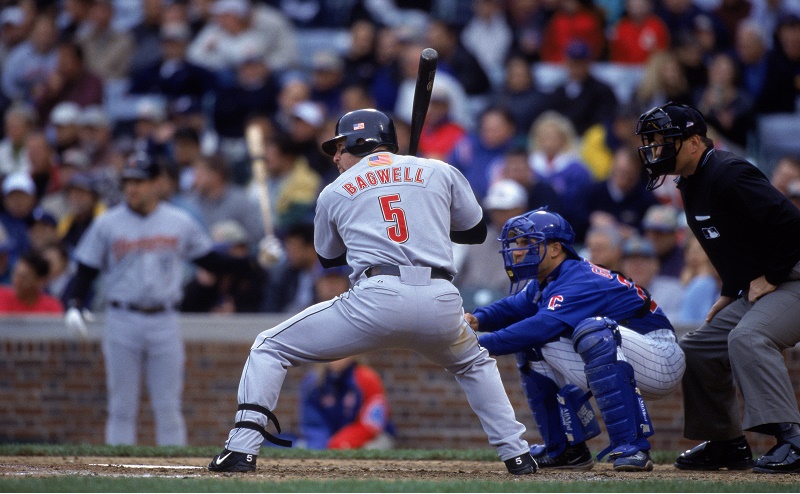 Jeff Bagwell is one of just two players on the list who doesn't get the benefit of having played the entire decade, starting his career with the Houston Astros in 1991. He was speedy for a first baseman and only showed middling home-run pop early on, posting 15 homers in his rookie year and 18 the following season. But he hit his stride, hitting more than 30 home runs five times in the decade — and more than 40 homers twice. Bagwell also stole 158 bases in the '90s, won the 1994 MVP with a .750 SLG%, and compiled 56.7 WAR.
8. Frank Thomas
A multiple-MVP award winner, Frank Thomas made it to the big leagues in the midst of the 1990 season at age 22 — after having just been drafted by the White Sox the summer before. He immediately made his mark, hitting .330 with a 177 OPS+ in 60 games that season. Overall, Thomas would post a slash line of .320/.440/.573 in the '90s, making himself into not only one of the greatest hitters of the 1990s but one of the best to ever play the game. He posted 52.7 WAR over the time period, and it could've certainly been even better had he been a more capable defensive first baseman in his prime.
9. Ken Griffey Jr.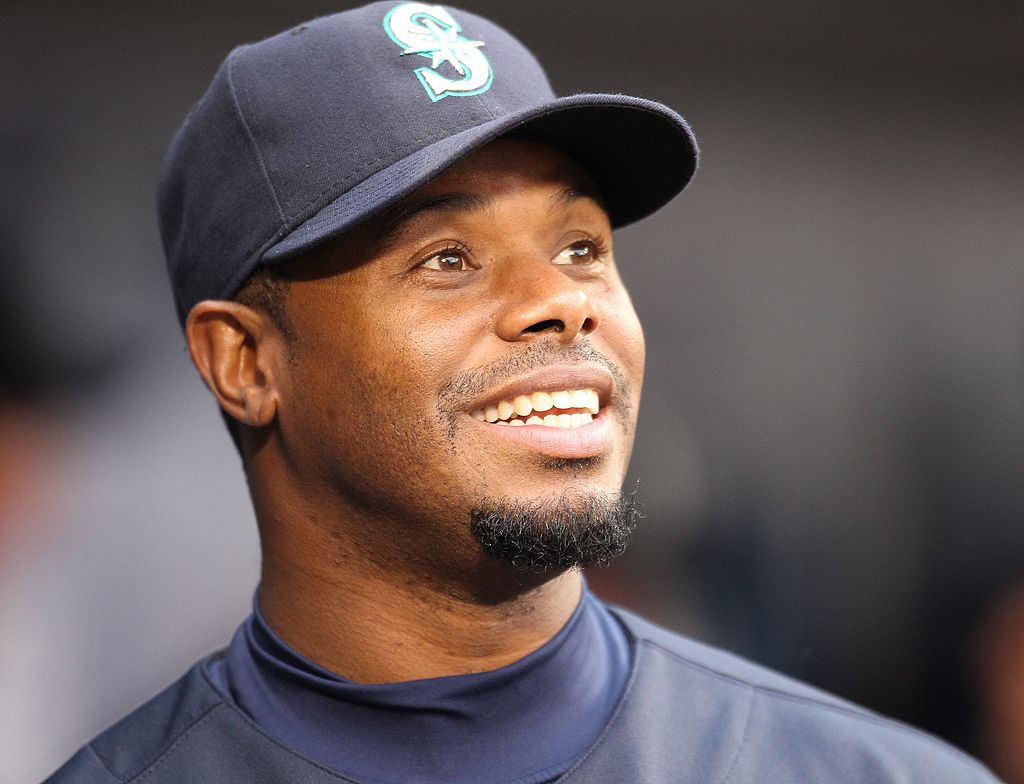 The '90s just so happen to align perfectly with the greatest years of Ken Griffey Jr.'s career. All of them were played in Seattle, and relatively injury free minus some games missed in 1995; he would be extremely injury-prone later in his career with the Cincinnati Reds. Junior hit 382 home runs and stole 151 bases in the decade, hitting for a .302 batting average, .384 OBP, and a 152 OPS+. His best season came in 1994, when he would hit .323 with a 1.076 OPS. He won his only league MVP in 1997 and compiled 67.3 WAR in the '90s while making all 10 All-Star teams.
10. Barry Bonds
Playing for both the Pittsburgh Pirates and San Francisco Giants in the '90s, Barry Bonds became a household name and entered the debate as one of the best players to ever live. Of course, this is also just prior to his bulking up and clubbing 73 homers in 2001, creating the steroid arguments for keeping Bonds out of the Hall of Fame. Bonds won three MVPs in the decade — and seven total in his career — while slugging 361 home runs and posting a cumulative 1.036 OPS. He leads the way for all players with a 179 OPS+ and 79.9 WAR in the '90s, and all of it was done before he even had the best seasons of his career.
Follow Ryan on Twitter @RyanDavisBP
Statistics courtesy of ESPN and Baseball-Reference.