MLB: Hanley Ramirez's Hot Start Doesn't Mean Anything Yet
The Boston Red Sox are playing like they are dead-set on making "Big Papi" David Ortiz's final season a memorable one. With early-season jitters and rust no longer an excuse for teams that are struggling, the Red Sox — along with the Baltimore Orioles — look like the real deal as we make our way through May. While Rick Porcello and Steven Wright have pitched excellently in an effort to balance an uneven starting rotation, the clear strength of this club, thus far, is the offense.
You've got talented youngsters in Mookie Betts, Xander Bogaerts, Jackie Bradley Jr., and Travis Shaw, the fan-favorite mainstays in Ortiz and a resurgent Dustin Pedroia, ultra-utilityman Brock Holt, and a combination of Christian Vazquez and Ryan Hanigan doing their part behind the dish. The one guy we didn't mention is Hanley Ramirez.
Entering 2016, expectations for Han-Ram were mixed, much like with the team. On one hand, Boston has the services of a 32-year-old hitting machine who should be in the prime of his career; a guy who has a Rookie of the Year award, two Silver Slugger awards, and three All-Star appearances to his credit.
The former shortstop-turned-third baseman-turned left fielder-turned first baseman has produced four seasons of more than 100 runs scored, five campaigns with over 150 games played, six years of more than 150 hits, and a pair of seasons when he hit more than 25 home runs. He's also managed three different seasons of 80-plus runs batted in and 35-plus stolen bases. Seems too good to be true, right?
The fact of the matter is that every single one of those impressive offensive statistics occurred before 2013. In a world where the ever-growing question, "What have you done for me lately?," is so prevalent, the Dominican's fanfare has significantly subsided in recent years.
Given the way that this season has started though, it's nearly impossible to believe that Ramirez was being clumped together with fellow 2015 free agent-bust Pablo Sandoval as Tweedledee and Tweedledum (or Dumb and Dumber if you prefer) just two or three months ago. Let's review Ramirez's red-hot start to 2016 to see if fans should look for more of the same the rest of the way, or if they're in for more disappointment from the long-locks slugger.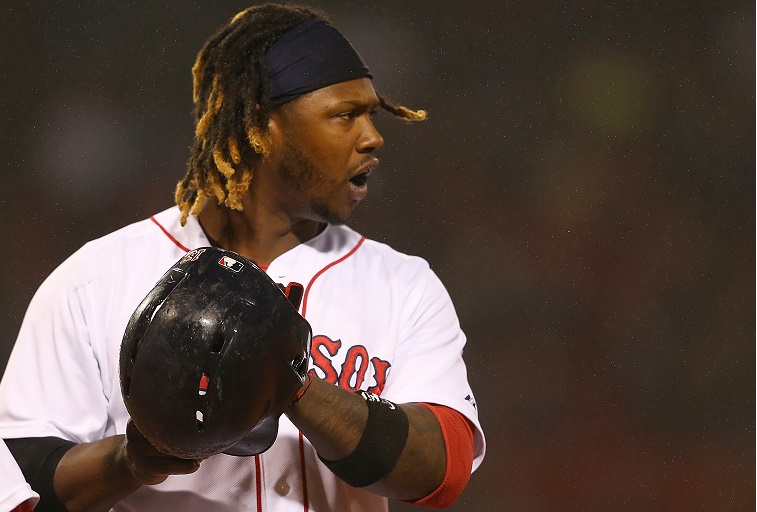 Entering Wednesday's doubleheader against the Kansas City Royals, Ramirez had played in 37 of the Red Sox's 39 games and his numbers have been terrific pretty much across the board. Maybe the power is a little down for Han-Ram — as he has a relatively low four dingers thus far — but if the rest of the production comes at the expense of a slight dip in home runs, we think Red Sox Nation will take it.
Ramirez has scored 26 runs (fourth on the team), knocked 47 hits (tied for third) and nine doubles, racked up 23 runs batted in (fifth), and stolen four bases (third). He hasn't surpassed 15 thefts since 2012. Throw in No. 13's .320/.370/.476/.847 slash line, and you have a guy who would probably be the best hitter on division-rival New York or Tampa Bay right now. The only reason that his offensive statistical rankings aren't higher is because of the historically-loaded output from Boston's bats this season.
Despite the pretty picture that's being painted for Beantown, when it comes to their first baseman, we're not buying it quite yet. The key word there is yet. If Han-Ram continues his offensive onslaught of Major League pitchers through May, June, and July, and comes back from the All-Star break still lighting it up, come back and ask us again. But for now, we proceed with the praise of Big Papi's BFF with extreme caution.
All you need to see is Ramirez' sketchy injury history to realize why it's too soon to claim the former Florida Marlins shortstop as the second coming of Manny Ramirez (although maybe that is a good thing). After starting his career with six of seven seasons of at least 140 games played, things have not worked out quite as well since 2013 for Han-Ram. He was limited to 86 games with the Los Angeles Dodgers that season and followed that up with 128 appearances in 2014.
Then, after signing a deal with the Red Sox last year, No. 13 lit it up in April and tailed off a bit in May, before plummeting around the All-Star break. When all was said and done, Ramirez only registered 401 at-bats in 105 games played. Last season also saw the third consecutive year of decline in batting average (.249), on-base percentage (.291), slugging percentage (.426), and on-base plus slugging percentage (.717).
While things are currently looking bright and shiny for Ramirez in Boston, we again forewarn the fans to be aware of a possible drop-off. Luckily for Red Sox Nation, it appears that the ship has plenty of anchors this year.
Follow Victor on Twitter @vbarbosa1127
Statistics courtesy of Baseball-Reference.com and ESPN.com.