MLB: How Matt Harvey Became the Mets' Weak Link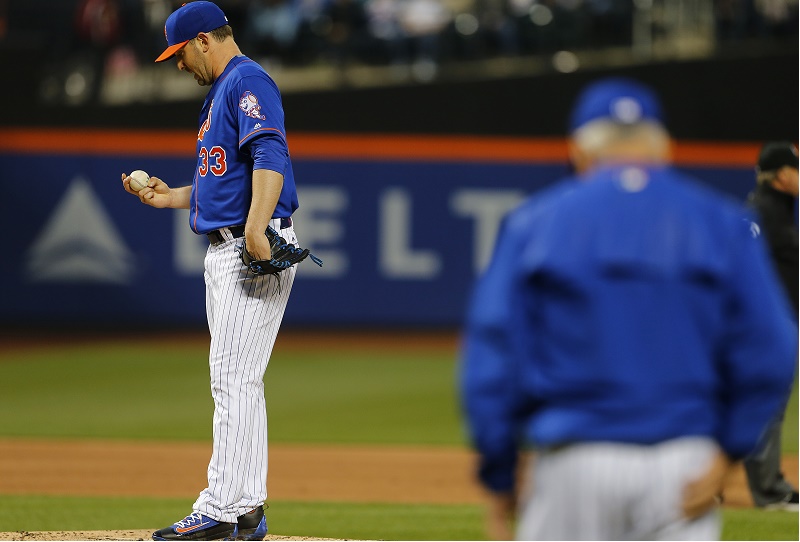 Since the end of last year's playoffs, Matt Harvey has gone from No. 1 starter of the New York Mets and hero of the fanbase to a pitcher with a 5.77 ERA who hears boos and may not have spot in the club's rotation. As batters pound his fastball and slider, it's time to ask whether Harvey has lost his stuff, and whether he'll be able to get it back in time to help his team this season. The Mets may be forced to contend for a title without him.
Harvey has never had such an ugly stretch in his four Major League seasons. His stats are unanimously appalling: 65 H in 48.1 IP, a 1.65 WHIP, and a .319 batting average against. His walks are up and his strikeouts are down. His velocity is down a few ticks, too, though Harvey's heater is more than enough for a pitcher to be effective. And he's had severe lapses in execution (i.e., hangers and cookies) when he's had a chance to salvage innings.
Explanations for his fall have been hard to come by in 2016, and his 2.2 IP, nine-run outing versus Washington got Mets manager Terry Collin speculating about Harvey's heavy workload in 2015. "This kid went above and beyond last year, and I'm not sure he's recuperated from it," Collins told reporters after the Nationals blowout on May 19, adding it was "not an excuse" but instead a possible reason for the slide.
Scouts have questioned Harvey's conditioning, but those who work out with the burly pitcher, including Bryce Harper, give little weight to this theory. Others have pointed to holes in the right-hander's delivery, saying he is opening up early and not hiding the ball whatsoever. Whatever the cause, Harvey's fastball and breaking pitches have never been lit up at such a level.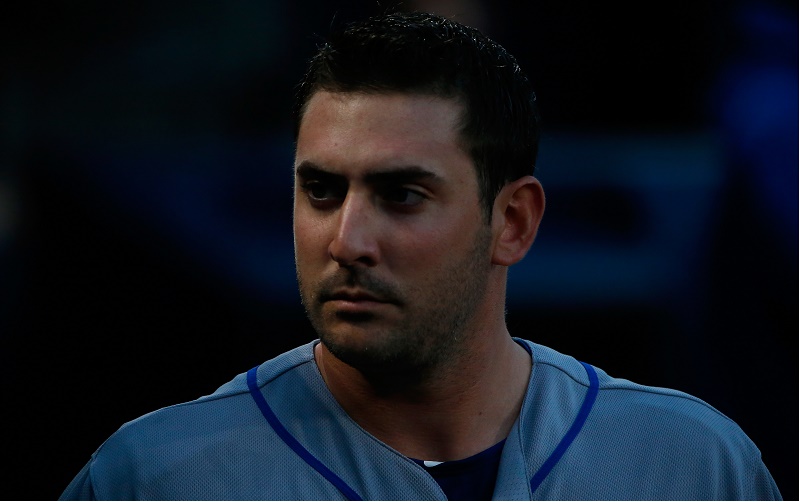 According to Fangraphs' PITCHf/x data, batters are hitting .314 off Harvey's four-seam fastball and a gaudy .381 off his slider, his second-most used pitch. Compared to his career numbers of .239 for the heater and .210 for the slider, there is clearly an execution problem. In the Washington game, Harvey hung an 0-2 slider that became a Daniel Murphy home run. His velocity is down enough that hitters are getting better cracks in general.
Physical problems are only part of the story, of course. Anyone can see Harvey has lost his mojo on the mound. The sneering, cocky demeanor he brought to the bump in seasons past has given way to a humbled, searching pitcher who gets unnerved by poor play behind him. (Mets defense is to blame for its share of runs Harvey's been charged with in 2016.)
Terry Collins has decided to stick with Matt Harvey when his turn in the rotation comes up, so the big right-hander will have a chance to turn his season in the right direction. After a slow start by Jacob de Grom, the Mets' vaunted group of young flamethrowers has taken a back seat to other clubs around the league. Without Harvey, New York becomes another team with a few good arms and some serious question marks. We didn't see that coming from the Dark Knight.
Connect with Eric on Twitter @EricSchaalNY
Statistics courtesy of Fangraphs.com.