MLB: Here's Who Vegas Thinks Will Win the AL and NL MVP Awards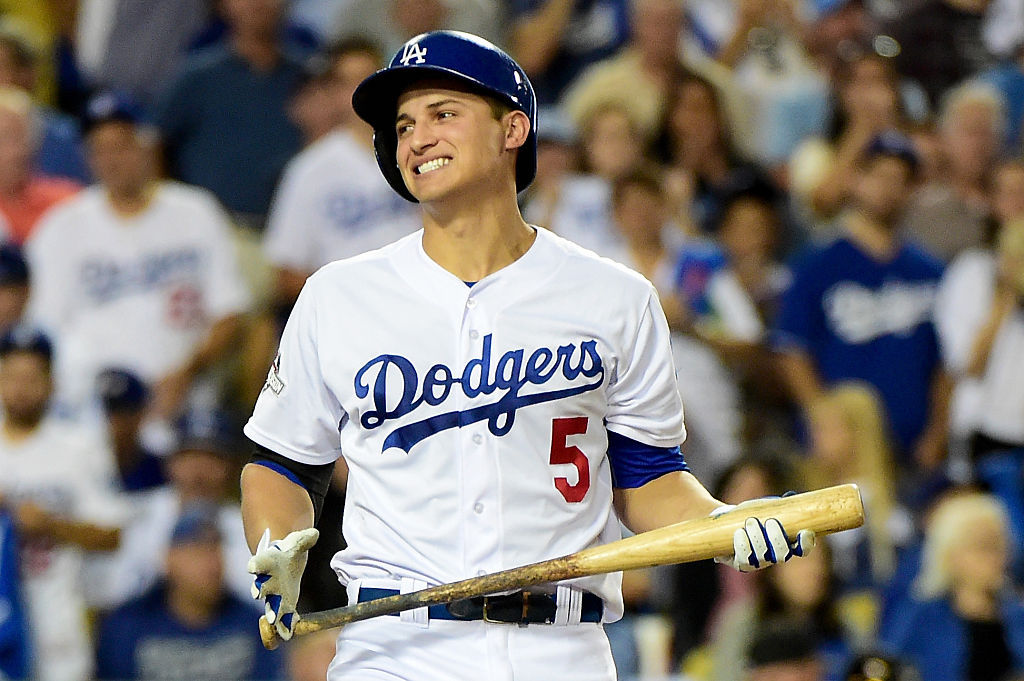 Award season in Major League Baseball is still a while away, but there's no harm in taking an early look. Las Vegas released their early odds on AL and NL MVP winners, and there are some familiar names mixed in with some newcomers. Regardless of what might happen for individual teams in 2017, we'll come away with two players holding AL and NL MVP trophies at the end of the season. So who does Vegas think those players might be? We looked at the odds for 12 players from each league, first with the American League and then with the National League.
12. Kyle Seager – 40/1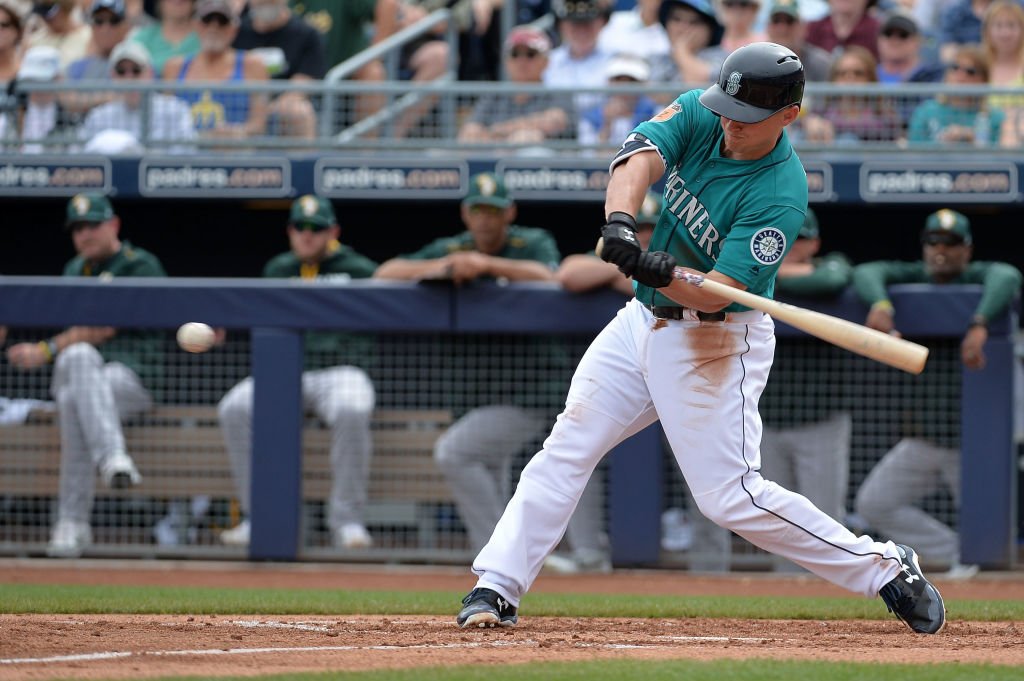 In his seventh season in the big leagues, Kyle Seager is currently a third baseman for the Seattle Mariners. The average baseball fan has probably heard of the 29-year-old, at the very least. Many simply know him as Corey's older brother, but Kyle is so much more than that.
Although he's only had one All-Star appearance in his career, Kyle has averaged 5.6 WAR per season the last three years, including 6.9 WAR in 2016. Last season, he had a 133 OPS+ with 30 home runs for Seattle. He's not a likely MVP in the American League. But a big season for the Mariners would go a long way in getting him a little national spotlight.
11. Any pitcher – 25/1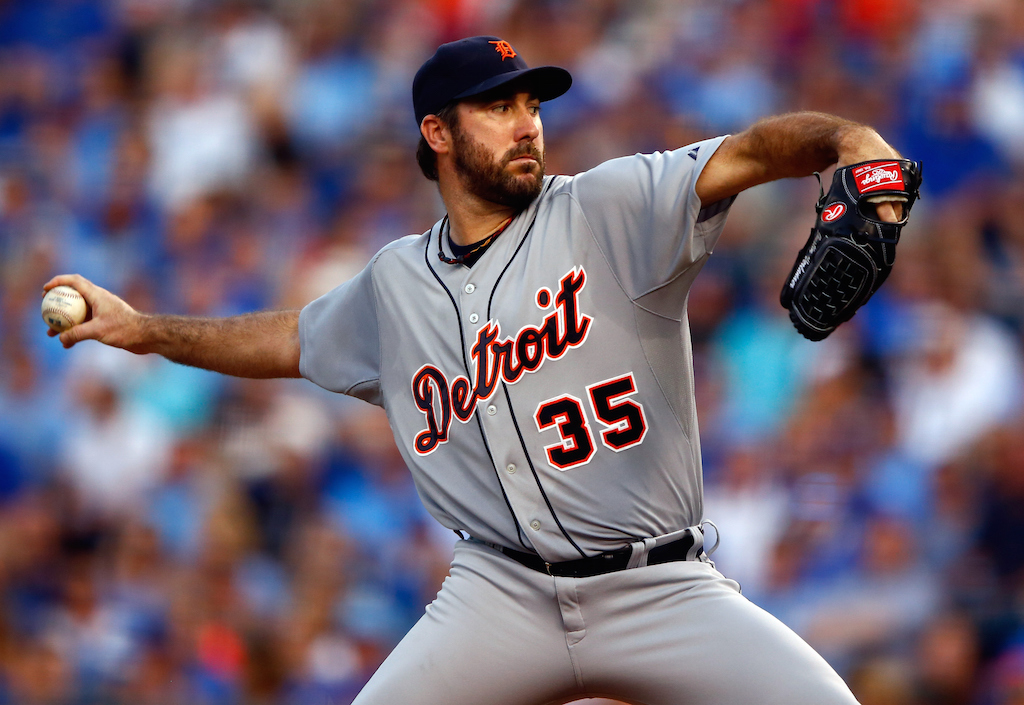 In the American League, Vegas gives 25/1 odds that any pitcher comes away with the award. But who could that be? Chris Sale, now with the Boston Red Sox, would enter the conversation. He's one of the best and most talented pitchers in the AL, despite never receiving a Cy Young award. Pitching for a contender in Boston will help his cause. The same could be said for Cleveland Indians starter Corey Kluber, who carried the team to the World Series last year and has one Cy Young under his belt. Other possibilities include Justin Verlander, Dallas Keuchel, and Cole Hamels.
10. Robinson Cano – 25/1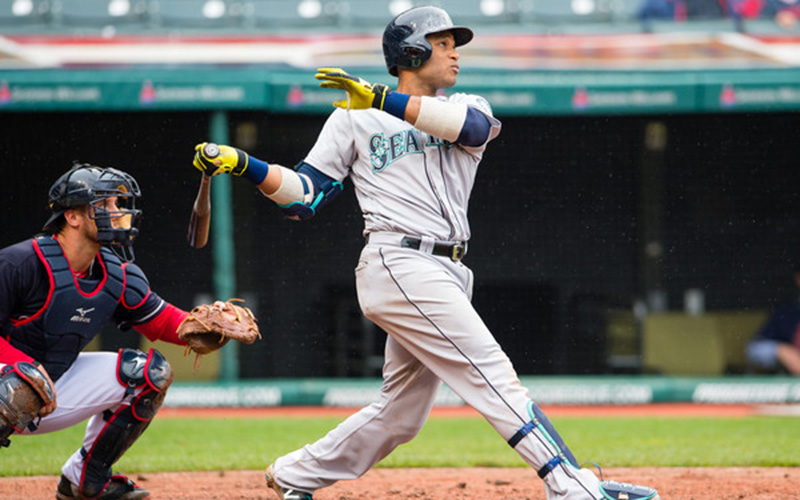 The long-time New York Yankees second baseman has spent the last few years with the Seattle Mariners. Critics exaggerated rumors of the then-32-year-old's demise after a poor 2015 season. Cano roared back with a 138 OPS+ and 7.3 WAR last season, finishing No. 8 in the MVP voting in the American League. He, like Seager, would benefit from a big season in Seattle. If the Mariners can surprise some people and win the AL West, there's a chance it could be thanks to a MVP-type season from Cano. But then again, there's a reason why these are long odds.
9. Gary Sanchez – 25/1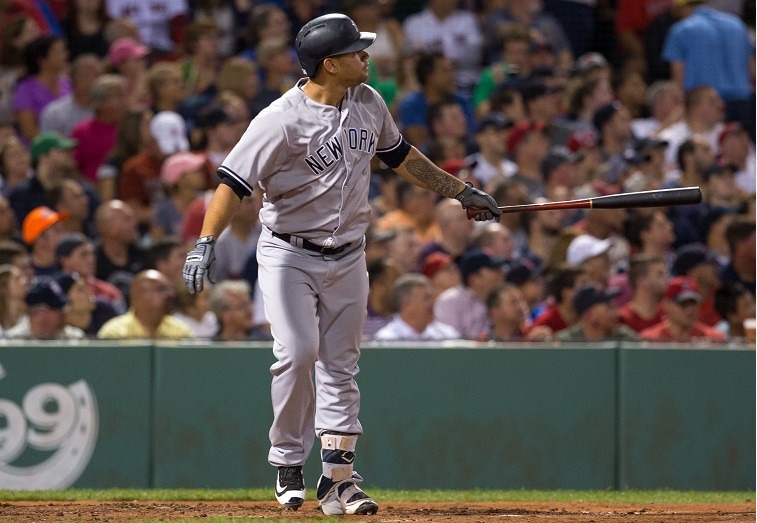 As a rookie with the New York Yankees last season, catcher Gary Sanchez burst onto the scene in a way that few have. He had only 229 plate appearances, just barely losing his rookie eligibility and placing second in the Rookie of the Year race. He hit .299/.376/.657 in that short amount of time, with 20 home runs and 42 RBI. In only 53 games, Sanchez was worth 3.0 WAR — an impressive debut. The odds opened on Sanchez at 25/1. However, he recently sustained a biceps injury that could have him out of action for up to a month, so those odds will get even longer.
8. Miguel Cabrera – 16/1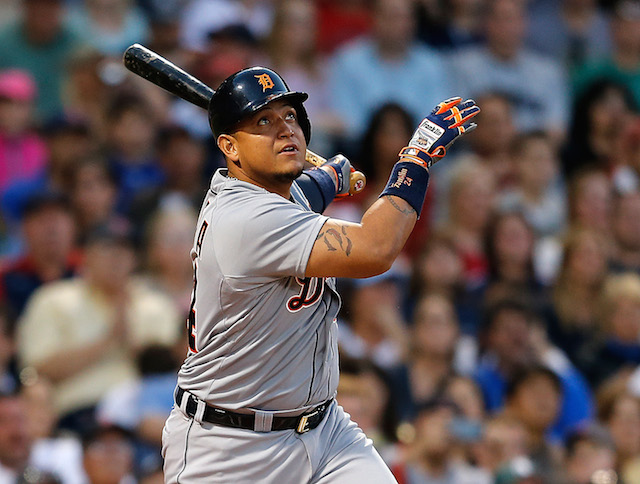 Miguel Cabrera is a two-time American League MVP (2012 and 2013) who continues to put up great numbers even as he ages. In 2015, he led the league in batting average (.338) and on-base percentage (.440). Last season, he had an OPS+ of 159 last season with 38 home runs — the most he hit since winning the 2013 MVP with 44.
Cabrera plays primarily first base these days, and over the last three years the 34-year-old has averaged 5.0 WAR per year. Considering that Mike Trout more than doubled the WAR total in 2016, it's hard to envision a way that Cabrera comes away with another MVP in 2017.
7. Francisco Lindor – 16/1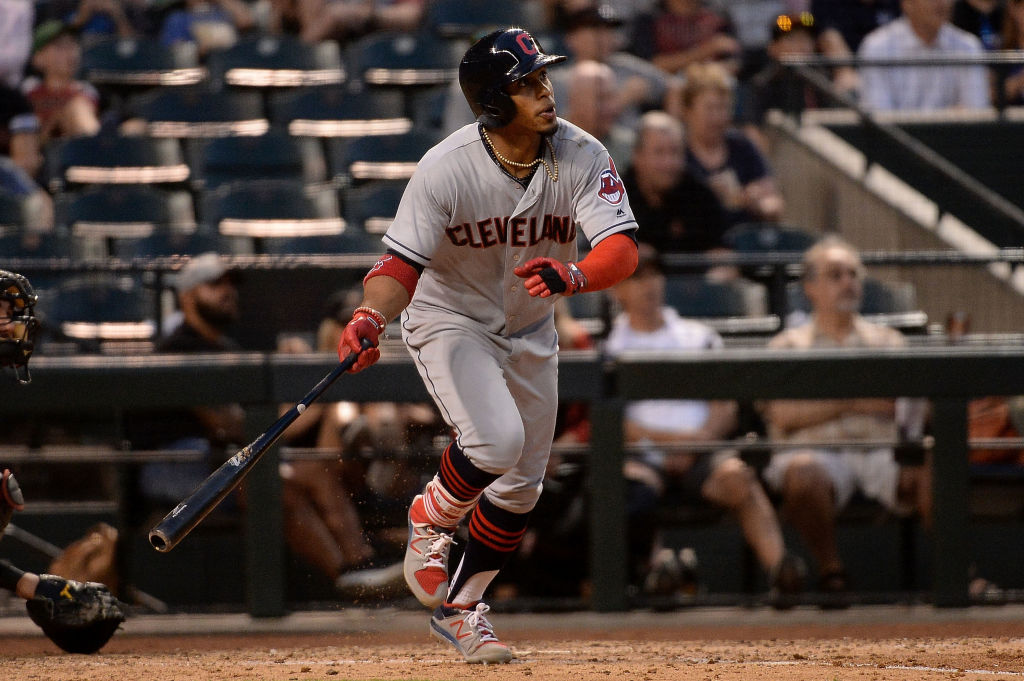 Young Cleveland Indians shortstop Francisco Lindor has the same odds of winning the MVP as Cabrera, but unlike Cabrera there seems to be a reasonable path for Lindor to win the award. He's an exceptional defensive player, which means that raising his offensive game even slightly could help him put up some eye-popping advanced metrics. In 2016, Lindor had an OPS+ of 105 with 15 home runs and 19 stolen bases — decidedly average for a hitter, even if that hitter is only 22 years old. But he was worth 5.7 WAR because of his defense. A big breakout year at the plate could vault him to the top of this list.
6. Jose Altuve – 12/1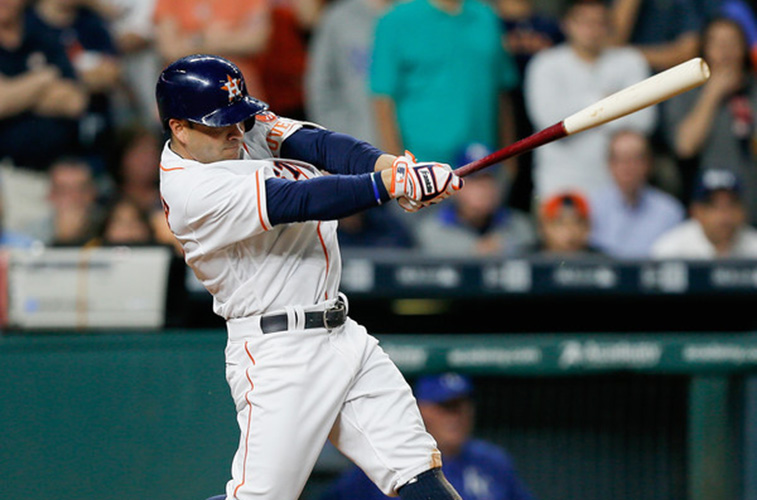 The diminutive Jose Altuve has developed into one of the best and most consistent hitters in Major League Baseball. Playing for the Houston Astros, Altuve led the league in hits the last three years while slowly developing surprising power for a guy his size. In 2015, he hit a career-best 15 home runs. In 2016, he broke that career-high with 24 homers.
Altuve's slash line over the last three years is .331/.376/.481, and he was a serious candidate for the AL MVP late into the 2016 season with 7.6 WAR in total. Altuve is one of the few players on this list who could reasonably come away with the award in 2017.
5. Carlos Correa – 10/1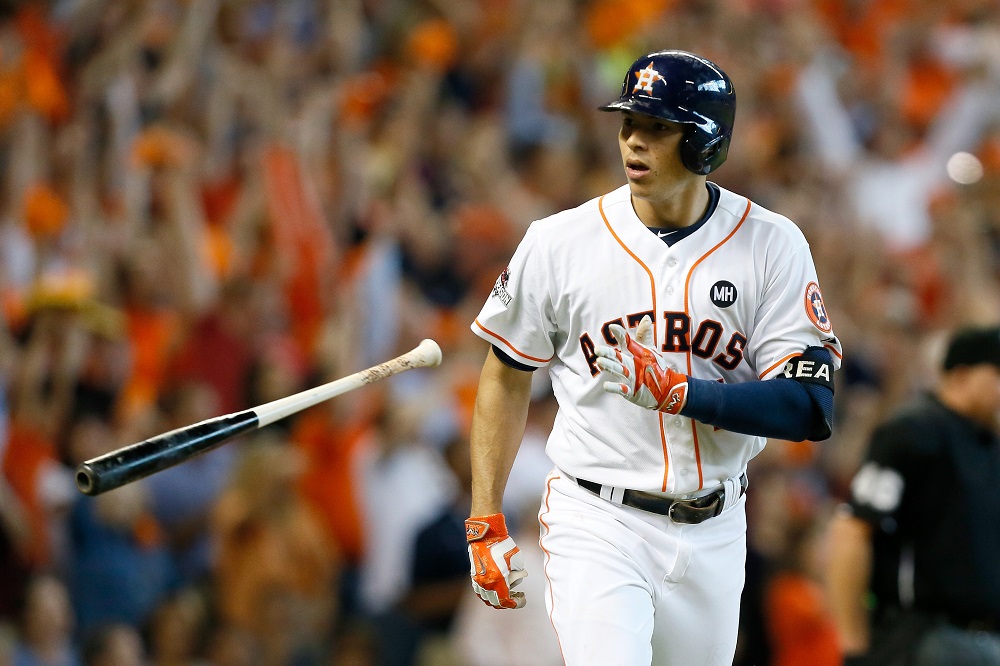 Altuve's teammate, Carlos Correa, comes in with slightly better odds for the AL MVP due to his tremendous talent and high ceiling. The former first overall pick in the 2012 MLB Draft came onto the scene in 2015, hitting 22 home runs in 99 games and taking the Rookie of the Year award. But in 153 games last season he hit just 20 home runs, posting a solid 124 OPS+ and 6.0 WAR. There's plenty of room for improvement in Correa's game from last season, so the idea that he could be a legitimate American League MVP candidate with a big year at the plate isn't off-base at all.
4. Mookie Betts – 7.5/1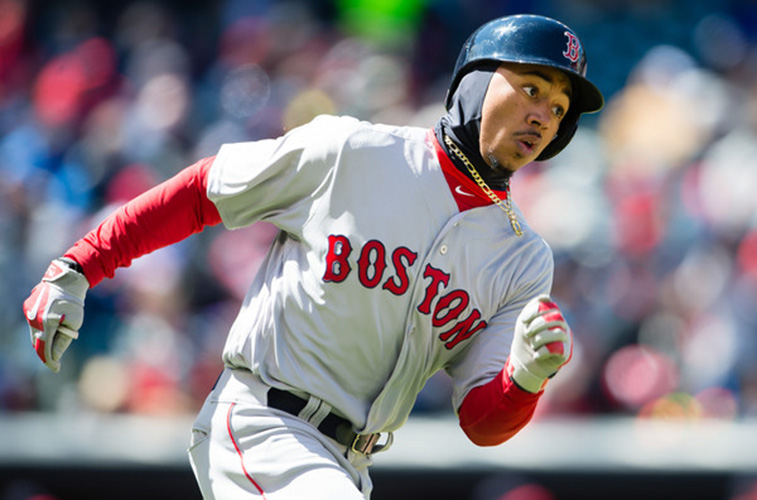 Boston Red Sox outfielder Mookie Betts had a tremendous 2016 season that got lost in the shuffle. That's because he is an American League baseball player, residing in the same league as the absurdly talented Trout, and his 9.5 WAR wasn't enough to put him over the top. But Betts is just 24 years old, and with Red Sox designated hitter David Ortiz walking away from the game, Betts can take over the reins. He's their best hitter — posting a 131 OPS+ last year with 31 home runs — as well as one of the best fielding outfielders in the game. Betts will be a legit MVP candidate not only in 2017, but every year for quite a while.
3. Manny Machado – 6.5/1
It feels like Baltimore Orioles third baseman Manny Machado should be 27 or 28 by now, but he is in fact still just 24 years old. That's because he was 19 when he arrived in the big leagues back in 2012, meaning he's beginning his sixth season in Major League Baseball this year. The 24-year-old began the year with 105 career home runs and 24.4 WAR, putting him on pace for Hall of Fame career totals. Machado finished No. 5 in the MVP voting last year, hitting 37 homers with 6.7 WAR. He is another player you can expect to be in the conversation every season.
2. Josh Donaldson – 6.5/1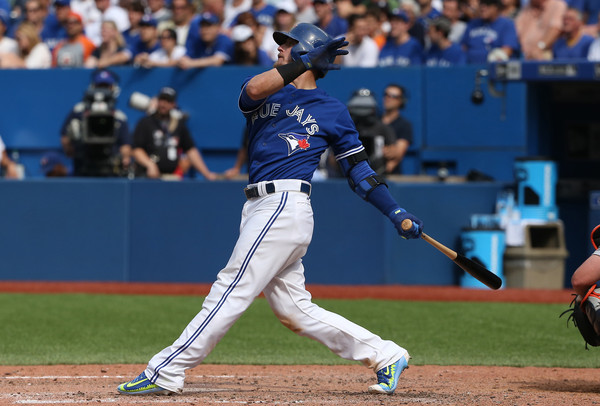 Once the afterthought of a deal that sent Rich Harden to the Chicago Cubs in 2008, former catching prospect Josh Donaldson switched to third base and eventually made it to the big leagues, where he became a breakout star in 2013. He had his best year in 2015, when he finished with a slash line of .297/.371/.568 with 8.8 WAR and won the AL MVP. He helped lead the Toronto Blue Jays to the AL East division title that year — and that could be the recipe for his success again in 2017. If Donaldson helps carry the Blue Jays to a division title, expect to see him receive some consideration for MVP.
1. Mike Trout – 1.25/1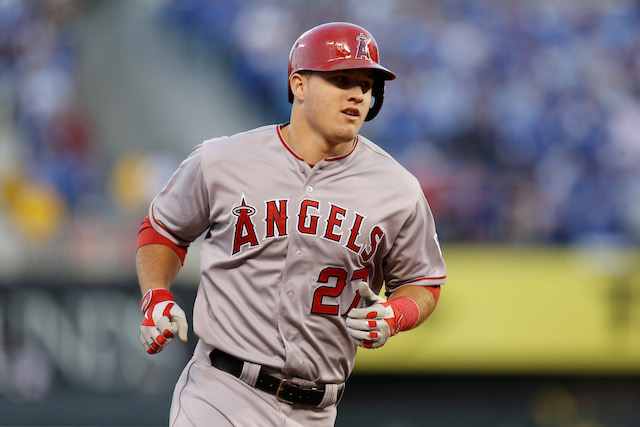 Mike Trout is the easy pick for the American League MVP award, because he's so freaking good. He won his second MVP award not too long after turning 25 years old, and you could make a serious argument that he deserved to win the MVP in each of the last five seasons in the AL. Trout is still just 25; he has 170 career home runs, 143 stolen bases, a slash line of .306/.405/.558, and 48.8 WAR. Even just having played five full seasons in the major leagues, Trout is already in the Hall of Fame discussion. There's a reason he has such awful odds for the better, coming in at just 1.25/1.
Now click over to the next page to see the National League's top 12.
12. Justin Turner – 25/1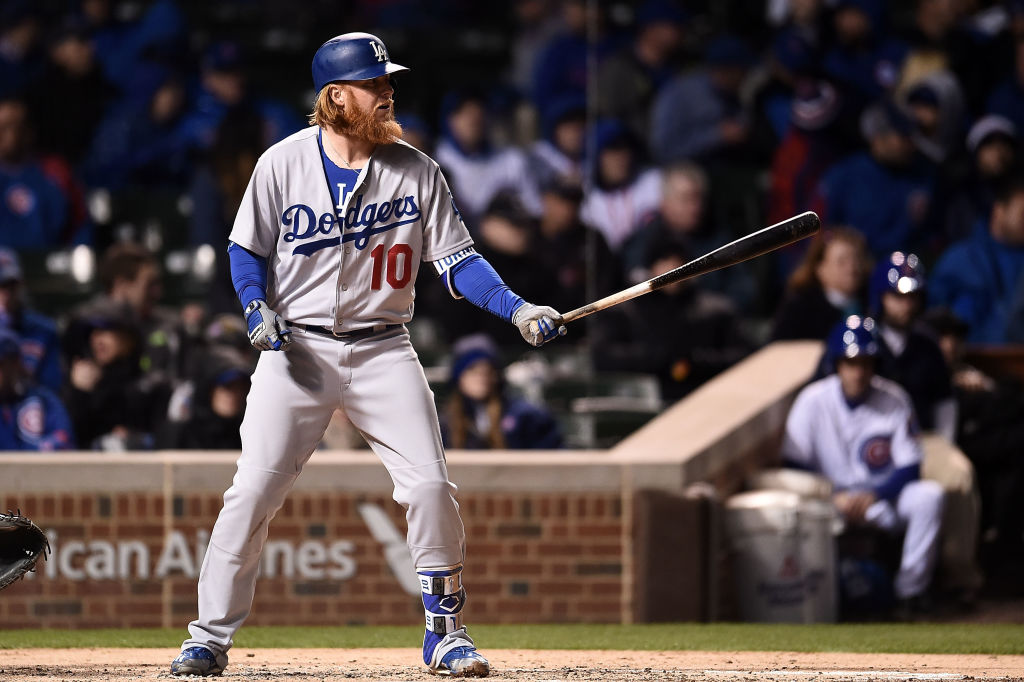 Any way you look at it, Los Angeles Dodgers third baseman Justin Turner is a long-shot to win the National League MVP award. But he's a quality player, so there's a scenario we can lay out for Mr. Turner. First, he needs to have an outstanding year. Not just a career-year like he had in 2016, with 5.0 WAR, 27 home runs, and a .832 OPS, but an even better year.
Next, he needs the Dodgers to have a great season — possibly finishing with the best record in the National League. And last, he needs to clearly be the best player on the team; something he cannot claim currently, with Kershaw and Corey Seager on the roster.
11. Daniel Murphy – 25/1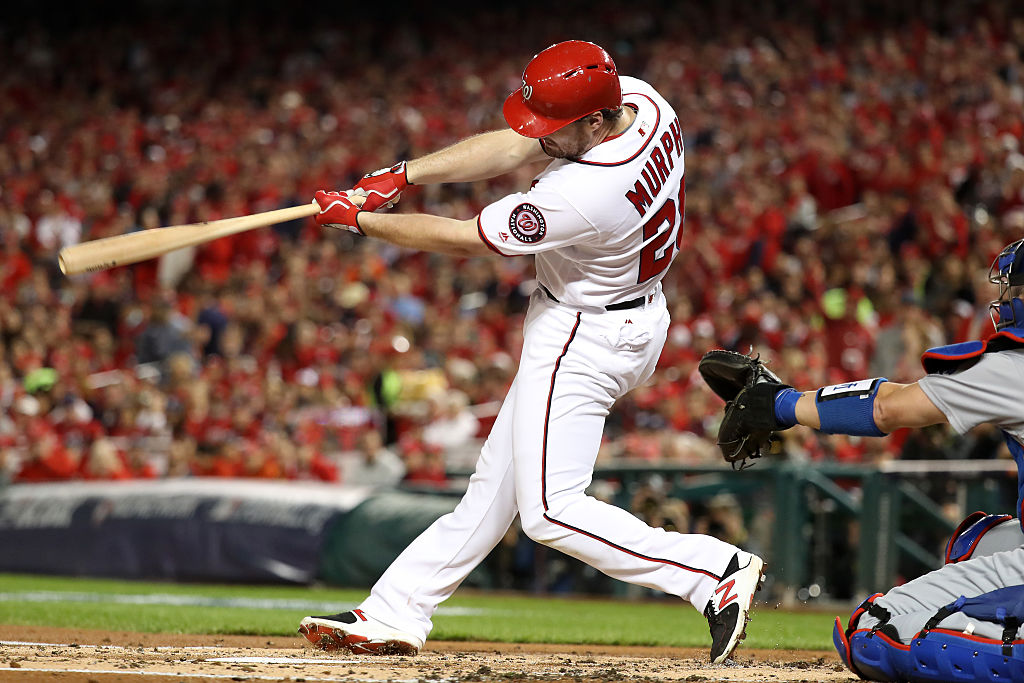 Washington Nationals second baseman Daniel Murphy built on his surprising postseason performance of 2015 and had a phenomenal season in 2016. After setting a career-high of 14 home runs in the 2015 regular season with the New York Mets, he drilled seven more homers in the playoffs that year and then 25 with the Nationals in 2016. He led the National League in both slugging percentage (.595) and OPS (.985), although his general mediocre defense led to him having just 4.6 WAR.
Murphy, now 32 years old, would need an even better year at the plate to overcome his defensive shortcomings and steal away an MVP award.
10. Yoenis Cespedes – 20/1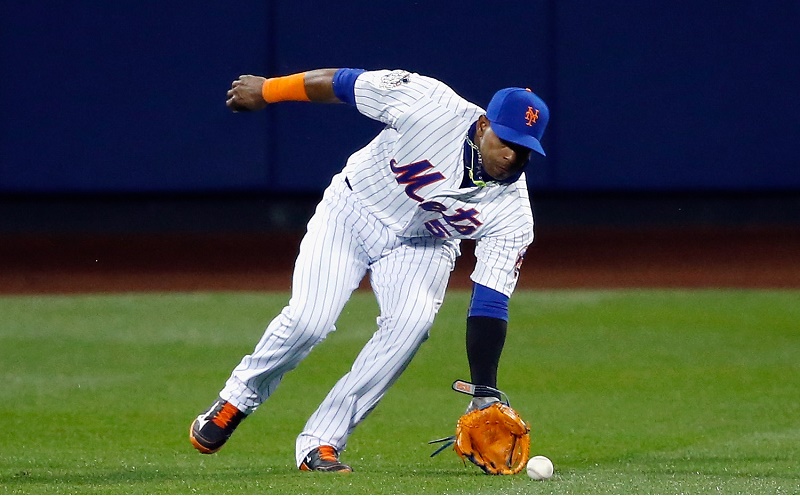 Although outfielder Yoenis Cespedes' talent was always obvious, he was a bit of a late bloomer. From 2012–14 with the Oakland A's and Boston Red Sox, Cespedes had just a .780 OPS with a slash line of .263/.316/.464. He was traded for the second time of his career to the Detroit Tigers, and then again for the third time to the New York Mets. It was in New York that he absolutely broke out in 2015, and he played well again last year for New York.
In 2015, Cespedes had 6.3 WAR playing left field for Detroit and the Mets. He posted a combined .876 OPS. If the Mets can win the NL East division behind Cespedes, he might get some MVP votes.
9. Joey Votto – 16/1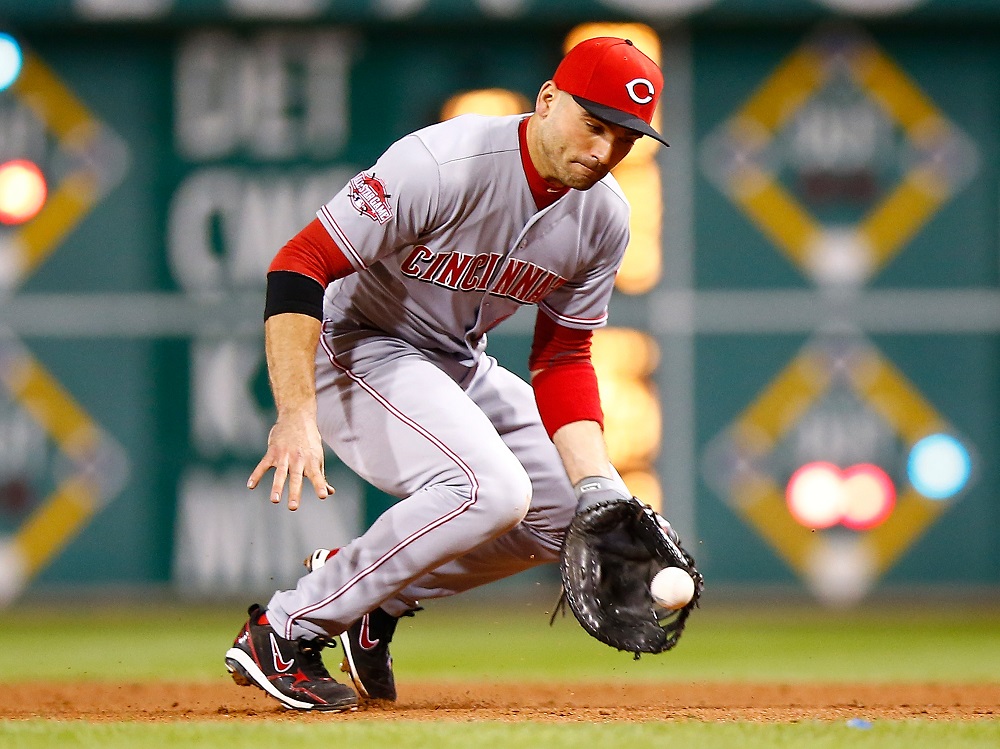 A major advantage for the Cincinnati Reds first baseman is the dwindling idea that the winner of an MVP award needs to come from a winning team. Despite the Reds' nice start to the 2017 season, they're not a contender. But Votto could be a contender for the NL MVP, anyway. Last season, Votto had a .434 OBP — the best in the National League — while hitting 29 homers for the yawn-inducing Reds. He's 33 years old, but he keeps hitting and getting on base.
For his career, Votto has a .312 batting average and a .424 OBP; he's the active leader in the latter category. Another typical Votto season won't do it, with his team's stinky status and the abundance of great hitters in the NL, so Votto will have to be extra special to take the MVP.
8. Buster Posey – 16/1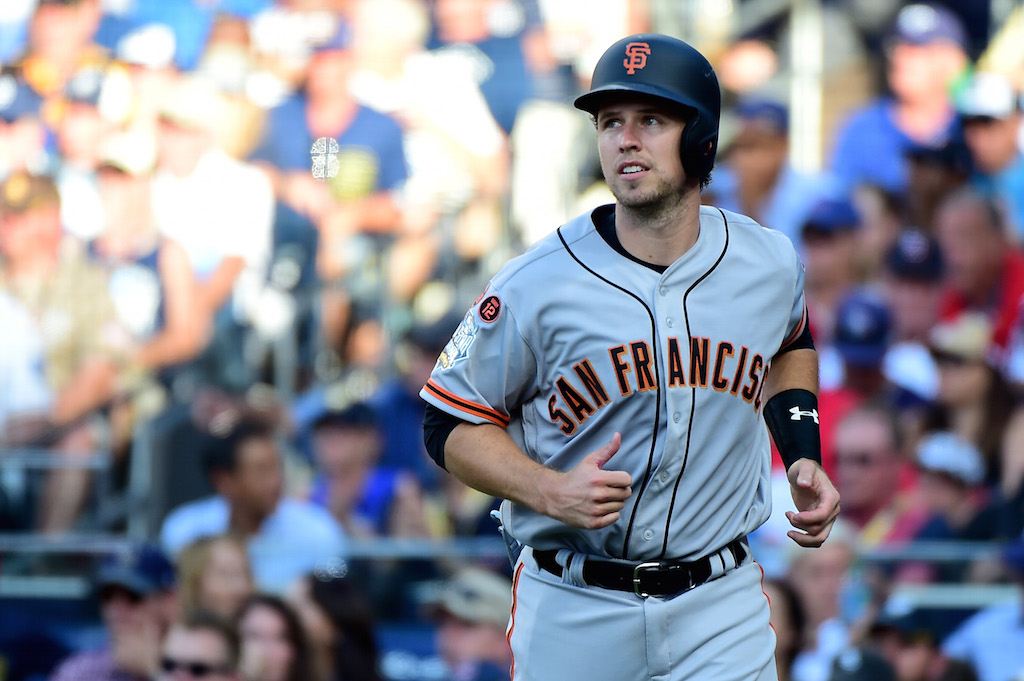 It's hard to believe that San Francisco Giants catcher Buster Posey is already 30 years old. A three-time World Series champion and former MVP (2012), Posey has become a premier MLB player. You could certainly argue that he's been the best at his position for the last few years, as Cardinals catcher Yadier Molina has begun to decline. Posey has a .307/.373/.476 career slash line with 33.8 WAR. 2017 will be his ninth real season in the big leagues, and he averages 5.3 WAR over the last three years. The Giants making a big run at the NL West division and a great year from Posey could mean another MVP.
7. Paul Goldschmidt – 14/1
Arizona Diamondbacks first baseman Paul Goldschmidt is one of the most underrated players in the game. In part because he plays for the overlooked D-Backs, but also just ask USA manager from the World Baseball Classic, Jim Leyland, about Goldschmidt;  the first baseman was practically invisible to Leyland!
In the last four seasons, Goldschmidt finished second in the NL MVP voting twice while hitting 112 home runs and posting an insanely good .942 OPS. Goldschmidt is only 29 years old still, and the D-Backs are off to a decent start to the 2017 season. So you could appropriately label him a darkhorse MVP candidate for now.
6. Any pitcher – 12/1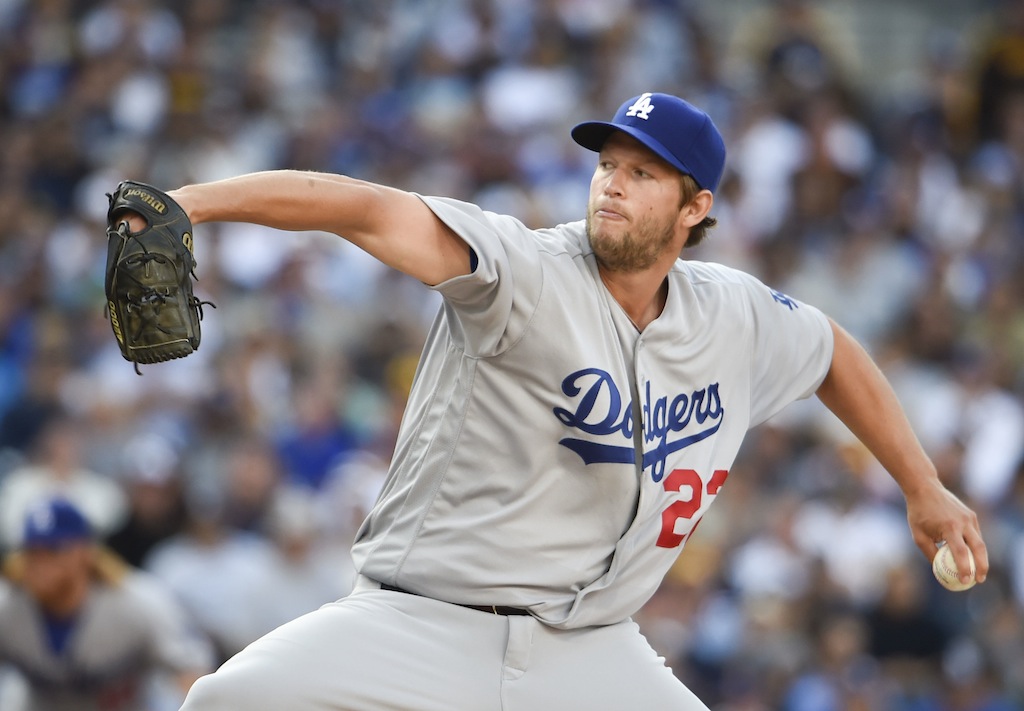 We think it's pretty clear that Los Angeles Dodgers pitcher Clayton Kershaw is the only reason these odds are so high. The left-hander has three Cy Young awards, one NL MVP (2014), and a 2.08 ERA in 1,290 innings since the start of the 2011 season — the best ERA of any starter in that period. If any pitcher performs well enough to pull off an MVP in the National League, it will almost certainly be Kershaw. But for the sake of it, here are a few other starters who could be interesting: Jake Arrieta, Max Scherzer, and Madison Bumgarner.
5. Anthony Rizzo – 12/1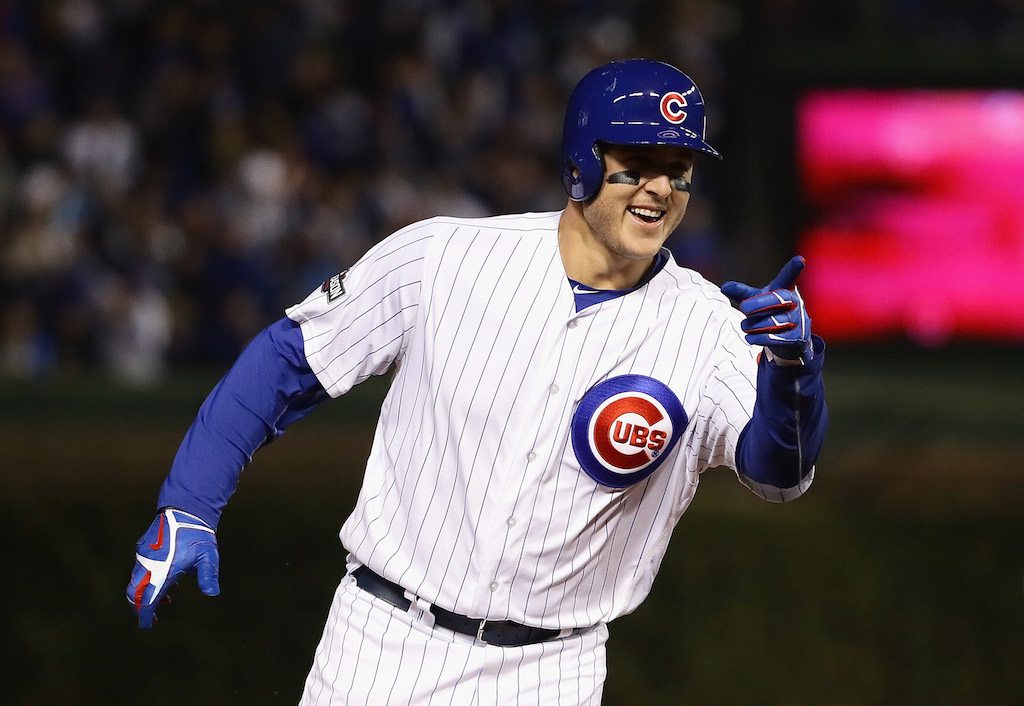 The Chicago Cubs have a treasure trove of great young hitters, and first baseman Anthony Rizzo is one of them. Over the last three years, he's set himself apart from the pack as one of the elite players in the game and one of the best defensive first basemen as well. Rizzo won his first Gold Glove last season, while finishing fourth in the MVP voting for the second season in a row. Over the last three years, he has 95 home runs and a slash line of .285/.386/.527, and he averages 5.7 WAR per season. The biggest thing standing in the way of Rizzo and an MVP in 2017 is how great his teammates are.
4. Nolan Arenado – 10/1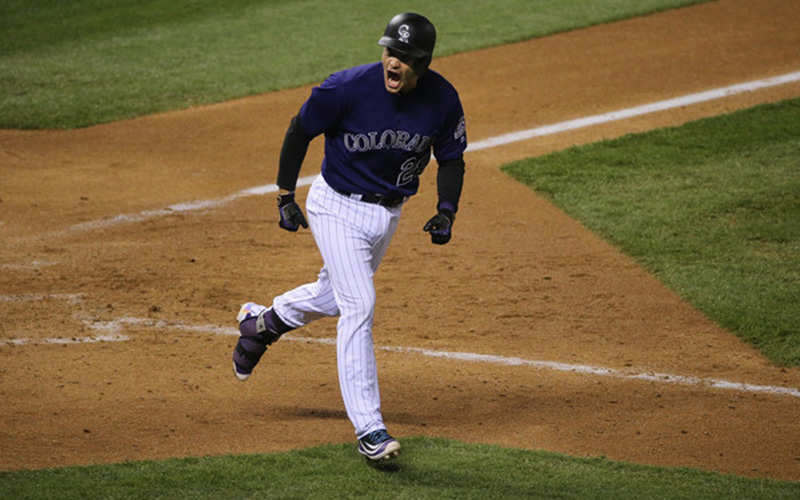 Nolan Arenado is in his fifth season as a Colorado Rockies third baseman, and he's established himself as one of the best hitters in the game. The 26-year-old has won four Gold Gloves in his first four years, and he's led the National League in home runs and RBI in each of the last two years. Over the last three seasons, he averages 5.5 WAR per year.
The big thing running against Arenado in the MVP discussion is where he plays his games. Voters and fans alike tend to look past players who put up big numbers at Coors Field, where the ball absolutely flies out of the park. And really, it's not that ridiculous to do so: Arenado has a .936 OPS for his career in his home park, but just .767 on the road.
3. Corey Seager – 8/1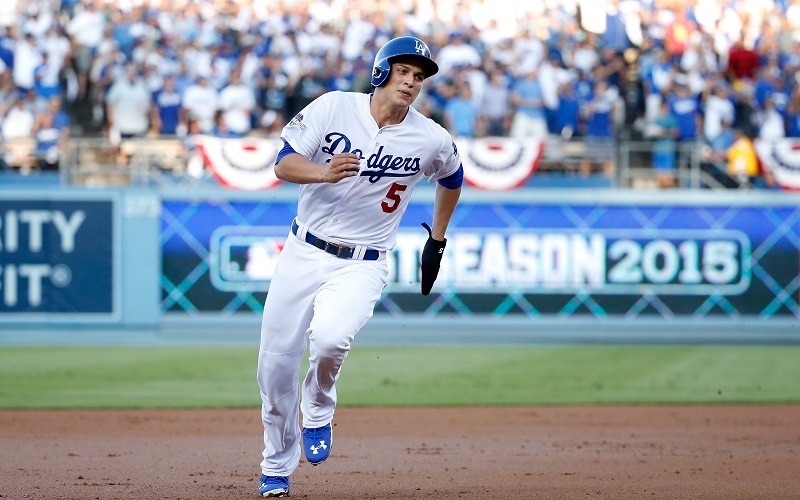 Los Angeles Dodgers shortstop had a great rookie year, taking the NL Rookie the Year award in playing 157 games and hitting 26 home runs with a slash line of .308/.365/.512. He posted 6.1 WAR, which put him right in the thick of things for the NL MVP conversation. He ended up finishing No. 3 in the voting, but the 23-year-old is still getting better. He will be one of the serious MVP contenders for the next several years, especially because he's the best hitter on one of the best teams in the league.
2. Bryce Harper – 3/1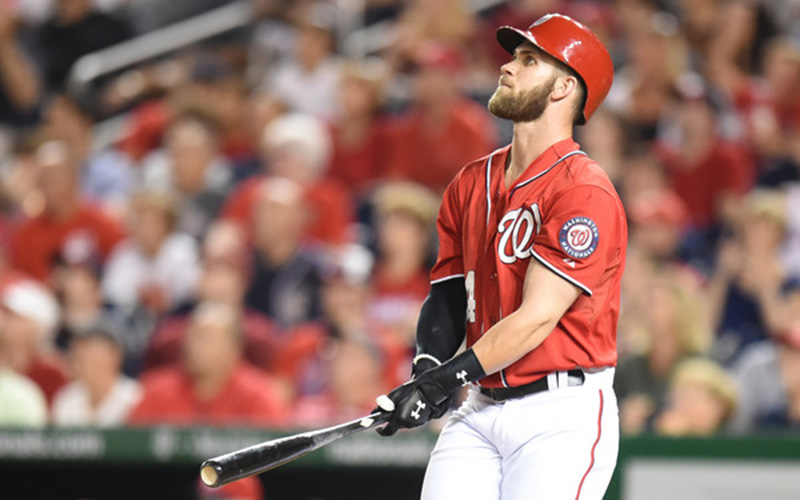 If you just looked at his 2015 stats, when Bryce Harper was still only 22 years old, you'd wonder if there was a chance that anybody else could ever win the National League MVP so long as Harper resides in the NL. That year, he hit .330/.460/.649 with 42 home runs and 9.9 WAR. He ran away with the NL MVP, but he didn't quite follow it up like most thought he would. In 2016, Harper had a slash line of .243/.373/.441 with 24 homers and 1.6 WAR. But given his career trajectory, this seems like an outlier. Vegas tends to agree, giving him 3/1 odds for the MVP.
1. Kris Bryant – 2.25/1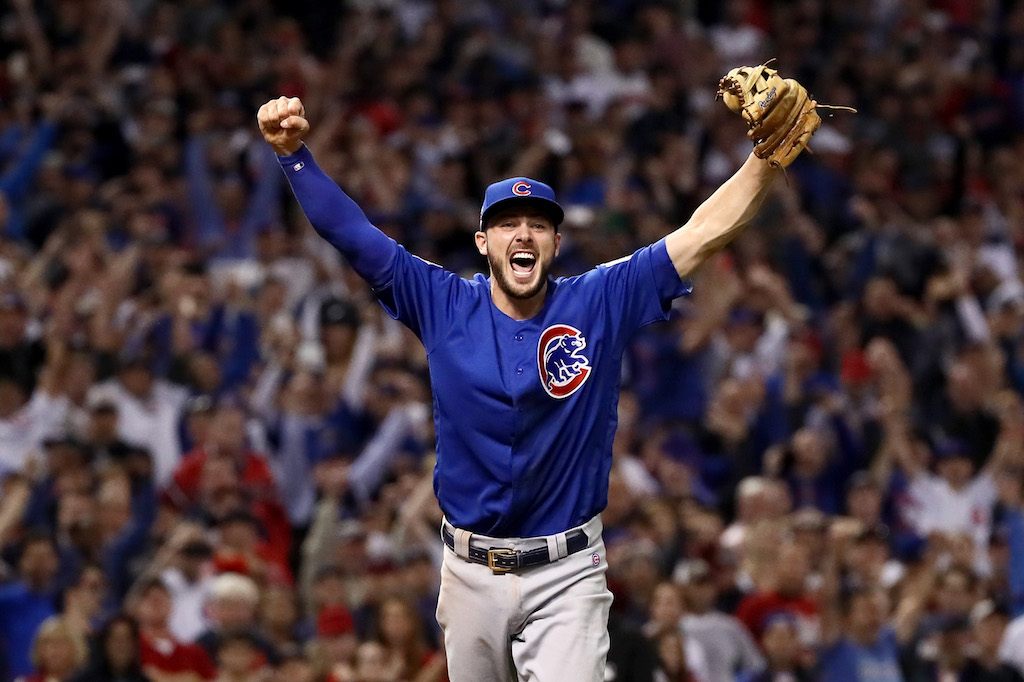 Chicago Cubs third baseman Kris Bryant had a tremendous second year in Major League Baseball, leading the league in runs scored while batting ahead of Anthony Rizzo, Ben Zobrist, and Addison Russell. Bryant hit .292/.385/.554 with 39 home runs and 7.7 WAR; he took home the 2016 NL MVP award and led the Cubs to a World Series victory.
In short, it was a great year. Bryant is still just 25 years old, which makes him a possible MVP winner every year for the next decade. The fact that the Cubs look like one of the best teams in baseball yet again doesn't hurt his cause. Expect Bryant to land near the top of MVP voting yet again.
Statistics courtesy of ESPN, Odd Sharks, and Baseball-Reference.