MLB
MLB: These are the 10 Highest Paid Players in 2019
They may not dominate the discussion of biggest contracts ever, but there is little doubt that starting pitchers are the highest paid players in baseball these days. Six of the 10 top-earning players for 2019 are starting pitchers. For those who don't pitch, they've had to hit their way to the top of the list.
Notably, while Bryce Harper and the Phillies agreed to the highest-paying MLB contract ever. Manny Machado, newly of the Padres, also has a massive contract. u
9. Justin Verlander, SP, Houston Astros (TIE)
At the age of 36, Justin Verlander has not only regained his confidence and form, but he's also back to being one of the best pitchers in the game. He hit a peak in his career back in 2011 with the American League Cy Young and MVP, but then he scuffled. However, last year with Houston he regained control and enjoyed an astonishing year that saw him vie for another Cy Young. Although coming in second, he earned every bit of his $28 millionl salary. Verlander is slated to start for the Astros on opening day.
9. Albert Pujols, DH, Los Angeles Angels (TIE)
Albert Pujols gets paid to hit the long ball for the Angels, which hasn't been working out quite so well for him in the past couple of years. He's being paid $28 million to get up four or five times per game attempting to hit it out of the park. His three NL MVP awards with the Cardinals made Pujols worthy of the 10-year, $240 million contract the Angels gave him when he signed in 2012. However, his abilities have been on the decline ever since, and 2019 is his age 39 season.
8. Yoenis Cespedes, OF, New York Mets
We said if you weren't a pitcher, you had to hit to make the big bucks. We stand behind that, but with Yoenis Cespedes there's no denying the accuracy and strength of his arm also comes into play with his $29 million salary. That being said, he has to stay healthy to truly earn that money.
Last summer he had surgery on both of his heels, which knocked him out for the season. While he won't be ready to take the field for the Mets on opening day this year, he feels he will be able to get into the game at some point during the season.
7. Miguel Cabrera, 1B, Detroit Tigers
If anyone knows what Albert Pujols is dealing with in Los Angeles, it's Michael Cabrera. The Tigers make the two-time MVP one of the highest paid players in baseball, but his best years are behind him. Still, he sits at the 465-home run mark, and he hopes to join the 27 players of the 500 home run club before retiring.
With a salary of $30 million this year, Detroit's 36-year old first baseman has got a few more years left to accomplish just that. But, the past two years he's been plagued with back problems and suffered from a biceps tendon rupture which took him out of the game last season. He's got to get healthy to earn those 35 homers to reach 500.
5. David Price, SP, Boston Red Sox (TIE)
David Price has been in the big leagues since 2008, having last signed with Boston in December 2015. Following his 2012 Cy Young year, the left-hander rather quietly moved from Tampa Bay to Detroit to Toronto before finally landing with the Red Sox, where he's been an integral part of the rotation for the past three years. Last November, Price earned the AL Comeback Player of the Year award.
5. Clayton Kershaw, SP, Los Angeles Dodgers (TIE)
If you don't know Clayton Kershaw, well, you're missing out. The Dodgers' ace imight be the best pitcher of this decade with three Cy Young Awards and an NL MVP award, which is not often awarded to a pitcher. The 30-year-old has suffered some back problems and stints on the DL for various periods of time, yet he remains one of the pitchers who batters least like confronting.
4. Mike Trout, OF, Los Angeles Angels
2019 Salary: $34.1 million
Mike Trout is the position player making the most among the highest paid players in baseball. We'd have to say it's money well-spent and money well-earned. After all, Trout is a legit five-tool player who excels at hitting and fielding, and he is considered the best player in the game.
Since his rookie season in 2012, he has either won or come in second in AL MVP voting all but once, when he fell to fourth. Trout is the pride and joy of the Angels, and he'll be up for free agency in a couple of years. Whether he hits the open market or gets locked up by the Angels, his salary is almost sure to surpass $40 million per year.
3. Zack Greinke, SP, Arizona Diamondbacks
2019 Salary: $34.5 million
Starting off the top three highest paid players in baseball in 2019 is Arizona ace Zack Greinke. The right-hander had a tough year in 2016 upon his arrival in Phoenix after leaving the Dodgers, but he came back into his own the last two seasons. Overall, the 35-year-old has been consistent and worthy of his $34.5 mil per year pay.
2. Max Scherzer, SP, Washington Nationals
2019 Salary: $37.4 million
We only have to visit one stadium to meet the two highest paid players in baseball in 2019. Max Scherzer has earned a trip to the All-Star Game every year since 2013 while earning Cy Young Awards in 2016 and 2017 with Washington. He's been at the top of his game for years with 250 strikeouts or more every season since 2014. It's no stretch to say he's considered by some to be the best pitcher in baseball today and worthy of being one of the highest paid players in the game.
1. Stephen Strasburg, SP, Washington Nationals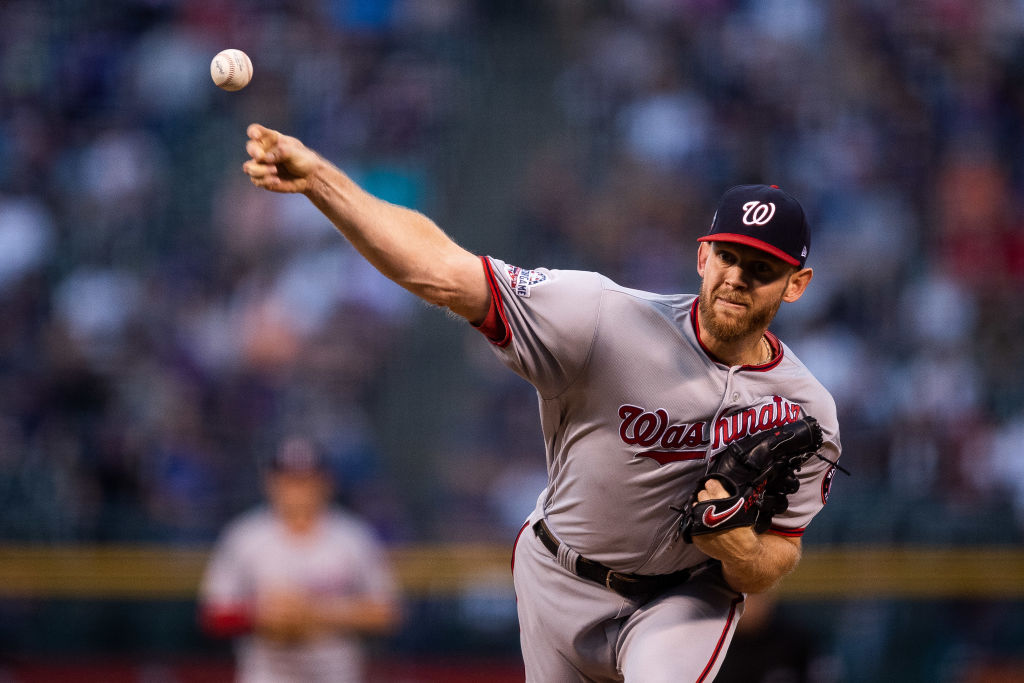 2019 Salary: $38.3 million
The right-handed Strasburg was the Nats No. 1 pick in the 2009 draft and he's lived up to the hype. However, he went on the disabled list twice in 2018 – first for right shoulder inflammation, and then for cervical nerve impingement. When he returned to the mound later in the season, his pitching was effective although his velocity down a bit. Washington needs him to stay healthy to contend in the tough NL East and to live up to his huge salary.