MLB: The Historic Start by Mets Rookie Pete Alonso Flies Under the Radar
When you think of 2019 baseball rookies, names like Vladimir Guerrero Jr. and Fernando Tatis Jr. are two of the first names that come to mind — partially because of their famous names. But other rookies are thriving, even if you might not know it. New York Mets newcomer Pete Alonso began the season under the radar, but his early-season stats indicate that people should be paying attention to him, and he could make a run for National League Rookie of the Year honors.

Pete Alonso's pre-MLB history with the Mets
The Mets selected 1B Pete Alonso out of the University of Florida in the second round of the 2016 MLB draft. He spent three seasons in the Mets' minor league system, hitting .290 with 59 home runs and 203 RBIs in 255 games.

This winter, experts ranked Alonso as the seventh-best first-base prospect in the majors. He made a big impression on Mets' management in 21 games this spring. He hit .368, with four home runs and 11 RBIs. Those numbers helped Alonso earn one of the final spots on the Mets' major league roster entering the regular season.

Alonso's first 10 MLB games
Alonso kept up the momentum in the early part of the regular season, hitting at a historic pace in his first 10 games. In those contests, the 24-year-old batted .385 with five home runs, 14 RBIs, and eight runs scored. Those numbers put him in territory that has rarely been achieved by players for the Mets or in MLB overall in their first 10 career games.

Some of his notable achievements include:
First player in modern MLB history (since 1900) to have at least 11 extra-base hits in his first 10 career games. He had five home runs and six doubles.
One of eight players in MLB with at least 14 RBIs in his first 10 games.
Set a new Mets record with 14 RBIs in his first 10 games.
Tied for the most hits (15) in franchise history in his first 10 games. Mike Vail also did it in 1975.
First Mets rookie with a three-game home-run streak since Benny Agbayani in 1999.
Second Mets player to have a multi-homer game in his first 10 career games. Mike Jacobs in 2005 is the other.
Pete Alonso is showing premier power
Alonso isn't just hitting home runs, but he is showing power that is near the level of sluggers such as Yankees OFs Giancarlo Stanton and Aaron Judge.

On April 11, Alonso hit a homer off of Braves reliever Jonny Venters that came off the bat at 118.3 mph, which was tied for the ninth hardest-hit home run in the majors since 2015, according to Statcast calculations. Every other spot on that list is taken up by either Stanton or Judge. Since Statcast tracking began, Alonso is one of just 14 players to hit a ball at least 118 mph, but Alonso, Stanton, and Judge are the only three batters to hit a ball that hard and have it clear the fence for a home run.

Alonso's Rookie of the Year chances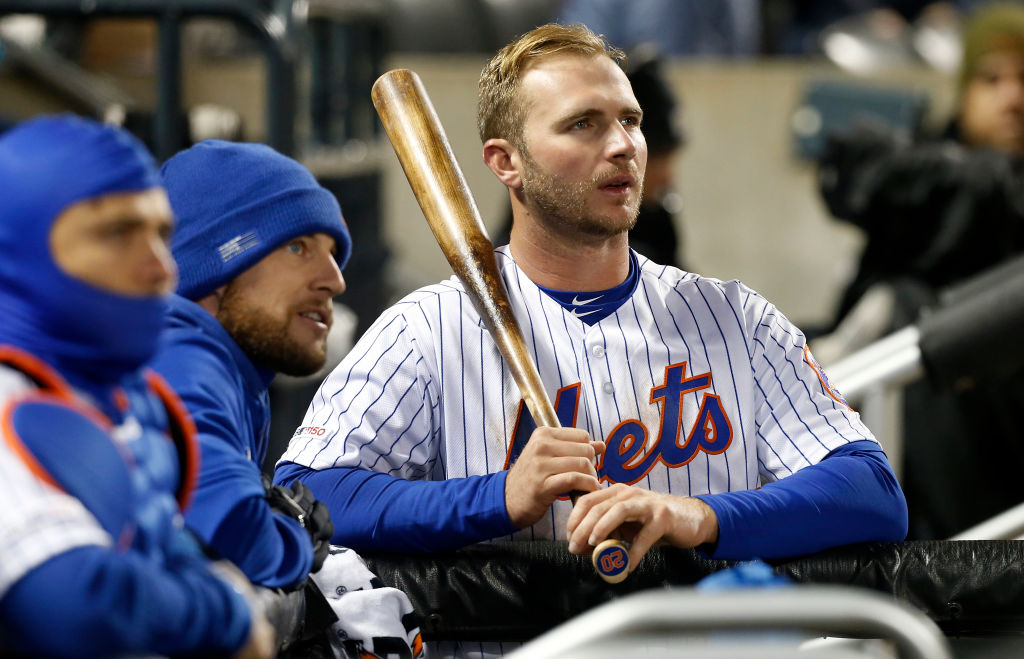 Many sportsbooks have Alonso near the top of the National League in terms of his chances to win the Rookie of the Year award. Expected to join Alonso in that race are San Diego's Tatis Jr., the Nationals' Victor Robles, the Padres' Chris Paddack, and the Dodgers' Alex Verdugo.

If Alonso wins the award, he will be the first Mets player to take home the trophy since reigning NL Cy Young winner Jacob deGrom was named the National League Rookie of the Year in 2014. But Alonso will have some stiff competition as Tatis Jr. is almost keeping up with him in home runs and Paddack posted a 1.29 ERA in his first three starts, recording 16 strikeouts in 14 innings over those games.