MLB History: When the Yankees-Red Sox Rivalry Got Bloody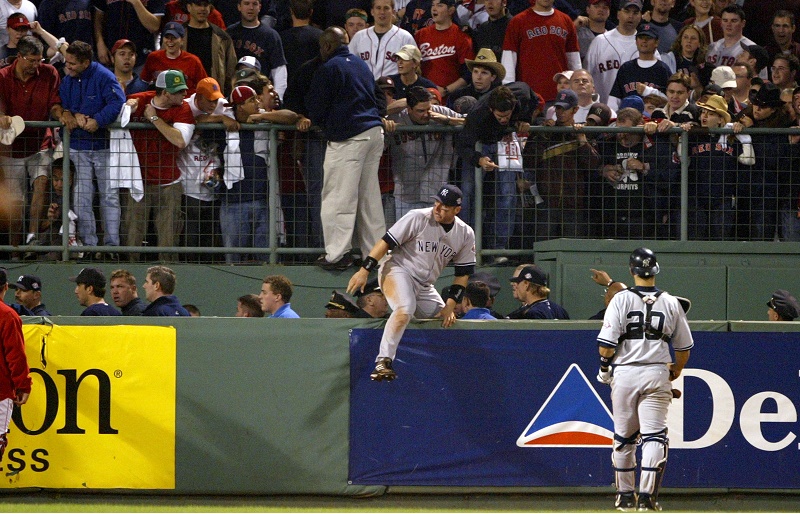 Every time the Yankees and Red Sox square off, some TV network will try to sell you on a "rivalry reborn" angle pitting two legendary franchises against one another. Don't believe the hype. As anyone born before 1990 can attest, the Red Sox-Yankees rivalry is a mere shell of its former self. In its heyday, the teams competed for first place, the players genuinely hated one another, and fistfights were commonplace.
Look at the standings and you'll see why there hasn't been a rivalry for several years.  The Red Sox have become a hit-or-miss team (mostly miss) since 2010 while the Yankees have played just slightly above average over that stretch. These teams aren't good enough to provoke passion and hate in one another, and you can find empty seats at either stadium most nights when you'd like to see a game.
It wasn't always that way. The rivalry was at its fiercest in the late 1970s and early 2000s, when both teams were elite and the players were ready to pummel one another on and off the field. For this edition of our tour through MLB history, we revisit two memorable episodes from the great Red Sox-Yankees rivalry days, when the gloves came off and things got ugly on the field. Viewer discretion is advised.
May 20, 1976: Piniella vs. Fisk; Lee vs. Nettles
We are in awe of the cast of characters playing on the Yankees and Red Sox in the late 1970s. Carlton Fisk and Thurman Munson were behind the plate; Carl Yastrzemski and Reggie Jackson roamed the outfield; and pitchers like Goose Gossage and "Spaceman" Bill Lee were fixtures on the mound. For all the ego and personality in that mix, it's tough to imagine how they crammed any fans into the stadiums.
On this night at old Yankee Stadium, Lou Piniella (another rivalry mainstay) tried to score from second base but found Fisk blocking the plate. After Piniella's unsuccessful attempt to jar the ball loose by running him over, Fisk objects and the two tangle at home plate while the benches clear. What follows is a textbook example of what Anthony Burgess once termed "ultraviolence." You can see Lee get throttled in the corner of the screen by Graig Nettles in what the Red Sox pitcher described as "a body slam"; many players are pummeled in and out of the camera's eye; and Lee turns up looking maimed after the crowd disperses.
When Lee voices his displeasure to Nettles, the Yankees 3B responds with a right cross to his eye and the melee starts all over again. When it was all said and done, Lee had to miss five weeks with torn shoulder ligaments. (The black eye Nettles gave him only lasted a few days.) As you marvel at the origins of this scuffle, remember that home plate collisions are effectively banned in today's game.
July 24, 2004: A-Rod vs. Veritek; Sturtze vs. Kapler
This fight was yet another eruption in a string of brawls that dated back several years. In the 2003 ALCS, Pedro Martinez's beaning of Karim Garcia sparked a scuffle that ended up with Yankees coach (and senior citizen) Don Zimmer getting slammed to the ground by the Red Sox pitcher. Somehow, Garcia later made his presence known in a tussle with a Red Sox employee in the visiting bullpen, which resulted in a criminal investigation.
On this date the following season, A-Rod had grown tired of the plunking he received by Boston pitchers and took issue with starter Bronson Arroyo. Red Sox catcher Jason Varitek intercedes and the two come to blows quickly. As with the Fisk-Piniella brawl, the action on the fringes was more intense than the on the main stage. (Varitek, who wore his catcher's mask through the fight, didn't show a scratch. A-Rod was also unharmed.)
Tanyon Sturtze, who toed the rubber for New York that day, ended up with a gash on the left side of his face, apparently the work of Red Sox reserve Gabe Kapler. While the umpires sorted out who would be ejected, Sturtze stood bleeding from his face. It was yet another moment of blood being drawn in the historically epic rivalry. As for the next chapter in Yankees-Red Sox lore, it may take a while to be written.
More on MLB History from Sports Cheat Sheet: