MLB: How Bryce Harper Made Home Run History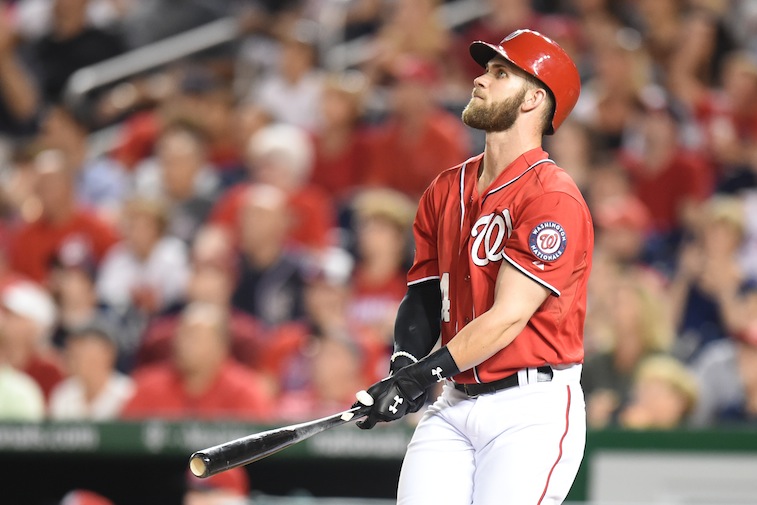 Say what you will about Philadelphia sports fans, but when it comes to respecting historical milestones, they are more than happy to acknowledge someone's greatness — even if the person happens to be on the opposing team.
Wednesday night's ballgame between the Philadelphia Phillies and Washington Nationals was so one-sided, even Phillies interim manager Pete Mackanin had no problem acknowledging such: "Not a lot to talk about tonight," said Mackanin. "The only bright spot was Ruf's home run."
If you're a Phils fan, it's hard to argue with that assessment. The Nationals destroyed their NL East foe by a score of 12-2. However, if there was one bright spot for the Philly fans who were kind enough to support their home team — despite the club's MLB-worst 56-91 record — at least they were treated to something special.
With one swing of the bat, NL MVP front-runner Bryce Harper launched a home run — his 40th of the 2015 season — into the right field bleachers, properly securing his place in Major League Baseball history.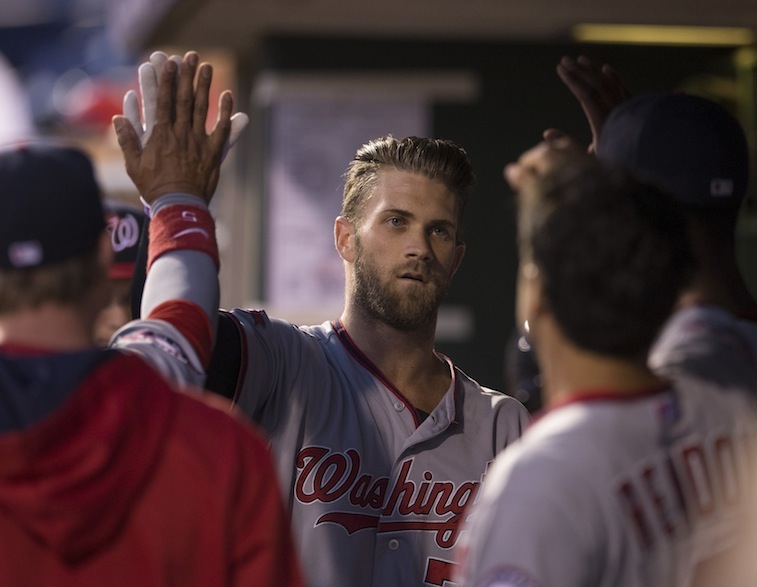 Prior to Harper's blast, only six players in the history of the sport had ever hit 40 or more home runs in single season when they were 22 years old or younger. Harper's dinger against the Phillies on Monday night increases that list to seven players.
As if he wasn't having a ridiculous year already, now Harper gets to add this achievement to his impressive resume. If you're curious to know just how special this achievement truly is, all you need to do is take a look at the other players in this exclusive club (courtesy of SB Nation): Alex Rodriguez, Juan Gonzalez, Johnny Bench, Eddie Mathews (did it twice), Joe DiMaggio, and Mel Ott. That's some pretty solid company right there.
Harper himself has no problem talking about his latest feat. However, he'd prefer to do it at the end of the season: "We have 17 more games left. I'll answer [about the 40 home runs] at the end of the year," Harper said. "We won the ballgame tonight. We have to keep grinding, keep rolling." Even though the Nationals have essentially played themselves out of postseason contention, it's nice to see a superstar like Harper placing the focus on the team. After all, there's no need for him to draw attention to his own individual success — we're all doing that job for him.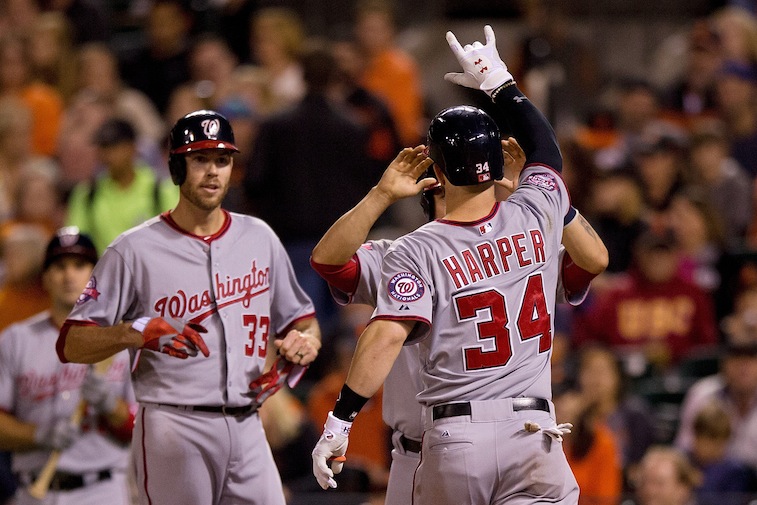 When a Major League Baseball player bats themselves into history, they don't always get back the ball that put them there. That wasn't the case on Wednesday evening.
The Phillies fan who caught home run No. 40 was happy to return the ball to its rightful owner — he even got an autograph for the gesture, something that Harper was truly appreciate of: "It's pretty cool to have that kind of ball," he said. "They're great fans here. They know baseball. They understand the game and I'm so thankful for that."
They understand the game, indeed. They recognize the kind of player Harper is, and the kind of player he has the potential to become. He may not be a member of the Phillies, but he's starting to make his mark on the sport. And this is enough to warrant every fan's respect. Even in Philadelphia.
All statistics are courtesy of Baseball-Reference.com, ESPN.go.com, SB Nation, and MLB.com.