MLB: How James McCann Became 1 of the Best Offensive Catchers in Baseball
In today's world of advanced analytics, many within the game of baseball view everything as a pattern. If one were to analyze the trends of White Sox catcher James McCann before this season, they'd witness a mediocre player barely hanging on to a big league job. This year, all that changed as McCann was recently selected for his first All-Star appearance.

The question is: how did James McCann go from "nothing special" to one of the best offensive catchers in baseball? Let's take a closer look at his career up until this point to see how he did it.

His career numbers before aren't anything special
The Detroit Tigers drafted McCann in the second round of the 2011 MLB amateur draft. It took him three years to break in with the big club, and when he did, he struggled to make his mark. Once he was handed the starting job, his numbers weren't much to brag about. In 452 games he amassed the following totals:
40 home runs
177 RBIs
135 runs scored
.240 batting average
.288 on-base percentage
.366 slugging percentage
406 strikeouts
A collective Wins Above Replacement (WAR) of 2.8
Those are clearly not the stats of an outstanding player. After the 2018 season, the Tigers let him walk, and he signed a free agent deal with the Chicago White Sox. It was a low-risk deal for the Sox. They were able to sign the underperforming backstop for only one year, $2.5 million.

James McCann's numbers in 2019
So far, McCann's career in Chicago has started much differently than his years in Detroit. The deal he signed with the team now looks like a total bargain. Take a look at his first half numbers for 2019:
Nine home runs
30 RBIs
38 runs scored
.316 batting average
.371 on-base percentage
.502 slugging percentage
65 strikeouts
2.8 WAR
To put those numbers in perspective with the rest of his career:
His season-high RBI total before 2019 was 49. He's already 60% of the way there in 2019.
McCann's collective career WAR was 2.8. He's achieved that total already this season alone.
He's put up these numbers in only 63 games this year.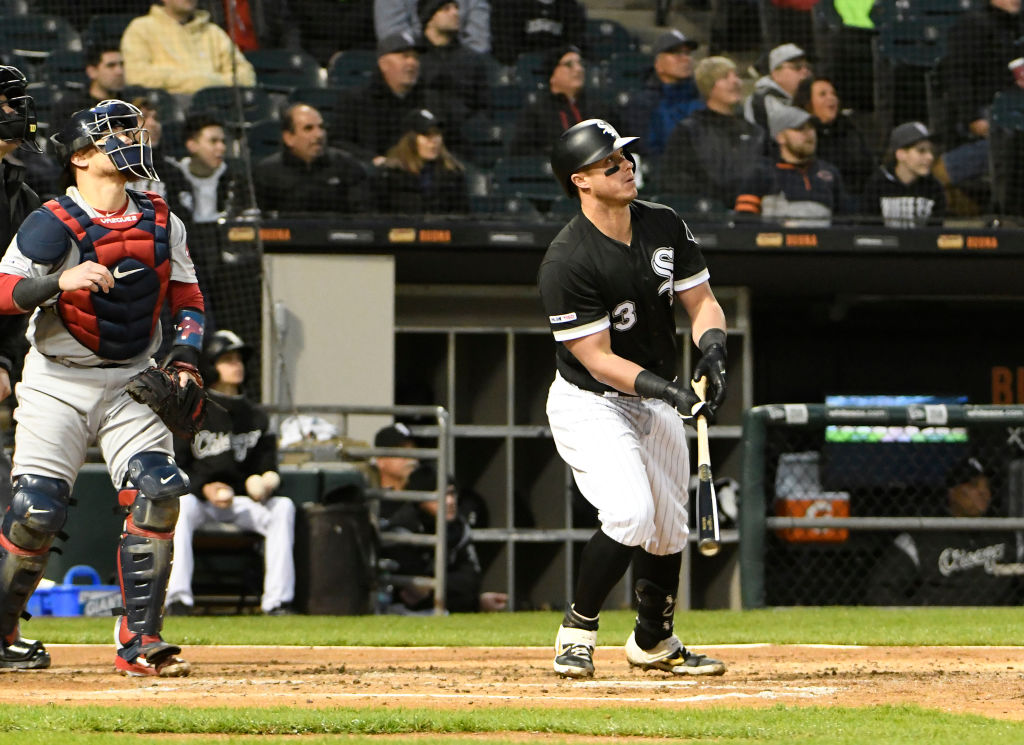 That's proof positive that James McCann has taken his offensive game to another level this year. His breakout season makes Chicago's front office look smart for signing him. But what part of his plate approach did he specifically alter that differs from previous years? 

How James McCann become one of the best offensive catchers
How is it that McCann reversed his fortunes to become the American League's second catcher for the All-Star team? According to McCann in an interview with FanGraphs, he's not trying to overexert himself:

"Honestly, the biggest thing for me this year is that I'm trying to be the best James McCann. I'm staying within myself and not trying to do too much. I'm taking my base hits the other way — I'm taking my singles — and not trying to hit the impossible six-run homer."

While McCann's attitude has seemingly improved, FanGraphs also pointed out a big mechanical change McCann has made at the plate: he's widened his stance. That helps him use his hands more to swing, putting less strain on his body.
While he undoubtedly wished he'd gotten more than one year on his last deal, it could work out well for McCann. He may only be making $2.5 million, but if he keeps this up in the second half, he could be looking at a very lucrative payday this offseason, whether with the White Sox or another franchise. 

Based on his current results, he'd be well-served to keep doing what he's doing. Catchers who can hit are rather valuable in today's MLB based on their dwindling numbers.