MLB: How the Diamondbacks Return to Respectability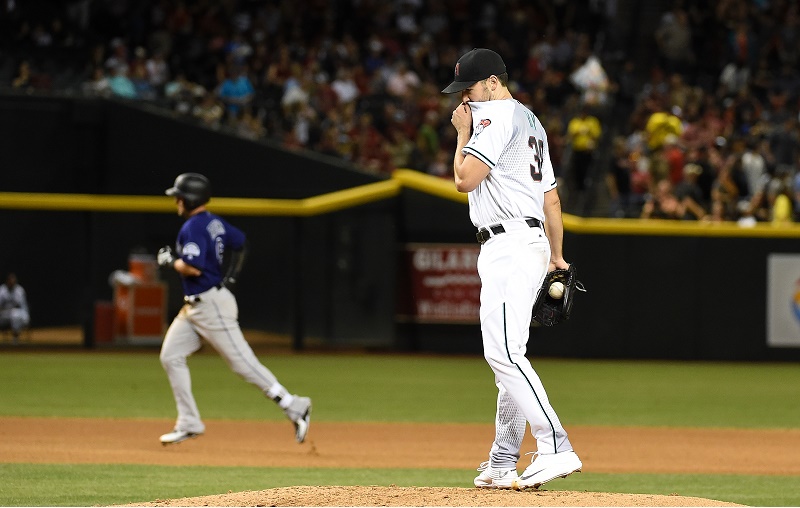 The Arizona Diamondbacks came into the 2016 season with high hopes. Even with those ugly new uniforms, the additions of Zack Greinke and Shelby Miller meant there would be some regulating at the top of the rotation in support of an offense that deserved better. One month into the season, the D-Backs can't get any traction in the NL West. Better starting pitching is the only path to respectability for a badly scuffling club.
With this rotation, the view is hideous from any angle. Through 27 starts, the group has a 5.67 ERA (29th) and a collective 0.0 WAR. The replacement-level performance has been headlined by Miller (0-3), whose 8.49 ERA ranks 126th among 131 MLB starters with a minimum 20.0 IP. Greinke (2-2) ranks 102nd at 5.50. Patrick Corbin (1-3, 4.91) and Robbie Ray (1-1, 4.97) aren't far behind them.
In fact, if you needed a quick indictment of the Diamondbacks pitchers, just note that Rubby De La Rosa (2-3, 4.39) has been the top performer in the rotation. Several stats jump off the screen: Miller's 19 SO equals his 19 BB in 23.1 IP; Corbin has allowed 8 HR, approximately one every 4.2 IP and two of them among the longest of the 2016 season; and Greinke has allowed 55 baserunners via walk or hit in 37.2 IP.
Though there are few bright spots here, you can point to a couple encouraging trends, starting with Greinke, who has averaged about 7.0 IP in his last four starts and only had one stinker (versus St. Louis, the top-scoring club). De La Rosa has put together three solid starts as well. Ray, Miller, and Corbin offer no good news.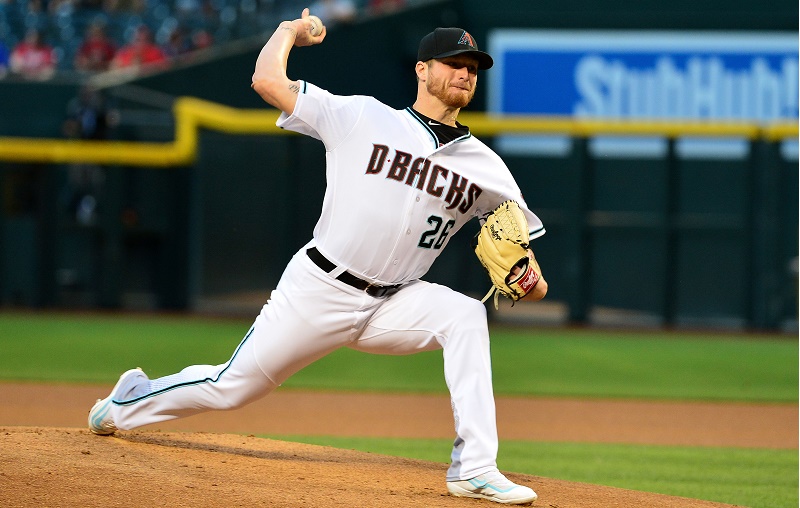 All the D-Backs can do is hope for the old statistical correction to career averages. If so, Miller should get to improve his control and cut down on his sky-high walk ratio, which is double his normal rate. Ray's walk ratio and Corbin's strikeout ratio also ought to improve, as should the entire team's penchant for allowing the long ball.
There is plenty of good to find in the offense. Arizona is seventh in runs and third in slugging; Jean Segura is batting .339; Yasmany Tomas is slugging .510; and Wellington Castillo has 7 HR in 21 games. This group may be even better than it was in 2015 and Ender Inciarte is on the DL. The back end of the bullpen has been solid, too. And after the 3-7 start and so many poundings at the hands of opposing batters, the D-Backs are only three games out of first.
Brad Ziegler and Tyler Clippard have fronted a strong late-inning group, so there is protection available if any of the starters can hand the ball to them. This team tried to hit its way into contention last season and it didn't work. After the huge monetary and player investment in Greinke and Miller, the club deserves a better return from its rotation. There is no other way for Arizona to claw its way into contention.
Connect with Eric on Twitter @EricSchaalNY
Statistics courtesy of Fangraphs.com.