MLB: How the Indians Win 90 Games and Take the AL Central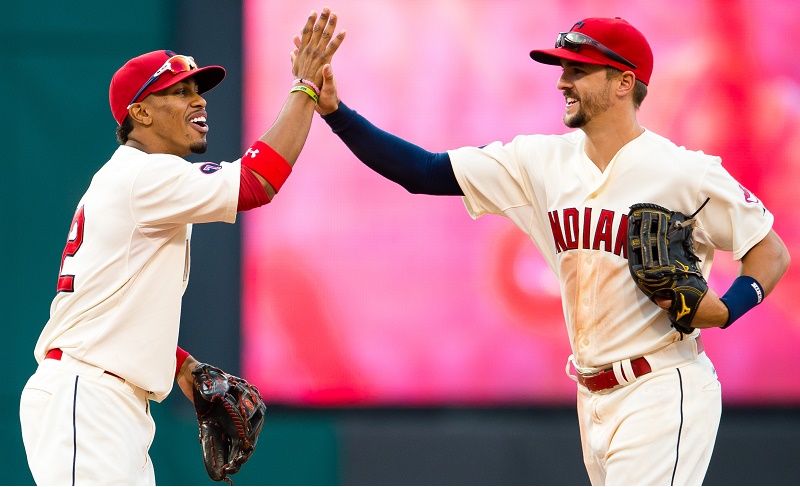 If you've seen the projections for the 2016 MLB season, you're probably trying to wrap your head around calls like the Royals winning 79 games. But that's only half the story in the AL Central. In multiple computer models, Cleveland has been picked to win over 90 games and take the division — and Vegas is on board with World Series odds too. For the Indians to get there, the club will need more of the same spectacular starting pitching and a much better offensive output than we saw last year.
Cleveland's 2015 season began with a 10-19 start, leaving the Tribe 8 GB in last place by the second week of May. Kansas City never looked back after that. The Indians eventually turned around the season, but it was too late for the young team to claw back into the division race. This year, on Opening Day, the Indians will have Francisco Lindor to provide energy and production on both sides of the game — something they severely lacked in the early-going — so there is hope.
Mike Napoli joins the team at first base, providing better defense and (according to the plan) pop for a lineup that was powerless at various points last year. With Michael Brantley out for April (possibly longer), Jason Kipnis will have to put up another All-Star campaign for the Tribe, a club that scored fewer runs than the Mets in 2015 and was 18th overall. Juan Uribe — signed in late February — provides another bit of thump from the righthand side. Brantley's absence will hurt a team that has its share of problems on offense, and projections have their biggest hole here.
Cleveland wasn't bad in terms of batting average (11th) or OBP (seventh), but timely hitting (21st with RISP) was a problem throughout the year, and it shows in the low run totals that left the team's excellent rotation exposed on a regular basis. Look no further than Carlos Santana's 20 ground-ball double plays to understand Indians hitters' struggles with men on base. For Cleveland to be a force in the Central, this offensive mediocrity cannot stand.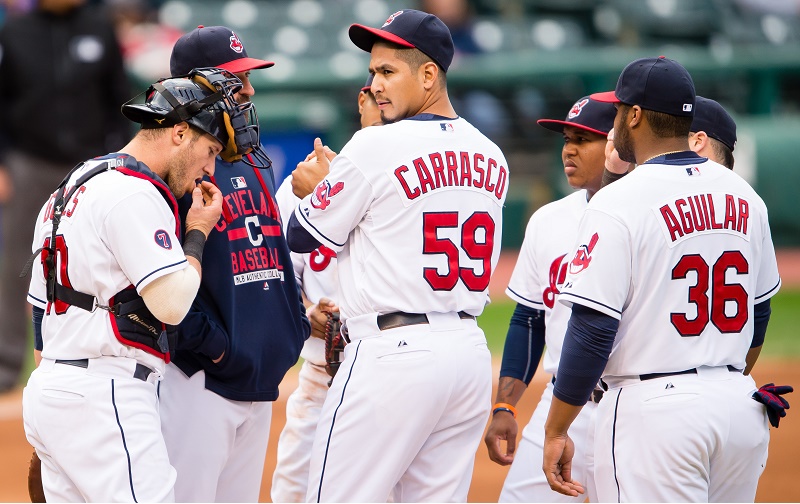 Cleveland's rotation — likely the best in the American League — returns intact with ace Corey Kluber at the top. Kluber's hard-luck 2015 campaign — 16 losses at a 2.97 FIP — would be nearly impossible to repeat. The middle of the rotation is formidable with Danny Salazar (14-10, 3.45 ERA) and Carlos Carrasco (14-12, 3.63 ERA) behind him. Add in Trevor Bauer and a competition for the fifth spot and you see how the Indians' hope for the division title rests here.
Because of the young rotation's depth and consistency, Cleveland put less pressure on its bullpen than any AL team besides the White Sox, and the core group of relievers will return for 2016. Cody Allen (12.9 SO/9) and Zach McAllister (11.0 SO/9) ensure that late-game at-bats are just as difficult for opposing hitters. In a nutshell, the projections expect dominance from the pitching staff matched by top-10 run production by the Indians lineup. Maybe that will happen if Lindor and Kipnis pick up where they left off in 2015 and Napoli provides consistent run production until Brantley recovers and regains his All-Star form.
Otherwise, by the time Brantley returns, Cleveland could be in a hole too deep to overcome — again. These weaknesses are easy enough for computers to miss. As for the Vegas sports books that put Cleveland at 16-1 odds to win the World Series (best in the AL Central), we find it harder to take the Indians over the Royals. Even if one team looks better on paper, Kansas City is a proven winner; one that can and will add players at the trade deadline to fill in the blanks. Adjust your wagers, hopes, and dreams accordingly.
Connect with Eric on Twitter @EricSchaalNY
Statistics courtesy of Baseball-Reference.com.