MLB: How the Kyle Schwarber Injury Hurts the Cubs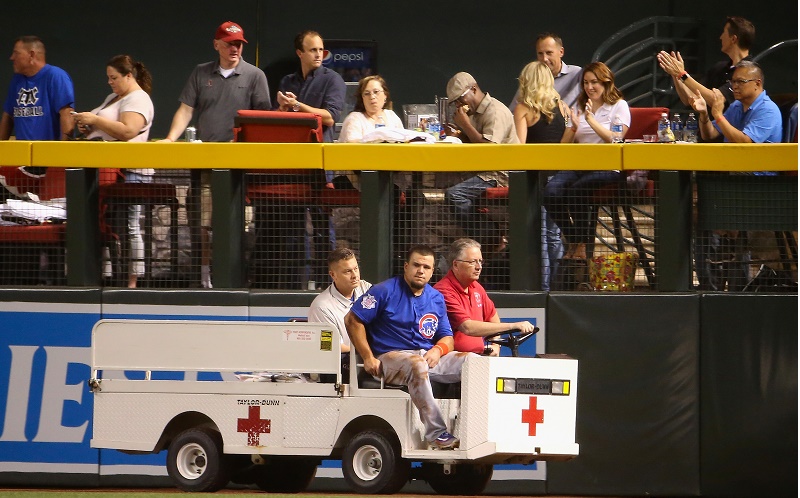 The Kyle Schwarber injury was as bad as the Chicago Cubs feared. Less than one week into the 2016 season, Schwarber suffered tears in both his ACL and LCL after colliding with Dexter Fowler trying to make an outfield play. He won't play another game until 2017. It was rotten luck for the likeable catcher/outfielder with the Ruthian swing just as he was starting his second Major League campaign.
Replacing Schwarber will be no simple task, even for a team stacked with young position players like the Cubs. The club's depth will be tested early both in the lineup and on the field. Here are three areas where losing Schwarber for 2016 will hurt Chicago in its title quest.
Offense versus right-handers
The Cubs were around the middle of the pack against right-handed pitching (.728 OPS, 15th in MLB) in 2015, but Schwarber was among baseball's elite. In the NL, only Bryce Harper and three others were ahead of Schwarber in slugging (.557). On top of that eye-popping stat, Schwarber hit 14 of his 16 home runs and collected 32 of his 43 RBI against righties (64 games). He was basically Paul Goldschmidt from the left-hand side.
Replacing Schwarber, at least for the time being, will be Jorge Soler, the Cuban-born player who caused a sensation with his power display in last year's playoffs. Soler was not nearly the threat versus righties last season with a .268 BA, 8 HR, and .409 SLG (97 games). Jason Heyward, the big offseason addition for the Cubs, was slightly better with a .470 SLG and 11 HR in 143 games. Chicago's offense takes a step down with Schwarber out.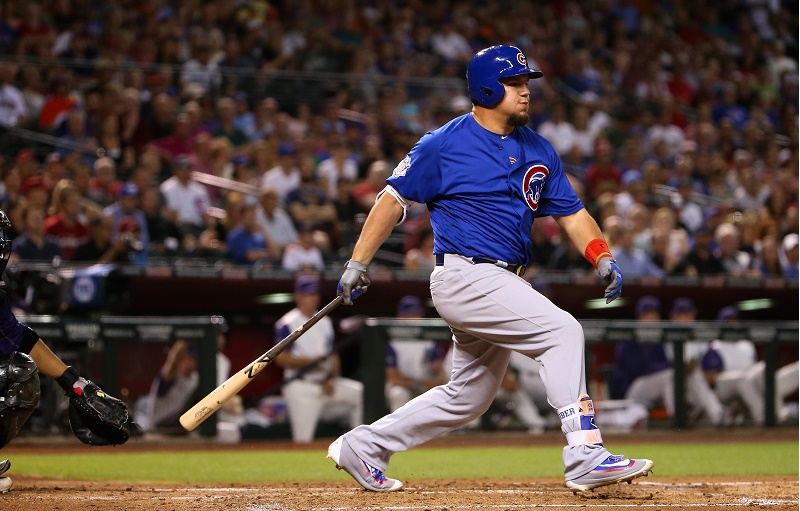 Defense
Schwarber was not an excellent defender in left — something quite evident in last year's NLCS — but he had shown improvement in Spring Training. There was hope of further development this year, which would fortify Joe Maddon's options in left. With Schwarber gone, most of the early reps go to Soler, who was surprisingly bad in his tryout there during Cactus League action in Arizona.
Otherwise, Maddon could turn to Kris Bryant in left on occasion. Bryant, the reigning NL Rookie of the Year, has been so good on "both sides of the baseball" that you ideally play him at third every day. Moving him creates a slight weakness in the outfield and in the infield with whoever replaces him at third.
Catching depth
Younger Cubs refer to 39-year-old catcher David Ross as "Grandpa" for obvious reasons. In fact, Ross is old enough to be the father of Cubs like Javier Baez (23) and Addison Russell (22). Offensively, he contributes next to nothing (.176 BA, 1 HR in 72 games 2015), but the organization prizes his veteran leadership and catching skills.
This year, we were likely to see Schwarber taking over for many of would-be Ross appearances, but those duties might fall upon Wilson Contreras,  a minor leaguer who becomes the third option after starter Miguel Montero (himself no spring chicken at 32). For all the talk of the youth in the Cubs organization, the catcher position is quite old, and an injury to either Ross or Montero may force an inexperienced player into the limelight.
Connect with Eric on Twitter @EricSchaalNY
Statistics courtesy of Baseball-Reference.com and FanGraphs.