MLB
MLB: Where Does Ichiro Rank Among the Best Baseball Players of All Time?
Defying logic by playing professional baseball well after most players retire, Ichiro Suzuki played in MLB's 2019 Japan Opening Series at the age of 45. Then he announced his retirement, effective following the series' final game.

Since joining the Mariners in 2001 and promptly winning both the MVP and Rookie of the Year awards, Ichiro has been one of MLB's most consistent performers throughout his career. In an era of baseball that's always changing, Ichiro has been a constant force since entering the league. As his playing career ends, let's take a look at where Ichiro ranks among the best baseball players of all time.
Pre-MLB career in Japan
Ichiro's playing career began in Japan in 1992 when he was 18 years old. He was beloved in his home country as one of the nation's top baseball stars. In nine seasons, he won the batting title seven times while hitting .353. He also had 1,278 hits in Japan before coming to the U.S.  
MLB career starts with a bang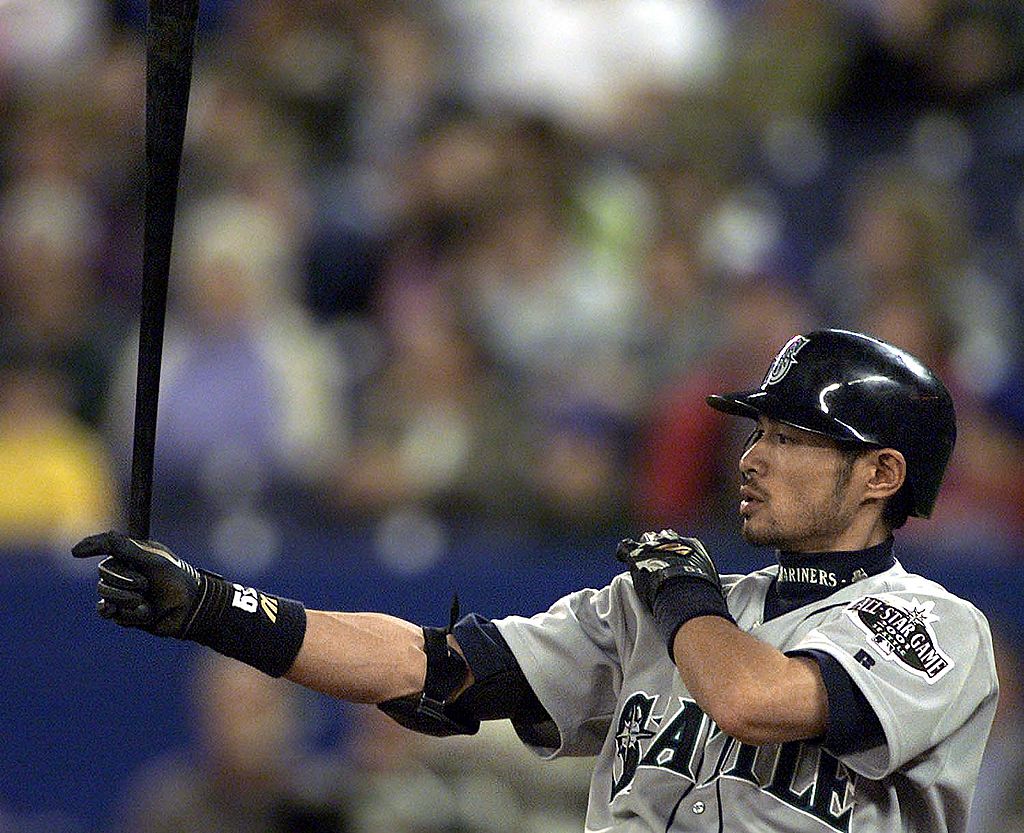 Ichiro signed with the Seattle Mariners before the 2001 season. He immediately made a splash, winning the AL MVP and Rookie of the Year honors. He and Fred Lynn are the only players to win both awards in the same season, and only a handful of players have ever won both in their careers.

In his first season, Ichiro led the league in batting average (.350), plate appearances (738), at-bats (692), stolen bases (56) and hits (242). He was also a leader on the best team in baseball. The Mariners won 116 games that season, which is still an MLB record.

Ichiro produced quite a statistical output during his MLB career. He led the league in hits seven times, and in batting average twice, hitting as high as .372. He made the All-Star team his first 10 years in the league. Along with his rookie season MVP, he finished in the top 20 of AL MVP voting nine times.

He was also a complete player, contributing on defense as well as offense. To go along with his hitting, he won 10 Gold Glove awards for being one of the top defensive outfielders in baseball.
For his career, Ichiro finished at 59.4 Wins Above Replacement level (WAR). To put that in the proper context, that ties with Hall of Famers Vlad Guerrero and Jim Bunning for the all-time mark. It leaves him right behind Hall of Famer Mike Piazza, whose WAR is 59.6.
Is Ichiro the true hit king?
Ichiro had 10 straight seasons with more than 200 hits, and he retired with 3,089 hits in his MLB career. Combined with his Japan totals, that gives him 4,367 hits all-time in his career. This eclipses MLB hit king Pete Rose's all-time hits record of 4,256.

While there has been plenty of debate over how Ichiro's totals stack up compared to Rose's, there's no question that the sheer volume of hits Ichiro collected puts him among the all-time great contact hitters in MLB history. Even taking his Japanese statistics out of the equation, his MLB hit total ranks 22nd all time.
Impact on the game
ESPN pegs Ichiro as the 65th greatest player of all time. In a game played by thousands over more than 100 years, that puts him in rarified air.

Ichiro was not a home run hitter in an era when the home run has never been valued more. He also never won a world championship, though that was hardly due to his production and more to the mediocrity of the teams he played for. Despite all that, Ichiro will be remembered as one of the most consistently excellent hitters of his era.

While there have been other Japanese-born players who had success in the U.S. — such as Hideki Matsui and Shohei Ohtani, who's just starting what looks to be at the beginning of a long and successful career with the Angels — few international players have shown the longevity and excellence of Ichiro. He transitioned from one culture to another entirely different one without a lapse in his results.

The bottom line is that due to his ability to transition from one culture's sport to another so successfully paired with his incredible discipline and pure talent, Ichiro Suzuki should be a first ballot Hall of Famer. He will also go down as one of the best pure hitters of the early 2000s, and one of baseball's all-time greats.