MLB: 5 Ideal Landing Spots for Aroldis Chapman in Free Agency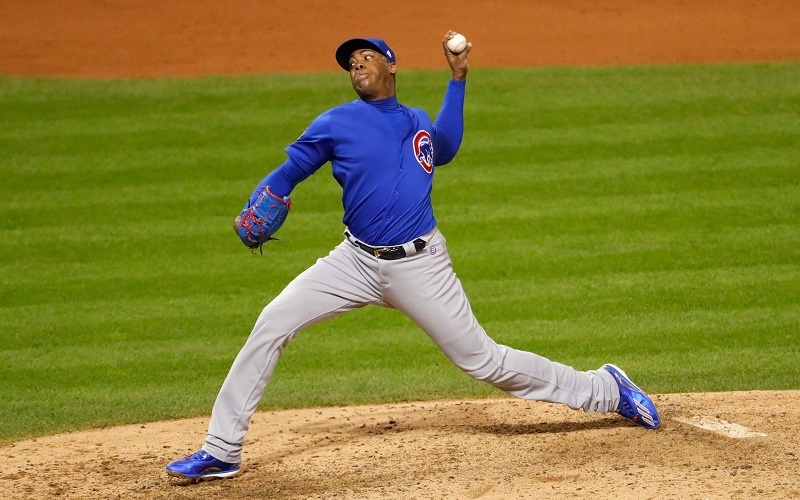 Would the Chicago Cubs have won the World Series without Aroldis Chapman? Would Cleveland have made it to Game 7 without Andrew Miller? Both questions are impossible to answer, but let's just say the odds get much longer without these elite bullpen arms aboard their respective teams for the playoffs.
For all the celebrations of Miller's greatness (1.47 ERA, 30 SO in 19.1 IP), Chapman allowed just 6 ER in 15.1 IP (21 SO), and two of those came on an impossible home run swing by Rajai Davis. During the regular season, the Cuban-born lefty went 4-1 with a 1.55 ERA and 90 SO in 58.1 IP. He may not be Mariano Rivera, but he's about the closest thing to him this offseason, even with Kenley Jansen and Mark Melancon looking for new deals.
Naturally, every MLB team has a place for someone like Chapman in the pen. Recall how Andrew Miller vacated the closer role in New York to make room for him. You can never have enough dominant arms waiting in the wings. Of course, not every club will pay top dollar for a closer, and some may not believe a closer deserves a long-term deal (thanks, Papelbon). It probably takes five years and at least $65 million — with rumors suggesting as much as $100 million — to bring Chapman aboard.
Fortunately for the subject of this article, many teams are happy to pay for his services. Here are five ideal landing spots for Chapman in 2017 and beyond.
1. Los Angeles Dodgers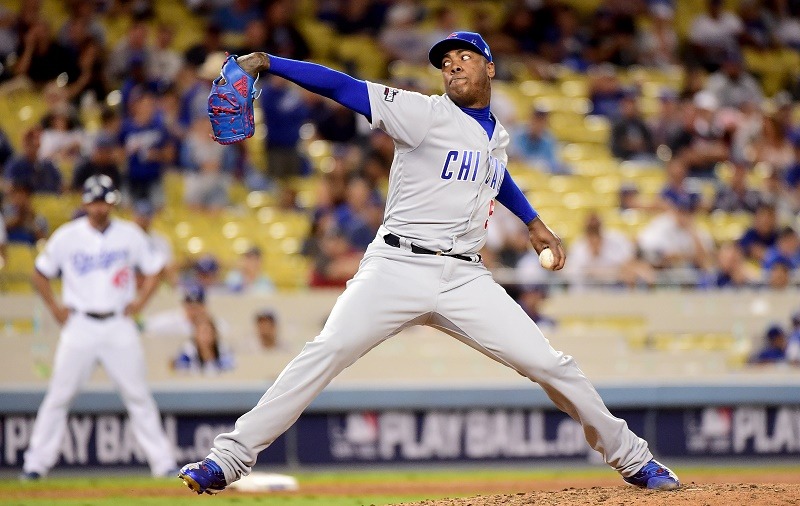 When you have an elite player looking for record money at his position, you have to consider the Los Angeles Dodgers. This offseason, the match makes even more sense with Jansen testing free agency. LA leaned on the departed closer heavily in 2016, when Jansen posted a 1.84 and 104 SO over 68.2 IP. He was extraordinary, and MLB's WAR leader among relievers. The Dodgers will need a dominant arm to protect leads in the ninth inning in 2017 and beyond. We see Chapman taking to Dodger Stadium and the organization quite well.
2. New York Yankees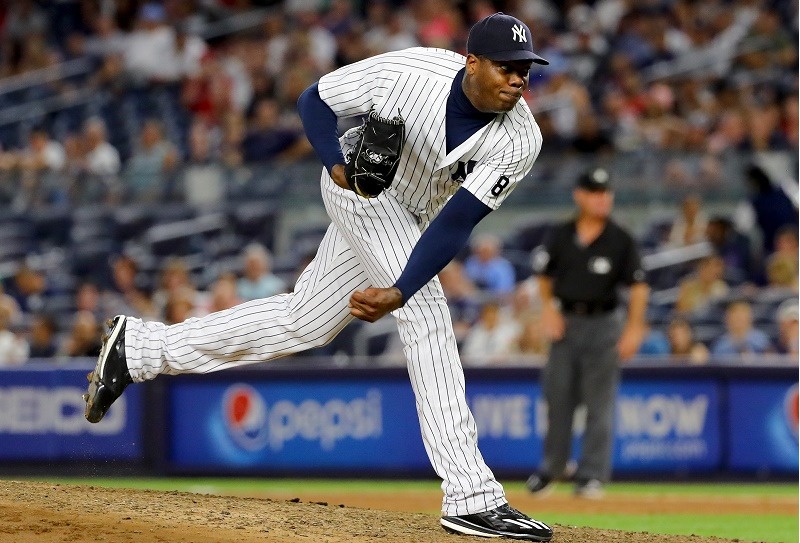 This experiment largely worked for the Yankees and Chapman in 2016, and there is every reason to expect it would again. New York's bullpen was the primary strength of the club early, and the club's playoff hopes vanished when the group left behind could not close out wins in September. There would be no adjustment period for Chapman, and no doubts about whether he could handle the limelight for management (the eternal big-market question). Meanwhile, Dellin Betances could go back to the setup role where he was so valuable.
3. Chicago Cubs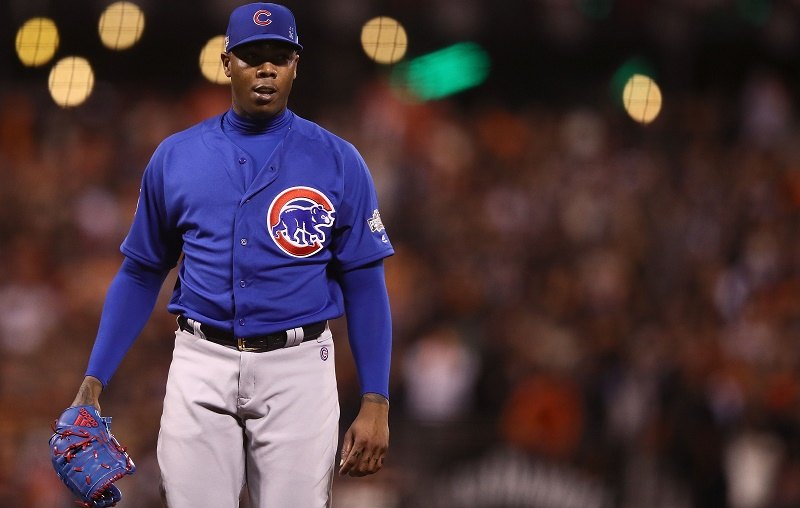 Chapman was even more dominant in Chicago (1.01 ERA, 46 SO in 26.2 IP) than he was in New York last season. By the end of the club's playoff run, manager Joe Maddon was using Chapman for multiple innings, which was a clear no-confidence vote for the rest of the bullpen. Looking ahead, Cubs executives say they hope to find a new solution rather than sign Chapman long-term, and that's not unprecedented. (The Yankees did the same with closer John Wetteland after winning the 1996 World Series.) Then again, it makes perfect sense to eliminate the team's one big weakness for the long term.
4. Cleveland Indians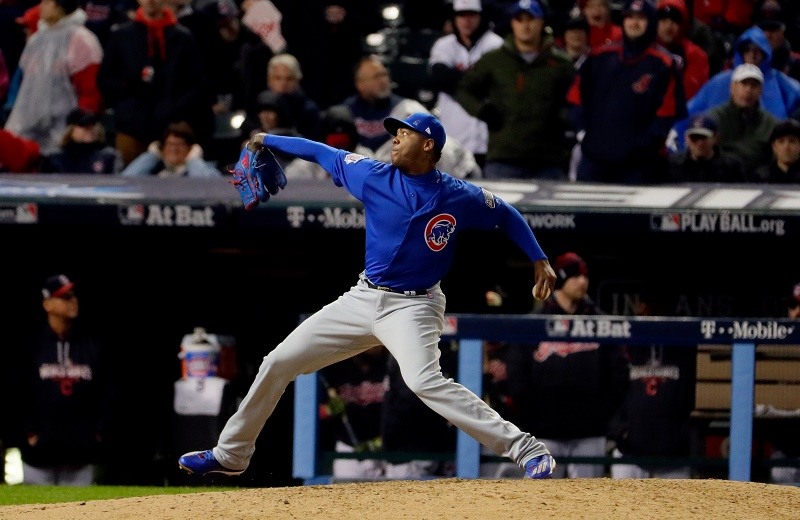 We know this one sounds like overkill, but hear us out. Cleveland's bullpen became an absolute force when Miller joined late in 2016, and it would probably be historically fearsome with Chapman in the fold. The exceptional Indians rotation would have nearly every lead protected and the team would probably be the front-runner in the AL with such a pen. Don't shoot the idea down because of money, either. Cleveland started the postseason ranked 23rd in payroll and has no noteworthy contracts on the books. Add Chapman and watch the league cower at the thought of Indians pitching.
5. San Francisco Giants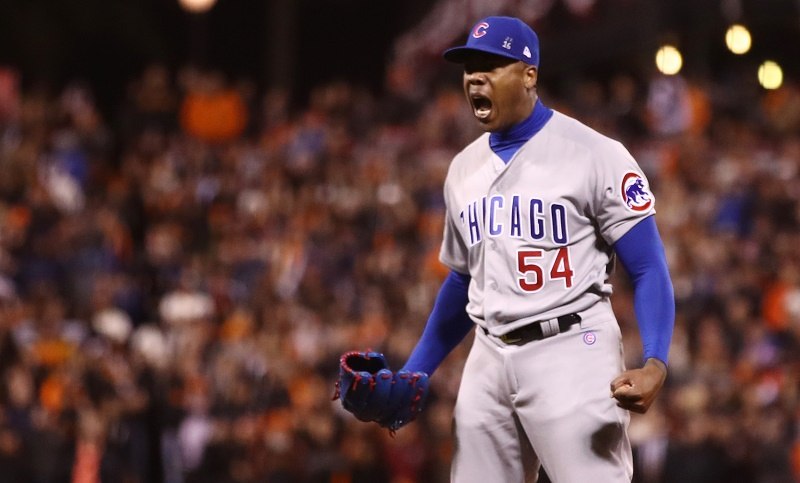 If we had to keep this list to just one team, we would have run with the Giants. No team needs a dominant closer as desperately as San Francisco. It was apparent throughout the regular season, then came brutally obvious in the NLDS versus the Cubs. As Bruce Bochy trotted one ineffective reliever after another and eventually lost the elimination Game 4, the world wondered how a contender could have such an awful bullpen. The answer? San Francisco was never a contender. It was a team waiting to get knocked out after winning the Wild Card game.
Follow Eric on Twitter @EricSchaalNY
Statistics courtesy of Fangraphs and Baseball-Reference