MLB: Inside the Red Sox Assault on Pitchers
The Boston Red Sox just scored 51 runs over the course of four games. Here, we take a look at what is fueling this historic run by their offense in 2016.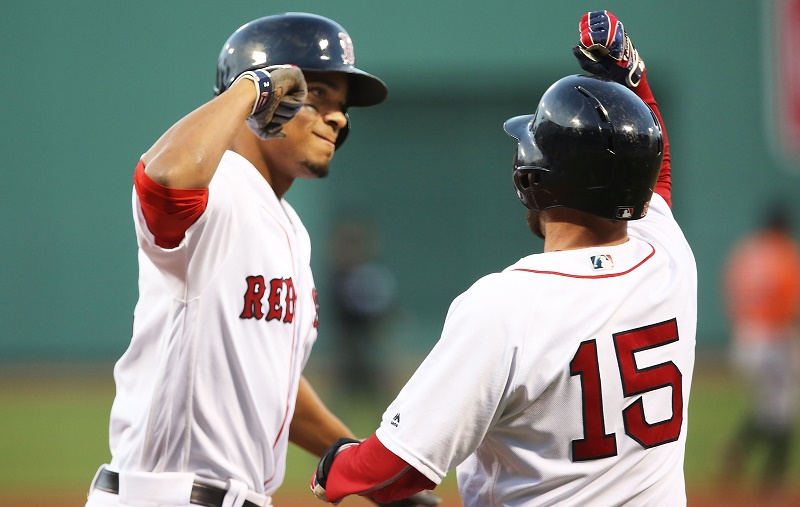 Most writers remarked on the improvements made to the Boston pitching staff in the offseason, and we had to like the upgrades: David Price, Carson Smith, and Craig Kimbrel will make any team better. However, the hot start in 2016 comes courtesy of the scorching Red Sox offense. The club just scored 51 runs over the course of four games, two of which were started by Sonny Gray and Dallas Keuchel.
This offense has been historically good, and we thought it was time to check on what was making it such a lethal weapon. Surprisingly, Mookie Betts isn't even ranking among the top five players in offensive production. Here's what different about this all-out assault on MLB pitchers.
Balls in play = hits
Boston hitters are sporting an insanely high team batting average (.295) through 35 games, and the club's .346 average on balls in play (BABIP) tells some of the story. Compare that to Toronto, which has a menacing offense of its own, and we find Blue Jays hitters at .286 BABIP, a full 60 points lower. At the bottom of the pile is the New York Yankees, whose sluggish offense has only found hits at a .269 BABIP.
Sabermetrics folks sometimes attribute a high BABIP to luck, but that's only a part of the explanation. Red Sox hitters like Xander Bogaerts, who sports a crazy .386 BABIP, and Jackie Bradley Jr. — even crazier at .391 BABIP — have proven that they handle the bat extremely well. It's one thing for a 12-hopper to find a hole through an infield; it's another for a scorching liner to find its way to the outfield.
Even though Boston has gotten more than its share of seeing-eye hits, the number of hard-hit balls has been extraordinary. Hence the high averages across the board. Six position players are hitting over .300. While these numbers will all go down, it's fun watching the Red Sox offense go.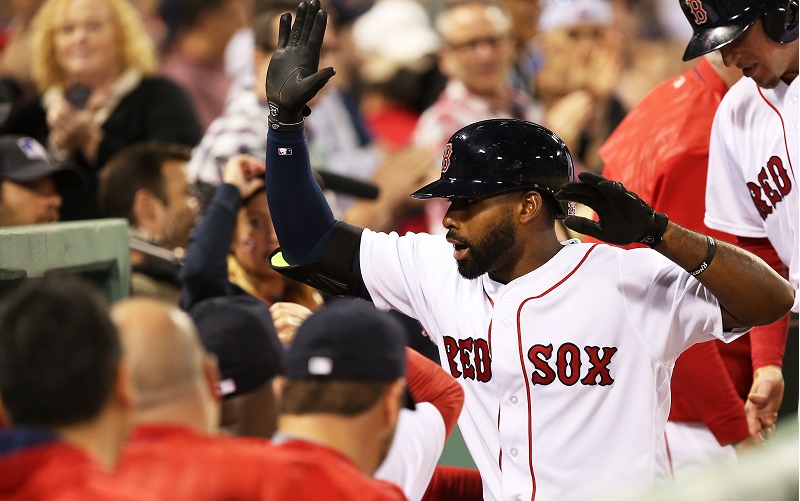 New contributors
While Jackie Bradley Jr. had a hot end to 2015, he didn't get his first hit of the season until June. This year, Bradley has come crashing out of the gate with a .978 OPS and 29 RBI through 34 games. He has seemingly reached his potential just six weeks into the season and has kept up his defensive end of the bargain as well. Bradley's takeover of center field has been smooth sailing.
At the corner, off-the-radar rookie Travis Shaw has made the disappearance of Pablo Sandoval a non-issue for Boston. While the Panda was already a disappointment for the Red Sox at this point in 2015, Shaw is hitting .320 with a .926 OPS. The upgrade over Sandoval cannot be overestimated. We'll see how MLB pitchers adjust, but for now he has found his way in the midst of a powerful offense.
Old standbys
The familiar faces of the Red Sox offense have made more than their share of appearances. Dustin Pedroia's return to the party (.306/.354/.497) has been huge for the club, and David Ortiz's output of nine HR, 30 RBI, and .672 SLG has fueled several wins. Even Hanley Ramirez (.313, .834 OPS) is in on the action through the first month and a half of the season.
Will Boston stay on this Murderers Row pace for the entire season? Major League offenses don't work that way. However, the team's hot start has given the franchise visions of a return to contention. GM Dave Dombrowski could hardly have asked for more in the second month of his tenure.
Connect with Eric on Twitter @EricSchaalNY
Statistics courtesy of Fangraphs.com.