MLB: Is Bryce Harper a Lock to Win NL MVP Again?
Washington Nationals outfielder Bryce Harper experienced a breakout 2015 season that saw him win the first NL MVP of his young career. Harper batted .330 with an NL-best 42 home runs, a career-high 99 RBIs, and a major-leading 9.9 WAR (wins above replacement) — all helping him capture only the seventh unanimous NL MVP award. He also led the National League in runs scored (118), slugging percentage (.649), on-base percentage (.460), OPS (1.109), and runs created (161).
At 23 years old, Harper became the youngest player in league history to unanimously win the award. He was also the first player in Nationals/Expos history to win an MVP award and the first player for a team that played in Washington, D.C. Beyond that, he established himself as one of the premier hitters in the game, landing in the same "most talented young players" category as Los Angeles Angels star outfielder Mike Trout.
Harper is a complete package; he has the ability to be the primary source of the offense for any team thanks to his high level of production. Heading into this season, many believed he could capture a second straight MVP award, which would make him just the 15th player in league history to accomplish that feat.
The outfielder seems more than ready for that challenge in the first few weeks of the 2016 season. He is currently hitting .323 while leading the league with nine home runs, 23 RBIs, and a .855 slugging percentage. He joined Hall of Famer Ernie Banks as the only two players in league history to hit home runs in Philadelphia in six consecutive games.
Harper also became the eighth-youngest player in league history to hit 100 home runs, including his first career grand slam. His recent impressive play — hitting .346 (9-of-26) with four home runs and 12 RBIs — helped him earn the National League co-Player of the Week honors (sharing it with Colorado Rockies All-Star third baseman Nolan Arenado).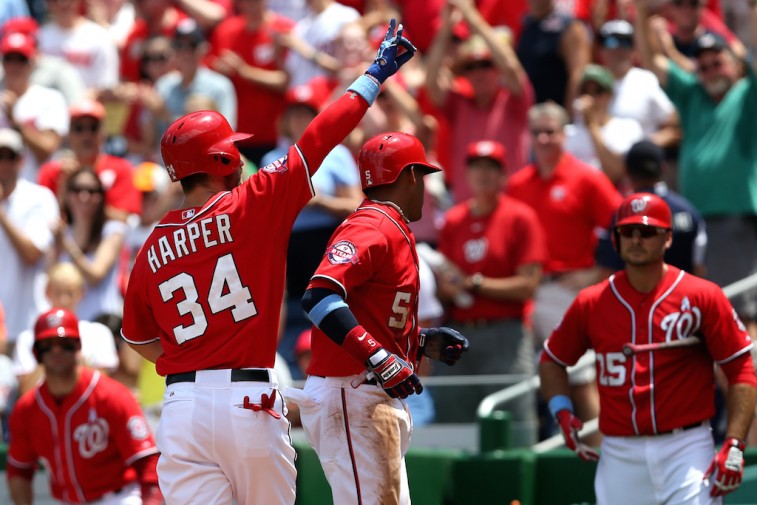 Harper currently leads the MLB with 12 extra-base hits and ties for first in total bases (53) with Josh Donaldson and Manny Machado. In fact, No. 34 played much better through the first 15 games of the season as he batted .255 with four home runs, eight RBIs, and a .510 slugging percentage.
Harper is clearly taking his play to another level, which puts him far ahead as the early favorite to earn another MVP award. And it doesn't look like he will slow down any time soon as he hit a home run in two out of the last three games.
His stellar start to the season even caught the attention of MLB commissioner Rob Manfred, who recently stated that the Nationals outfielder helps make the game fun with his play and persona, which subsequently received heavy criticism from Hall of Fame pitcher Goose Gossage. Manfred said:
Whether I want it this way or don't want it this way, the fact of the matter is the players are going to define, themselves, those unwritten rules. You can't legislate that. This generation of players is going to define what's acceptable and unacceptable. I think to the extent that you believe, and I actually kind of do, that Bryce Harper is a spokesman for this generation, I suspect that you will see more exuberance from our players on the field. I think it's a good thing.

I think that to the extent that you're trying to market to a younger audience, our younger players taking control of the definition of those unwritten rules is a lot better than some guy who is 67 years old saying, "I did it that way and you ought to do it the same way."