MLB: Is Bryce Harper Worth a Lucrative Long-Term Contract?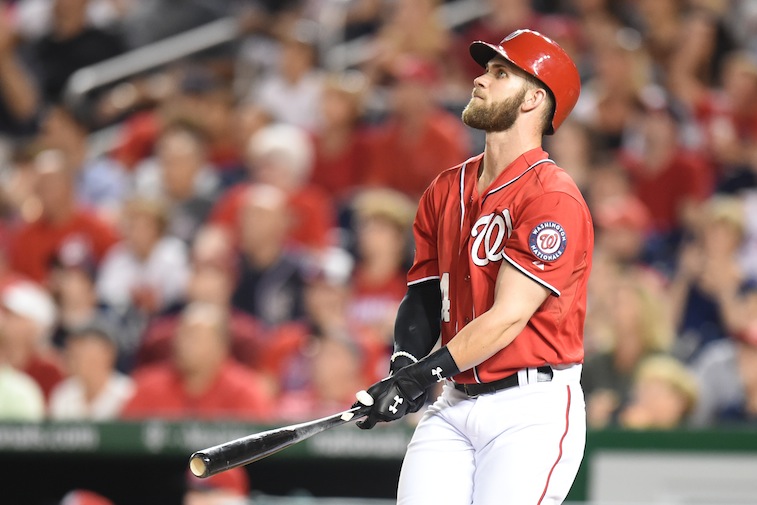 After zipping through the minors, Bryce Harper entered the majors as a mere 19-year-old, putting up extraordinary numbers in a short period of time. In his first three seasons, the former first overall selection in the 2010 MLB draft became a staple for the Washington Nationals, but he had yet to truly materialize with his power, hitting no more than 22 home runs and driving in more than 58 runs in a single season.
However, everything came together in Harper's fourth campaign as he posted a breakout year in 2015 — batting .330 with an NL-best 42 home runs, a career-high 99 RBIs, and a major-leading 9.9 WAR (wins above replacement) — that helped him capture only the seventh unanimous NL MVP award. He also led the National League in runs scored (118), slugging percentage (.649), on-base percentage (.460), OPS (1.109), and runs created (161).
Harper earned an All-Star game selection, his first Silver Slugger award, and the National League Hank Aaron award. This all helped him solidify his status as one of the game's premier hitters and brightest stars. More than anything, Harper upped the ante in regards to potential contract extension negotiations with the Nationals. A few have already suggested that he could command a record-breaking contract that would surpass Giancarlo Stanton's 13-year, $325 million deal with the Miami Marlins.
It may be a bit early for those conversations, but he's eligible for free agency in 2018 and already stated that he doesn't want to be undercut on his next arrangement. What this really means is that Harper is eyeing a gigantic deal, and if Washington were to low ball him, things could get sour pretty quickly. The clock is ticking for the organization, but is he worth a huge contract extension?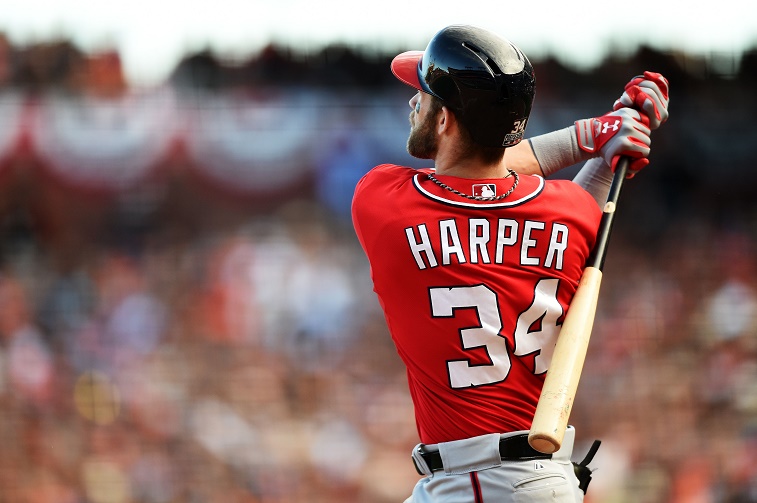 Yes, yes, and yes. Harper's significant uptick in production is no fluke, as he finally put it all together offensively. He's a phenomenal talent who just needed to find his way offensively, like many hitters who enter the majors at a young age. Remember, it's quite rare to see a player enter the league at 19 years old and excel right off the bat. It's a process of development that typically takes place in the minors, which he wasn't able to truly experience as he spent less than two seasons in the farm system.
Harper's immediate excellence at those levels didn't allow him to gain an ample amount of experience in the minors. He was thrown in the fire and expected to meet lofty expectations right away. Now that Harper has found his true comfort zone in the majors, his offensive production has taken off. The power has always been there, it was just a matter of adjusting it to the level of competition in order to best utilize his unique ability.
Harper is an exceptional player who will be the face of the league, alongside Mike Trout, for the next decade. The fact that he had his breakout year in 2015 only helps his case in getting a lucrative contract from the Nationals — or possibly another team. Of course he will aim high from the beginning for $400 million, especially with his notorious agent Scott Boras by his side. However, it will come down to whether the Nationals are willing to meet him near that large number.
The longer they wait, the higher the asking price may become. If they don't get anything worked out, there will be plenty of other suitors in free agency willing to pay him the long-term contract he desires. Ultimately, the ball is in the Nationals' hands. Now it's time for them to hammer out a deal.
Statistics courtesy of Baseball-Reference.com and MLB.com.