MLB: Is Jason Heyward a Good Fit for the Angels?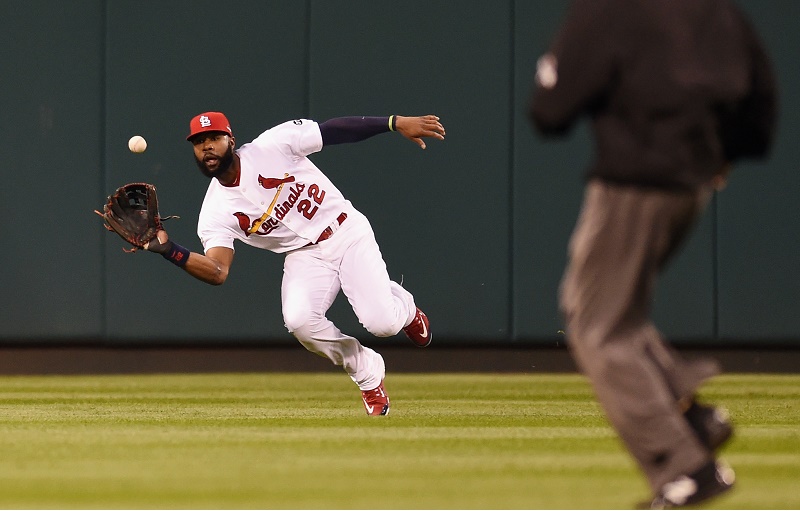 The Los Angeles Angeles have several needs heading into the offseason, but the largest is arguably in left field, where they received minimal production from Matt Joyce after the team decided to deal Josh Hamilton back to the Texas Rangers. While the squad had hoped to receive a boost in offense from the trio of veteran outfielders at the trade deadline in David Murphy, Shane Victorino, and David DeJesus (all now departed from the club), the results were, to be nice, disappointing.
As the Angels move on from their 2015 options, questions abound as to what the team will do to address that glaring area of weakness. The free agent market is filled with plenty of talent in left field, headlined by Yoenis Cespedes, Justin Upton, and Alex Gordon. However, there's another approach Los Angeles could take that could solve the issue for the next five years or more and that's pursuing free agent outfielder Jason Heyward.
On the face of it, going after a right fielder doesn't particularly make sense when they have one already in 2015 Gold Glove recipient Kole Calhoun. That's where Calhoun's defensive versatility could allow him to transition to left field, giving the team the chance to add another young, promising player to the outfield. This would without a doubt give them the best defensive outfield with three Gold Glove-caliber players who save numerous runs with their gloves and rarely make mistakes.
The addition of Heyward would also give the team a player who is comfortable batting anywhere in the lineup. He demonstrated last season that he could be a viable option batting fourth or fifth in the lineup for the St. Louis Cardinals, hitting .284 and .325 respectably in each spot. Although his power numbers and overall production aren't quite what you would expect from a clean-up hitter, but the fact that he would bat behind Mike Trout and Albert Pujols could provide him with plenty of opportunities to drive runs in and good pitches to hit. He has also shown that he can hit for power as he had a career-best 27 home runs in his third season in the league.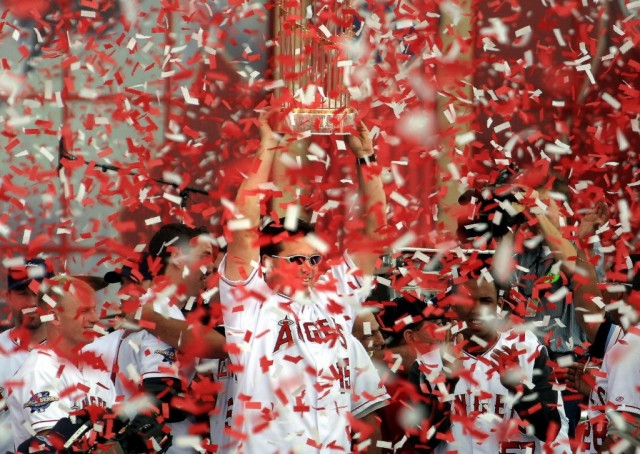 Even if Heyward doesn't develop into a huge production-type player, he can become a similar hitter to Kansas City Royals star outfielder, Lorenzo Cain. The 29-year-old batted third in the lineup last season for the Royals, hitting .307 with 16 home runs, 72 RBIs, and 28 stolen bases. These are numbers that Heyward is more than capable of producing as he batted a career-best .293 in 2015, topped double-digit home runs in each season, 60 or more RBIs three times, and has stolen 20-plus bases in each of the last two years.
This equates to a hefty price to pay for Heyward's services, which shouldn't scare away Angels' owner Arte Moreno since he's demonstrated in the past that he's willing to open his pockets to get players in free agency (for example, Pujols for $254 million over 10 years and Hamilton for $125 million for five years). Unlike Pujols and Hamilton, Heyward is just 26 years old and hasn't entered the prime of his career. It's also not that often that a player of his talent enters free agency in his mid-20s. Not to mention the fact that he is arguably the best defensive right fielder and a proven hitter through his first six seasons in the league.
This indicates that there's no clear risk to signing Heyward to a long-term lucrative contract. If he were to join the Angels, he wouldn't have the huge responsibility of carrying the offense. Heyward would instead just be another offensive weapon alongside Trout and Pujols. He doesn't have to put personal pressure on himself to put up huge numbers, instead focusing on being a consistent hitter in the lineup, which the team lacked with Hamilton.
All in all, the addition of Heyward would be a great move on both sides. It provides the Angels with a promising player for the foreseeable future, who is an elite-level fielder and productive hitter. As for Heyward, he would be one of the core pieces to a team that could contend for a World Series every year. It's just a move that makes perfect sense.
Statistics courtesy of Baseball-Reference.com.
Want more great content like this? Sign up here to receive the best of Cheat Sheet delivered daily. No spam; just tailored content straight to your inbox.