MLB: Is Jose Bautista Too Sensitive About His Bat Flip Critics?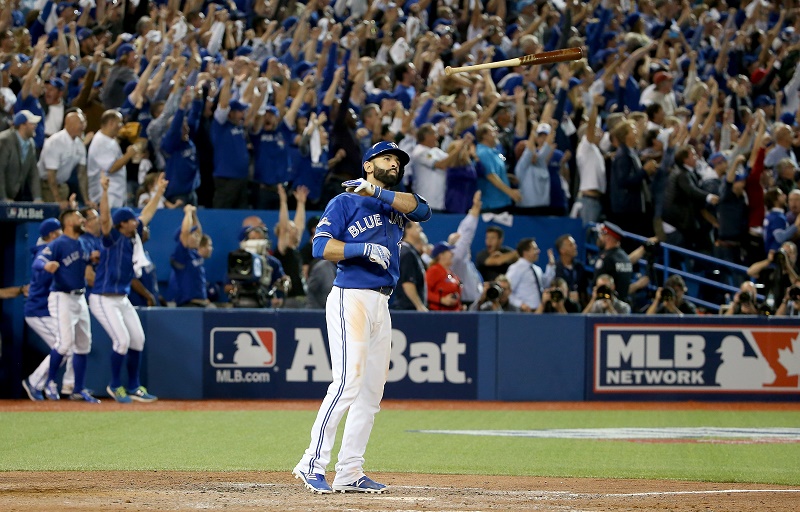 You know what we love about The Players' Tribune? It offers athletes an opportunity to complete their thoughts and provide more context than a random tweet or post-game sound bite. However, we don't love learning how sensitive some ballplayers are to criticism from the media, other players, and fans. In Jose Bautista's not-quite-necessary defense of his epic ALDS bat flip, we felt some of that touchiness. It made us wish he'd left things at his post-game sound bite.
As far as the flip itself, we have argued how appropriate it seemed for the time and place, and how the Rangers overreacted by taking issue with Bautista's celebration. Even though it wasn't a walk-off home run, Bautista had uncorked a late-game blast that eventually turned out to be the difference in the game. Furthermore, his home run pushed his team — one that hadn't made the playoffs since 1993 — into the ALCS, which fully justified the bat flip.
As Bautista described it in The Players' Tribune, stepping up to the plate in that situation was the closest he's ever felt to being a superhero. "I felt like I was Batman, and the villain had the girl dangling off the edge of the building," he wrote. As for what happened next, he described how he went on autopilot following the extraordinary hit.
"There was no script. I didn't plan it. It just happened," Bautista wrote. "I flipped my bat." He went on to write that he understood why the Rangers got angry, what with them being on the losing end of the game and all. But he had a problem with one MLB analyst and some ex-ballplayers questioning his integrity and character. Of his critics and those who want to stop bat-flipping for various reasons, he described the logic as "just ignorant."
If that's his story, we wonder why Bautista and his teammates have had problems with shows of emotion from opposing teams in the past.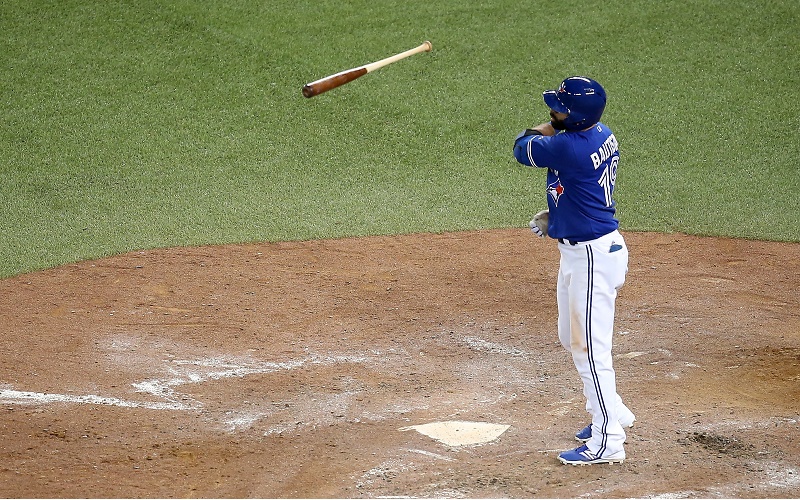 We'll start with a reference to an obscure AL East contest between the Yankees and Blue Jays around the 2011 season. Francisco Cervelli, then the Yankees catcher and a player who had been censored for too much emotion by several AL teams, had been pumping his fist after Yankee pitchers recorded outs during the game, including one against Bautista. Joey Bats later blasted a majestic home run that gave the Jays the lead in a game they won. Before touching home plate, Bautista mockingly pumped his fist at Cervelli in celebration.
Clearly, Bats was offended by Cervelli's gestures and wanted to repay the young Venezuelan catcher by taunting him at home plate for all to see. In his Players' Tribune editorial, Bautista described how things are different for Latin players playing in the Dominican Republic and other leagues. "We're loud. We're emotional," he wrote. "And it doesn't change when we're playing baseball. To us, baseball isn't a country club game. It's our national pastime, and it comes packed with emotion."
It's a convincing argument, one which we largely buy. Except Bautista doesn't like it when he's on the receiving end, and neither do his teammates. For a second reference, we cite more recent events in the ALCS versus Kansas City. In the deciding Game Six, a fiery Yordano Ventura "showed up" Troy Tulowitzki after a big strikeout. Ventura heard about it immediately from Toronto's first base coach (yes, the team's first base coach) and then after the game from senior Blue Jay Mark Buehrle.
Buehrle said a couple of the Royals pitchers "don't respect the game," and that it's "frustrating" the way they acted after recording big outs. In other words, the emotion showed by Ventura (a Dominican native) was too much for Bautista's teammates and coaching staff. If you are asking yourself how a member of the Blue Jays could have a problem with this stuff, it's a good question. Forget about ALDS-clinching bombs. They pimp their home runs in the first inning of meaningless games in May.
Bautista is one of the greatest home-run hitters in the game and had a monster playoff for his club. Why not just enjoy it and move on? As for comparing himself to Carlton Fisk and Joe Carter, both those players hit walk-off home runs in the World Series. (In Carter's case, it was a Series winner.) Bautista's came in the ALDS and it wasn't even a walk-off, so it's apples and oranges.
What do we think? Just be your badass self. Mash home runs and flip your bat as you will. Critics will always be around, as will opposing pitchers looking to taunt you when they make you look bad. No need to get so sensitive about it.
Connect with Eric on Twitter @EricSchaalNY