MLB: Is Mark Trumbo's Hot Start Sustainable?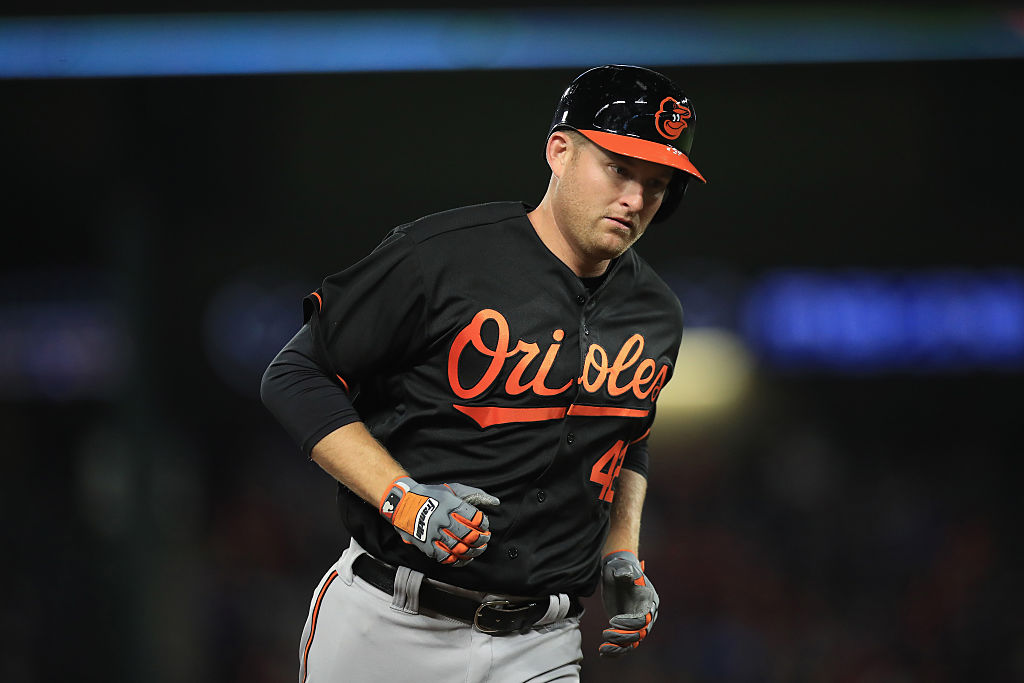 Early in the offseason, the Baltimore Orioles made an under-the-radar move to acquire outfielder Mark Trumbo from the Seattle Mariners in exchange for backup catcher Steve Clevenger and prospect right-handed reliever C.J. Riefenhauser. At the time of the trade, many viewed the deal as one that brought the Orioles a viable offensive bat who could help fill the void after the then-expected departure of Chris Davis, who was coming off his second huge season in three years, hitting a league-leading 47 home runs with 117 RBIs while batting .262.
Although both Davis and the front office eventually reached an agreement — the largest contract in club history at seven years and $161 million — the addition of Trumbo was a solid low-risk move that further solidified their lineup. The 30-year-old tailed off over the last couple of years with the Mariners and Arizona Diamondbacks; he was a shadow of the player he once was with the Los Angeles Angels.
Trumbo came up through the Angels' minor league system, eventually becoming a full-time starter in the 2011 season. His production steadily increased in his three seasons with the team. The 2012 All-Star hit career highs with 34 home runs and 100 RBIs while batting .234 in his final campaign. However, Los Angeles immediately jumped at the opportunity to obtain two promising young arms in Hector Santiago and Tyler Skaggs in a three-team deal with the Chicago White Sox and Diamondbacks, which involved Trumbo moving to Arizona.
The loss of Trumbo's power in the lineup was a big hit to the Angels' offense, but beyond that he had become a hit-or-miss player. His batting average progressively dropped each season while his strikeout total reached 184 in 2013. He also struggled mightily on the base paths, holding below .300 in on-base percentage twice in his three seasons with the team. These qualities made him more expendable in the front office's eyes, especially in a trade that would improve a pressing need on the pitching staff.
Trumbo's tenure with the Diamondbacks was short-lived as his first season was significantly limited by a stress fracture in his left foot. He played in just 88 games while posting a triple slash of .235/.293/.415 with 14 home runs and 61 RBIs. The outfielder had a bit of a slow start in 2015, which led Arizona to move him to the Mariners.
He played a little better with Seattle, holding a triple slash of .263/.316/.419 with 13 home runs and 41 RBIs, but he did strike out 93 times in 96 games. The lack of consistency and improvement once again made him a trade asset who Baltimore quickly jumped at the chance to get, and it has paid off in a big way through the first two weeks of the season.
In Trumbo's first 12 games with the Orioles, he is off to a blazing start. The outfielder is currently second in the league with a .383 batting average behind teammate Manny Machado, tied for first in the AL with five home runs, and tied for fourth in the AL with 11 RBIs. Although he's still striking out at a high clip (nine times), there has been a huge jump in his on-base percentage (current sitting at .420).
Trumbo became the first Oriole to hit two home runs in the same inning while driving in five runs in the team's 11-5 win over the Texas Rangers. His outstanding first week saw him post a triple slash .320/.346/.960 with five home runs, 11 RBIs, and eight runs scored, earning the AL co-Player of the Week honors with Houston Astros second baseman Jose Altuve.
It's clear that he's benefiting from playing on a team with several other power bats in Davis, Machado, and Adam Jones. They currently rank second in the league in home runs (25), fifth in total bases (216), and first in slugging percentage (.531). They also have five players hitting over .300, three with at least five home runs, three with double-digit runs scored, and two with 10 or more RBIs.
There's still plenty of baseball yet to be played this season, making it hard to imagine Trumbo keeping up this torrid offensive pace. However, he's obviously found a great level of comfort as one of the big bats and a major contributor in the Orioles' explosive offense. More importantly, it could put him back in the conversation of being one of the premier power hitters in the league.
Statistics courtesy of ESPN.com and Baseball-Reference.com.