MLB: Is Miguel Cabrera Still the Top First Baseman?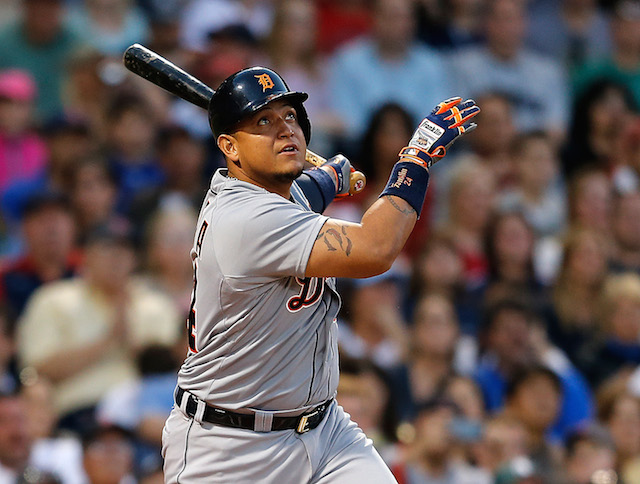 Heading into the 2015 season, Detroit Tigers first baseman Miguel Cabrera was coming off another productive season, which saw him bat .313 with 25 home runs and 109 RBIs. It marked the 11th straight season that he knocked in over 100 runs and the sixth straight campaign that Cabrera batted above .300. However, it was a bit of a step down from his back-to-back MVP seasons, which saw him post nearly identical numbers (batting at .330 with 44 home runs and at least 137 RBIs).
In Cabrera's first MVP season in 2013, he became the first batter to win a Triple Crown since Carl Yastrzemski in 1967 — the first to accomplish it without a tie in any of the three categories since Frank Robinson in 1966. Yes, his production suffered from the drop in power but he did hit a career-high 52 doubles that led the majors and also scored 100-plus runs for the fifth straight season.
Keep in mind that Cabrera played the entire season with a bothersome right ankle injury, eventually undergoing surgery to remove a bone spur in his ankle. He also had an operation to repair a stress fracture in the navicular bone near the top of his right foot. These major issues only make his performance in 2014 that much more impressive. With his ankle finally pain-free and experiencing great overall health, Cabrera looked primed to get back into MVP form in 2015.
Things were shaping up to be another extremely productive campaign as the first baseman led the league in batting average (.350), on-base percentage (.456), and OPS (1.034) while recording 16 doubles, 15 home runs, and 54 RBIs through 77 games. However, Cabrera suffered a Grade 3 left calf strain that tore his muscle fibers, forcing him to be placed on the disabled list for the first time in his career.
He was originally placed on the 15-day DL but the injury lingered, forcing him to miss a little over one month of the season. Once he made returned in mid-August, Cabrera finished the season strong by leading the MLB with a .338 batting average. His .440 on-base percentage was best in the American League.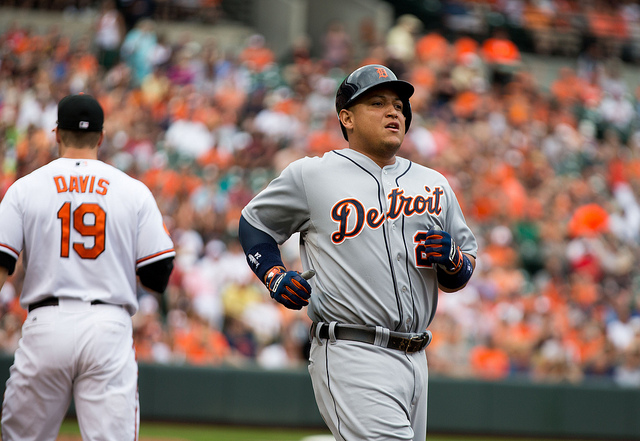 Although Cabrera played in the fewest games since his rookie season (119), he still captured his fourth AL batting title and even won his sixth Silver Slugger award. He led the AL in on-base percentage three times over the last five years. Cabrera still clearly demonstrates that he's an elite hitter even with his power taking a backseat over the last two campaigns.
In truth, that lack of power shouldn't be a huge concern given that his legs were the things that stopped him from having the same numbers he displayed during 2012 and 2013, which are the only 40-plus home-run seasons of his career. Cabrera may not have the same physical ability that he had a few seasons ago, but with his health no longer a nagging issue, he seems ready to regain his status as a perennial AL MVP candidate. (He'll have to compete against the likes of Los Angeles Angels outfielder Mike Trout and Toronto Blue Jays third basemen Josh Donaldson, who have each won the award in the last two seasons).
What will also help Cabrera's case: The Tigers seem to have plenty of offensive talent with J.D. Martinez, who had career-highs in home runs (38) and RBIs (102) in 2015, and Justin Upton, who proves to be a productive hitter, putting together three straight campaigns with 25-plus home runs and 75-plus RBIs while batting .270 each season. These two bats can provide him more opportunities to drive in runs this upcoming season.
The 32-year-old is already showing encouraging signs in Spring Training, hitting .324 batting average with three home runs and eight RBIs in 34 at-bats. This gives no reason to doubt that he could get back to producing like the player who was considered the league's best offensive talent. He is an underrated defender who has made the smooth transition from playing third base to first base over the last two years. What does it all mean? If his health is no longer a lingering issue, Cabrera could easily return to elite form and capture the AL MVP award for the third time in his illustrious career.
Statistics courtesy of ESPN.com and Baseball-Reference.com.