MLB: Is Mike Trout Still the Game's Best Player?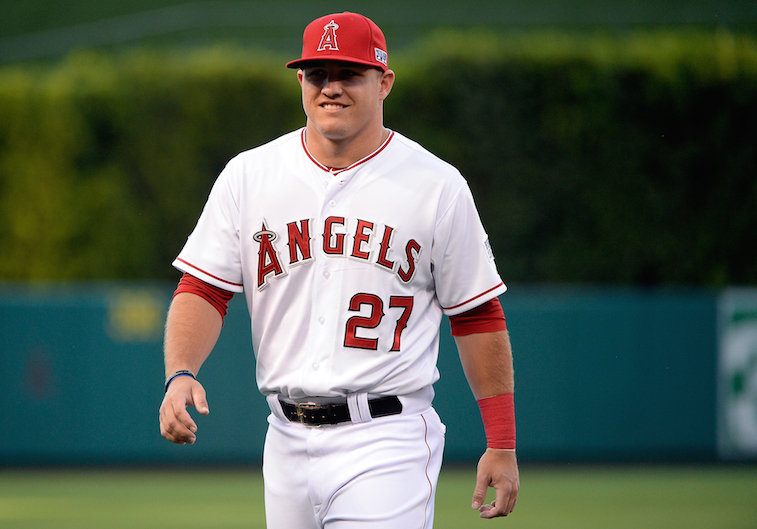 Through his four full seasons in the majors, Los Angeles Angels outfielder Mike Trout has been phenomenal in every essence of the word, quickly elevating himself to an elite status. Many already hold the strong belief that he can become a sure-fire Hall of Famer in such a remarkable short span of time. During this time, Trout has earned four Silver Sluggers awards, four All-Star game nods, two All-Star game MVPs, AL Rookie of the Year, the Hank Aaron award, and an AL MVP.
The 23-year-old is the youngest player in MLB history to reach 100 home runs and 100 stolen bases and holds the highest WAR (wins above replacement) for any player in MLB history. Trout has finished either first or second in the AL MVP voting three times, which made him the first player since Barry Bonds to be in the top three in MVP voting in four straight seasons.
Trout is also the first player in league history to win the All-Star Game MVP Award in consecutive years. The center fielder is coming off another impressive season in 2015 following winning his first AL MVP award batting .299 with a career-high 41 home runs, 90 RBIs, and 104 runs scored. He led the league with a 9.4 WAR (Wins Above Replacement), a .590 slugging percentage, and a .991 OPS (On-Base Plus Slugging).
Although Trout saw a significant drop in RBIs, he saw significant improvement in other areas of his game, becoming just the second Angels player to hit 40 home runs in a single season while seeing his amount of strikes take a huge drop. In truth, he may have seen a chance to break 50 home runs had he not been dealing with a wrist injury throughout August (contributing to Trout hitting just one home run in the entire month).
He proves to be an excellent fielder at center field due to his speed, instincts, and athleticism. Trout has made many eye-popping plays in the outfield, ranging from diving catches to robbing home runs on several occasions. He demonstrates his above-average arm, throwing out several runners over his brief career. Trout is a five-tool player who can affect the game in so many different ways with both his bat and glove.
Although his stolen base totals have dropped, it's due to his place in the batting order, hitting in the No. 2 spot ahead of Albert Pujols. He's still an elite-level base runner who is rarely thrown out when he does attempt to steal. Yes, Trout was caught stealing in seven of his 18 attempts last year, but he has an 84% success rate over his career. Given his speed and instinct, Trout certainly has the ability to steal 30-plus bases in a given year, but his place in the batting order and value to the team may keep him with a low stolen-base count (around 20 per season).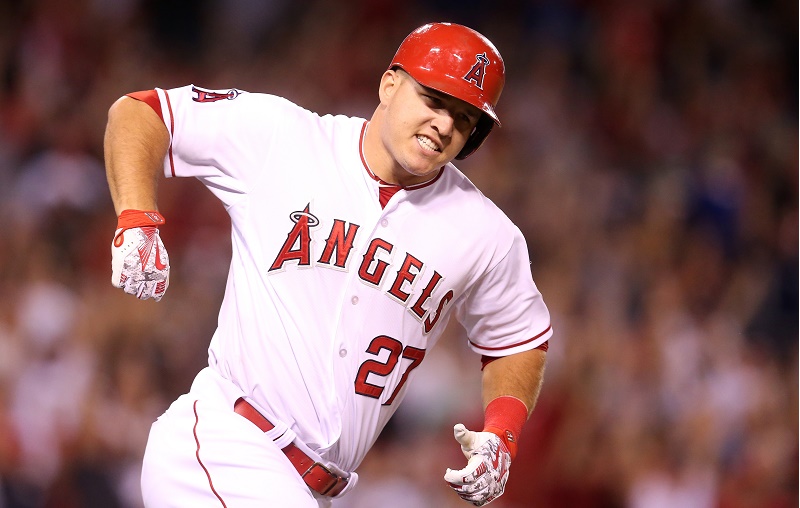 In his first four years, Trout has clearly proven that he's the game's best player, only continuing to see improvement with each passing season. He's a generational player who has a career path that projects him as not only putting together a Hall of Fame career but also being held in high regard as one of the all-time greats to play the game.
In that same breath, Trout already draws many comparisons to former New York Yankees great and Hall of Famer Mickey Mantle, who is considered by many to be the greatest baseball player ever. That in itself shows the type of talent and potential that Trout possesses. There are several other extremely talented players in the majors, such as Clayton Kershaw, a three-time Cy Young winner, and Bryce Harper, who won his first NL MVP in 2015.
Kershaw built a reputation over the last five years as the game's best pitcher. He has the personal accolades to back up that standing with All-Star Game nods, a Gold Glove (2011), a pitching Triple Crown (2011), an NL MVP (2014). He's led the NL in wins twice (2011, 2014), ERA four times (2011-14), and strikeouts three times (2011, 2013, 2015). The only hurdle Kershaw faces is his lack of overall playoff success, which many detractors point out as his one flaw. Kershaw could erase this issue with a string of strong playoff performances.
Prior to this season, Harper was an overhyped player at times, but it all came together in 2015, a year that saw him bat .330 with an NL-best 42 home runs, a career-high 99 RBIs, and a major league-leading 9.9 WAR — all helped him capture only the seventh unanimous NL MVP award. He led the National League in runs scored (118), slugging percentage (.649), on-base percentage (.460), OPS (1.109), and runs created (161).
Harper also earned an All-Star game selection, his first Silver Slugger award, and the National League Hank Aaron award. All of this only helped solidify his status as one of the game's premier hitters and brightest stars. These players are clearly in the same conversation with Trout as the best player in the league but what the Angels' star center fielder has accomplished in his first four years is almost unmatched in MLB history.
It's hard to find a suitable comparison for Trout, which only exemplifies the rare talent he has become. He is a different breed of player who only comes along every so often in the majors. It's rare to see a player like him grow in abilities — and he is still years away from entering the physical prime of his career. It only speaks volumes to his skill, which could help him become one of the greatest to play the game.
Statistics courtesy of ESPN.com and Baseball-Reference.com.