MLB: Is Joe Girardi Mismanaging the Yankees Bullpen?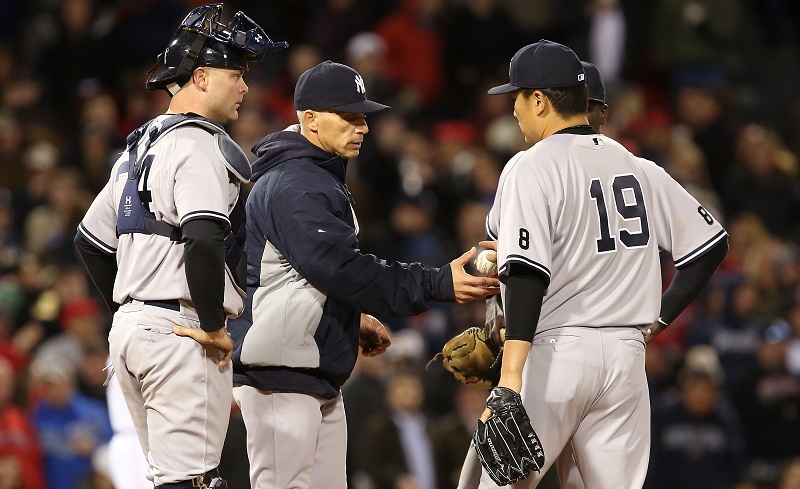 If you could use Dellin Betances, Andrew Miller, and Aroldis Chapman every time you had a lead, would you? New York Yankees manager Joe Girardi has answered in the affirmative for the short time he's had his full bullpen active, and he hasn't been shy about pulling starting pitchers at any level of effectiveness to do it. As the Yankees try to claw their way into contention, Girardi's heavy use of the bullpen could become problematic.
The Yankees' May 18 win in Arizona presented the perfect test case for Girardi and his three-headed bullpen monster. At the close of the sixth inning, starter Nathan Eovaldi had retired 18 straight batters after allowing a fluke leadoff hit in the top of the first. Mixing in a biting slider with a high-90s heater, Eovaldi was unhittable as far as the Diamondbacks were concerned. He had thrown 85 pitches to that point.
Girardi called on Betances for the top of the seventh, then followed with Miller in the eighth and Chapman in the ninth. The formula worked as one would expect, but there were tense moments along the way, starting with the back-to-back walks Betances issued to start his inning. Were it not for a 3-2 strikeout of Jake Lamb (on a slider out of the zone, no less), Betances would have walked the bases loaded. Alas, it didn't happen; the Yankees won.
After the game, Girardi wasn't coy about his plans with his three late-inning specialists. "I am going to take my chances 99 percent of the time with Betances, Miller, and Chapman," he told reporters. "We had [all three] rested, and that's what they are there for."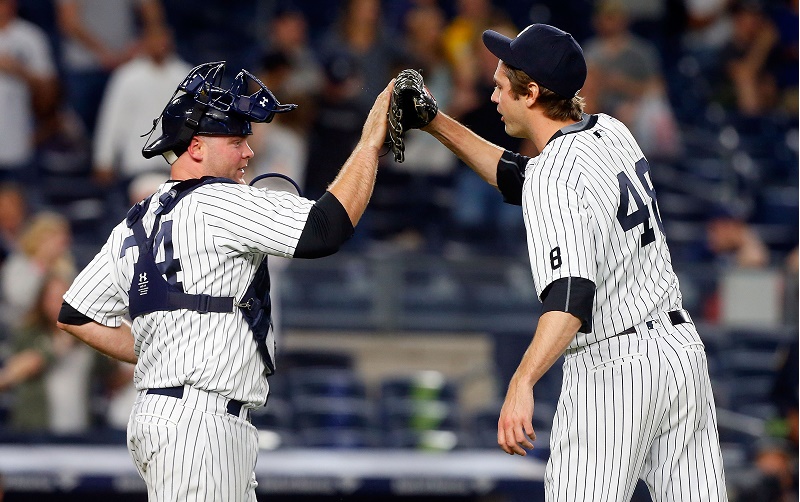 On a day when the House of Steinbrenner spoke to the media about the club's struggles so far in 2016, you can understand why Girardi was a bit more anxious than usual. Yet it's a long season, one in which the Yankees hope to compete for a playoff spot, and you have to save your bullets for when you actually need them. May 18 did not look like a night to "Run BMC" in the usual way.
Watching your starter mowing down opposing hitters is a welcome sight, and it was likely even more so for Girardi during a stretch when his rotation allowed 13 runs in 14 IP in the previous three games. However, the Yankees skipper was unwilling to give Eovaldi any leeway, and it will affect how he's able to use Betances in the coming days. The big right-hander needed 31 pitches to retire the side in the seventh. If he throws on May 19, he will likely be out of commission the following night.
In a calm and collected Yankees world, Betances would not have been up and throwing in the sixth or coming in to start the seventh, but that's where the Yankees are as a team. Girardi is beginning to press like a hitter in the middle of a slumping lineup. Had he let Eovaldi work his way through seven, he would have another night of at least one elite reliever in the bank.
He might need that option with four straight games in Oakland on the schedule and C.C. Sabathia returning from the disabled list.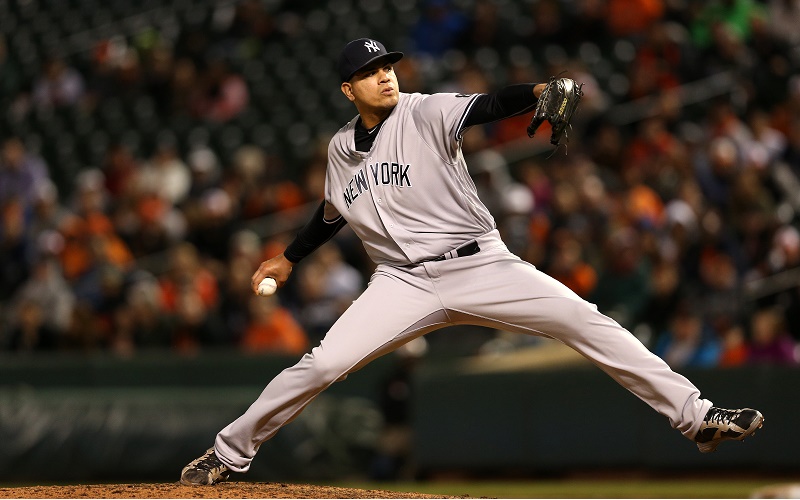 The luxury of having three lockdown relievers at the back of the 'pen is obvious: Anyone can close on any given night. With the Yankees roster, there should never be a night when an All-Star reliever is not available to close the game. It takes confidence in your starters and other bullpen arms, and we can understand why Girardi has little. However, he will have to lean on starters to go deep into the game occasionally for this team to reach its potential.
Girardi's only problem has not been overuse; he's also chosen to use Betances and Miller too sparingly, as he did in the botched May 5 game in Baltimore. In that situation, he chose to pull Betances though he had thrown just 15 pitches in one inning of work. Then, he chose not to bring in Miller because it was an extra-inning game on the road. Closers don't pitch then, the book says. The Yankees lost 1-0 when rookie Johnny Barbato, the third option, failed at the job.
On May 18, Girardi overplayed a hand that looked like a winner anyway. On May 5, he saved his trump card for an opportunity he had already blown. Few bullpens are as solid as the one the Yankees have assembled, and Joe Girardi will have to manage his better for the club to make the postseason. What was once the Yankees skipper's greatest strength is becoming a weakness in 2016.
Connect with Eric on Twitter @EricSchaalNY