MLB: Joey Votto Has a Better Way of Making Baseball Fun Again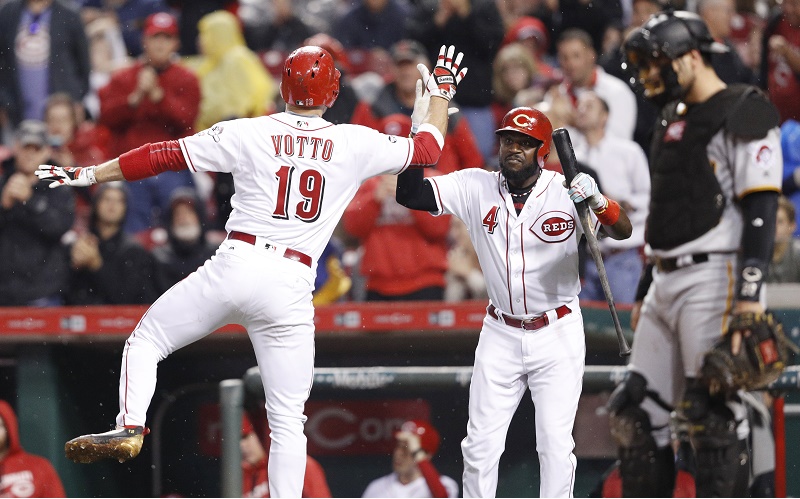 What's going on in Cincinnati? The Reds are stinking their way through the season more or less as expected, but the two name players on the team are having conspicuously high amounts of fun. We've seen the routines of fan favorite Brandon Phillips, but a slumping Joey Votto is showing he has real chops in this department, too. During a game in Philadelphia, Votto ran a clinic on how to make the game fun without humiliating your on-field opponent.
It all began on a Sunday afternoon at the ballpark in Philly — so often the setup for a grisly tale of abuse. In this case, Votto had been hearing his share of gentle joshing at the hands of Phillies fans when a foul ball rolled down the first-base line. Fans in the stands, setting aside their antagonism momentarily, began clamoring for the Reds 1B to toss them the ball. Votto delivered a pump fake, then tossed the ball back to a teammate.
Not surprisingly, he was showered with boos by nearby fans. Votto responded by pumping his fist, an acknowledgment he had gotten what he wanted. After the game, he told reporters he was making the most of the situation.
"I was just having fun with them," Votto said. "They give you a hard time during the game. That's my way of giving them a hard time back." Votto wasn't done, though. After a big eighth-inning strikeout, fans found Votto in the dugout tempting them with yet another baseball. You guessed it: he never ending up giving them a ball. Then he doubled down by mocking the fan's preparing to catch the ball as fans in the section joined in on the fun.
Later on, he had some fun with the media.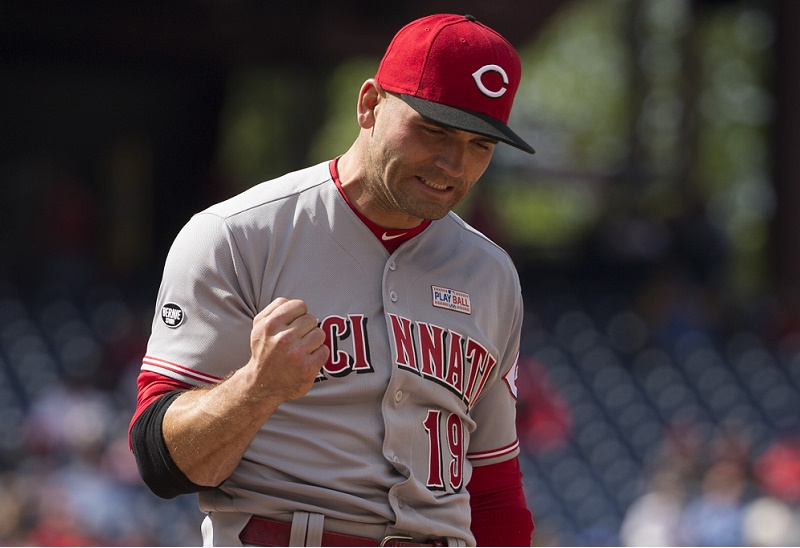 "Are you aware it's blowing up on social media?" a reporter asked in the postgame interview. "Really?" Votto replied, feigning interest. "I'm not on social media," he deadpanned.
In many ways, Votto seems to be upending the Bryce Harper "Make Baseball Fun Again" playbook. He's not flipping bats; he not preening or tweeting; and he's not showing up opponents when he does something awesome. The Joey Votto home-run celebrations involve him running normally around the bases and crossing home plate before joining Brandon Phillips with a comical jump high-five — a sort of anti-pimping gesture.
However, Votto has joined Yasiel Puig in supporting Harper's broader campaign. "Bryce asked us," Votto told the Cincinnati Enquirer with mock seriousness. "It's not what the game can do for you, it's what you can do for the game. We're out here trying to make baseball fun again." The genius of playing with fans and the goofy home-run salute is no one gets hurt before, during, or after the game.
Players like Jose Bautista know full well the pain involved with retaliations by players like Rougned Odor following bat flips and other moves that enrage opponents. Why not play up to the fans who are jeering you anyway? Why not make it fun without the unnecessary malice? Votto proved in Philadelphia you can do all of the above, and wasn't afraid to play even more with reporters who accused him of denying balls to kids.
"I have no problems with any of the Philly fans, except for the Philly fan kids," he said, smiling broadly. "I can't stand kids here. Kids drive me crazy, Philly fans especially."
Connect with Eric on Twitter @EricSchaalNY