MLB: Just How Good Are the Blue Jays?
You heard it from us and you heard it from baseball writers, players, and pundits of every kind: the Blue Jays loaded themselves up at the Trade Deadline this year. By swapping out a good shortstop in Jose Reyes for one of the best in the game in Troy Tulowitzki and grabbing a legitimate ace in David Price to anchor their rotation, a great offensive club had gone out and taken steps towards ending its 21 season playoff drought.
It's no secret that Price was the prize "get" of the trading season, bringing playoff pedigree and Cy Young stuff to a pitching staff in need of it, but the Tulowitzki deal wasn't that big of an upgrade for an already strong lineup and this team would still have issues on the days Price didn't take the mound. What's more, they sat an unimpressive 51-51 when the Price deal was announced. 
Yet as soon as that news broke, the entire baseball world started printing the shirts, as it were. From the outside looking in, that seemed odd. And even in light of the Jays' torrid stretch since the deal, where they've gone 10-1, they still aren't first in their own division, much less the American League.
So what gives? Why does everyone seem so quick to crown Toronto or, at the very least, vault them to the top of the "trendy title picks" list? Well, with all due respect to David Price, that Jays staff was quite possibly not getting the credit it deserved before that trade went through. 
The Stats
Let's begin with the obvious: as of August 11, 2015, the Blue Jays lead the majors with 597 runs scored, which projects to 856 by season's end. That's not any sort of historic pace, as 16 teams in MLB history have put up at least 1000. And with 153, they actually trail the Houston Astros in terms of home runs hit and rank just 6th in batting average (.263), although their OPS (on-base plus slugging percentage) does top the majors at .776.
So in historical context, this is a good and certainly above average offense, but there have been plenty of teams in recent times who have done better (my hometown Philadelphia Phillies in 2007, with 892 runs, spring to mind).
Their team ERA, by contrast, is a respectable 14th at 3.82; the starters are 17th at 4.10 and the bullpen is 9th, pulling a solid 3.25. So they aren't the Cardinals or Pirates, but they're not exactly shabby, either.
With such a strong offense, you'd have to wonder why their record has taken until recently to be anything more than ordinary. For heaven's sake, their +129 projects to +184 in a full season and is the best in the majors – +8 better than a St. Louis team that's 11 games ahead of them in the standings, +51 better than their closest competition in the AL, and nearly double the league leaders from Kansas City, who currently sport a +67. 
The Differential in Context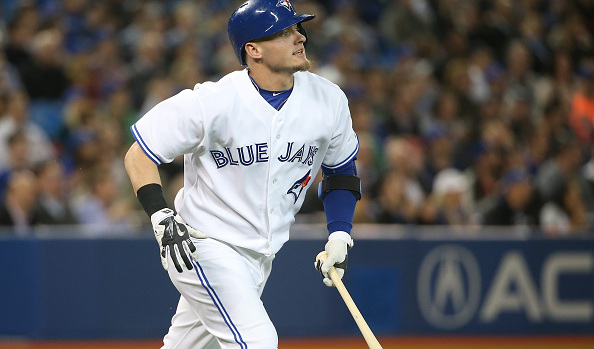 That differential is best explained by the Jays' respective records in one-run games and games decided by five runs or more: 12-23 in the former and 24-6 in the latter. When you take into account that Toronto is averaging a +1.14 margin with every game they play, win or lose, they're basically comfortably winning games and only losing squeakers when they do fall. Put more simply, if every loss they had was by one run – as almost half of their defeats have been – every Jays win would be by at least two.
Now run differential is not necessarily a perfect predictor of a team's fortunes – of the past five World Series champions, including all three Giants teams that prevailed, only the 2013 Red Sox at +220 both led the majors in this category and went on to win it all.
With that being said, though, it certainly can't hurt. It's an indicator of a team's overall level. More often than not, if this offense gets hot enough to get away from an opponent, there isn't going to be any catching up. And that's especially true now that they've added a stopper like David Price.
For the first time in two decades, it seems almost a given that these birds will be flying south for meaningful games in the fall.
Stats and Information provided by ESPN and MLB.com
Connect with Tamer on Twitter @iamtamerabouras