MLB: The 5 Longest Home Runs of the First Half of 2016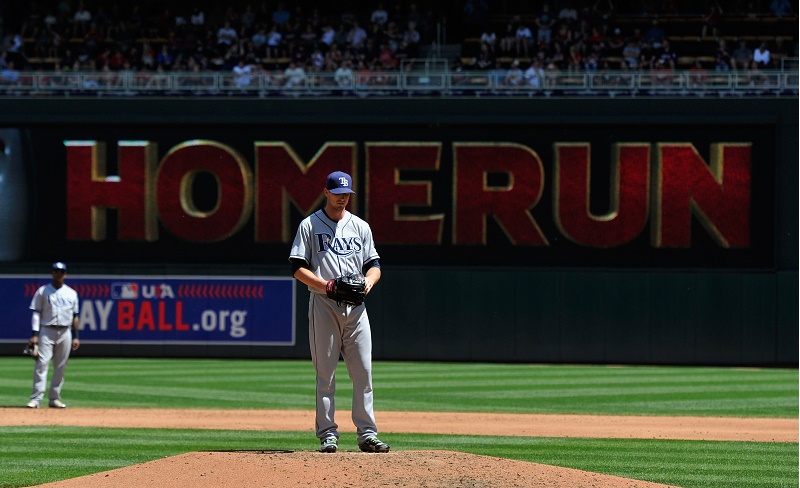 If you dig the long ball, the 2016 MLB season is right up your alley. Home runs are up 10% this year compared to 2015 and batters are putting balls into the seats at a rate not seen since 2006. Since walks and ERA are both up, you can heap most of the blame on pitchers, but teams are on the upswing, too.
Take the Tampa Bay club leading the Major Leagues in homers this season. The Rays were tied for 13th in 2015. Even the historically bad Atlanta Braves haven't been able to drag the numbers down. With a glance at this year's home run distances, you'll see these long balls are hardly cheapies. We've had one slugger flirt with 500 feet and seen dozens more clear the 450 mark. How will pitchers cope with this offensive?
Since there's nothing quite like a slugfest, most fans hope they won't figure it out anytime soon. In the meantime, we present the five longest home runs of the 2016 season for your viewing pleasure, according to ESPN Hit Tracker. For pitchers out there, viewer discretion is advised.
5. Sean Rodriguez, April 22 at Chase Field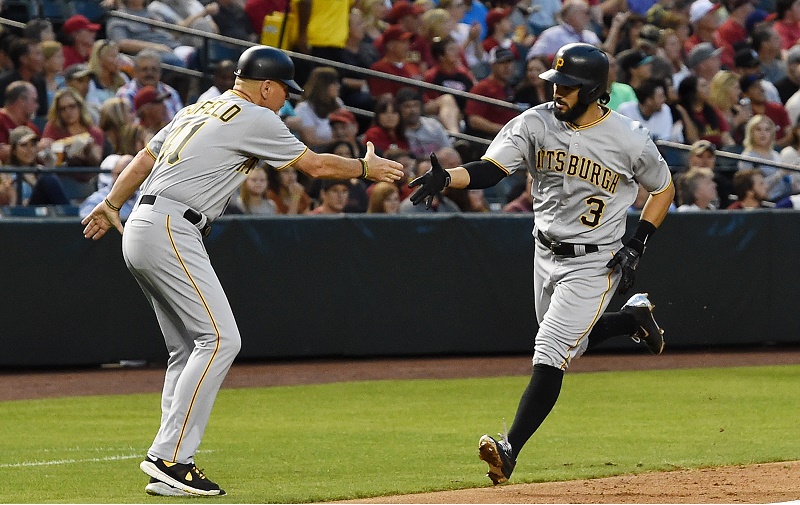 "Clear the deck, cannonball coming!" was how the Pirates announcer called this laser beam Sean Rodriguez sent into the Arizona night. Rodriguez's bomb actually cleared the bleacher area and went crashing into the concourse beyond left-center field. The true distance exceeded the original Statcast estimate and was measured at 468 feet.
That was a rough night for Diamondbacks lefty Patrick Corbin. As you can see in the video, the next batter followed with another tape-measure shot that slammed into the center field batter's eye. Jordy Mercer followed two innings later with a 461-foot job that barely missed the cut on this list, too. This stuff could be murder on a pitcher's psyche.
4. Christian Yelich, May 6 at Marlins Park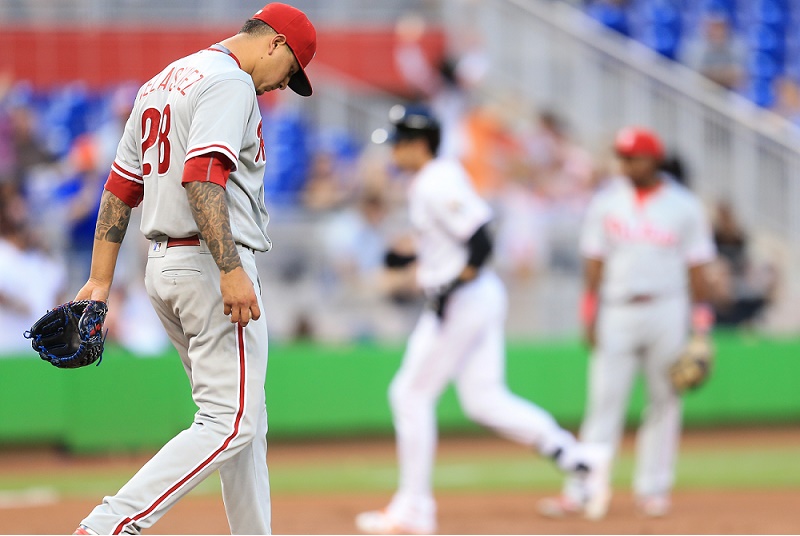 Vince Velasquez had a sensational April in which he went 3-1 with a 1.78 ERA (33 SO, 6 BB in 25.1 IP) for Philadelphia. In May, hitters were on to the young right-hander, who posted a 5.12 ERA and allowed 6 HR in 6 GS.
Christian Yelich clubbed two of those homers on May 6 against Velasquez in Marlins Park, and one hammered a seat about six rows into the upper deck. The hit tracker called that one 468 feet as well, perhaps giving the edge to Yelich for the impressive visual.
Like Velasquez, the Phillies went from a solid April (14-10) to a disconcerting May (12-16). Granted, few people expected Philly to compete for anything other than fourth place in the division, but that decent start left a window of hope. It's safe to say that window is closing. Yelich's moon shot was a reminder that regression is the cruelest thing in baseball.
3. Carlos Gonzalez, May 30 at Coors Field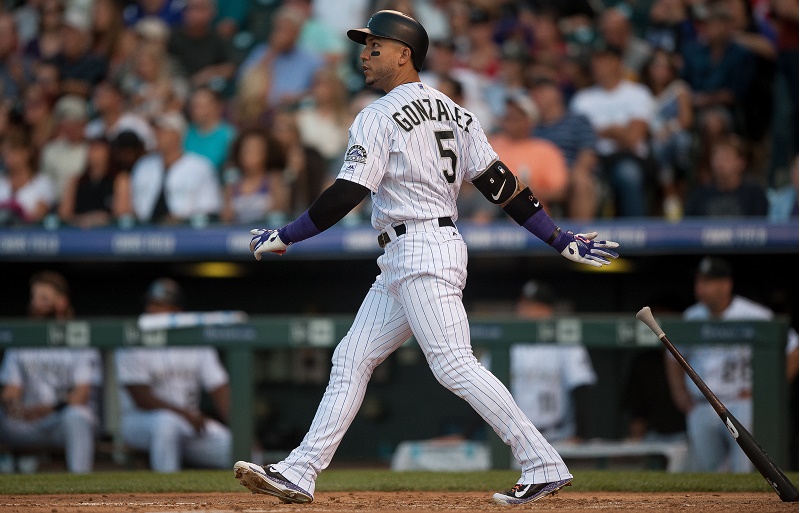 It will always be hard to make a list of longest home runs and not have anything from Coors Field in the top three. Carlos Gonzales made sure the Rockies were on the board with this May 30 smash off Cincinnati lefty Tony Cingrani.
CarGo's Memorial Day special vaulted well over the center-field wall and landed in the redwood-forest replica sitting beyond the fence. The shot was clocked at 469 feet from home plate. Colorado was trailing by six runs at the time, so this power display didn't do much to dent the deficit, but at least it gave Rockies fans something to enjoy in the ninth inning.
As for the slugging Gonzalez, his 2016 numbers ensure he'll be the subject of trade talks through the summer (again). There are few signs the Rox can compete with LA and San Francisco in the West.
2. Nolan Arenado, April 10 at Coors Field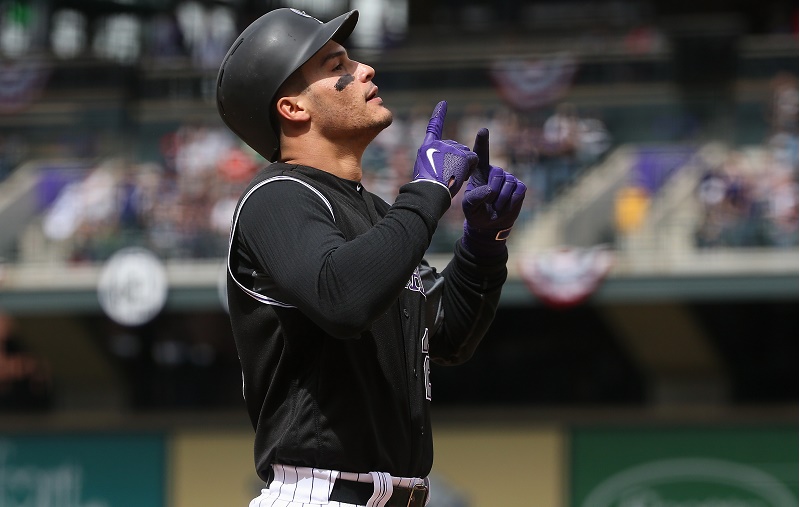 Not to be outdone by his slugging teammates, Nolan Arenado set the tone for home-run distance during the first week of the season with this brutal handling of a James Shields pitch. Following a CarGo home run, Arenado goes down in the zone to get even more of an upper-cut effect here, letting the crisp mountain air take care of the rest.
When it landed about 20 rows back in the left-center field stands, Rockies fans received what they came to see. For Shields, this bombing was just the beginning of what has become a season to forget.
Padres Executive Chairman Ron Fowler excoriated the veteran right-hander in early June before the club shipped him off to the struggling White Sox. Will Shields find his footing back in the American League in something of a hitter's park? The prospects are rather dim.
1. Giancarlo Stanton, May 6 at Marlins Park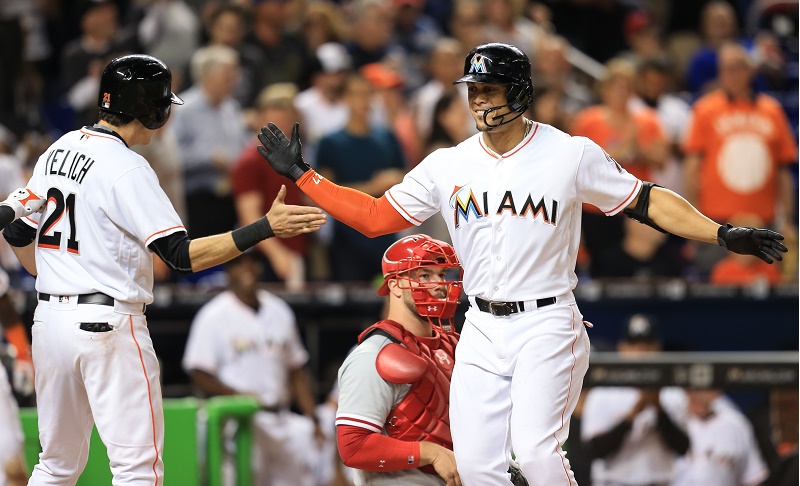 What it rains home runs, it pours, and that's what happened to Philadelphia pitchers on May 6 at Marlins Park. After Yelich crushed two off Vince Velasquez — one of which made this list — Giancarlo Stanton delivered the longest home run of 2016 off Hector Neris.
The game was tied at the time, so Stanton's blast was as clutch as it was titanic. It gave the Marlins a 6-4 advantage, which turned out to be the final score. How far did it go? Statcast originally low-balled Stanton's bomb at 475 feet; Hit Tracker later pegged its true distance at 490 feet. You can watch it clear everything in that cartoonish area beyond the center-field fence in Marlins Park.
Considering it would take nearly a 500-footer to top this one, it will be tough for sluggers to best Stanton's mark. The leading candidate would probably be Stanton himself, or someone hitting at — you guessed it — Coors Field.
Source: ESPN Hit Tracker
Connect with Eric on Twitter @EricSchaalNY