MLB: The Longest Home Runs of Aaron Judge's Career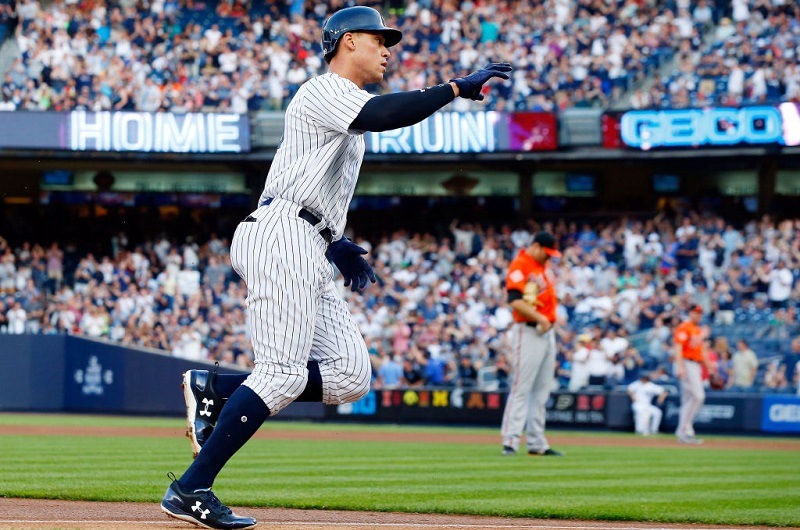 Everyone knows Yankees right fielder Aaron Judge is a towering figure, but his size never impressed MLB scouts. Otherwise, another team would have nabbed Judge sooner than the 32nd pick. That's where New York selected him in 2013, and the club did not even guarantee him a roster spot coming out of Spring Training in 2017. Judge secured his starting job after a long position battle with Aaron Hicks.
A few months and one Mike Trout injury later, Judge emerged as the frontrunner for the American League MVP. Though the Yankees have seen the rise of Hall of Fame sluggers over the years, Judge's combination of absurd power and plate discipline is rare. Old timers are already hoping for the 500-foot shots that made legends of Mickey Mantle and Babe Ruth.
When he cleared the left-field bleachers on June 11 for the longest home run to date at the new Yankee Stadium, the dream became realistic. His tape-measure shots are not only the stuff of batting practice showcases; they're now the norm in any game situation with Judge at the plate. To make our point, we rounded up his most impressive round-trippers by distance. Here are Judge's 10 longest home runs to date, as measured by MLB Statcast.
10. May 3, 2017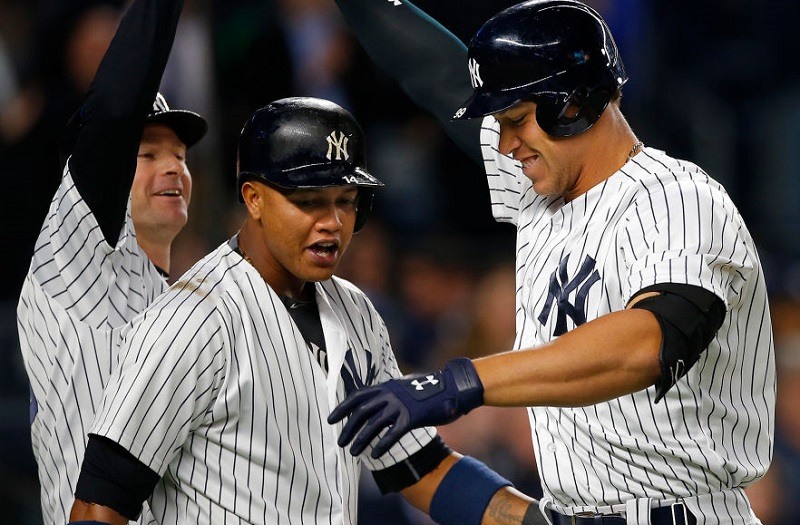 Pitcher: Marcus Stroman
Distance: 435 feet
Judge made it known early on that he can assault every type of pitcher — from brand-name starters to obscure middle relievers — with tape-measure blasts. Take this example from May 3, 2017. With Toronto ace Marcus Stroman protecting a 6-3 lead in the third inning, Judge instantly made it a close ballgame with a rocket to center. Statcast measured it at 435 feet. New York later took the lead and won the ballgame 8-6.
9. April 29, 2017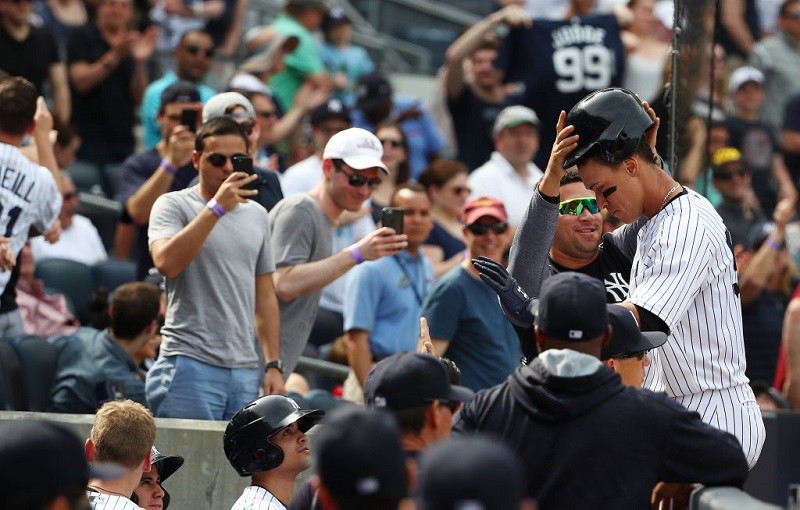 Pitcher: Jayson Aquino
Distance: 435 feet
At the start of the 2017 season, the Yankees endured a long stretch without Gary Sanchez, Didi Gregorius, and Greg Bird in the lineup. It never mattered much with Judge and his teammates taking care of business against division rivals. Following a monumental comeback against Baltimore on April 28 (in which Judge homered twice), the slugger hit a 435-foot bomb that put the April 29 game out of reach.
8. April 12, 2017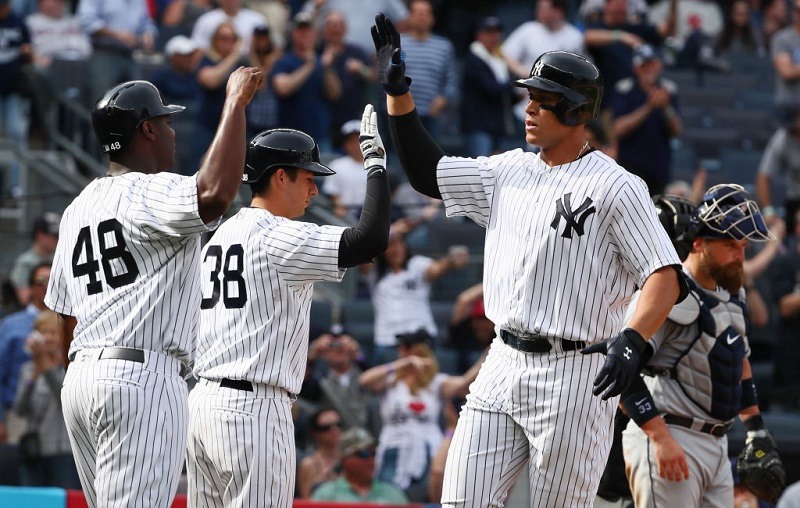 Pitcher: Erasmo Ramirez
Distance: 435 feet
Back on April 12, Judge showed the many ways he could change the course of a game. Trailing 3-2 in the sixth, he tied the game with a single to center. The Yankees then tacked on three more runs and took a 6-3 lead to the seventh. Judge then sealed the game for his club with a 435-foot shot to center, making it 8-3. Rays reliever Erasmo Ramirez realized where it was going as soon as it left the bat.
7. September 12, 2016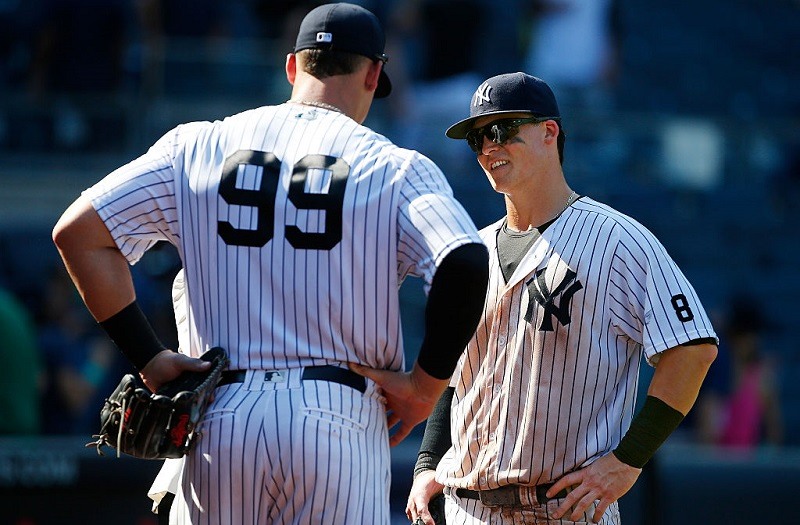 Pitcher: Jose DeLeon
Distance: 436 feet
Though Judge only hit 4 HR in his first MLB stint in 2016 (84 AB in 27 G), two of them kept the folks at Statcast busy. His September 12 shot off Dodgers reliever Jose DeLeon reached the left-center field bleachers, measuring 436 feet. Judge suffered an oblique injury the following day and would not return for the remainder of the '16 season, but he left fans with a hint of what was to come.
6. June 12, 2017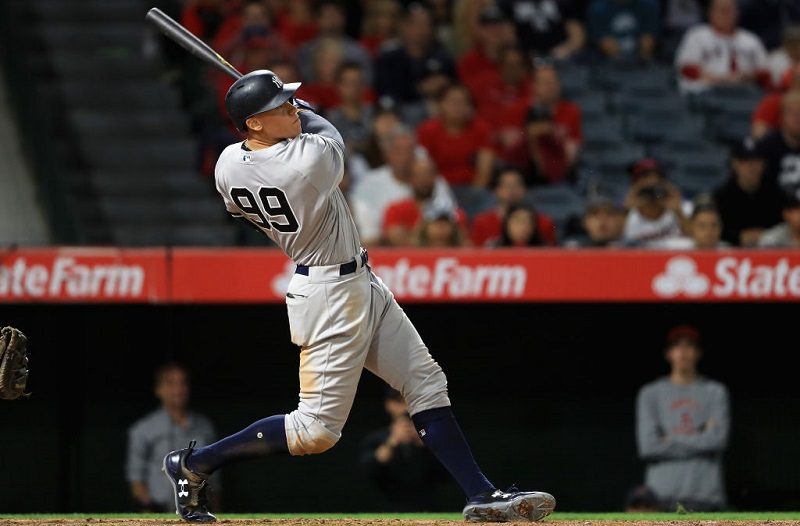 Pitcher: Bud Norris
Distance: 438 feet
Smashing long runs during a blowout game is one thing; connecting in clutch situations is another story. On June 12 in Anaheim, Judge launched a two-run shot to right-center that gave the Yankees a 5-3 lead and turned out to be the game-winner. Tyler Clippard had just blown the save in relief of Masahiro Tanaka in the bottom of the seventh. But Judge's homer restored the Yankees' lead and made Clippard a fortunate winner on the night. When people make Judge's case for MVP, they will cite games like this one.
5. August 13, 2016 (MLB debut)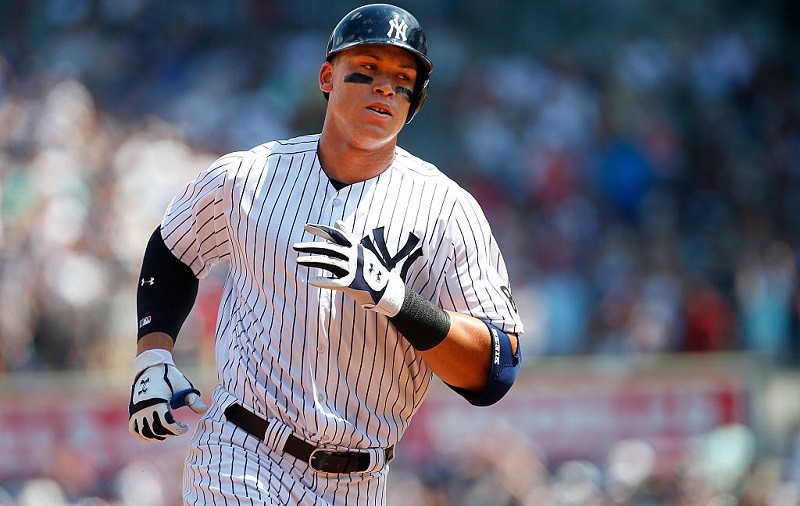 Pitcher: Matt Andriese
Distance: 446 feet
You will hear a lot of people saying that Judge "came out of nowhere" in 2017. Actually, anyone who saw his Major League debut on August 13, 2016 can tell you that's not true. Following the first at-bat of call-up Tyler Austin (also a home run), Judge made it back-to-back homers with a 446-foot drive to center. With that swing, he put the league on notice, though it took him until 2017 to launch his full offensive attack.
4. April 19, 2017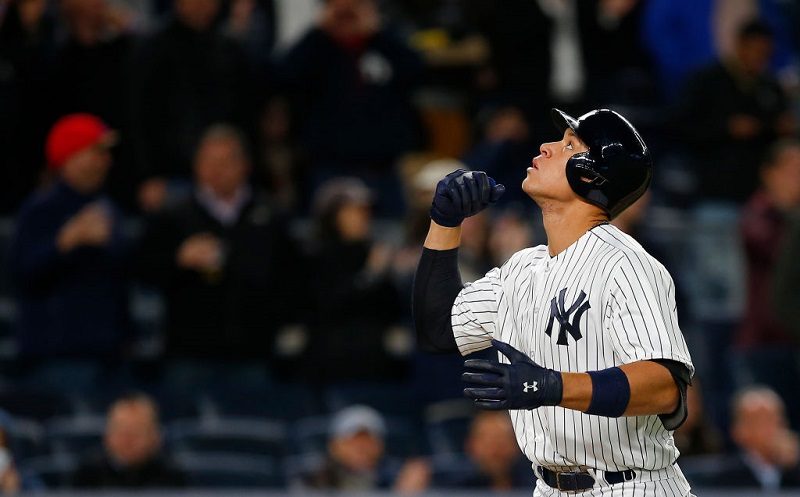 Pitcher: Dylan Covey
Distance: 451 feet
When the White Sox entered the fifth inning on April 19, Chicago trailed the Yankees 4-1. Moments later, Castro connected for a three-run homer and Judge followed with a blast that measured 451 feet. It landed halfway up the left-field bleachers, and just like that the White Sox were losing 8-1. This onslaught, which has become common in 2017 for New York, reflected the total turnaround from the club's offensive malaise in 2016.
3. May 14, 2017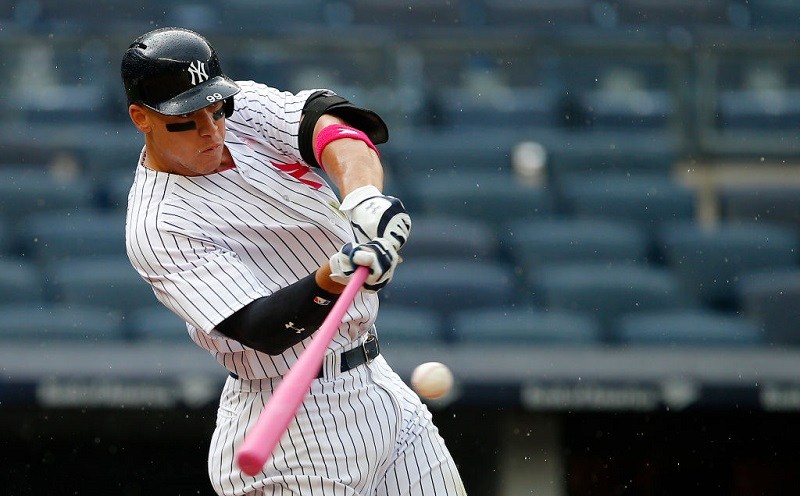 Pitcher: Mike Fiers
Distance: 457 feet
Soon, people will start yawning unless Judge reaches over 455 feet on his home runs. Fortunately, there are enough examples to savor through the first 90 games of his career. On Mother's Day 2017, he hammered a Mike Fiers pitch some 457 feet just to the right of center field, striking the windows of a stadium sports bar. For a left-hander, that's quite a feat, but Judge regularly reaches such distances to the opposite field.
2. April 22, 2017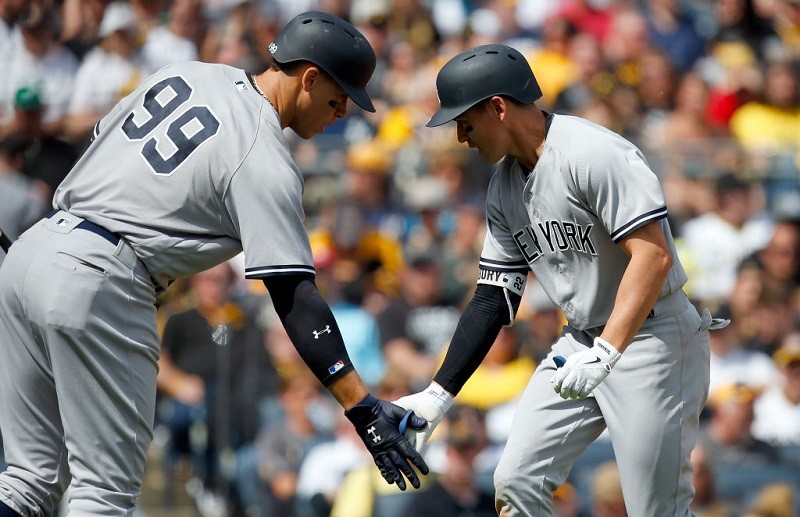 Pitcher: Antonio Bastardo
Distance: 460 feet
You can see the 410 sign in left-center at PNC Park where Judge hit this home run on April 22. The shot cleared that mark and went several rows into the second section of the bleachers behind it. Statcast measured this one at 460 feet. Officially, it was garbage time with the New York Yankees up 10-5 in the ninth, but you could say he never gives up an at-bat. In what has become his signature, he speeds quickly around the bases to avoid showing up the pitcher.
1. June 11, 2017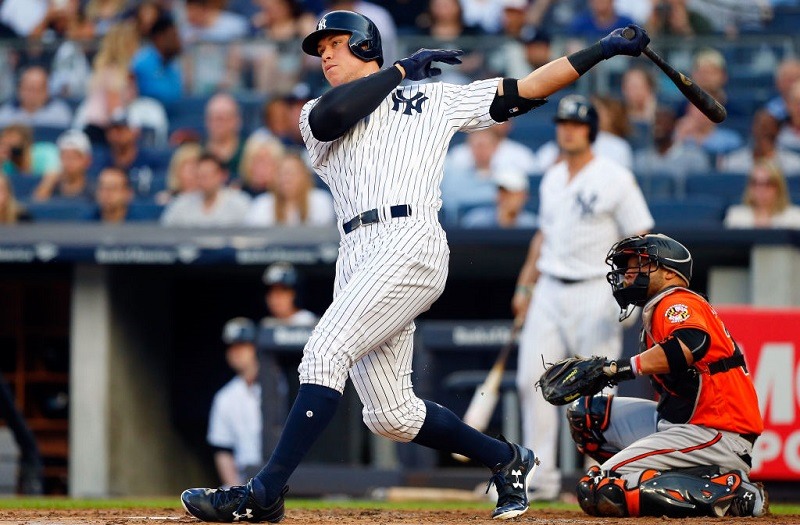 Pitcher: Logan Verrett
Distance: 495 feet
There are long home runs and then there are historic home runs — the kind people tell their kids about decades later. (Those of Mantle, who once connected for a 565-foot shot in Washington, come to mind.) Judge gave modern fans a taste of what might come with a home run measured at 495 at Yankee Stadium on June 11, 2017.
No one had ever cleared the bleachers before that; no one ever imagined a home run hitter reaching the retired numbers before. In the Aaron Judge era, baseball fans are bracing themselves for the impossible.
Source: MLB Statcast