MLB: Meet Your Philadelphia Phillies for 2016
Have you seen The Purge? We don't mean the movie, but rather the Philadelphia Phillies of 2015. Everyone from the oft-derided GM, the occasionally respected ace, the universally loathed closer, and the hated-elsewhere-but-loved-in-Philly franchise player have disappeared since July. (Cliff Lee's gone, too.) That leaves the Phils with just a few holdovers from the bloated-contract period and a bunch of young players to man the fort in 2016. While that's a good thing long-term, the show in Philly could get ugly next season.
For most Phillies fans (and just about everyone else), the purge couldn't have occurred soon enough. By mid-2015, the core of the 2008 World Series team had grown mostly old and unproductive. Ryan Howard, heading into the final year of the worst MLB contract in memory, had a .270 on-base percentage that was 80 points below his career average (.349) and 155 points below the mark (.425) from his MVP season (2006).
Chase Utley, one of the best infielders to ever put on a Phillies uniform, was hitting .179 at the All-Star break. Elsewhere, Jonathan Papelbon was doing his usual trade-me-or-else routine while the club held down last place in the division. Citizens Bank Park often looked like a ghost stadium.
Only Hamels, the 2008 World Series MVP, was keeping up his end of the bargain, striking out more than a batter per inning and giving fans something to cheer about. Once Hamels and Papelbon were traded (July), Utley left for LA (August), and Ruben Amaro Jr. was fired (September), they swept the deck clean for the rebuild. They even sent Ben Revere to Toronto. The Phillies ended with 63 losses and a ticket to the No. 1 pick in the 2016 draft.
This team won't be terribly entertaining to watch next season. Ken Giles, the new star closer, got shipped to Houston this offseason. Along with Howard at first base, fans will cheer for Freddy Galvis (career .241 BA, .645 OPS) at short and Carlos Ruiz (.211 BA, .575 OPS in 2015) behind the plate at age 37. There are bright spots, however.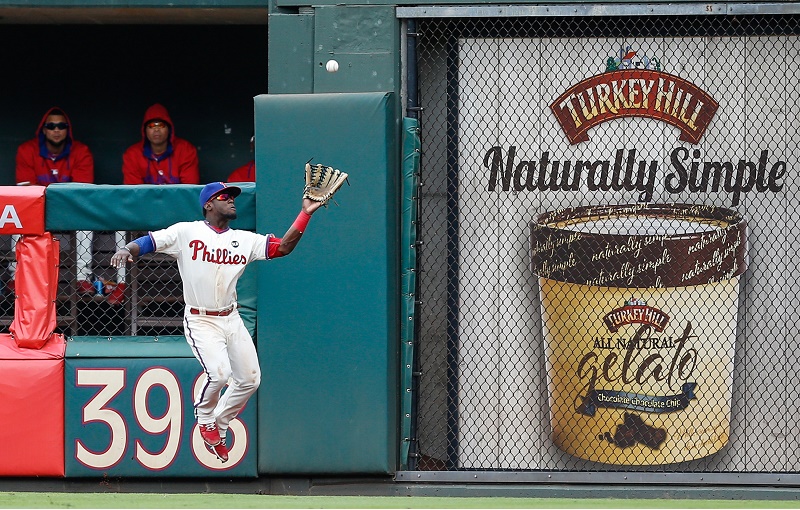 Odubel Herrera, the centerfielder who hit .297 and led the Phils with a 3.8 WAR in 2015, will return for his sophomore season. Likewise, third baseman Maikel Franco (.280 with 14 HR in 80 games) will be at the hot corner to flash some of his raw power. Aaron Nola (6-2, 3.59 ERA in 13 GS) and Jerad Eickhoff (3-3, 2.65 ERA in 8 GS), the starter who came from Texas in the Hamels deal, will take the mound to round out the young talent.
New acquisitions, Jeremy Hellickson (49-48, 3.94 ERA, career) and Charlie Morton (45-70, 4.54 ERA, career), will join the youngsters in the rotation. Journeymen Jeff Francoeur, Grady Sizemore, and Aaron Harang leave to free agency this offseason as well, so the youth movement appears all-consuming in Philly.
What will it look like checking out a game in South Philly next summer? It's hard to tell. Howard will still get his share of boos, but otherwise it might seem similar to the Arizona Fall League. Fans and scouts will wonder how the next generation of Phillies will compete in the East, and it might not be pretty. Whatever happens, though, it will be better than the alternative.
Statistics courtesy of Baseball Reference.
Connect with Eric on Twitter @EricSchaalNY