MLB: Mets Rookie Pete Alonso Aspires to be Like This 1 Retired White Sox Slugger
Pete Alonso is having such a great season that he has some Mets fans thinking they could contend for a title. He's a virtual lock for NL Rookie of the Year.

Alonso's emergence in 2019 season has shown a spotlight on the young slugger. A reporter recently asked Alonso who inspired him during his formative years. He answered with a former White Sox slugger whose name may surprise you.

The retired White Sox slugger Alonso aspires to be like
When the Mets visited the White Sox in July, it presented Alonso with an opportunity to reveal one of his favorite players when he was younger: former White Sox first baseman Paul Konerko. 

Alonso reached out to Konerko while he was in Chicago, and he had nothing but glowing praise when asked what the player meant to him:  

"(Konerko) was one of my guys growing up watching," Alonso said after the Mets' 10-7 loss to the Cubs. "I was a big Mike Piazza guy, but after Piazza was near the end of his career, Paul Konerko filled that void."

"I love the way he played the game, and hopefully one day I can be like Paul," said Alonso, who believes Konerko should be in the Hall of Fame.
Alonso hailed Konerko as "a great ambassador for the White Sox and the game of baseball" while praising his "championship attitude." He also noted Konerko's willingness to play through numerous injuries, including an injured hip and a floating bone chip that plagued him throughout the latter half of his career.

Paul Konerko career overview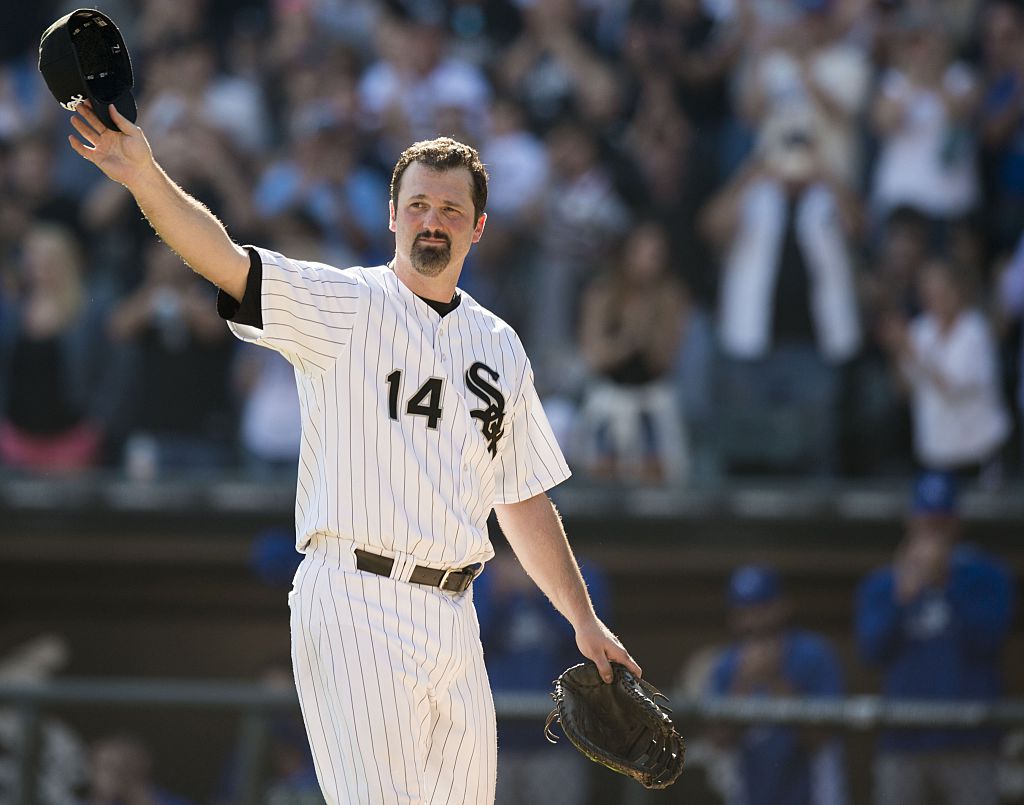 Konerko isn't in the Hall of Fame, but his stats suggest he has a solid case for it. He played a key role as one of the big sluggers for the Chicago White Sox 2005 World Series-winning team.

Consider his accomplishments throughout his 18-year MLB career:
439 home runs
1,412 RBIs
2,340 hits
1,162 runs scored
.841 OPS
27.7 Wins Above Replacement (WAR)
Six All-Star game appearances
2005 ALCS Most Valuable Player
Ninth all-time in double plays turned by a first baseman (1,660)
To put a player's career in context, Baseball Reference prepares "similarity scores" to show players with similar careers to Konerko. Below are the best comparisons for Konerko along with their similarity scores:
Two of those players — Orlando Cepeda and Willie Stargell — are Hall of Famers.

How Pete Alonso and Paul Konerko compare
The players listed above aren't the only ones Konerko shares similarities with. He also shares some with Alonso.

Both Alonso and Konerko made the transition from catcher to first base. When drafted by the Los Angeles Dodgers in the mid-90s, Konerko was initially a catcher. His defensive skills were subpar, so he was given an option by the Dodgers and their catching instructor, future Angels manager Mike Scioscia. He could either go back to A ball to develop his catching skills or play first base at the AA level. It was a no-brainer for Konerko, who advanced and moved to first. 

Another thing they have in common? The ability to hit the long ball. Through games played on August 31, 2019,  Alonso has 42 home runs. He'll likely be the NL Rookie of the Year and may even draw consideration for MVP. Meanwhile, Konerko took a little longer to get to 40 home runs. He wouldn't achieve that number until his eighth season. But he did hit home runs with impressive consistency, averaging 30 over a season for his career. If Pete Alonso has the same level of longevity and consistency, he could one day be mentioned in the same breath as Paul Konerko.