MLB: Top 3 Most Intriguing Potential World Series Matchups
With the 2016 MLB season still in its pre-summer stage, it's a bit too early to start predicting which teams will play for a championship in the World Series come October. The clubs that are playing well now might not be anywhere near the playoff picture in a couple months, as players will get moved prior to the trade deadline and the summer heat may cause teams to crumble under the pressure of maintaining their success.
However, the first-quarter of the season has provided us with some exciting potential Fall Classic matchups, making it difficult to avoid speculation. If you talk to any fan in any sport, they will tell you that they are — obviously — rooting for their team to win a title each and every season. Of course, only two can reach the biggest stage, so we often must root for the most intriguing battle to fill the void left by our teams not living up to our expectations.
Some of the potential World Series showdowns don't meet this intrigue, but with the way several clubs are playing right now, the game just might get a World Series everybody can enjoy this fall. Based on the current standings, we have three potential World Series matchups in 2016 that would not only be good for the game, but also fun for baseball fans to watch. Are all of these matchups likely to occur? No. But just thinking about them is exciting enough.
3. Baltimore Orioles vs. Washington Nationals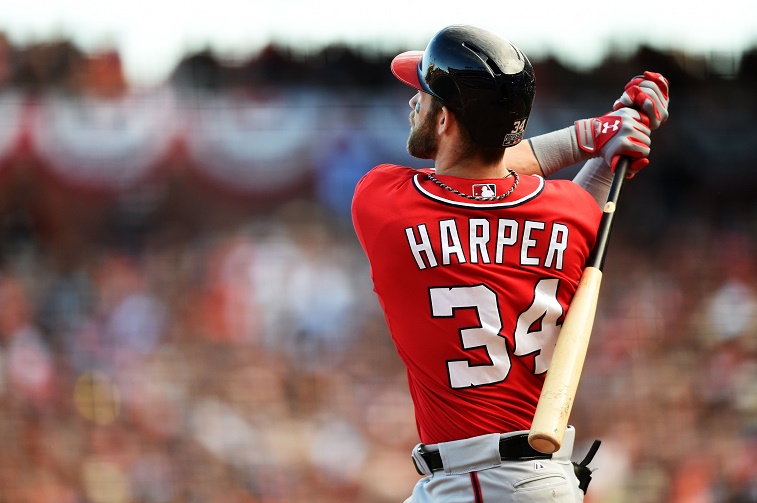 Any time two cities are separated by a mere 40 miles, the prospect of a championship battle holds plenty of intrigue. That's the case for the Baltimore Orioles and Washington Nationals; two teams that fight for the support of their local fans and happen to be first-place teams early in the season. It's not only the close proximity that makes this matchup intriguing, however.
On a historical level, this World Series would provide a championship to a franchise that hasn't seen one in decades. The Orioles last won a championship way back in 1983 and the Nationals — on the other hand — have never won a title, not even when they played in Montreal for more than 30 seasons. It's always a good thing for sports when a mediocre franchise finally reaches the pinnacle of their game — see the Royals' rise in recent seasons — making an Orioles–Nationals World Series more than worthwhile.
These two teams also have several of the best players in the game, led by Washington's Bryce Harper and Baltimore's Manny Machado. Home runs would be hit (the Orioles are first in that category) and the pitching would be electric (the Nats have the second-best team ERA right now). Not a typical matchup by any measure, but people well outside the Nation's Capital could get excited about this series.
2. Colorado Rockies vs. Seattle Mariners
The Seattle Mariners and Colorado Rockies are two of the smaller market teams in the entire league, but that doesn't mean a potential World Series between two franchises that have never won a World Series wouldn't be worth watching. Both clubs are outperforming their preseason expectations so far in 2016; the Mariners are sitting in first place in the AL West and the Rockies are keeping pace in the NL West.
They both have a long way to go before they can seriously start thinking about a World Series run, but if you like an unexpected battle of "underdogs," this series would fit the build. Aside from the status of being an unexpected matchup in the Fall Classic, the contrasting styles of Seattle and Colorado would make this an interesting chess match.
The Mariners hold the fifth-best team ERA in baseball and have a serious ace in Felix Hernandez leading the way on the mound. The Rockies don't generally pitch well at all, but their offense is one of the best in the league. With MVP candidates in the Mariners' Robinson Cano and the Rockies' Nolan Arenado, star power would be present in this World Series. We all like something fresh and new, and no potential showdown would be more intriguing than this one.
1. Chicago Cubs vs. Chicago White Sox
We are all aware that the Chicago Cubs are the World Series favorite this season. An exciting team with talent all over the field, the Cubs proved their dominance early and often already this season and should they keep it up. Nobody in the National League is likely to stop their quest of ending that historic World Series drought.
With their crosstown rival White Sox also playing well, an all-Chicago Fall Classic could be on the horizon — and it would be a treat for baseball fans everywhere. Historically, this matchup would have plenty of juice. The Cubs, of course, haven't won a championship since 1908 and haven't reached the biggest stage since 1945.
On the other side, the White Sox did capture a ring in 2005, but before that, their drought spanned all the way back to 1917. Obviously, Chicago baseball hasn't experienced a lot of success over the past century and for such a great sports city, seeing their two teams battle it out in October would be a grand spectacle.
With great pitchers, like Jake Arrieta and Chris Sale, and skilled hitters, like Kris Bryant and Todd Frazier, this matchup wouldn't be short of top talent either. We might not all be fans of these teams, but as a likely World Series battle, a White Sox-Cubs series could be the best thing for the game of baseball in 2016.
Statistics courtesy of ESPN.com and Baseball-Reference.com, unless otherwise noted.