MLB: The 1 Move Derek Jeter got Right for the Miami Marlins
Derek Jeter has been referred to by many labels. Captain of the New York Yankees? Check. One of the greatest offensive shortstops in baseball? Check. An ambassador for the game? Check. Hall of Famer? Not yet, but he certainly will be one day. One label he has yet to achieve since he's taken control of the Miami Marlins is that of "savvy front office tactician." It's been a struggle for Jeter since he's taken over the reins in Miami. However, there's at least one move Derek Jeter got right that is turning out to be a boon for the Marlins.

A career of winning
As a player, the name Jeter is almost synonymous with winning. He's right up there alongside Yankee greats such as Babe Ruth, Lou Gehrig, Joe DiMaggio, and Mickey Mantle. Take a look at some of these achievements:
In the first season in which he was eligible, Jeter won Rookie of the Year (1996).
Jeter played on World Series-winning teams in 1996, 1998, 1999, 2000, and 2009.
Along with the championship teams, he was also on AL Pennant-winning clubs in 2001 and 2003.
He "won" the title of Yankee captain, a prestigious honor that is not always handed out by the club. Only 15 players have been named the captain of the Yankees in the team's century-plus of existence, including Gehrig, DiMaggio, Don Mattingly, and Thurman Munson.
In 2000, he won the MVP of both the All-Star Game and the World Series.
It's clear that Jeter has a track record of on-field success from his playing days that few players can match. That's why his career as an executive thus far has been somewhat confounding.

Success eludes Jeter with the Miami Marlins so far
It's hard to say Jeter has been a bad executive so far as the Miami Marlins' strategy has been to slash payroll. That was the goal when he came to the franchise, and so far they've achieved it. Jeter was put in the unenviable spot (in large part due to the poor management by the previous ownership) of having to deal most of the team's talented players. That included stars such as Christian Yelich, Giancarlo Stanton, and J.T. Realmuto.

Trading these players is one thing. It's another to not get much in the way of value back. At least in the short term, the Marlins have yet to come remotely close to replacing any of those players on the field.

They've struggled mightily. Last season the Marlins went 63-98, coming within only two games of losing 100 (a feat they've achieved twice). They are also looking quite bad in 2019. Through 44 games they were 13-31 and 13 games back of first place in the NL East before the season's second month has concluded.

While Jeter and the Marlins have a long-term plan for success, in the short term they've given away great talent with little to show in return. But there is one move Jeter made that has been an unqualified success.

The one move Derek Jeter got right in Miami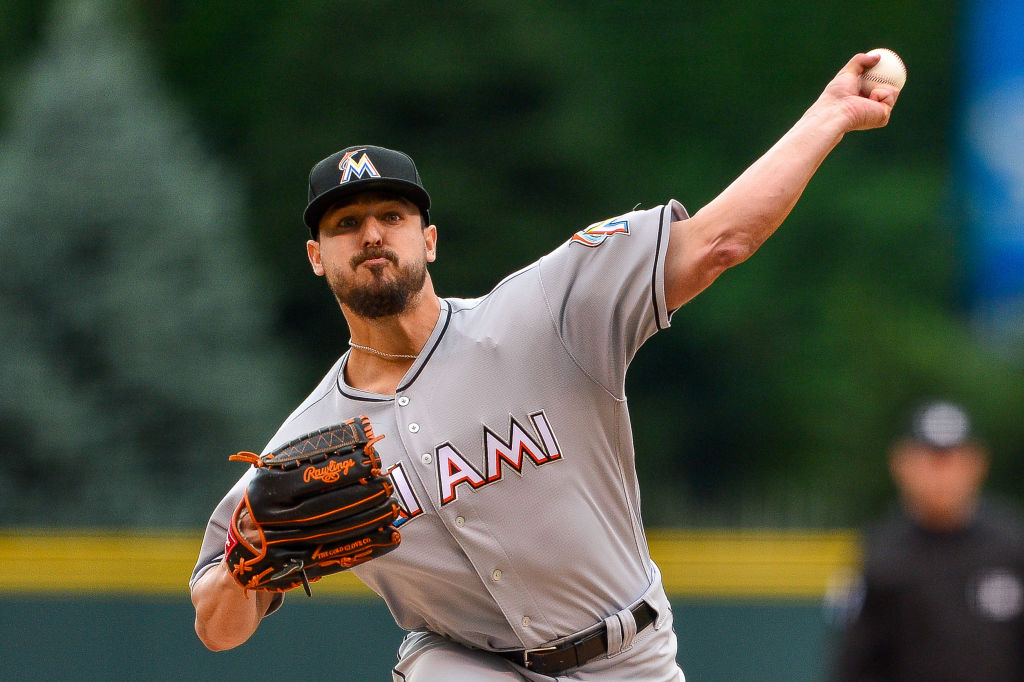 In a November 2017 trade with his former club, Jeter acquired pitcher Caleb Smith. Reporting by Bleacher Report showcases Smith's statistical dominance to show what a great move this was for the Marlins:

"Smith, meanwhile, owns a 2.11 ERA, a ludicrous 0.89 WHIP and has averaged 11.8 strikeouts per nine innings for the Marlins."

The kicker? The Marlins didn't even get Smith in the Giancarlo Stanton trade. They acquired him for right-hander Michael King, who has yet to pitch in MLB.

Smith has been not just one of the Marlins' best pitchers, but one of the best pitchers in the NL this season. For all the bad moves the Marlins made in the name of saving money, this is one Derek Jeter got right that has worked out well for Miami.