MLB: Pablo Sandoval of all People Made History During a Blowout Loss
When hearing about people making history, often we believe it is a positive experience, but it was a bittersweet one for Pablo Sandoval. In a blowout 12-4 loss against Cincinnati, the San Francisco Giants' third baseman pitched a no-hitter during one inning, swatted a three-run home run in another, and stole a base. For a player whose career hit rock bottom during a disastrous stint in Boston, Sandoval's historic performance proved that he still has some gas left in the tank.

Pablo Sandoval makes history
The last time any player hit a home run, stole a base, and pitched at least one scoreless inning was in 1905. New York Giants pitcher Christy Mathewson threw nine scoreless innings, stole a base, and hit a home run. The biggest differences are that Mathewson pitched the entire game, and the Giants won, 7-0, instead of losing.
Starting strong for the Giants
According to sources in MLB, when Sandoval reported to Giants' camp before the 2019 season, he met with manager Bruce Bochy to reiterate his desire to do whatever it takes to help San Francisco win the pennant. That included his willingness to play multiple positions in addition to his location at third base:
Taking a spot behind home plate as a catcher
Switching to second base
Stepping up to the pitcher's mound
Initially, Bochy was hesitant to put Sandoval in the bullpen when he said, "I hate to see him pitching (again), but you never know." Obviously, Bochy didn't have a crystal ball to predict Pablo would be throwing, let alone make history by matching a record set at the beginning of the twentieth century.

Candidacy and credits
Some say Sandoval is a candidate for signing up with the Jenny Craig team considering he's lost and gained varying amounts of weight over the years. His weight fluctuations bring to mind to some celebrities who have struggled to obtain a healthy weight. But tried-and-true fans of MLB surely recall many "heavy" hitters in the past such as Babe Ruth, who was given a long list of nicknames, including the Sultan of Swat, Big Bam, the Behemoth of Bust when he stepped up to the plate.

Sandoval isn't on the same level as Babe Ruth, but he has some compelling stats to his name, including:
Playing in over 1,200 games, with more than 4,500 plate appearances, 1,200 hits, nearly 600 RBIs
Sandoval played in almost 40 playoff games, including two series where his average was .500 or better
He'll never be a full-time pitcher, but in two one-inning appearances he hasn't allowed a hit and maintains a 0.00 ERA
Sandoval's stats are literally all over the field when you consider throughout his twelve-year career in MLB he's played six different positions: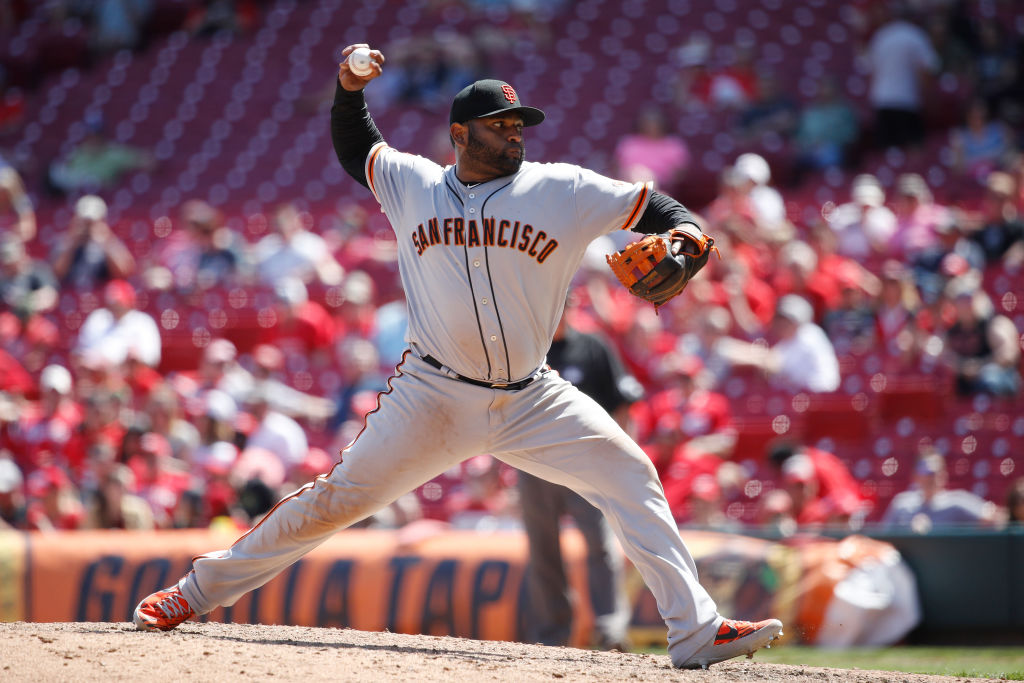 First base playing for San Francisco,
Second base for both the Giants and the Red Sox,
Third base primarily for the Giants,
Designated hitter for San Francisco and Boston,
Catching for the Giants
Pitcher
Where does Pablo Sandoval go from here?

Pablo Sandoval still making headlines when he hits home runs, and we'll see how this versatile player fares in the future. Considering he rarely pitches or attempts stolen bases, we doubt he'll duplicate the unique record he set against Cincinnati. However, if his health remains strong and injuries aren't a problem for this aging Giant, we could see Sandoval set other records in the league as he continues to play. At 32 years old, he's nowhere near the oldest player on record, and he probably has a few more solid seasons left to add to his stats.