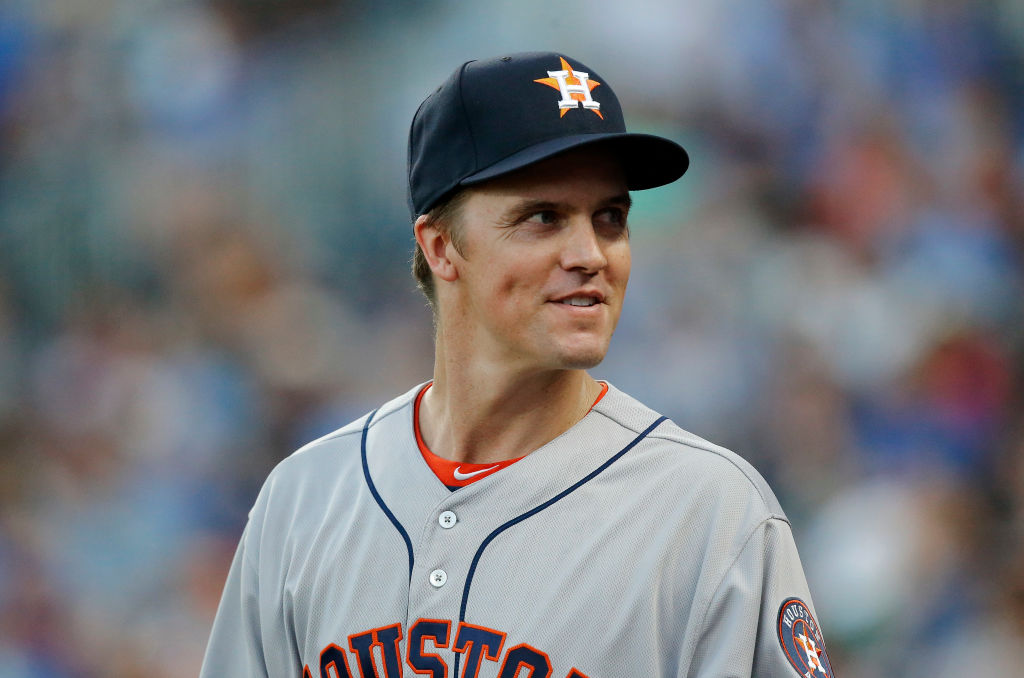 MLB Pitcher Zack Greinke Was One of the Highest-Paid Athletes in America During the 2010s
Zack Greinke has been one of the most dominant pitchers over the past 16 years. He has also been one of the highest-paid athletes too.
Houston Astros pitcher Zack Greinke is one of the most decorated pitchers in the entire MLB. He has a Cy Young Award, six Gold Gloves, two Silver Slugger awards, and he is a six-time All-Star. In addition to all of that, Greinke was one of the top 10 highest-paid athletes in American sports during the 2010s.
Zack Greinke has been a dominant pitcher his entire career
Zack Greinke made his MLB debut in 2004 with the Kansas City Royals. Through his first five seasons, though, his record was never great. He went 8-11 in 2004, 5-17 in 2005, 7-7 in 2007, and 13-10 in 2008. However, his ERA was always solid. Not including the 2006 season that he missed the majority of, Greinke's ERA was under 4.00 in three of his first five seasons.
Then 2009 was when he officially became a top pitcher in the league. He went 16-8 that season and had a 2.16 ERA, which was the best in the American League. He also earned his first All-Star appearance that season and won the AL Cy Young Award.
Greinke has continued to be one of the top pitchers in the entire MLB since then. He has only had an ERA over 4.00 twice since 2007, and in 2015 his ERA was 1.66. Greinke has also earned five more All-Star appearances since 2009.
Last season, Greinke went 18-5 as a 35-year-old for the Arizona Diamondbacks and the Houston Astros. He had a 2.93 ERA. 
Greinke made a lot of money in the 2010s
With Greinke being a top pitcher in the MLB for the past 16 years, he has made a lot of money. That was especially the case in the 2010s. Greinke signed a six-year, $147 million deal with the Los Angeles Dodgers in 2012. He elected to opt-out of that deal in 2015, though, and then signed an even bigger deal. Greinke ended up signing a six-year, $206.5 million deal with the Arizona Diamondbacks in December 2015.
In December 2019, Business Insider listed the athletes who made the most money in American sports during the 2010s. They ended up putting the top-16 highest-earning athletes on the list. Because of his deals with the Dodgers and Diamondbacks, Greinke made the cut. Greinke ended up coming in at No. 9 as he made $208.2 million in the 2010s.
Who did he make more than? Ranking lower than Greinke on the list were C.C. Sabathia ($207.7 million), Aaron Rodgers ($205.5 million), Matt Ryan ($201.5 million), Matthew Stafford ($200.6 million), Russell Westbrook ($198.1 million), Dwight Howard ($191.5 million), and Carmelo Anthony ($190.5 million).
How much is he worth?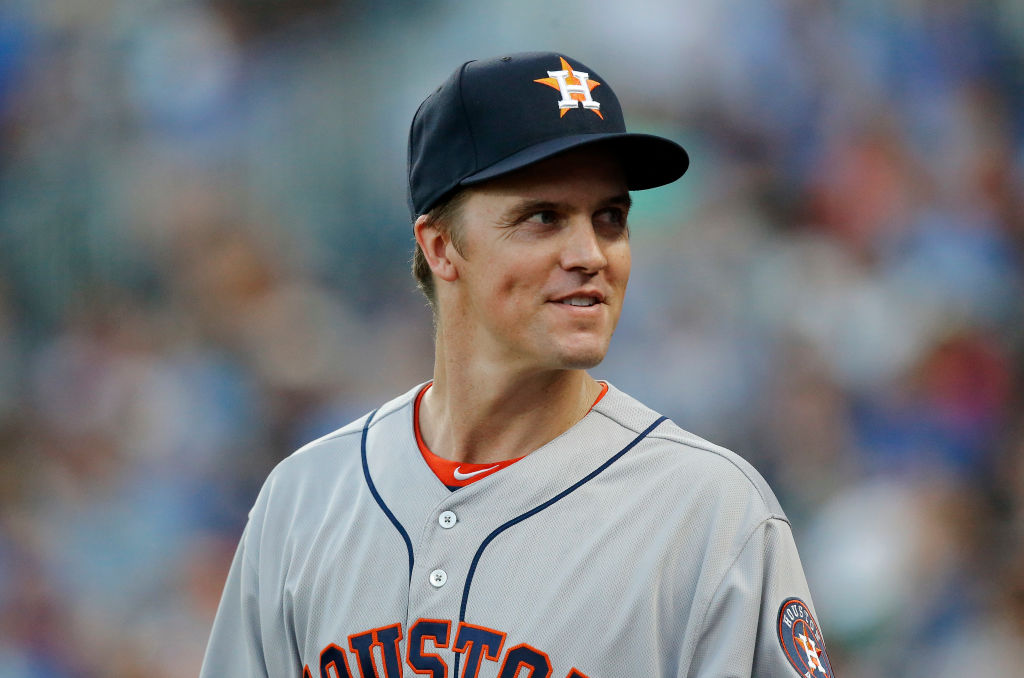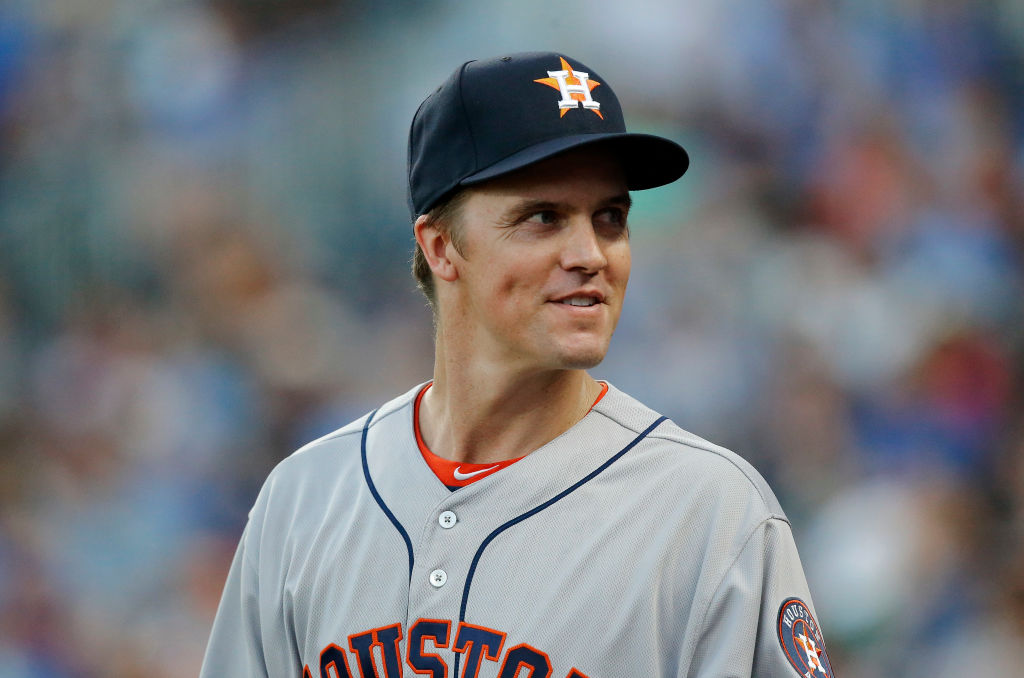 The Diamondbacks traded Greinke to the Houston Astros in July 2019, but he is about to start the fifth year of his six-year deal in 2020. Salary-wise, Greinke is supposed to make $32 million with the Astros this coming season. He also has $3 million coming from his signing bonus as there was an $18 million signing bonus in his six-year contract. 
He is, of course, worth a lot more than $35 million, though. According to Celebrity Net Worth, Greinke's net worth is $120 million. That's a lot of money. 
Greinke has certainly been one of the highest-paid pitchers in the MLB over the course of his career. He has earned every penny, though, as he consistently produces, even at an older age. He and Justin Verlander will be competing for which older pitcher can have the more productive season for the Houston Astros this coming year. They both had ERAs under 3.00 at 35 or older last season. We will see if they can keep up that production with the Astros in 2020 and help them get back to the World Series.