MLB: 5 Pitchers Who Are the Hardest Throwers in Baseball
When it comes to pitching, MLB teams love pitchers who throw hard. The Tampa Bay Rays have two relievers who are on the top of the charts. That doesn't necessarily mean they have the toughest bullpen, but it does mean a couple of their pitchers can really hurl the ball. To the average person, a 75 mph changeup probably looks like a bullet, but that speed barely registers to a baseball player. Which pitchers are the hardest throwers in baseball, and how fast does the ball fly?
5. Diego Castillo, RP, Tampa Bay Rays
Diego Castillo is one of the hardest throwers in the game, and the numbers prove it. His cutter is nearly 1.5 mph faster than the MLB average at 89.5, even though it spins a little less than average. Castillo's cutter is just a setup pitch, though. His sinker lights up radar guns at 98 mph, giving him one of the liveliest arms in the game.
4. Tayron Guerrero, RP, Miami Marlins
He's tall and lean. At 6-foot-8, Guerrero tosses a four-seam fastball at 98.2 mph. Revolutions? Yep, 2,155 rpm. In 2018, his fastest pitch was 104.0 miles per hour. Impressive? Duh!

The 28-year-old Marlins' reliever has fast become a fan-favorite in Miami. Brought up to the Padres roster in 2016, they traded him two months later in a deal with the Marlins. He played in the minors until the Marlins gave him a call and brought him up to the big leagues in 2018. Guerrero immediately impacted the bullpen with 68 strikeouts in 58 innings.

2. Jose Alvarado, RP, Tampa Bay Rays (TIE)
The left-handed Alvarado's fastball and sinker have been called nasty by the best of them. His sinker comes at a hitter at 98.4 mph and 2,039 rpm and ducks away, and his fastball routinely measures 99-plus mph. No matter which pitch comes at a batter, one of baseball's hardest throwers is behind it.

At 23, Alvarado is in just his third year in the majors, and he's known to strike out many opponents, including a 1-2-3 inning strikeout sweep against the Rockies in 2019. He may just be the gem the Rays were hoping for.

2. Trevor Rosenthal, RP, Washington Nationals (TIE)
It's been said that Rosenthal's fastball is easy for batters to pick up, but they have to catch it at speeds nearing and topping 100 mph. Lately, they've been doing just that. His era was stuck at infinity for several games until he finally recorded an out.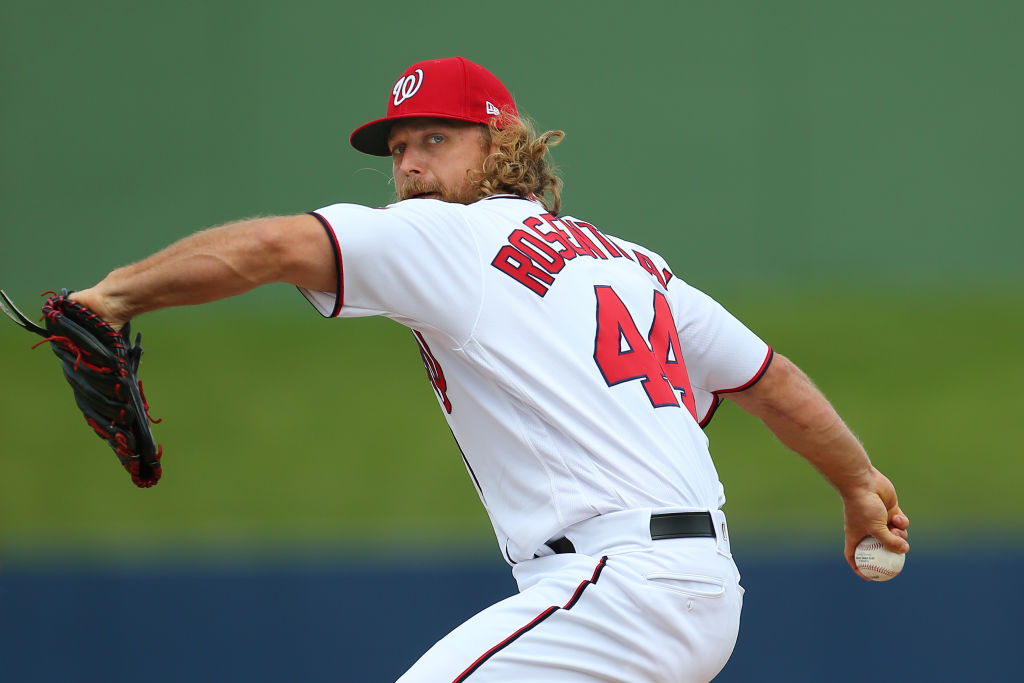 The Nationals' right-handed reliever throws a four-seam fastball that averages 98.4 mph with a little more spin at 2,400 rpm. Rosenthal is also known to throw a sinking fastball in the mid-90s, which results in grounders more than 50% of the time. Even though he got roughed up at the start of 2019, being one of the hardest throwers in baseball means Rosenthal will keep getting the call to pitch.
1. Jordan Hicks, RP, St. Louis Cardinals
Who can throw up to 105.1 mph? Jordan Hicks. It happened in May 2018. Well, it had to be last year, because the 22-year-old has only one year under his belt in the majors. He was a third-round St. Louis pick in 2015, and he progressed to the big leagues quickly.

Hicks pitched as a starter in the minors, but he switched to being a reliever in the majors. His sinker is his fastest pitch, and it spins at 2,039 rpm. Lookout batter!