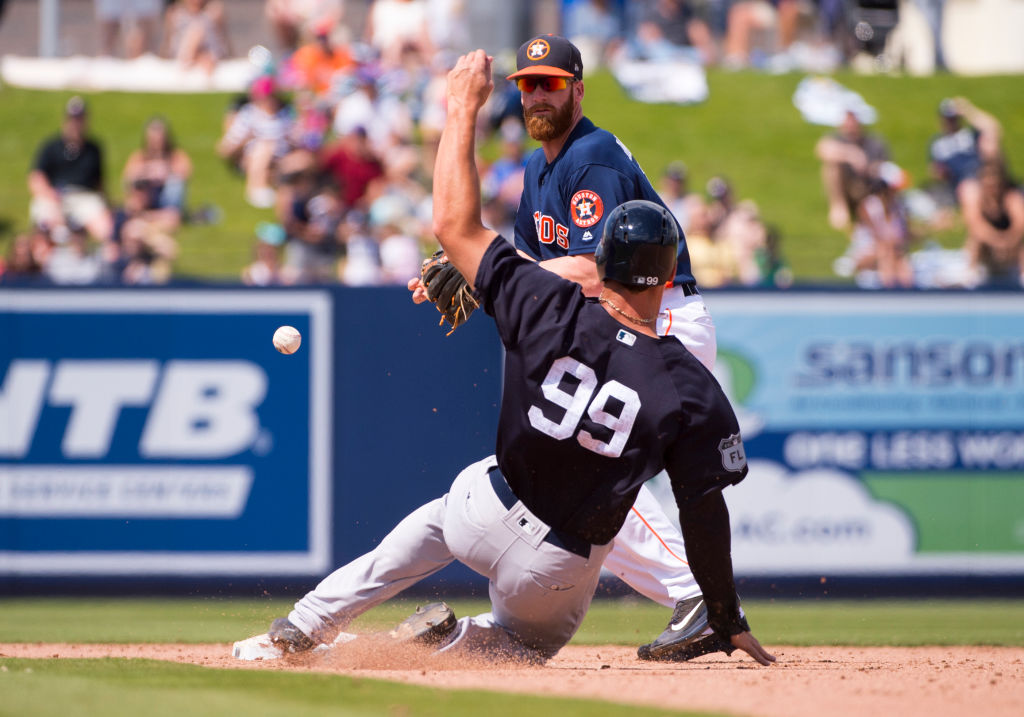 MLB Players Brian and Colin Moran Made History With the Ultimate Sibling Rivalry
Brian Moran, who began his MLB career with the Marlins in 2019, found himself pitching to his brother, Colin, in his debut major league game.
Family members in pro sports create unique circumstances. And sibling rivalries become even stronger when a new player competes against a sibling in their first game. Brian Moran, who began his MLB career with the Miami Marlins in the fall of 2019, found himself pitching to his brother, Colin, in the fourth inning of his debut major league game. He made history after striking out none other than his younger brother.  
Who are Brian and Colin Moran? 
Brian and Colin Moran are just one of many sets of brothers and other family members who have played Major League Baseball. Brian pitched for the Marlins during the 2019 season; Colin was a third baseman for the Pittsburgh Pirates. And Brian played college baseball for the University of North Carolina, and Colin played for the UNC-Chapel Hill Tar Heels.
Pro baseball runs in their family, as they are the nephews of former MLB brothers Rick and B.J. Surhoff, as well as grandsons of Dick Surhoff of the New York Knicks.
While plenty of brothers have played in the MLB over the years, few have found themselves in Brian and Colin's unique situation. Colin, who is four years younger than Brian, entered the Major League three years before his older brother, but Brian brought back the sibling rivalry of their Little League days in a way that made history.       
Competing against brothers is rare in the MLB
Brian Moran's 2019 entrance to the Major League added him and Colin to an impressive list of more than 400 sets of brothers, including ten sets of twins, that have played in the MLB. Other notable brothers include Felipe, Matty, and Jesus Alou, who all played for the 1963 San Francisco Giants, Lloyd and Paul Waner, who are both Hall of Fame members, and Marcel and Rene Lachemann, who both played in the MLB and went on to manage MLB teams. 
Brian's debut Major League game on September 5, 2019 was one for the history books. Playing in the MLB at the same time as his brother isn't all that unusual in and of itself, but competing directly against him in his first MLB game certainly is. Prior to the game, he told Jordan McPherson of the Miami Herald that, "the chances of it lining up this way [are] pretty unbelievable. It's a great moment for my family." Not since 1900 has a pitcher pitched to his brother during his MLB debut, and only seven players have played their debut games against their brothers' teams in that time. Striking Colin out during the fourth inning of this historic game scored Brian some major bragging rights. The game ended in a 10-7 win for the Marlins, starting Brian's MLB career out strong. 
Brian and Colin Moran's parents reacted to the historic strikeout 
Brian and Colin Moran's parents, Bill and Diane Moran, attended the game, along with both brothers' wives. Bill Moran fully expected their first shared MLB game to be as intense as their backyard baseball games had been years earlier. He remarked, "It's a very exciting moment in time. Never thought something like this would ever happen, that's for sure."
Diane Moran took a neutral stance in support of both of her sons when asked about her thoughts on the strikeout. She explained, "It's very hard to describe. It's surreal. I'm so proud of Brian and his perseverance, and the way that Colin has made it such a wonderful experience for him."
Although the fate of the 2020 MLB season has not been determined, fans hope to see Brian and Colin Moran on the field this summer. Should the season happen, Colin will be staying with the Pirates, while Brian will be moving to the Toronto Blue Jays. Their historic game will make both brothers fun to watch when MLB resumes.