5 MLB Players Most Likely to Be Traded in the Offseason
With one of the weaker crops of free agents in recent years, teams looking to improve from outside the organization must consider the trade market. Franchises may deal some interesting players due to team needs or because someone else blocked the dealt player's position. Either way, it's nearly a guarantee that some interesting names will move this winter. These five players will likely face a trade this offseason.
1. Brian McCann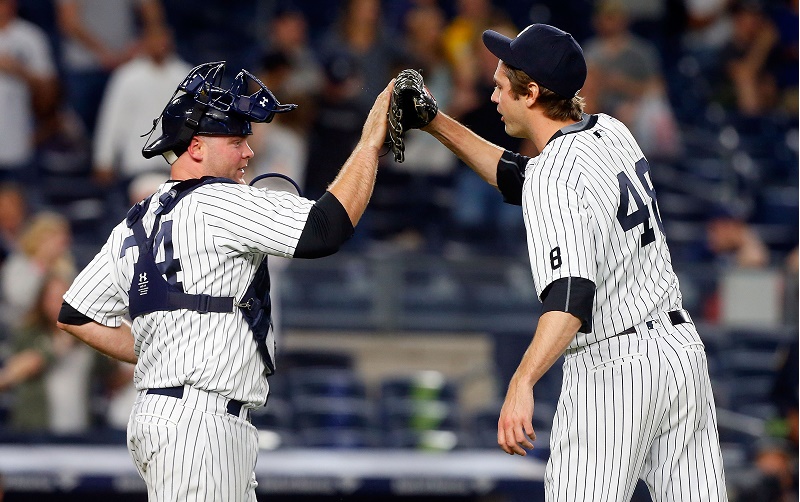 New York Yankees catcher Brian McCann will be 33 years old next season and has two years, $34 million remaining on his contract (with an $18 million option for 2019 that won't likely vest). He played 130 games last year, hitting 20 home runs and posting an OPS of .748. In the WAR category, he slid in at 0.9. What's worse is that he hasn't had a season above 3.0 WAR since 2010. So, McCann isn't exactly a super-attractive trade target.
However, the Yankees have little need for him with Gary Sanchez storming his way onto the big league roster. Sanchez, also a catcher by trade, hit 20 home runs with an OPS of 1.032 in just 53 games in New York last year. The Yankees might have to eat some of McCann's salary, or possibly simply just resign themselves to the fact that they will get little in return for him otherwise. But there might be a market for teams looking for a veteran catcher. The Braves, for example, are trying to put a competitive team on the field and have no defined starter at the catcher position.
2. Drew Smyly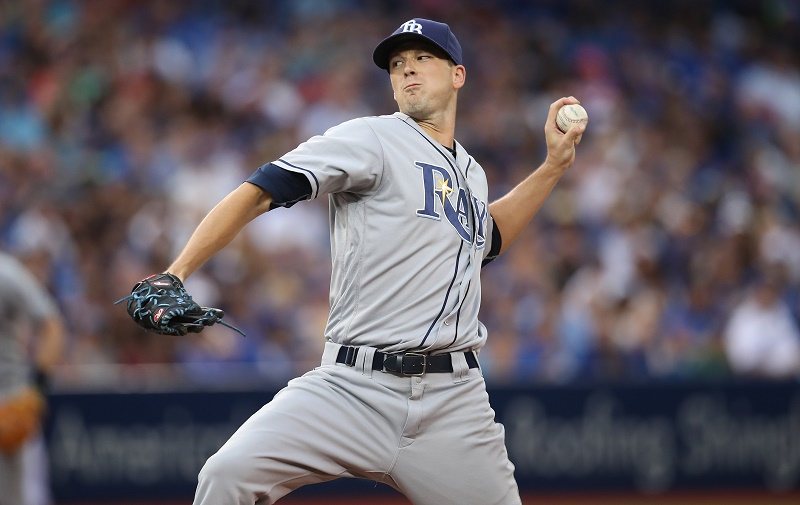 Left-handed starting pitcher Drew Smyly had his most healthy season of his career in 2016, putting together 30 starts and 175 1/3 innings — both career highs. But the downside is that his numbers took a big dive, seeing his ERA jump to 4.88 and a career-worst 32 home runs allowed. He will be 28 next year, and he's still in arbitration for the next two seasons. So, whoever rolls the dice on a deal for Smyly won't pay top dollar for the pitcher and has at least two years' worth of control.
For the Tampa Bay Rays, dealing Smyly makes sense. He's bound to get a raise over his $3.7 million salary from 2016, which might put him out of their comfort zone. They already have an abundance of starting pitching, including the talented (and cheap) Blake Snell. In reality, Tampa could deal Smyly, Chris Archer, Jake Odorizzi, or Alex Cobb. Of those four, Smyly probably makes the most sense to cut bait. Teams that could look at Smyly include the 2016 World Series champion Chicago Cubs, who just let go of their fifth starter, Jason Hammel.
3. Jorge Soler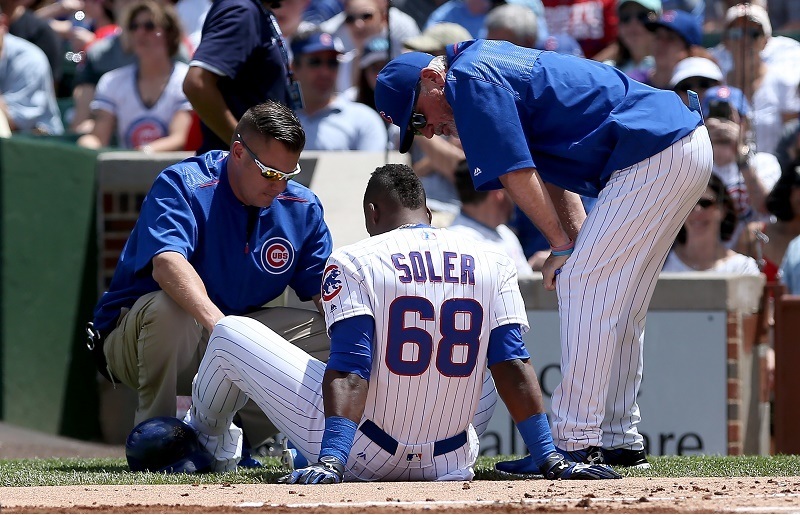 Speaking of the Cubs, it seems likely that if they choose to fill the hole in their starting rotation through the trade market, outfielder Jorge Soler might be on his way out. The Cubs have a glut of outfielders, even with Dexter Fowler set to hit free agency. Remaining on the roster are Kyle Schwarber, Jason Heyward, and top outfield prospect Albert Almora Jr. Soler is an awful defensive outfielder; he has struggled with injuries and was a forgotten man in the postseason.
On the plus side, he'll be just 25 years old next season. He was a highly-regarded prospect coming into the big leagues, and in 682 career at-bats he has 27 home runs with a .762 OPS. Soler can hit. If he landed with a team in the American League where he could serve as a designated hitter, he might have a better chance of staying healthy and providing more value. The Rays make sense, as do the Kansas City Royals, Houston Astros, and others.
4. Yasiel Puig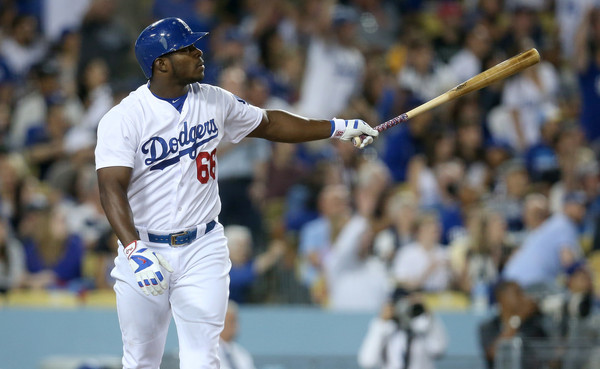 Another Cuban outfielder who fell out of favor with his team is Los Angeles Dodgers right fielder Yasiel Puig. He's well known for his hot start to his big-league career as well as flashy style of play. However, over the last two years, Puig's on-field performance has declined a lot. It got so bad that the Dodgers actually sent Puig down to Triple-A for the entire month of August this year, calling him back up in September.
The good news? In a small sample, Puig absolutely raked in September with the Dodgers. He hit .281/.338/.561 with four home runs in 65 plate appearances, earning his way onto the postseason roster for Los Angeles. But the relationship soured between Puig and the Dodgers, and it looks like a good time to move on. Plenty of teams need outfield help, including the New York Mets (if Yoenis Cespedes doesn't return), the St. Louis Cardinals (wouldn't this fit be a lot of fun?), and possibly the Toronto Blue Jays.
5. Jaime Garcia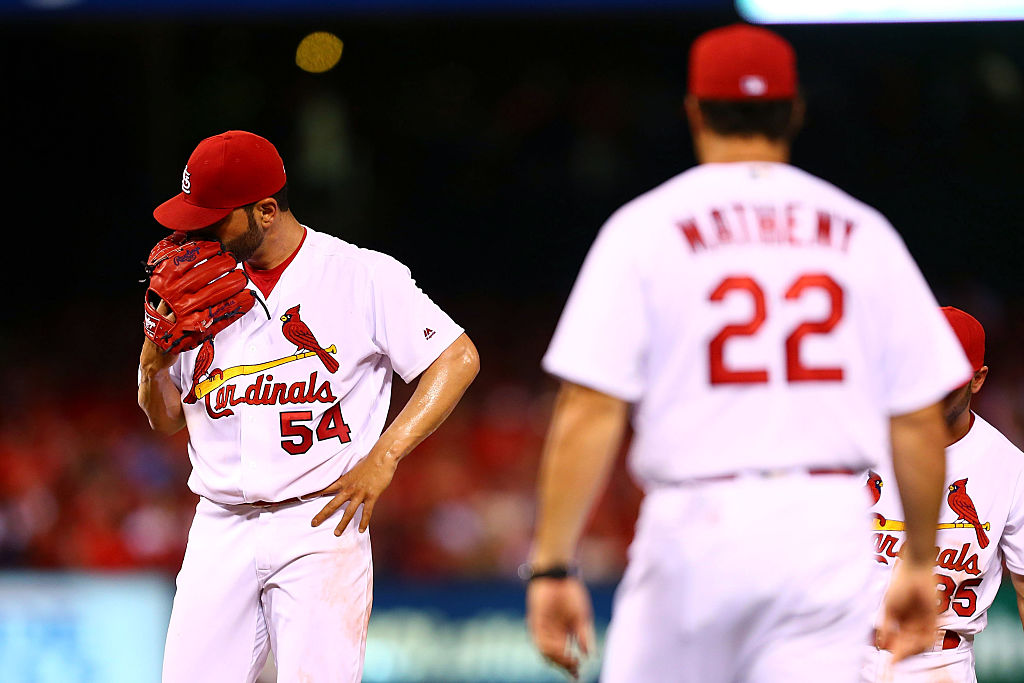 The Cardinals have plenty of options — albeit, some of them are mediocre — in their starting rotation. The 35-year-old Adam Wainwright is still around, with questions of how he'll perform next season after a down 2016. Carlos Martinez, Mike Leake, and Alex Reyes seem assured of spots in the starting rotation, as well. With Lance Lynn coming off Tommy John Surgery, to go along with Michael Wacha, Jaime Garcia, and even former-closer Trevor Rosenthal looking for spots in the rotation, somebody has to go.
With the free agent market being as barren as it is on starting pitching, it would behoove the Cards to deal at least one of those pitchers to replenish their weakened farm system and get some future position players. Garcia, who has one year remaining on his contract, makes a lot of sense to be moved. He had a bad 2016, but he's been healthy since his return in 2015 and might provide some upside for another team. Teams that may be interested include the Yankees, Boston Red Sox, Los Angeles Angels, and probably a list of others that miss on free agent pitchers.
Statistics courtesy of ESPN and Baseball-Reference.