MLB
MLB: 5 Players Who Should Retire at the End of the Season
As the song goes, "You got to know when to hold 'em, know when to fold 'em." For at least five current players on major league rosters, when the season ends, folding time approaches. It should be time to go fishing. Permanently. As in, turn in your playbook.
In the case of five potential retirees, they're hitters and pitchers who once were among the game's better players. Injuries and plain old Father Time erode once-great skills, leaving players with the difficult decision of whether to solider on and hope for a miracle comeback or quit with some grace and dignity. Here are five players who should consider ending with the 2016 season.
1. Prince Fielder
I have vivid memories of standing by the batting cage during the Milwaukee Brewers Spring Training, right before Prince Fielder's rookie season. The combination of lightning-fast bat speed and violent power was truly awesome. At a hair under six-feet-tall and about 275 pounds, Fielder is more than a mini-me version of his father, Cecil. He had a better batting eye than his old man and even greater power to all fields.
In his seven years as a Brewer, Fielder hit 230 home runs including 50 in 2007 (leading the lead). He also led the league in RBIs, with 141 in 2009. Illustrating his great batting eye, Fielder had more than 100 walks per season three times and twice led the league in intentional free passes. The slugging first baseman ranked third in NL MVP voting in both 2007 and 2011.
Fielder's years with the Tigers, and now the Rangers, have been up and down. He had strong years in 2012 and 2015, a slight off year in 2013, and an injury-plagued 2014 season. Since leaving Milwaukee, Fielder has hit 89 home runs, but his current campaign is a red flag that indicates the years — and the wear and tear on a large man playing a sport that requires lasting fitness — have taken their toll.
As of this article, Fielder has just eight home runs this season and is batting an anemic .212 batting average. An on-base machine, Prince has an OBP of less than .300, which is a rarity for him. With a number of young stars emerging in the Rangers' farm system, it is time for Fielder to bow out. Still, knowing his injury will keep him out for the rest of the year, and the fact that he is earning $24 million for the 2016 season makes his deterioration that much more painful.
2. Ryan Howard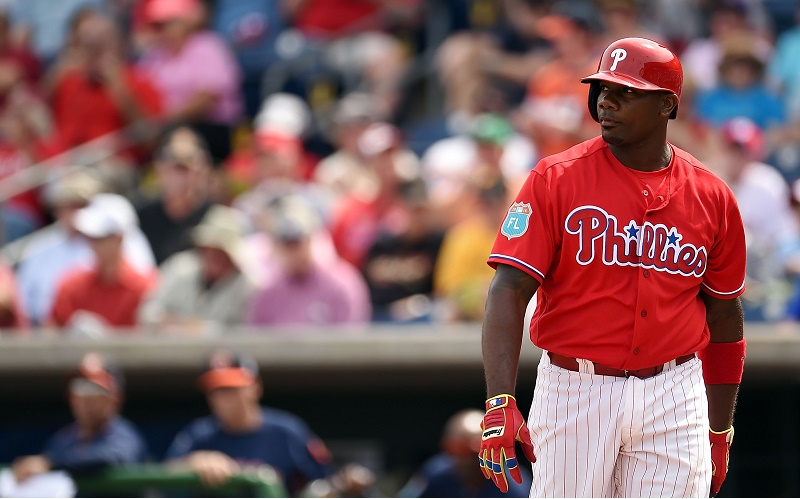 Much of the above narrative for Fielder applies to one of the Phillies' all-time greats: Ryan Howard. Unlike Fielder, Howard was an unheralded fight-round draft pick in 2001, and did not emerge on the scene until he was 26 years old. In his 13 years in a Phillies uniform, he's collected 371 home runs, including a league-leading 58 in 2006 and 48 in 2008.
Howard was Rookie of the Year in 2005 and National League MVP in 2006, instrumental in the Phillies run that led them to a World Series title. Another notable achievement in 2006 was when he won the Home Run Derby at PNC Park in a thrilling overtime battle against David Wright. On the flip side, Howard is a strikeout machine, averaging 191 Ks per year for a number of years.
Making $20 million a season through 2016, with an oft-criticized contract that ends after this season, the towering first sacker's current condition indicates the big man's knees have seen better days. As of now, Howard is batting .168 with a 4-1 strikeout-to-walk ratio. Howard also owns the ignominious MLB record of having 27 Golden Sombreros (four strikeouts in one game). Rest easy; that number will rise by the end of the season.
3. Jered Weaver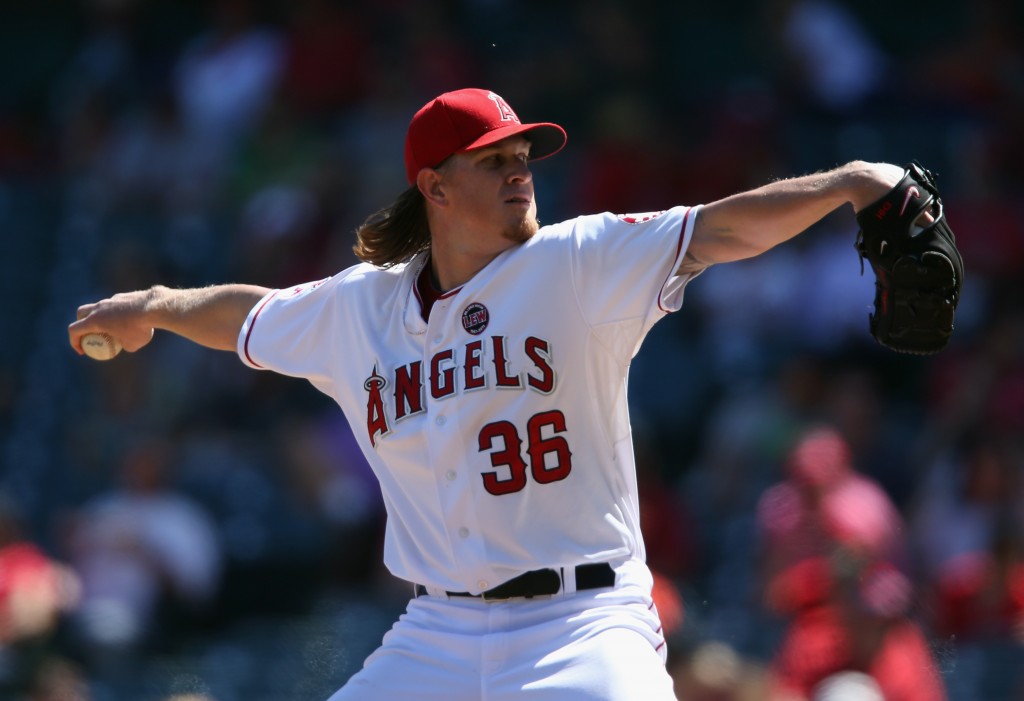 When a pitcher who once led the league in strikeouts finds his average fastball would have trouble breaking a pane of glass, it may be time to hang up the spikes. Such is the case for Angel's starter, Jered Weaver. A heralded first-round pick out of Long Beach State in 2004, he's had an impressive 146 wins and 89 losses in his 11 years in an Angels uniform.
Weaver has a lifetime ERA of 3.51 and led the league in strikeouts in 2010 with 233. In 2012, he won 20 games, which is also when he led the AL in WHIP and fewest home runs per nine innings. Back and arm injuries (including a fractured elbow in 2013) have taken their toll on Weaver, whose once hearty fastball has been suffering.
His positive numbers across the board have declined, with 2015 being his first losing season (going 7 and 12 with a 4.64 ERA). In 2016, Weaver is 8 and 8 with an ERA over 5 and the highest career WHIP number at 1.45. He could go on for another season or two playing at a mediocre level, but for someone who has earned close to $77 million in salary over the course of his career, you have to ask why.
4. James Shields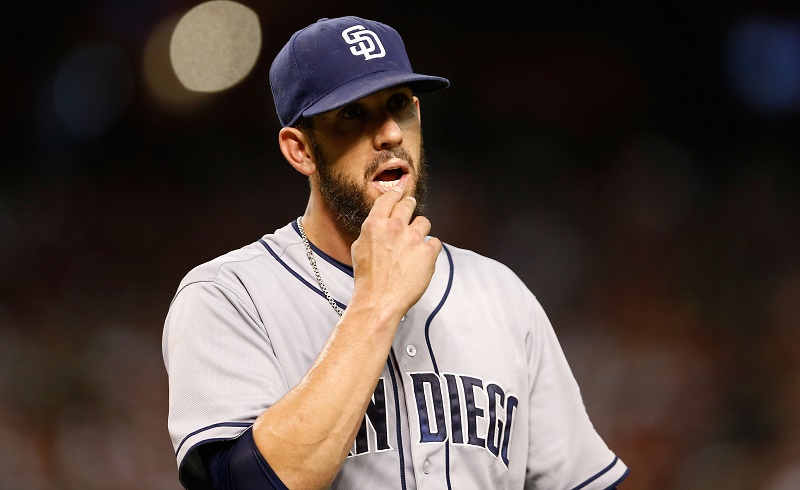 The man they once called Big Game James has fallen on hard times. After winning more than 100 games between the Tampa Bay Rays and the Kansas City Royals, his time with the Padres and White Sox has been dismal in comparison.
So far this season, Shields has a hefty 4.68 ERA with 52 walks to 86 strikeouts. While he had a decent 2015, he led the league surrendering 33 home runs, which is a tall order when half of San Diego's games are played in spacious Petco Park.
Shields was heavily criticized for his time in San Diego, but most agree that his average 224 innings a season over 11 years has finally taken its toll. Sputtering with the White Sox, Shields has almost as many walks as strikeouts. As with Weaver, with $50 million earned to date, it's wise to go out close to the top of your career rather than on the way downhill.
5. Ryan Zimmerman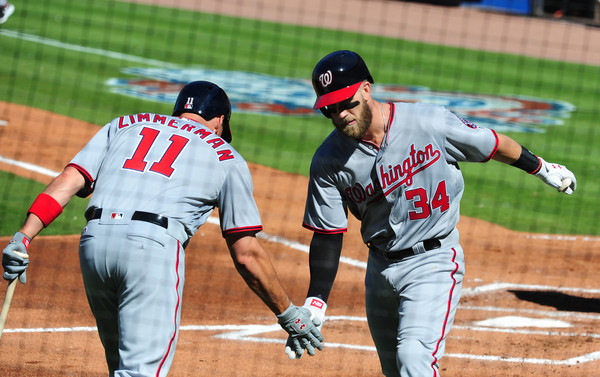 A former collegiate star at the University of Virginia, Ryan Zimmerman was the fourth overall pick in the 2005 draft by the Washington Nationals. In a rarity for a player just drafted, he was called up at the end of the 2005 season, and impressed enough to take over the third base job in 2006.
In his 12 years with the Nationals, Zimmerman (aka Mr. Walk Off) has 212 home runs and 821 RBIs. The 2009 season was Zimmerman's best, when he batted .292 and accumulated 36 home runs with 106 RBIs. He also received a Gold Glove Award for his fielding prowess. However, injuries have plagued Zimmerman's career; an abdominal strain and shoulder issues have gradually eroded his once-great skill set.
Currently injured with unknown soreness in his side, Zimmerman is batting .222 and a sad OBP of .284 — some 60 points below his yearly average. While signs point to the logical end of his career, Zimmerman is signed through 2019 in a six-year, $100 million extension inked back in 2012.
Statistics courtesy of ESPN.com and Baseball-Reference.com.