MLB Playoffs: 4 Reasons Why the Toronto Blue Jays Are Dangerous
With the MLB playoffs' matchups set, the Toronto Blue Jays are in an interesting position. Toronto will play the Baltimore Orioles in the one-game wild card. And anything can happen when you boil a 162-game schedule down to just one game. But the Blue Jays are one of the more talented teams in the American League, making them a major underdog if they can advance beyond the matchup with the Baltimore Orioles. Here are four reasons why the Blue Jays are a dangerous team.
1. Everybody is healthy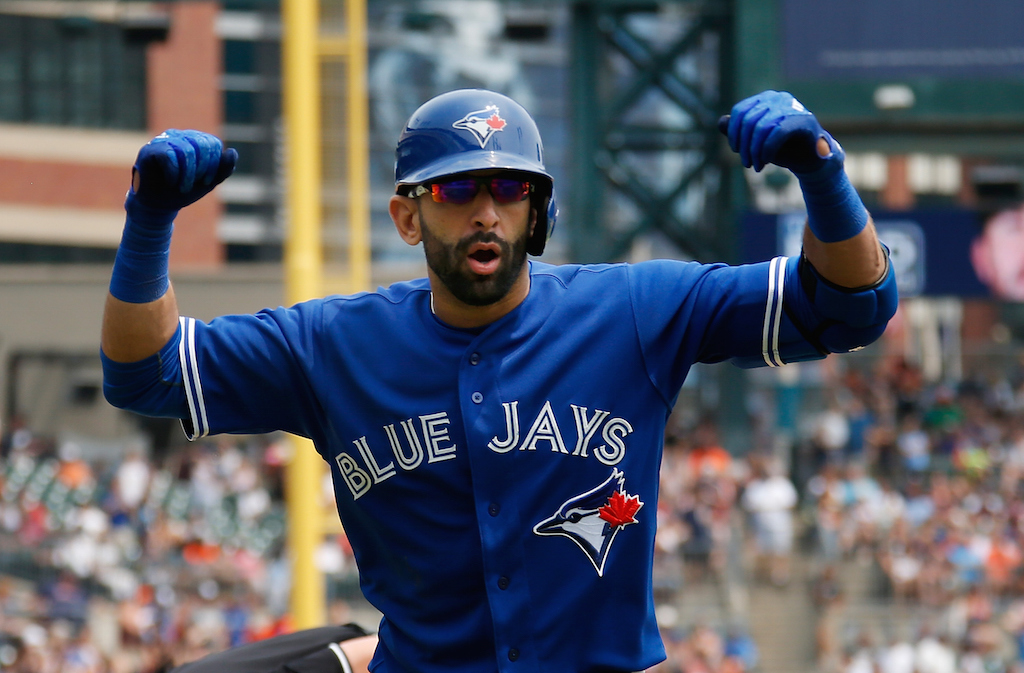 The Toronto Blue Jays' health could be the most important factor of all. In the MLB playoffs, it's often less about which team is the best and more about which teams are the healthiest, which places Toronto in an ideal position to advance. They have everyone in their regular lineup and starting rotation available heading into the wild-card game. The Cleveland Indians, Boston Red Sox, and Texas Rangers have all experienced their fair share of injuries toward the end of the season; Toronto is relatively unscathed in comparison.
Jose Bautista spent time on the disabled list this season but he returned to the regular lineup, hitting for a .870 OPS and seven home runs since the last week of August. Devon Travis returned to the field for the Blue Jays in late May; he's on fire with the bat lately. Even the injury-prone Troy Tulowitzki survived his annual DL stint and is ready to play in the postseason. If the Blue Jays advance, their health will play a key role.
2. The best pitching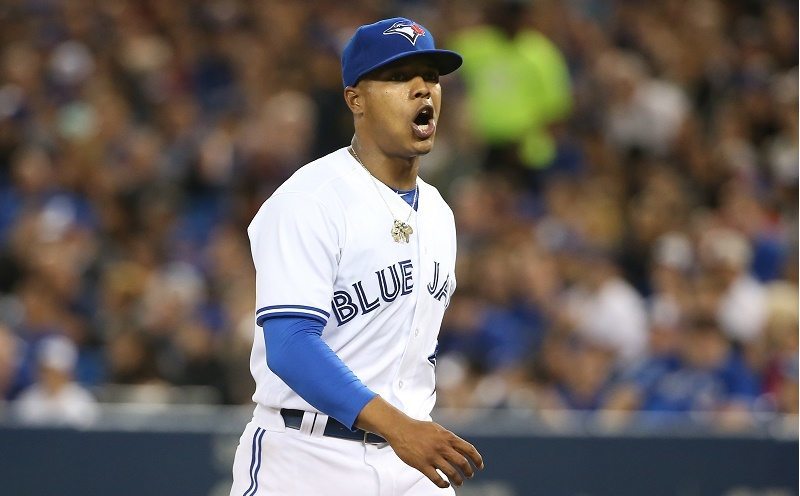 Another factor that will play a key role? The fact that the Toronto Blue Jays have the best pitching staff in the American League. It's heavily weighted by their starting rotation, which features Aaron Sanchez, Marcus Stroman, J.A. Happ, and Francisco Liriano. This season, Sanchez seemingly came out of nowhere to perform as their best overall pitcher, while Happ built on a strong finish with the Pittsburgh Pirates last season to have a great year for Toronto in 2016.
Stroman and Liriano have experienced their ups and downs, of course. Toronto expected Stroman to be the ace of the staff coming out of Spring Training, with left-handed starter and former Blue Jay David Price signing with the Boston Red Sox. Stroman struggled in the first few months, finishing June with a 5.33 ERA. But he has a 3.42 ERA over 16 starts since then.
Liriano had a rough season with the Pirates this year, walking far too many batters in 113 2/3 innings with a 5.46 ERA. However, since coming to the Blue Jays, the left-hander has gotten his walks under control and pitched much better — with a 2.98 ERA in 49 1/3 innings pitched. No matter how you line things up, the Blue Jays have an excellent starting rotation in the postseason this year.
3. A strong defense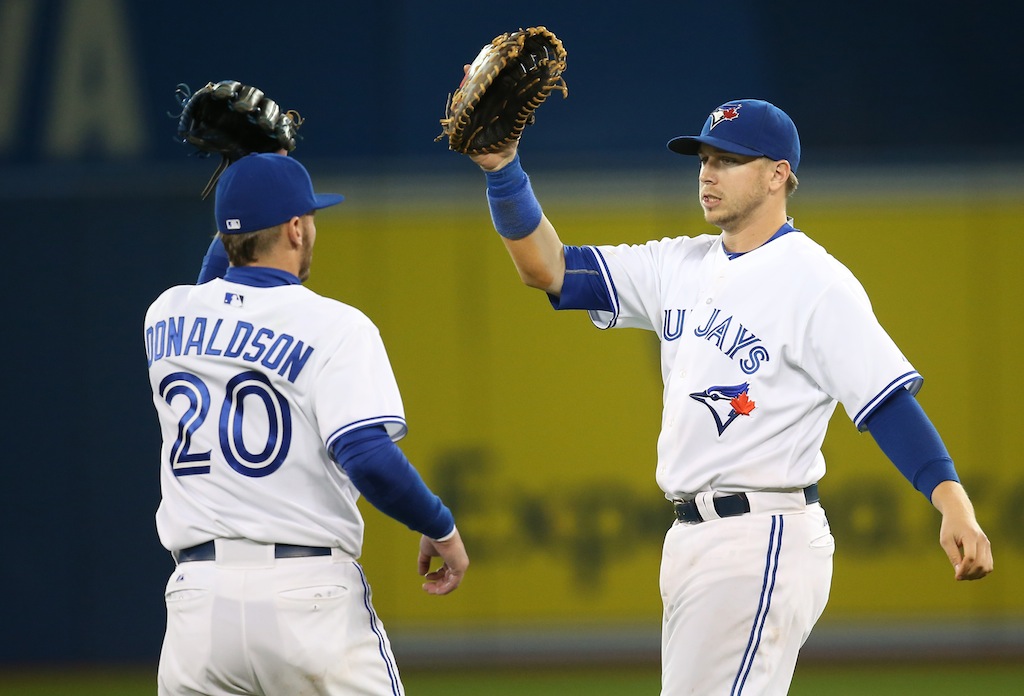 A big part of what makes the pitching staff so strong is the defense that plays behind them. If you want to use advanced statistics to make a case for the Toronto Blue Jays on defense, look no further than defensive efficiency, as recorded by Baseball Prospectus. Toronto ranks No. 2 in all of baseball — behind only the Chicago Cubs — in this category. In fact, among the advanced metrics, they slide into the top five in almost all defensive categories.
This makes sense. An argument could be made that Travis, Tulowitzki, Donaldson, Kevin Pillar, and Russell Martin are all above-average defensive players who make up five out of eight positions on the field. This doesn't even include Justin Smoak and Michael Saunders, who are average at the very least. The pitching staff has an ERA of 3.78, which is well below the team FIP of 4.05. Team defense is a big reason for that, and it can play a major role in the MLB playoffs.
4. A top-five offense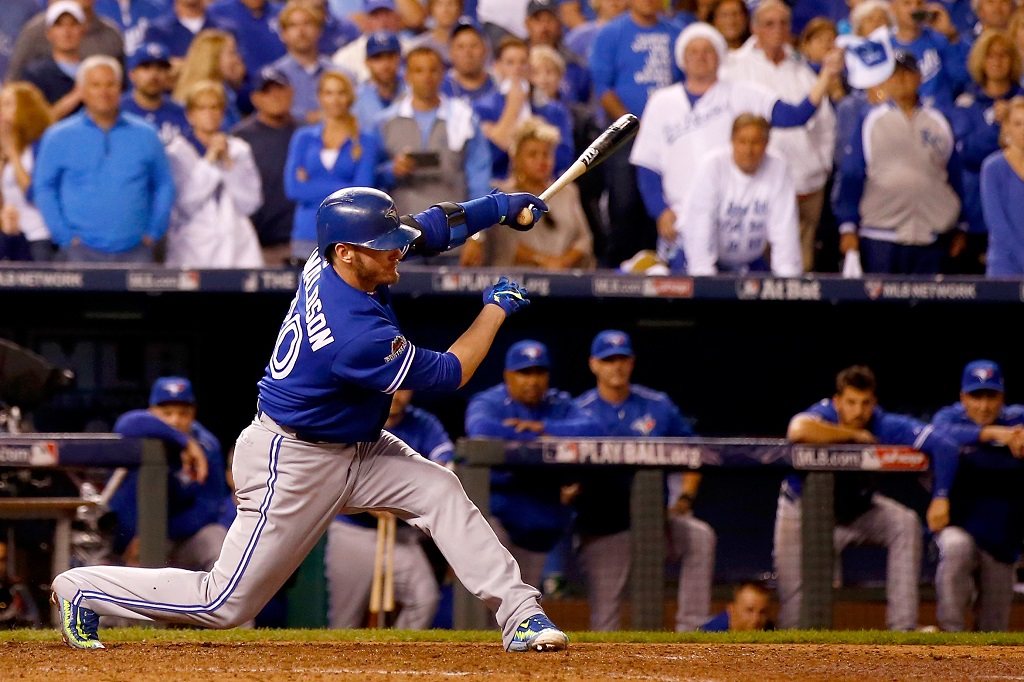 The Toronto Blue Jays' offense was a thing of beauty in 2015. They scored 891 runs, an average of 5.5 runs per game. Their run differential put them on a pace for a 102-60 record, which was well ahead of where they actually finished at 93-71. Donaldson, Bautista, Smoak, Edwin Encarnacion, and others experienced amazing years with the bat. They also produced as a unit — especially in the second half of the season — in a way that many hadn't seen since the height of the steroid era.
In retrospect, people shouldn't have expected that kind of production to happen again in 2016. The Toronto Blue Jays dropped down to 759 runs scored this year, an average of 4.7 runs per game. In comparison to the 2015 team, this is kind of a disappointment. But it's still good enough to rank as one of the top-five run-scoring offenses in the American League. They also rank No. 3 in important categories such as home runs and on-base percentage.
The Jays' offense is balanced too, with six players hitting 20 or more homers this year and only three regular starters with an OBP under .330. There's no guarantee that Toronto will advance beyond the wild card — or even past the Texas Rangers in the ALDS. But they have some solid reasons to feel good heading into October.
Statistics courtesy of ESPN and Baseball-Reference.