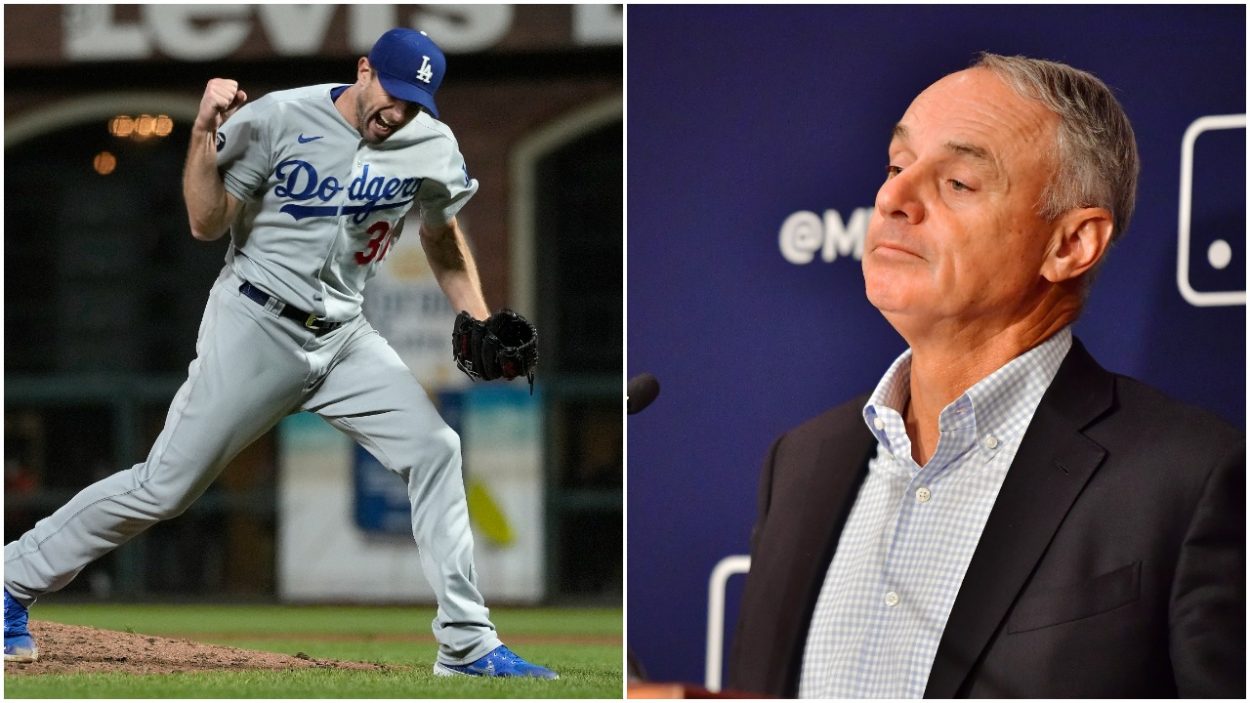 MLB's Absurd Portrayal of Max Scherzer Defines Its Incompetent Negotiating Tactics
MLB's strange characterization of Max Scherzer informs the league's utter incompetence during CBA talks.
The MLB and MLBPA failed to reach an agreement on a new collective bargaining agreement on Tuesday, continuing an ongoing lockout in a damning failure of incomprehensible magnitude. Vitriolic rhetoric has defined the lockout for months, and players ripped MLB for being disingenuous about the feasibility of a deal in the wee hours of Tuesday morning.
But one of the strangest developments had to do with MLB's portrayal of New York Mets signee and MLBPA leader Max Scherzer.
A three-time Cy Young and eight-time All-Star, Scherzer has always been a ferociously intense competitor on the mound. Naturally, the 37-year-old brought the same energy to the negotiating table as he lobbied for the next generation of players.
Somehow, Scherzer's dedication to the players and his intellect appeared to surprise MLB leadership, further contributing to the league's utter incompetence throughout this whole process.
Max Scherzer reportedly "rattled" some on the MLB side
Scherzer wears his heart on his sleeve. He stares holes through hitters with a steely gaze creeping over the webbing of his mitt and barks at his own managers when he feels he's being pulled too early.
Apparently, the St. Louis native brought that same vigor to CBA talks.
Andy Martino of SNY.tv reported that Scherzer "rattled" some in MLB's camp with a "tough negotiating style." The best part about it is that it gave way to a Scott Boras-ism, of sorts.
Boras, Scherzer's agent, had a deadpan way of saying MLB leaders lacked sense if they believed the league could simply walk over someone like Scherzer.
"A experienced and substantively prepared active Hall of Famer is a very informed and highly effective advocate."

–Scott Boras on Max Scherzer, via SNY.tv
Indeed, this feels like a crock of you-know-what from MLB.
What did MLB expect?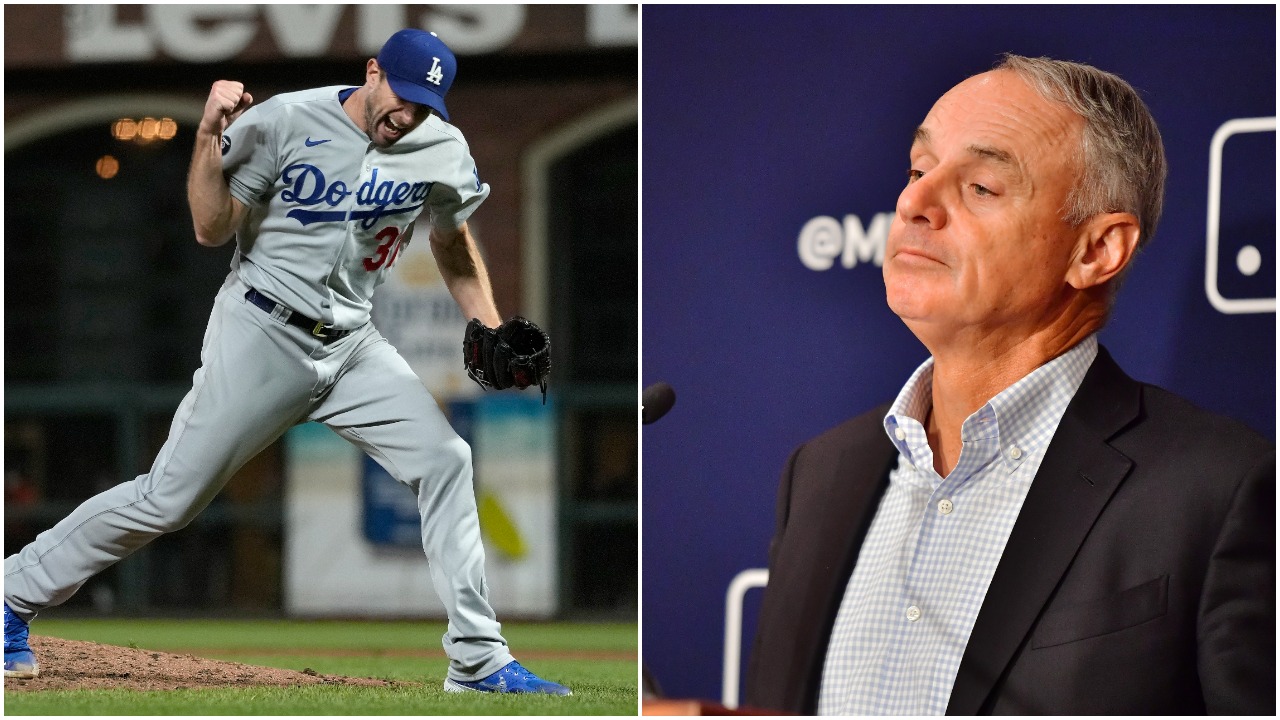 Although it's not impossible to see how Max Scherzer's vehemence might turn some people away, it's also downright asinine for the league to assume Scherzer would rest on his laurels in negotiations.
As a leader for the union, Scherzer had a responsibility to advocate for all the current minor leaguers and future generations, as well as his fellow peers at the major league level. Of course he is going to bring a hardline demeanor to negotiations.
The MLBPA remains frustrated and braced for MLB to orchestrate a lockout because players feel they got the short end of the stick on the last CBA. That element largely explains why the league and players could not come close to reaching a middle ground on the competitive balance tax (CBT) thresholds and bonus pool money for pre-arbitration players.
For those saying, "Well, Scherzer's part of the problem because he's going to make over $43 million this season" … give me a break.
If Scherzer didn't have a concerted interest in growing the game and looking out for his peers, then he wouldn't have been at the table at all. He could just as easily have spent this time with his wife, Erica, and their three children. That probably would have been far more enjoyable than bickering in a room with people who don't care to negotiate in good faith.
The problem lies with MLB. The league decided to lock out the players, and the league made its bed with a presumptuous, haughty, and downright inept approach to CBA talks.
Everything was a spin zone
The odd portrayal of Max Scherzer is but one part of MLB's total unpreparedness and, frankly, lack of urgency in making a deal to end the lockout.
During a Tuesday evening press conference, Commissioner Rob Manfred tried to play things up for the fans. His answers were littered with falsities and non-answers. He avoided a question about failing to kickstart CBA talks with MLBPA until essentially the last week of a self-imposed deadline. Manfred also spoke about financial hardships, even though MLB's revenue jumped to $10.7 billion before the pandemic, per the Boston Herald.
Perhaps the most meaningful revelations came from Ross Stripling, MLBPA player rep for the Toronto Blue Jays.
Stripling said (h/t Sportsnet) MLB tried to "sneak things" into the fine print of the CBT proposal at 12:30 on Tuesday morning, details the players hadn't even seen until that point. The quote indicates a deal was never really as close as MLB sources made it seem. As Stripling noted, the league believed MLBPA would fold under the possibility of losing game checks.
However, the players have always put forth a unified front. Moreover, they've been far more rational in their arguments, pointing to declining average player salaries and medians as well as the crumbling middle ground in free agency over the past several years, even as owners cash out or mitigate potential losses by significantly slashing spending.
Baseball fans have already lost the first two series' of the 2022 campaign. But, given MLB's incapable approach to CBA talks this week, it's fair to wonder whether there will even be a season at all.