MLB Predictions: The American League Playoff Teams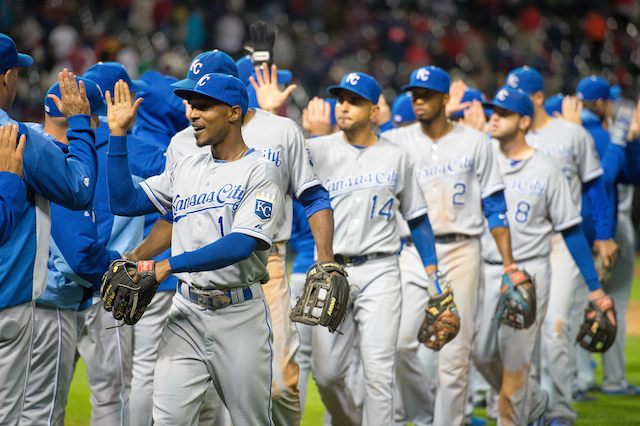 Five weeks from Tuesday, the 2015 MLB Postseason will officially begin. One day before two National League squads battle in their do-or-die wild card game, the American League will kick things off on Oct. 6 on ESPN.
A quartet of teams (Kansas City Royals, Toronto Blue Jays, New York Yankees, Houston Astros) appear destined for October baseball and are near-locks to make up a very surprising AL field of championship contenders. The second wild-card spot looks to be very much up for grabs entering September though.
Will the currently-leading Texas Rangers complete the pattern of shocking teams in the junior circuit playoffs? Will we see an epic collapse from a division leader or a frantic push from an outsider like the Boston Red Sox or Seattle Mariners? The only certainty as we quickly approach fall is that we're about to start the most exciting, dramatic month of the baseball regular season.
Let's take a look at some predictions for how the American League playoff field will shape up.
1. AL East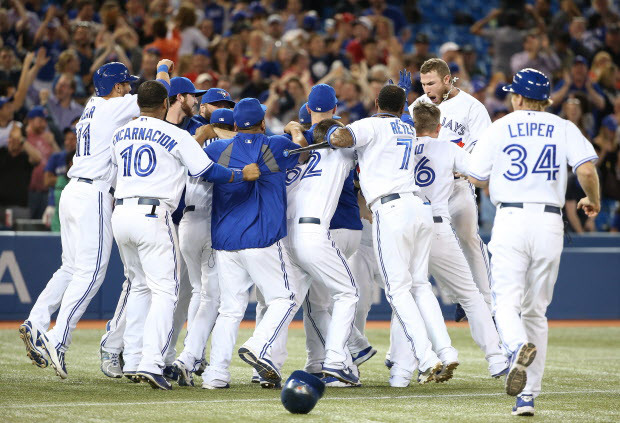 Standings as of Sept. 1
1. Toronto Blue Jays – 74-57 – .565
2. New York Yankees – 72-58 – .554 – 1.5 GB
3. Tampa Bay Rays – 65-66 – .496 – 9 GB
4. Baltimore Orioles – 63-68 – .481 – 11 GB
5. Boston Red Sox – 61-70 – .466 – 13 GB
The American League East has perhaps been as unpredictable as any other division in baseball in 2015. Through five months of games, the Blue Jays are FINALLY living up to lofty expectations; this after making two huge splashes near the trade deadline to solidify an already dangerous club.
Most baseball analysts counted the Yankees out before a single pitch had been thrown in 2015. The age of their hitters and the uncertainty in their rotation had most pinning the Bronx Bombers to finish no higher than third this season. The thing is, every other division foe had questions coming into the season. The Yankees have been able to answer most of them.
The Rays have been in decline the last couple of years and have struggled to stay around .500 this season. They are likely looking at missing the playoffs for the second straight season.
The Orioles lost Nelson Cruz in the off-season and their offense has suffered. This has been a disappointing season for baseball fans in Maryland.
The Red Sox have been one of the biggest surprises in baseball, but it's for all of the wrong reasons. Their starting pitching has been a disaster and barring a late, miraculous run, they're going to be sitting at home for the fifth time in six seasons for the MLB playoffs.
PREDICTED AL EAST WINNER: BLUE JAYS
2. AL Central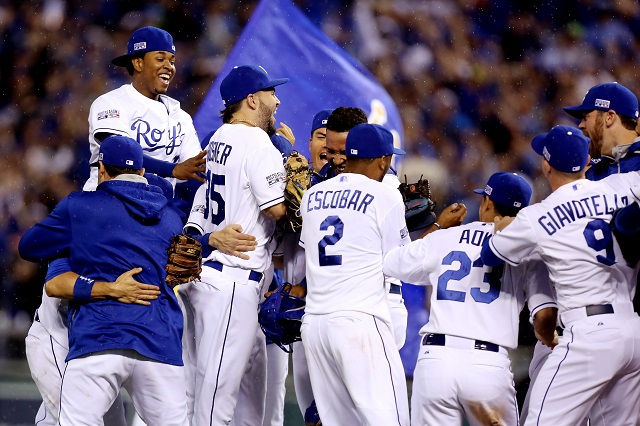 Standings as of Sept. 1
1. Kansas City Royals – 80-50 – .615
2. Minnesota Twins – 67-63 – .515 – 13 GB
3. Cleveland Indians – 64-66 – .492 – 16 GB
4. Chicago White Sox – 61-68 – .473 – 18.5 GB
5. Detroit Tigers – 60-70 – .462 – 20 GB
The American League Central division has been full of surprises and disappointments this year. The Royals have shown no signs at all of a World Series hangover from last season. Last year championship runner-ups now have their coveted ace in Johnny Cueto and are arguably better than 2014's version.
Under first-year manager Paul Molitor, the Twins have been a nice surprise in 2015. They have certainly cooled off since their blistering first half start, but they are still very much in the wild card hunt.
The Indians are suddenly the hottest team in baseball after dropping the Jays on Monday night. They are still on the outside looking in, but could be dangerous this month, led by the young flamethrowers in their starting rotation.
The White Sox had a big off-season last winter, picking up Jeff Samardzija and David Robertson among others to help bounce back from a rough 2014 campaign. Robin Ventura's team has struggled to find consistency and find themselves well below .500.
The Tigers shipped off both their ace and general manager in July and are headed towards a long winter of head-scratching. Fans in the Motor City have become accustomed to fall baseball, but this year will almost certainly be an unpleasant change.
PREDICTED AL CENTRAL WINNER: ROYALS
3. AL West
Standings as of Sept. 1
1. Houston Astros – 73-59 – .553
2. Texas Rangers – 68-61 – .527 – 3.5 GB
3. Los Angeles Angels of Anaheim – 65-65 – .500 – 7 GB
4. Seattle Mariners – 61-71 – .462 – 12 GB
5. Oakland Athletics – 57-74 – .435 – 15.5 GB
One could have very well predicted the exact inverse of the current American League West standings before the season and that guess would have seemed logical. The Astros are looking to capture the division and make the playoffs for the first time in 10 years. They're looking to continue shocking the world as they have been for five months now.
The Rangers looked dead in the water about a month ago, but a terrific stretch in August has them currently in the playoff picture. Prince Fielder has been the man during his second season in Texas, more than making off for significant lost time a year ago.
The Angels continue to under-perform in 2015, but they are still alive for a playoff berth. Whenever you have Mike Trout and a recharged Albert Pujols in the lineup, you'll have a chance to make some noise.
The Mariners were trendy picks to make it to the World Series this season but they have struggled mightily from the start. They are currently much closer to the AL West cellar than to the top of the heap.
Entering the season's final full month, the Athletics are the worst team in the AL. There's always next year, right?
PREDICTED AL WEST WINNER: ASTROS
4. AL Wild Card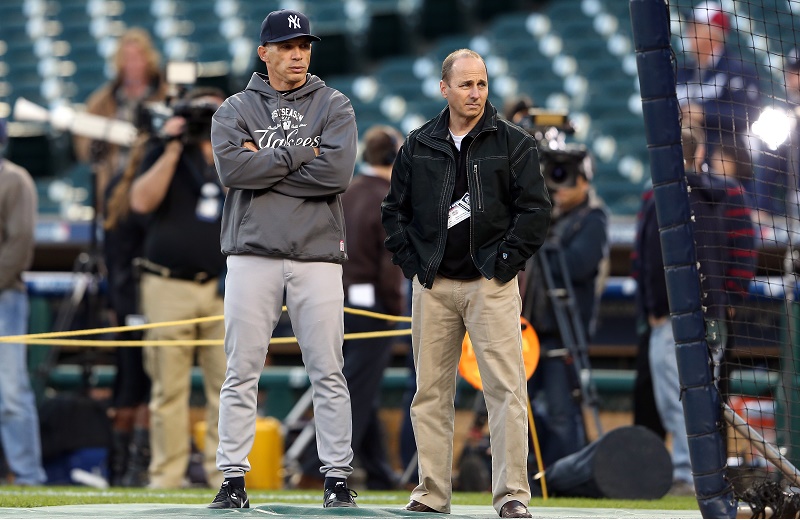 Standings as of Sept. 1 (top two teams play in one-game playoff)
1. New York Yankees – 72-58 – .554
2. Texas Rangers – 68-61 – .527 – 3.5 GB first WC spot
3. Minnesota Twins – 67-63 – .515 – 1.5 GB second WC spot
4. Los Angeles Angels of Anaheim – 65-65 – .500 – 3.5 GB
5. Tampa Bay Rays – 65-66 – .496 – 4 GB
6. Cleveland Indians – 64-66 – .492 – 4.5 GB
7. Baltimore Orioles – 63-68 – .481 – 6 GB
The MLB playoff chase was changed dramatically in the 1990s with the institution of the wild card. It was further altered a couple of years ago when a second wild card was added.
Some argue that the play-in game is simply that, and not technically a postseason contest. Regardless, it's always possible for a wild card team to advance far into the playoffs, as evidence by last year's World Series matchup between two wild card game winners in the Royals and San Francisco Giants.
The Yankees appear to have a firm grasp on the first wild card spot. It's the second slot which looks to be more up for grabs. A sleeper of a team – who won their sixth straight game (over the Jays no less) – is the Indians. Led by a duo of young studs in the rotation with Corey Kluber and Danny Salazar, and a five-tool talent in Michael Brantley, manager Terry Francona's men will no go away quietly this month. The odds may be against them and they have a few teams to leapfrog to make the wild card game, but they have the talent to do it.
That would set up a Yankees/Indians one-game playoff in the Bronx (if New York has the better record.) The winner of that game would face the AL team with the best winning percentage in one of the AL Division Series (possibly Kansas City.) If the Yankees/Indians winner squared off against Kansas City in one ALDS, that would pit Houston and Toronto in the other for what would surely be a thrilling series for two playoff-starved fan bases.
PREDICTED AL WILD CARD WINNERS: YANKEES (FIRST WC) AND INDIANS (SECOND WC)