A Projected New York Yankees Rotation for 2017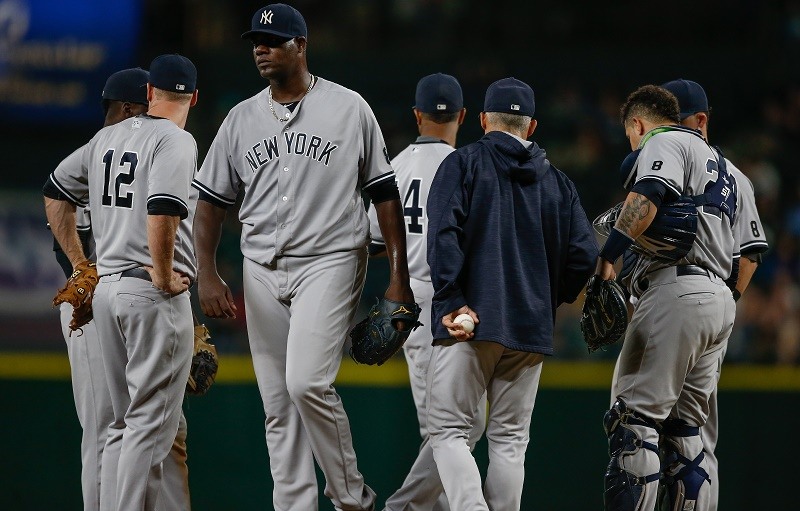 Originally published November 11, 2016
We'll start with a surprising statistic. The New York Yankees had the fifth best ERA (4.16) in the American League in 2016 and the ninth best ERA in Major League Baseball in 2016. When you consider that the team carried Luis Severino (0-8, 8.50) and Michael Pineda (6-12, 4.82), that's quite a feat. However, adding in the stats of ace Masahiro Tanaka and the All-Star bullpen, you see how it's possible.
As far as pitching goes, these two elements — Tanaka and the pen — are what the front office will build upon for 2017. While the great Andrew Miller is not under contract next season, New York re-signed closer Aroldis Chapman (five years, $86 million) and has bullpen stud Dellin Betances and Tyler Clippard, among others, on board. GM Brian Cashman and his team also have seven starters to choose from internally before looking at the open market.
This organization loves strong bullpens, and it was no surprise when Cashman went all-in on Chapman, even at the elevated sticker price. However, the rotation is trickier to call. Here are five starters we expect in the Yankees rotation in 2017.
1. Masahiro Tanaka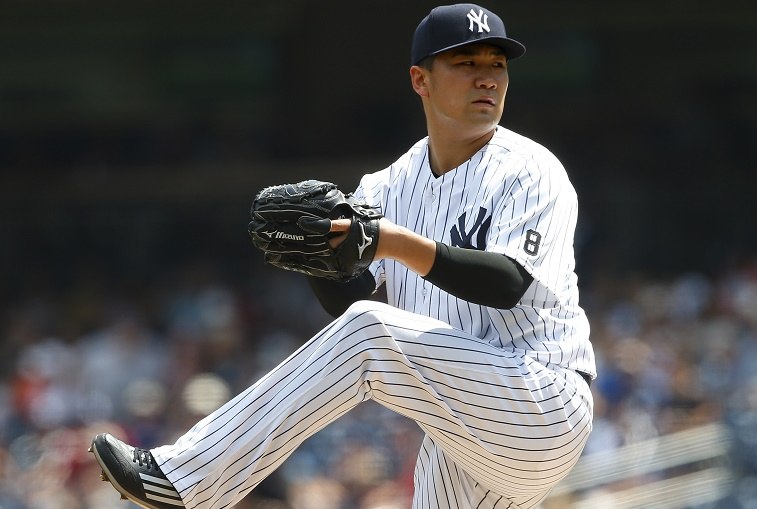 When it was Tanaka time in the Bronx, the Yankees had by far their best chance to win. The 28-year-old right-hander led the club in wins (14), ERA, (3.07), WHIP (1.08), and every other meaningful stat. His numbers compared to the rest of the league were equally impressive. He ranked third in the AL in ERA and in WAR (5.5), trailing only Justin Verlander (6.6) and Corey Kluber (6.5).
Despite the concerns about Tanaka's health going into the 2016 campaign, he started 31 games and threw 199.2 innings in the most productive season of his MLB career. He has the option to opt out of his contract after 2017, so the Yankees may enter their final season with a legitimate No. 1, but that is a concern for another day. Even if another ace turns up in the Bronx this offseason, Tanaka will front the rotation on Opening Day.
2. C.C. Sabathia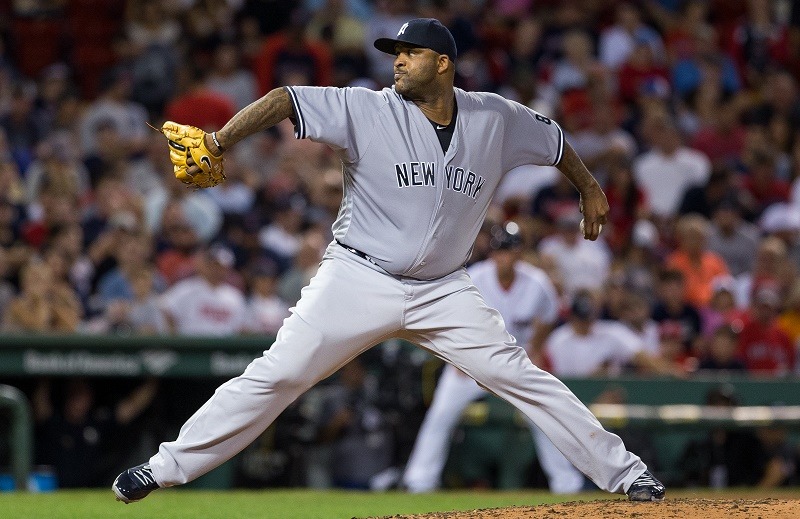 After several seasons of decline mixed in with knee injuries, C.C. Sabathia turned in his best year since 2012 with 179.2 IP at a 3.91 ERA. The big lefty made his revival possible by embracing the cut fastball and other tactics veterans use when their velocity diminishes. This performance cemented his standing as a key part of the Yankees rotation moving forward. As for his presence in the clubhouse and as enforcer (vis-a-vis inside pitches) on the field, Sabathia is essential to the team in '17.
This comeback season gave New York the club's best return on the Sabathia contract in years and gives hope going into the final option year. It sounds crazy, but Fangraphs estimates the Yankees would have had to pay $217.9 million on the free agent market to get the equivalent of Sabathia's production since 2009. As it stands, New York paid him $186 million through 2016. So even though his second, post-opt-out contract stunk, let's close the book on that tired debate. He'll be the No. 2 or 3, depending on offseason moves.
3. Rich Hill or another addition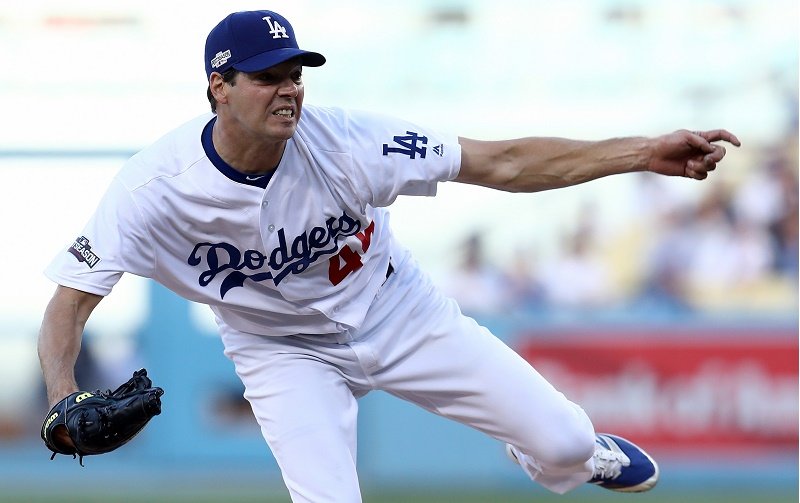 While the Yankees went into 2016 with high hopes for Pineda and Severino, they enter the upcoming season with little confidence in either. Severino shined in his bullpen role (3-0, 0.39 ERA in 23.1 IP) late in 2016, but even if he does not start 2017 in relief he will have a short leash in the rotation. As for Pineda, management is clearly frustrated with the mercurial pitcher's erratic performances. Meanwhile, Nathan Eovaldi will miss all of 2017 recovering from Tommy John surgery.
The situation opens the door for a starter like Rich Hill, who happens to be a free agent and the type of lefty who's a good fit for Yankee Stadium. [Update 12/5/16: Hill signed for three years/$48 million back with Los Angeles.] On top of his sparkling ERA pitching for Oakland and LA last season, he did not allow a home run to any of the 93 left-handed batters he faced. (He allowed just 4 HR to the 346 righties he faced.) His negatives include his age (37), his nonexistent track record (139.1 IP since 2013), and his injury issues.
If the Yankees don't take a stab at Hill, the club's best options exist on the trade market. But all things considered, Hill makes sense because he'll only require three years and none of the valuable prospects New York acquired in 2016.
4. Michael Pineda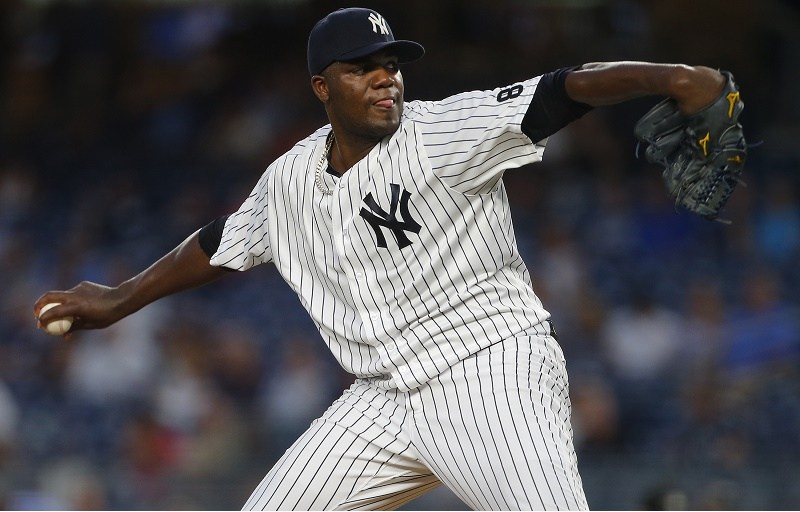 We'll run down the cons with Pineda one more time: He's inconsistent, home run-prone, and lacking in mental toughness. However, his positives make him absolutely worthy of a shot as the No. 4 starter in 2017. His fastball tops out at 98.4 miles per hour; his slider is devastating; and is entering his third year of arbitration eligibility. In sum, that makes him dirt-cheap with huge upside.
As the fourth starter, the lack of pressure may suit Pineda well. At the start of 2016, no one was sure if he could stay healthy, but those who believed he would considered him front-of-the-rotation material. He doesn't appear to have the psychological makeup for that role, but his team-leading 32 starts and 207 SO should give him another crack at success in the Bronx. To those who say trade him, we'll point out that management would sell low at this point, making such a deal unlikely.
5. Bryan Mitchell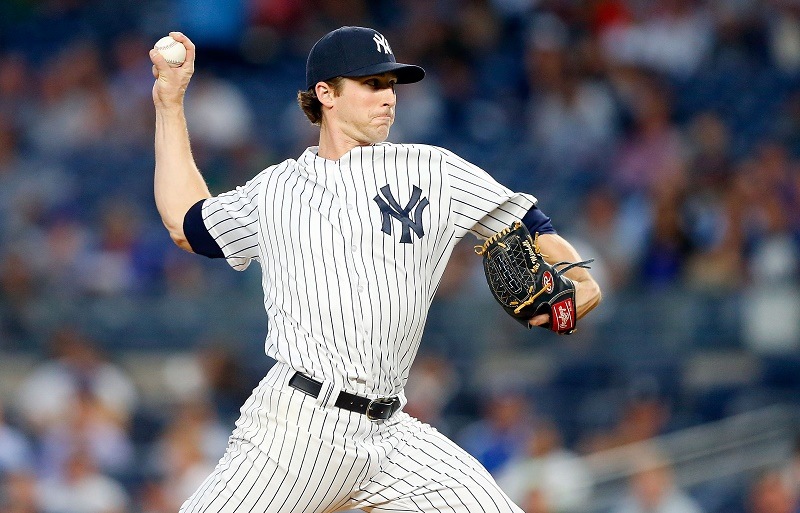 The fifth Yankees starter could be Chad Green. It could be Luis Cessa. Of course, it could be Severino if he makes a strong showing in Spring Training. But we believe 25-year-old Bryan Mitchell has a great shot at being the Yankees' final man in the rotation on Opening Day. Mitchell's stellar spring of 2016 ended with a toe injury that knocked him out until September. When he returned, he showed as much poise (probably more) than any other young starter.
His 2016 season began with a scoreless five innings against Toronto with the Yankees trying to claw their way back into the race. After a few shaky outings, Mitchell pitched another great outing against the Blue Jays (6.0 IP, 1 ER) before tossing 7.0 IP scoreless against Boston on September 28. We like his chances because he has four pitches to work with and great velocity to boot. Besides, he's shown the ability to go deep into games, something the team needs desperately in 2017.
Connect with Eric on Twitter @EricSchaalNY
Stats courtesy of Fangraphs and Baseball-Reference.com.