MLB: Ranking the Contender's Playoff Rotations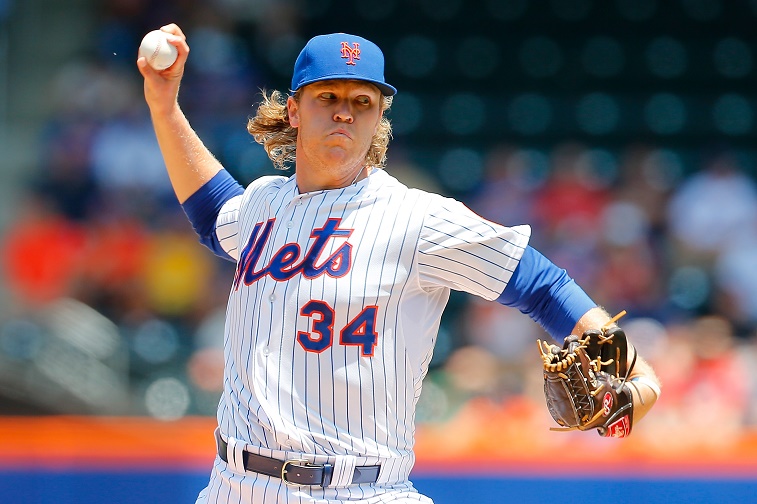 A few teams upgraded their rosters at the trade deadline; several made deals to put together what they hope will be their playoff rotations. The Giants, Dodgers, and others acquired high-quality starting pitchers, doing their best to improve their chances of winning the 2016 World Series. Here are our power rankings for the potential playoff rotations of the MLB contenders.
Baltimore Orioles
Projected playoff rotation: Chris Tillman, Kevin Gausman, Dylan Bundy, Yovani Gallardo
The Orioles have the weakest starting rotation of any of the true contenders in baseball. It's somewhat amazing that they've stayed in contention in the AL East as long as they have, considering that their rotation has a combined 4.91 ERA. Tillman is a good pitcher, and Gausman and Bundy have some promise, but this group is bad as a unit.
Houston Astros
Projected playoff rotation: Lance McCullers, Doug Fister, Dallas Keuchel, Collin McHugh
This year, the Astros' No. 1 and No. 2 starters in the playoffs aren't currently on their 25-man roster, if that tells you anything. McCullers is on the 15-day DL and Fister is away from the team on paternity leave. Keuchel and McHugh have been awful this season, both having ERAs closer to 5.00 than 4.00.
Miami Marlins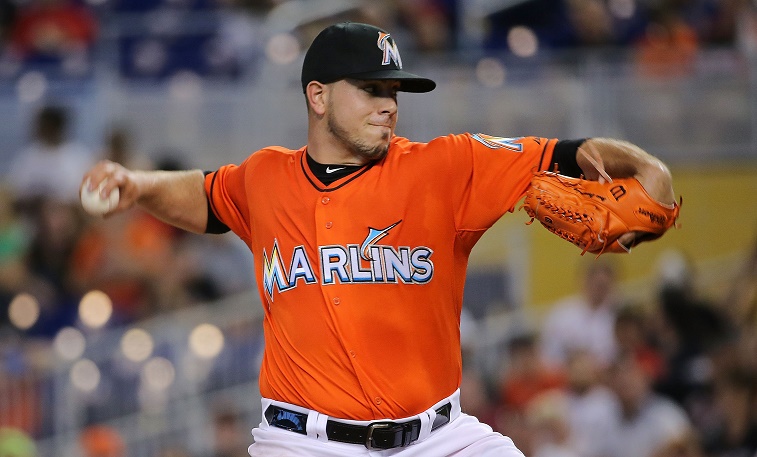 Projected playoff rotation: Jose Fernandez, Mike Conley, Andrew Cashner, Tom Koehler
Nobody wants to go into a playoff series facing Jose Fernandez, but outside of the games he might appear in, there's nothing to fear about this Marlins rotation. Their deal to bring in Andrew Cashner gives them a far more legitimate No. 3 starter, but on the whole this is a very beatable rotation — and if they're a wild card, you might not see Fernandez until Game 3 in the NLDS.
St. Louis Cardinals
Projected playoff rotation: Carlos Martinez, Adam Wainwright, Michael Wacha, Mike Leake
The Cardinals would have to use either Martinez or Wainwright in a wild card game, making their rotation in a possible NLDS series very unpalatable. Wacha has struggled to recapture the magic of his 2013 postseason, and picking a fourth starter between Leake and left-hander Jaime Garcia is no treat either. Only Martinez and Wainwright pose any serious threat.
Detroit Tigers
Projected playoff rotation: Justin Verlander, Michael Fulmer, Jordan Zimmermann, Matt Boyd
The Tigers have a decent top-three who they could roll in the postseason, but like the teams before them, they struggle from the wild card aspect. They'd likely have to burn either Verlander or Fulmer in a one-game playoff, making an awkward rotation for a possible ALDS. This, of course, assumes health from Zimmermann, who returned from the disabled list and gave up six earned runs in 1 2/3 innings on Thursday.
Los Angeles Dodgers
Projected playoff rotation: Clayton Kershaw, Kenta Maeda, Rich Hill, Scott Kazmir
The Dodgers get some benefit of the doubt in this ranking, with the assumption that Kershaw and Hill will return at some point. If healthy, this could be a really good top-three in a playoff series, as Kershaw was having an outstanding season before going to the DL. Kazmir, or Alex Wood, are somewhat of a question mark as a fourth starter and there is a potential for the same wild card problem as the others before them.
Boston Red Sox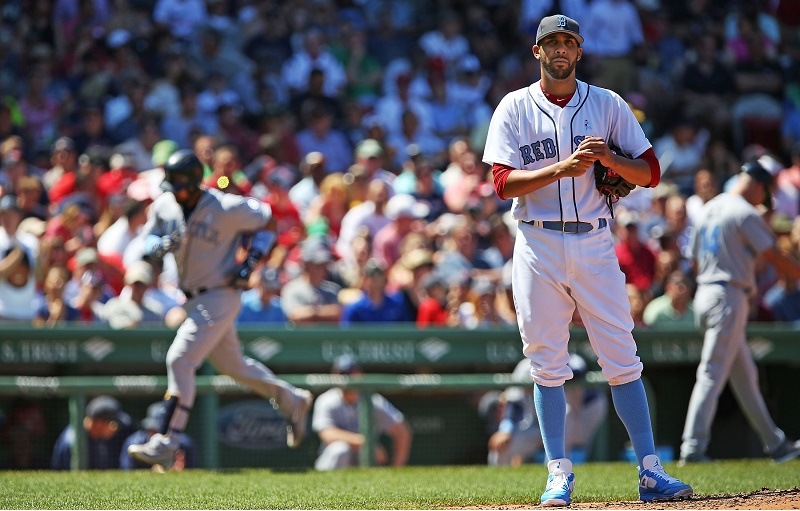 Projected playoff rotation: David Price, Rick Porcello, Steven Wright, Drew Pomeranz
The Red Sox paid a lot of money for David Price to be their ace come playoff time. He's put up a less-than-ace-like 4.30 ERA, but his peripheral numbers suggest he's been very good for Boston. Rick Porcello has had a bounce-back season, and Steven Wright has been a pleasant surprise. What holds the Sox back is the lack of a reliable No. 4 starter.
Texas Rangers
Projected playoff rotation: Cole Hamels, Yu Darvish, Martin Perez, A.J. Griffin
The Rangers have arguably the best one-two punch of any potential playoff team. The problem? The three-four. Perez and Griffin aren't ideal as playoff starters, and all the Rangers did to upgrade at the trade deadline was to acquire the stable — but unspectacular — Lucas Harrell.
Toronto Blue Jays
Projected playoff rotation: Aaron Sanchez, J.A. Happ, Marcus Stroman, Marco Estrada
The Blue Jays starting rotation would be even higher on this list if Stroman hadn't been completely inconsistent this year. Sanchez, Happ, and Estrada have all been very good. They even acquired former Pirates left-hander Francisco Liriano, who could be used in the playoff rotation if he can stop walking people.
San Francisco Giants
Projected playoff rotation: Madison Bumgarner, Johnny Cueto, Matt Moore, Jeff Samardzija
The Giants made, almost certainly, the biggest rotation upgrade of any of the contenders in acquiring Matt Moore. With Bumgarner and Cueto forming a strong top-two, the rotation had been a massive drop-off from there. Bumping the inconsistent Samardzija back to No. 4 gives them a very good chance at winning the World Series.
Chicago Cubs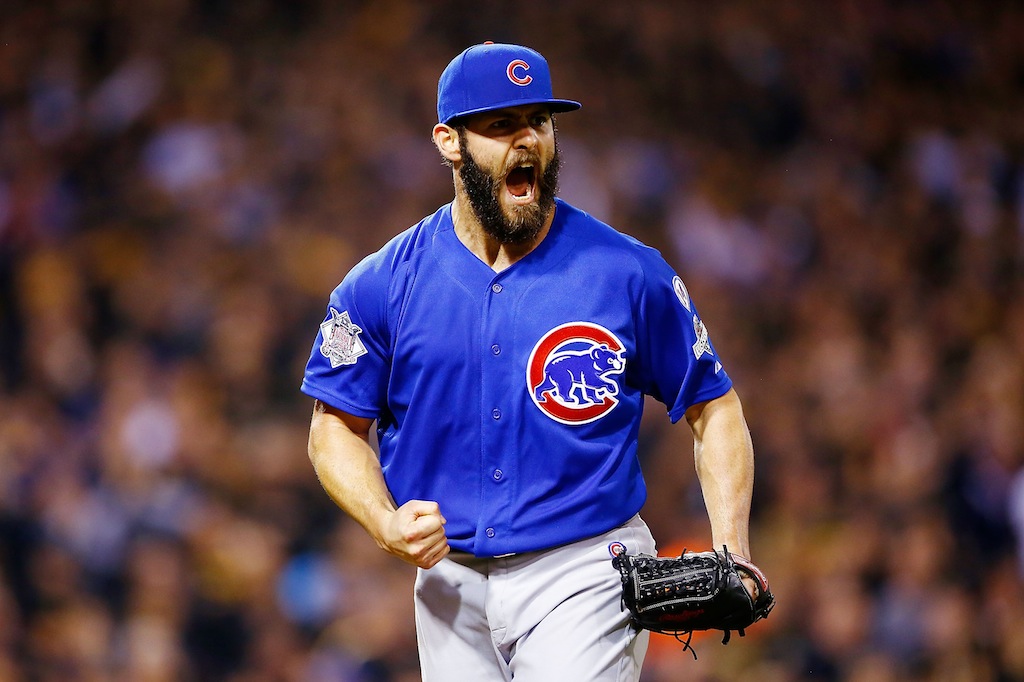 Projected playoff rotation: Jake Arrieta, Jon Lester, Kyle Hendricks, John Lackey
The Cubs have Arrieta — who had a historic run in the second half of 2015 — preparing to be the No. 1 starter in the NLDS at Wrigley Field. The major question after that is how they'll align the rotation, as Lester is the most experienced playoff performer but Hendricks has been their most consistent starter all season.
Washington Nationals
Projected playoff rotation: Stephen Strasburg, Max Scherzer, Tanner Roark, Gio Gonzalez
The Nats have had one of the deepest rotations in Major League Baseball this year, with Strasburg and Scherzer leading the way. Whoever runs up against Washington in the postseason is going to have a tough time, because even Roark and Gonzalez — or Joe Ross — wouldn't exactly be a break.
New York Mets
Projected playoff rotation: Noah Syndergaard, Jacob deGrom, Steven Matz, Bartolo Colon
The Mets rotation isn't the same as last year, when they buzzed through the Dodgers and Cubs before succumbing to the Kansas City Royals. Even still, they're very good. Syndergaard and deGrom have been remarkable, and Colon was an All-Star this year at the age of 43. The major question for the Mets? Whether or not they even make the playoffs at all.
Cleveland Indians
Projected playoff rotation: Carlos Carrasco, Corey Kluber, Danny Salazar, Trevor Bauer
The Indians have built a solid lead in the AL Central on the back of one of the best playoff rotations, featuring Carrasco, Kluber, and Salazar as the best one, two, and three of any of the contenders. Even the choice for the fourth starter, which is between Bauer and Josh Tomlin, is not an easy pick. But what's certain is the fact that nobody wants to run up against the Indians rotation in the postseason.
Follow Ryan on Twitter @RyanDavisBP
Statistics courtesy of ESPN.com and Baseball-Reference.com.