MLB Rumors: 5 Crazy Stories From This Week in Baseball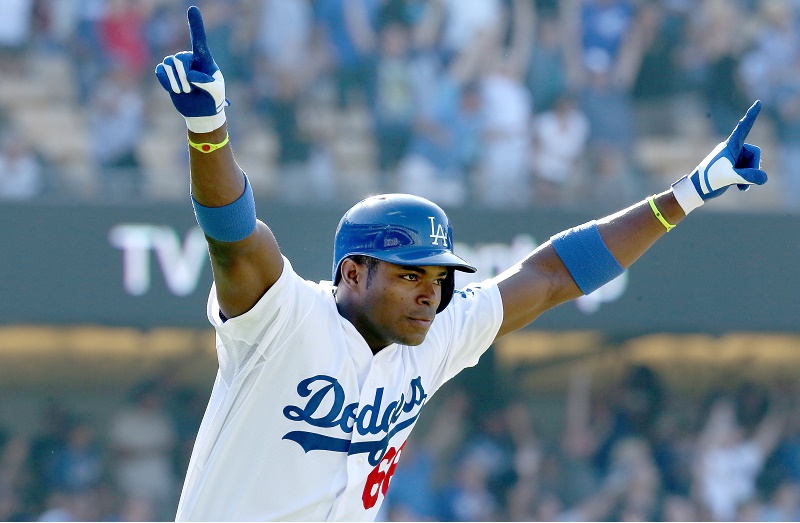 If baseball fans felt that the offseason was getting boring, the gods were good to you this week. Numerous wild rumors and tall tales began circulating through the national media by Friday, with some of the stories almost too preposterous to believe. On the flip side, they were some of the funniest things we have heard on the MLB scene in months.
In fact, on a day when Bryce Harper pronouncing meme "may-may" could have been the sport's top story, we were treated to scathing accounts involving Yasiel Puig, Jose Fernandez, and everyone's favorite owner, Jeffrey Loria. There was also a scene-stealing appearance by ex-ballplayer Andy Van Slyke. Depending on your take on the  parties concerned, the reports may infuriate, please, confuse, or inspire you.
Without further ado, we replay the five wildest rumors from this week in Major League Baseball. Since these tales are too absurd to confirm, we simply collect them and mention their sources for your pleasure. Don't blame us if this becomes a weekly series.
1. The Marlins want to trade Jose Fernandez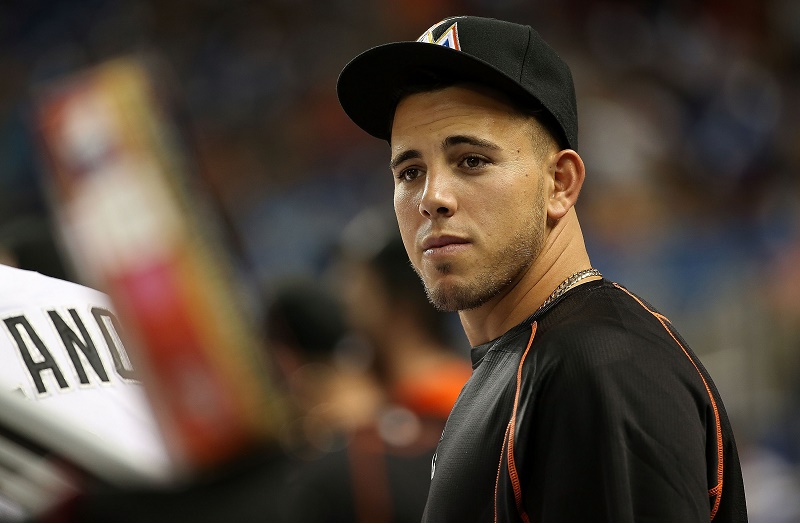 What do you do with one of the best young pitchers while he's under club control for another three years? If we're supposed to believe the rumors swirling about the Marlins and Jose Fernandez, you trade him. This story is so wild it has provoked requests for retractions from MLB reporters.
The real fun comes from Slater Scoops, though. In a blog post, the Marlins writer recounts how Jeff Baker got released after he brought in clown noses for players to wear one day. (He thought they would go well with the circus music preferred in the clubhouse after games.) Management thought Baker was a bad influence on young players, so out he went. And by the way, everyone in the organization hates Fernandez because he treats them like fools.
"Jose talks to management like they are children," one player told Slater Scoops. On one occasion, Fernandez supposedly had the nerve to confront Miami's president in the clubhouse and demand to know when he would be traded. Meanwhile, Slater Scoops reports that "some players and coaches hoped Jose would go out on the mound and get shelled" because they thought it would make him more humble.
Holy smokes. We thought Donnie Baseball had less drama on his plate in Miami.
2. Robinson Cano got half the Mariners organization fired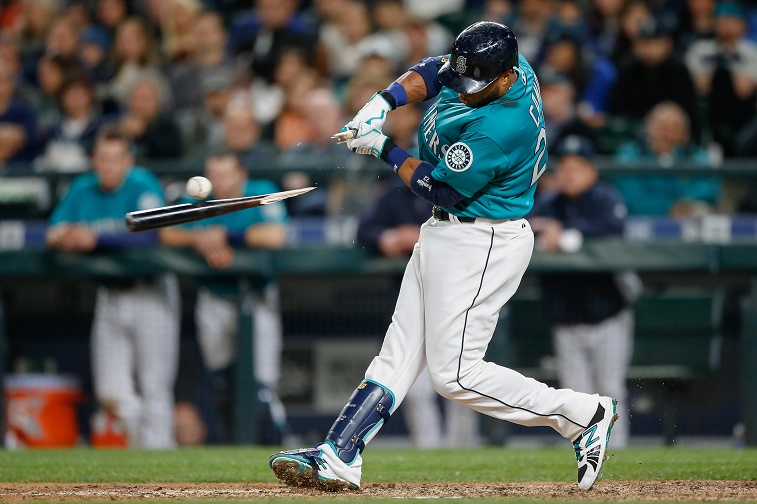 Former Pirates great Andy Van Slyke, who was the Mariners first base coach in 2015, took some time out of his day to bash Robinson Cano — the player he saw up close last season — in an interview with a St. Louis radio show on November 19. Not mincing words, Van Slyke said Cano was "the single worst third-place [hitter] I've ever seen for the first half of a season." But he had better lines than that.
"He couldn't drive home Miss Daisy if he tried. He couldn't get a hit when it mattered," Van Slyke said. Later, he referenced Cano's defensive showcase in 2015. "He played the worst defense I've ever seen at second base. I mean I'm talking about the worst defensive second baseman ever — I've ever seen in 20 years in the big leagues. He couldn't catch the ball."
Now for the actual rumors. "Robinson Cano cost the GM his job," said Van Slyke. "The hitting coach got fired because of Cano. And the manager and the coaches got fired because of Cano." It's important to note Van Slyke was one of the departed, and his theory may be influenced by that reality.
3. Clayton Kershaw wants Yasiel Puig traded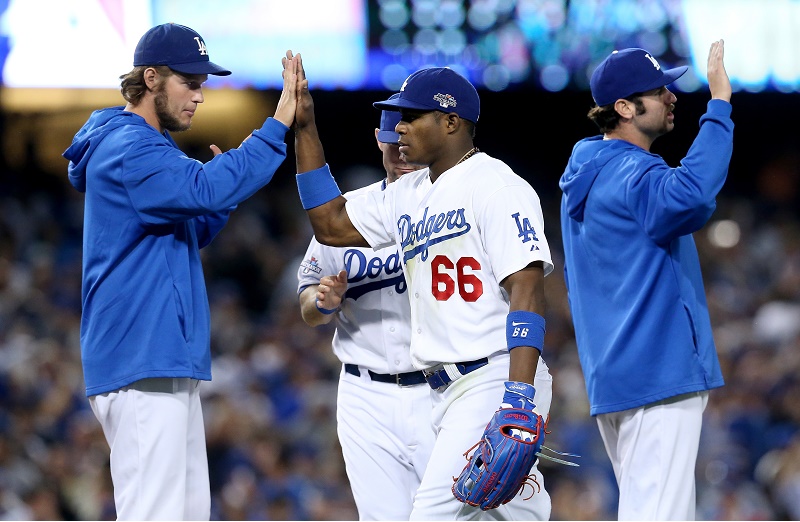 After Van Slyke was done trashing Cano on the radio, he turned his attention to Los Angeles, where he son Scott plays in the Dodgers outfield alongside Yasiel Puig, a popular lighting rod for management and fans. Van Slyke was happy to add fuel to the fire that involves the potential trade of Puig. In fact, he said it's something Clayton Kershaw told management to do.
"This is just between you and I," Van Slyke said (hilarious, considering he was on the radio). "When the best player — the highest paid player on the Los Angeles Dodgers — goes to the GM and… is asked what are the needs of the Los Angeles Dodgers, this particular highest-paid player said, 'The first thing you need to do is get rid of Puig.' That's all you need to know."
Pressed on whether he meant Kershaw or Adrian Gonzalez, Van Slyke would not specify, but obviously the best and highest-paid player is Kershaw. These trade rumors make sense, but things could get awkward in the clubhouse if Van Slyke's message is true. And that includes the possible source, Van Slyke.
4. Andrew Miller is a Yankees trade pawn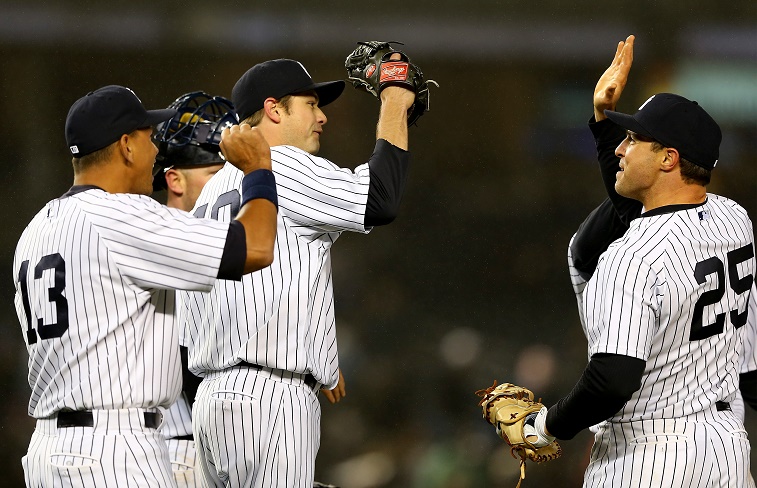 We include this as one of the more unbelievable trade rumors. If you look at the Yankees 2015 season, you would have to say Andrew Miller and Dellin Betances were the MVPs of the team. In fact, they formed a wall that closed upon the opposition around the seventh inning. So why would the Yankees want to create vulnerability with the team's biggest (possibly, only) strength?
When a reporter asked Yankees GM Brian Cashman about it, his comment suggested that any trade with Miller would have to be a blockbuster. "We're open to all ideas — as always," Cashman told Jon Heyman. "It doesn't mean I'd do anything, but if the Dutch never asked the Indians for Manhattan you'd be living in New Jersey."
If Miller's valuation is on par with Manhattan's, we're guessing no trade happens this offseason.
5. Jeffrey Loria despises his center fielder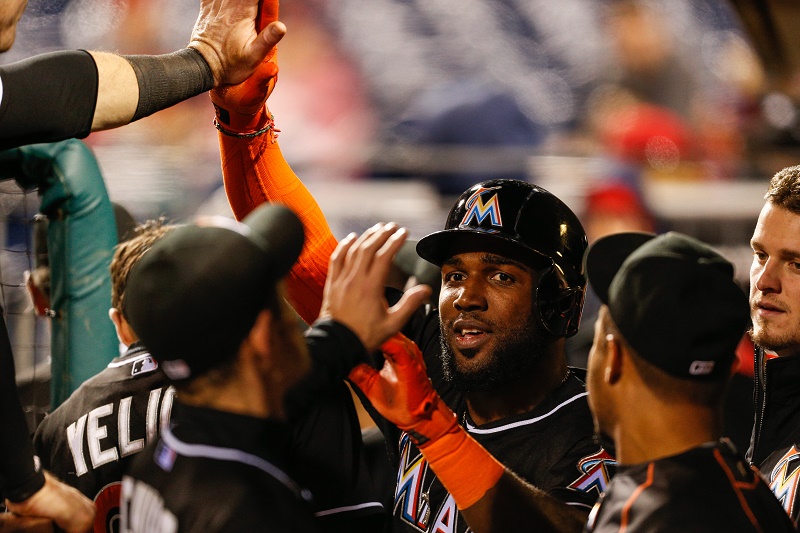 In one of the vilest (yet most believable) rumors, Marlins owner Jeffrey Loria is said to hate center fielder Marcell Ozuna to the point that a trade is almost certain. ESPN's Jerry Crasnick served up this nugget on Twitter: "I'd be surprised if they keep him," an executive told Crasnick, speaking of Ozuna. "Loria clearly can't stand the guy and everybody knows it."
But really, would a personal grudge from the owner lead to a rash personnel decision affecting the team? In Miami, such things are commonplace, which is why everyone compares Loria to George Steinbrenner at his craziest. Maybe Ozuna would be a good fit for the Cubs.
Connect with Eric on Twitter @EricSchaalNY