MLB: Scouting Yoan Moncada, Cuba's Most Coveted Free Agent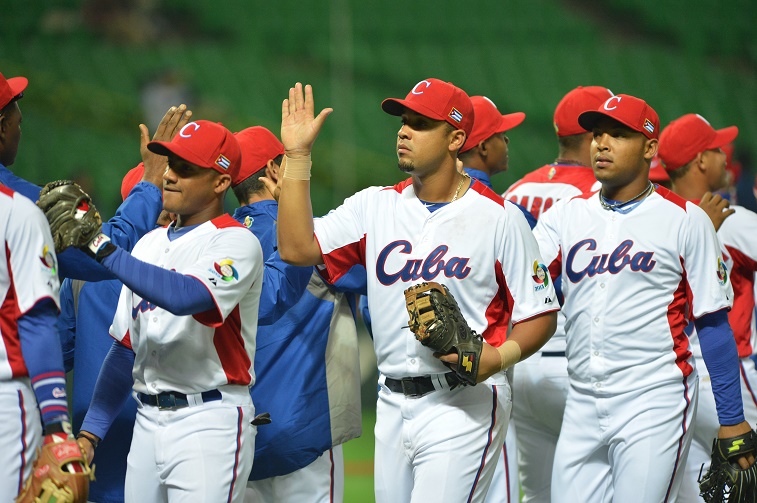 In what may be the first great result of improved relations between the United States and Cuba, Yoan Moncada has received clearance from Major League Baseball to sign with whatever club he chooses. This shift in policy officially begins the bidding process on one of the game's most coveted international free agents and the latest potential impact player from Cuba. Here is Moncada's preliminary scouting report.
Moncada: Projecting in MLB top 10
Moncada is only 19, yet his powerful build lends the 6-foot-tall, 210-pound, switch-hitting infielder the appearance of a slugger in his prime. Early reports from Baseball America marvel at Moncada's stature as well as his ability to handle every aspect of the game at an impressive level. Scouts consider there to be few prospects of Moncada's caliber because of his exceptional speed in addition to his size and power potential. Many have compared him to Yasiel Puig.
Nonetheless, Baseball America's Ben Badler was comfortable putting him in the top 12 MLB prospects, more likely landing in the top 10 once he signs with a big-league club. A similar report came from MLB scouts following Moncada's November workout for pro teams in Guatemala. The breakdown was impressive, based on a scale of 20 to 80:
Hit: 60
Power: 60
Speed: 70
Arm: 60
Field: 50
Moncada was graded on batting practice, pitching, and played multiple infield positions during the workout. MLB analyst Ron Darling liked his work at third base, but some scouts project him at second base (where he excelled in Cuba) or in the outfield because of his stocky physique. The sight of him raking from both sides of the plate and bunting for a base hit in Cuban play hint of a special player indeed.
Interest from big-market teams
Though Moncada played only two seasons for Cienfuegos in the Cuban league, his numbers (.277 BA) showed promise in what is a competitive training ground. His professional debut came after what MLB.com described as "dominating" both the 16-and-under and 18-and-under divisions in his home country. Jim Callis of MLB.com agreed with Baseball America's assessment of Moncada as a top 10 MLB prospect.
Potential suitors reveal the typical suite of big market teams like the New York Yankees, Los Angeles Dodgers, and Boston Red Sox. Considering the Red Sox signed a third baseman and outfielder/shortstop to large contracts in the offseason (along with Cuban-born OF Rusney Castillo in 2014), Boston may have its lineup set for the coming years, but they have a dog in this fight.
Teams with middle infield holes — the Yankees and Dodgers may top the list — and spending power appear to be frontrunners for the services of Moncada. New York will start the season with Didi Gregorius at short and Stephen Drew at second base, while L.A. will man its middle with newly acquired Jimmy Rollins and Howie Kendrick. Moncada would threaten the jobs of all four players once he proves himself in minor league play.
This deal will likely not provide instant offense, as Moncada is expected to begin the season in Double A, but expect every MLB team with cash to spend to be involved in the bidding process. Switch-hitting, speedy infielders with power do not come along every season. When they do, they never have Moncada's build at 19.