Blake Snell Reveals Who Was Hurt the Most After His Early Exit in Game 6 of the World Series
The Tampa Bay Rays were three innings away from forcing a Game 7 in the World Series. Their pitcher, Blake Snell, was having the game of his life before manager Kevin Cash took him out in the sixth inning.
Snell never talked about the situation in detail, simply saying he trusted the manager's call at that moment. According to the Cy Young Award winner, one person was completely devastated after he was pulled and it wasn't him.
Blake Snell was on fire in Game 6 of the World Series
RELATED: The Tampa Bay Rays Just Got Roasted by the Least Likely Source
The Rays called on Blake Snell to help them force a Game 7. He proceeded to strike out nine batters and only allowed two hits heading into the sixth inning. Snell knew he was on a roll that game, having complete focus on the task at hand.
"I don't think I'm bragging or exaggerating or whatever in saying that I was dealing in that game…I was pitching the game of my life that night…you're just 100% dialed in and focused on how to get guys out," Snell said per The Player's Tribune.
However, Snell saw something walking out to the mound that completely threw him off his rhythm. He could see fellow pitcher Nick Anderson warming up in the distance. Given he was playing the best baseball of his career, Snell was initially confused.
"It's like, what the heck? I've never been this good against such a great team. Why is this man warming up right now?" Snell said.
With his focus broken, Snell gave up a single with one out in the sixth. Cash took a timeout, walked to the mound, and pulled Snell from the game.
"Damn, I'm really about to be taken out of this game. This is really happening," Snell said.
Blake Snell's father cried for the first time after his Game 6 exit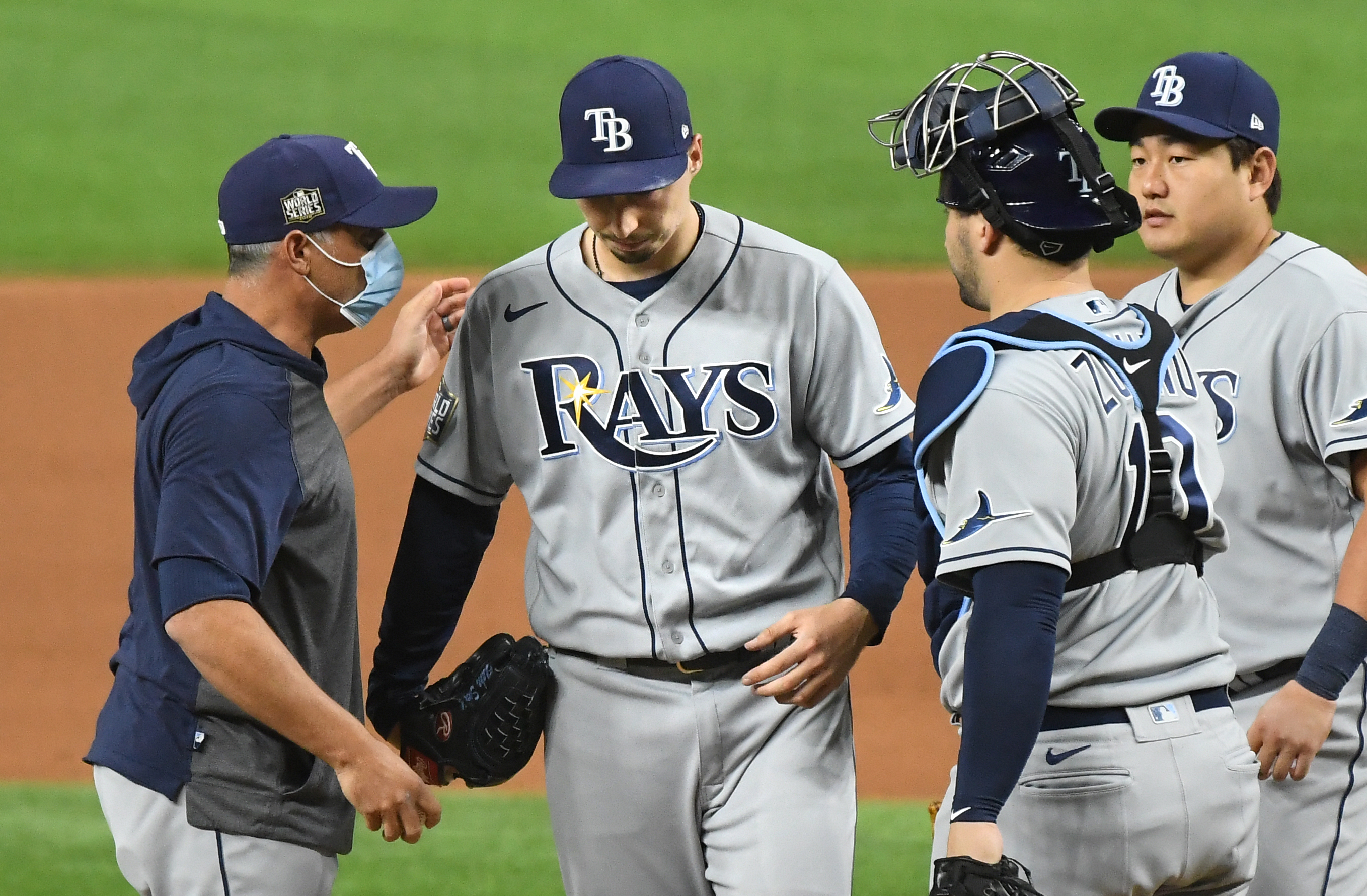 Even though Snell was pulled from the game, he wasn't the person most hurt by his exit. His father, Dave Snell, was heartbroken seeing his son leave the contest. He's never cried in front of his son before, but he couldn't hold back the tears after watching his son get pulled in Game 6.
"I FaceTimed him. My dad pops up on the screen, and he's just…bawling. I'm talking real tears, bro. I'd literally never seen that man cry. Not once. In my entire life," Snell said.
Snell and his father have gone through his baseball journey together. The All-Star pitcher recalls his dad encouraging him to play, even though he was one of the smallest players on the diamond. His father's enjoyment of watching his son dominate in Game 6 evaporated in an instant.
"He was totally ready to see me accomplish something special. Then, in a five-minute span it all comes crashing down…he was just super sad when he saw it happen. It was like the destruction of a masterpiece we'd been working on for decades," said Snell.
Snell was sad after being traded from the Rays
Blake Snell had no idea that it would be his last time suiting up for the Tampa Bay Rays after leaving Game 6. A couple of months later, the Rays traded him to the San Diego Padres. Snell could feel that something was going down because of the rumors that were swirling at the time. 
"I knew something was up because Erik (Neander, the Rays' general manager) never texted me before calling. And Tommy Pham had been hitting me up on text telling me how the Padres were interested in bringing me over. So I had a pretty good hunch," said Snell.
Snell will be joining a Padres team that has two legit stars. Fernando Tatis Jr. and Manny Machado's superstar talent have San Diego as a team that can make noise this season. Although Snell realizes the Padres' potential, it didn't make leaving Tampa Bay any easier for him. 
"There was a huge part of me that was just really, really sad…my heart was tied super solidly to Tampa…that stuff, the friendships, and relationships, having that stuff disappear, it's just…It's not easy," Snell said.
Blake Snell's exit in Game 6 of the World Series was a hard pill for his father to swallow. He wanted to see his son reach the pinnacle of baseball so bad. His dad might be sad now, but Snell has a great chance to reach another World Series in San Diego.