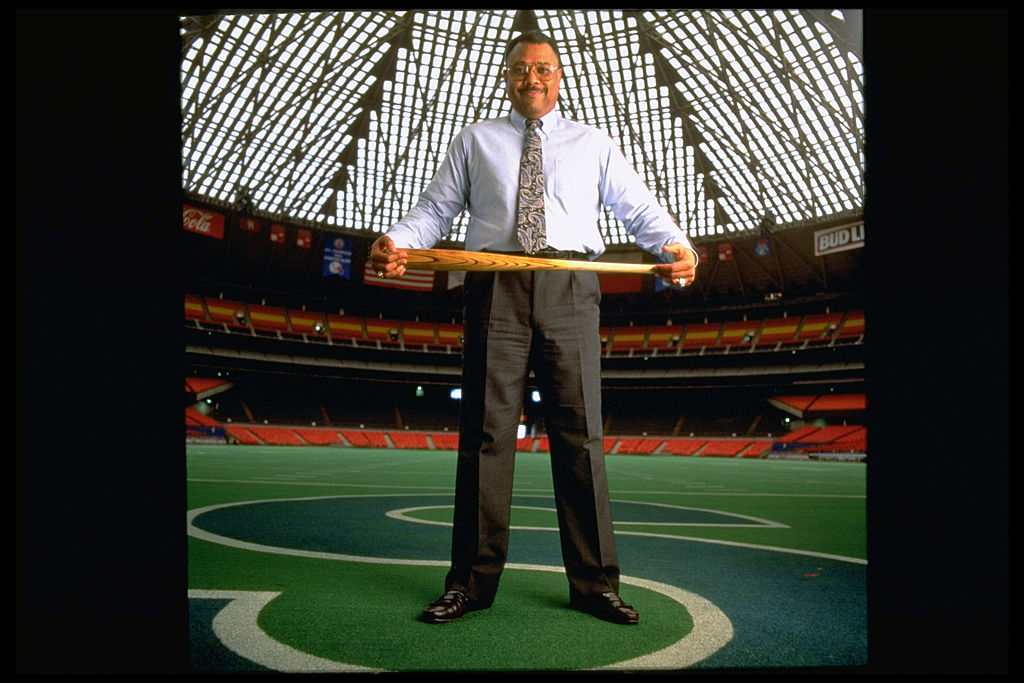 MLB Star Bob Watson Once Raced Dave Concepcion for 1 Million Tootsie Rolls
Bob Watson won a World Series as general manager of the New York Yankees but is often remembered for a milestone moment in 1975.
Dave Concepcion didn't dare break into the standard home run trot after hitting a solo shot in the bottom of the fifth inning on May 4, 1975. Instead, the Cincinnati Reds shortstop kicked into high gear and raced around the bases on an odd contest with Bob Watson, who was playing 2,400 miles away in San Francisco.
It was a one-in-a-million opportunity for both men, and Watson prevailed.
Bob Watson had a long career in baseball
The Houston Astros announced Thursday that former infielder and executive Bob Watson had died at the age of 74.  Watson played 19 seasons with four teams, retiring in 1984 with 184 home runs, 984 RBIs, and a .295 batting average over 1,832 games. He also hit .371 in 17 postseason contests.
Watson went into coaching after retirement and then became the second black general manager in Major League Baseball when he took over the Houston Astros in 1993. He took on a similar role with the New York Yankees two years later, becoming the first black GM of a World Series champion in 1996.
Watson's retirement from the Yankees in 1997 opened the door for current general manager Brian Cashman to take over. He later accepted a job in the commissioner's office before retiring in 2010.
For all the impressive accomplishments in his resume, Watson is often recalled for a quirky achievement – scoring the millionth run in MLB history.
Excitement builds ahead of the milestone
A young college graduate figured out that someone would score all-time run No. 1,000,000 during the 1975 major-league season. That attracted the attention of MLB executives, who recruited the makers of Tootsie Roll candies to sponsor a reward for the milestone moment.
A contest was held for fans to guess which player would score the run. The player would receive $10,000 – as in a million pennies – as well as a platinum watch and a million Tootsie Rolls. Major-league parks were equipped with tote boards to keep fans updated on the running total and spotters were sent to each stadium to phone in play-by-play details as each run was scored during games.
Finally, it became apparent that May 4, 1975, was going to be the milestone day. At 3:26 p.m. EDT, Claudell Washington of the Oakland A's was credited with run No. 999,999. It would be just a matter of minutes before the big moment.
Bob Watson scores the millionth MLB run
Houston Astros first baseman Bob Watson was on second base at Candlestick Park in San Francisco following a walk and one of just 27 stolen bases in his career at the same moment that Dave Concepcion of the Reds was stepping to the plate in Cincinnati.
The board in Cincinnati had just been updated with Claudell Washington's almost-historic run, so Concepcion knew that his one shot at history required that he hit a two-out home run off Phil Niekro. As luck would have it, a Niekro knuckleball acted like more like a slow fastball, and Concepcion ripped the ball out of the park.
Concepcion knew time was of the essence and started racing around the bases. What he didn't know, however, was that Milt May had just homered in San Francisco. As recounted by columnist and author Joe Posnanski, Watson was in a slow trot toward the plate when teammates started screaming at him to sprint.
Watson touched home plate at 3:32 p.m. and the spotter in San Francisco shouted his name into the phone. Less than five seconds later, the Cincinnati spotter shouted Concepcion's name into his phone.
It was only after the fifth inning ended and Concepcion took his position at shortstop that the announcement was made in Cincinnati that Watson had beaten Concepcion into the history book by about four seconds.
Watson received the money and watch and sent his shoes to be displayed at the Baseball Hall of Fame in Cooperstown.
And the million Toosie Rolls? Watson never got the candy. Instead, he asked that it be donated to the Boys and Girls Club.