MLB: The 1 Team That Should Sign Craig Kimbrel Right Now
Craig Kimbrel has been one of the top closers in the majors in recent years, but the 2019 season is underway, and he is not on a roster. He was a free agent this winter, and he remains unsigned. Reports this offseason pegged Kimbrel as seeking a five- or six-year contract with a value of more than $100 million. That was an unreasonable ask from the veteran, who will be 31 in late May, because in the current climate teams are reluctant to give long-term contracts to players in their 30s. Still, there's one team that could use a player like Craig Kimbrel in the bullpen.
Coming off a down year
One factor contributing to Kimbrel not being on a team is the down year he had in 2018. While it was a good season by most relievers' standards — he was 5-1 with a 2.74 ERA, 96 strikeouts, and 42 saves — it was a disappointing campaign compared to the numbers he put up the previous season.

In 2017, Kimbrel was 5-0 with 1.43 ERA, 126 strikeouts, and 35 saves. Only his number of saves improved from year-to-year, but that was partially due to the Red Sox winning 15 more games.
Disappointing championship run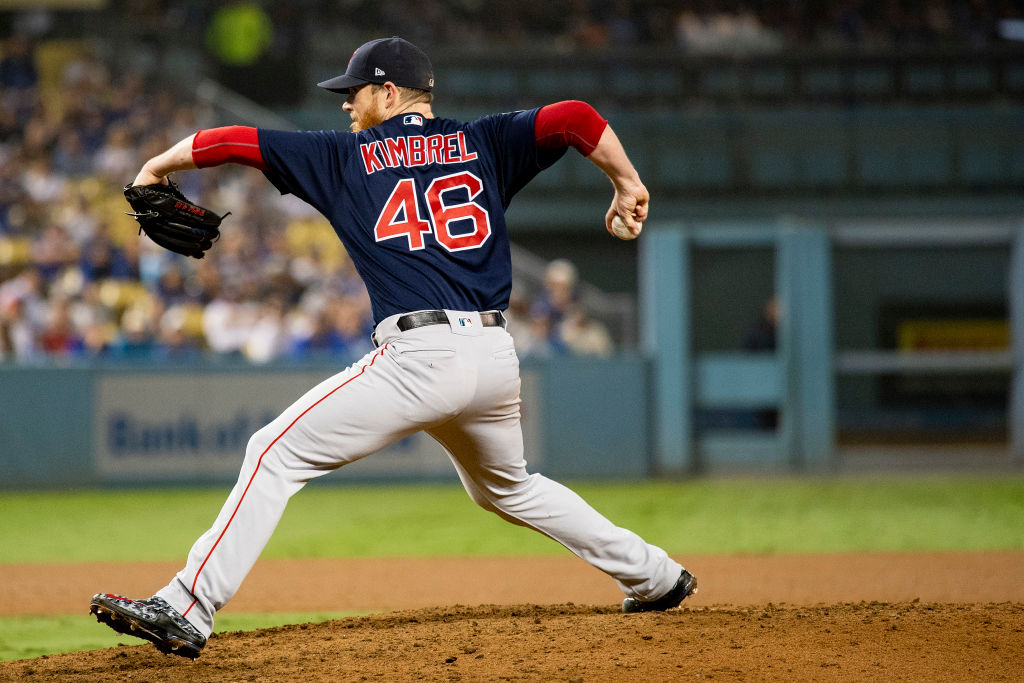 While the Red Sox won the World Series last season, Kimbrel struggled during the postseason. He appeared in nine games and was a perfect six-for-six in save opportunities, but it wasn't easy for him to close out the games. Kimbrel allowed nine hits and seven runs — all earned — in 10.2 innings of work for a 5.91 ERA. He had a subpar 10:8 strikeout-to-walk ratio and a 1.59 WHIP.

Kimbrel's career postseason numbers overall are bad compared to his regular season stats. He has a 3.92 ERA in 19 games, and he has allowed 14 hits and 10 runs — nine earned — in 20.2 innings. He has a 25:12 K:BB rate in his postseason career.
Brewers' bullpen woes
The Milwaukee Brewers may be the team that can most use Craig Kimbrel on the roster. They won an NL-best 96 games last season and look to compete for a playoff spot again this season. They do, however, have concerns in the bullpen due to injuries. Before the start of the regular season, the Brewers received bad injury news about relievers Jeremy Jeffress and Corey Knebel.
Knebel — who had a breakout 2017 season — is the bigger concern, as he has now confirmed that he will undergo Tommy John surgery, which means he will miss the entire season. Knebel had an impressive 88 strikeouts in 55.1 innings in 2018.

Jeffress, meanwhile, is dealing with a shoulder issue, but he is expected to be ready to join the Brewers by the end of April.

Are the Brewers talking to Kimbrel?
Even before news broke that Knebel would undergo the season-ending surgery, there were reports that the Brewers were talking to Craig Kimbrel and his camp. It doesn't appear that there were significant discussions between the two sides, however.
But with the season now underway and Knebel definitely out for the year, talks have reportedly resumed and heated up with Kimbrel. MLBTradeRumors reports that the Brewers are involved in "pretty serious" negotiations with Kimbrel in the early days of the season. But there is unknown if the sides can come to terms on numbers.
Brewers' bullpen without Craig Kimbrel?
With the first weekend of the season in the books, the Brewers are off to a 3-1 start after their first series against the Cardinals. They had two save opportunities in that series, and RP Josh Hader successfully converted both saves. He has struck on seven and not allowed a hit or a walk in three innings pitched over those two games.

Hader can probably fill the closer role if the Brewers need him to because he has good stuff; he recorded 143 strikeouts in 81.1 innings last season. However, the Brewers would be wise not to have him throw as many innings this season to try to keep his workload down. Adding a player like Craig Kimbrel to share closing duties or provide bullpen depth would be a smart move for a team hoping to contend for the postseason.