MLB: The 5 Best All-Around Position Players in Baseball
Naming the best all-around athletes in any sport is no easy task. MLB, it appears, has a pair of young studs who most would agree are once-in-a-generation, five-tool players who belong on this list. However, the best of the rest is up for debate. For this countdown, we ranked those ultra-special players in the league on their overall talent. Factors that came into play include the athlete's age, resume, offensive and defensive statistics, awards and accolades, and that indescribable "wow" factor. To clarify, these are our picks for the best all-around position players, so names like Clayton Kershaw, David Price, and Felix Hernandez will not be included.
General baseball knowledge defines a "five-tool player" as one who exhibits above-average skills in hitting for power, hitting for average, speed, defense, and arm strength/accuracy. Not every guy on this list is completely elite in every category, but each one is among the best in at least a few of them. Here are the five best all-around position players in baseball.
5. Jose Altuve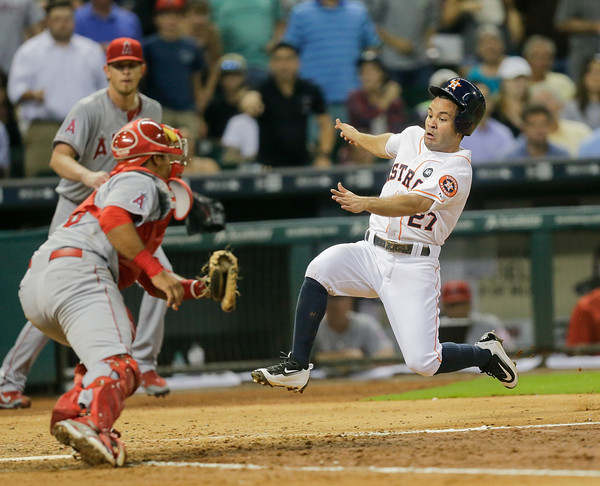 With an extremely talented and young core of players, including the likes of George Springer, Carlos Gomez, and Carlos Correa, it's not hard to overlook the remarkable Jose Altuve of the Houston Astros. The 5-foot-6 second baseman is only 25 years old, yet he already has a leadership role on this club, which made its first playoff appearance in 10 years in 2015. For our money, he's the best at his position in the game and his accomplishments speak for themselves.
Altuve has racked up three All-Star appearances, two Silver Slugger awards, and won his first Gold Glove this past season. With tremendous range and exuberant hustle in the field, plus a tremendous batting eye, No. 27 showcased some power for the first time in 2015. This past year he knocked 200 hits for the second straight campaign, including 40 doubles and a career-high 15 home runs and 66 runs batted in. His 169 stolen bases over his first five seasons give him a 162-game average of 41 in that department, making him the most well-balanced second baseman in baseball.
4. Andrew McCutchen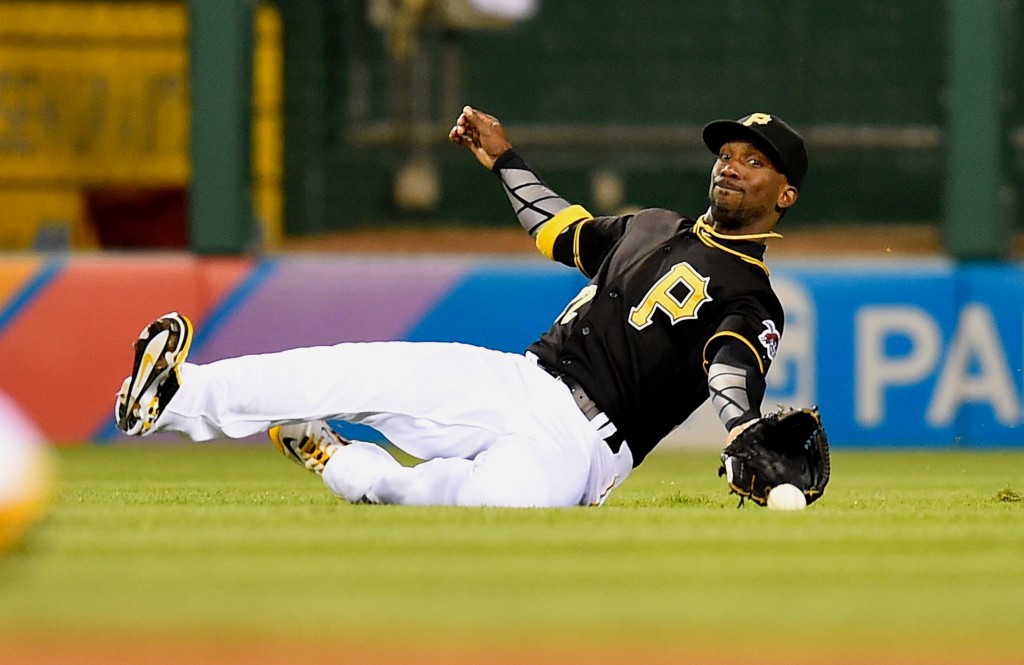 Whether he's sporting the lengthy dreadlocks or the newer, shorter look, Pittsburgh Pirates centerfielder Andrew McCutchen is a beast regardless. Much like Altuve, McCutchen has been the key cog in a recent organizational turnaround, as the previously lowly franchise has stunningly made the postseason for three seasons in a row now. The Florida native is worth his 11th overall pick status, as the Pirates' first 2005 selection has put together quite a list of awards so far.
In seven seasons, McCutchen has made five All-Star teams (five straight and counting), won the 2013 NL MVP, earned four Silver Sluggers, and a Gold Glove to top it off. The outfielder is amazingly consistent and durable too, playing in at least 146 games each of the past six years. At just 29, McCutchen already has 1,151 hits, 151 home runs, and 154 stolen bases to accompany his .298/.388/.496/.884 slash line. At this pace, somebody better get this guy's Hall of Fame plaque ready.
3. Paul Goldschmidt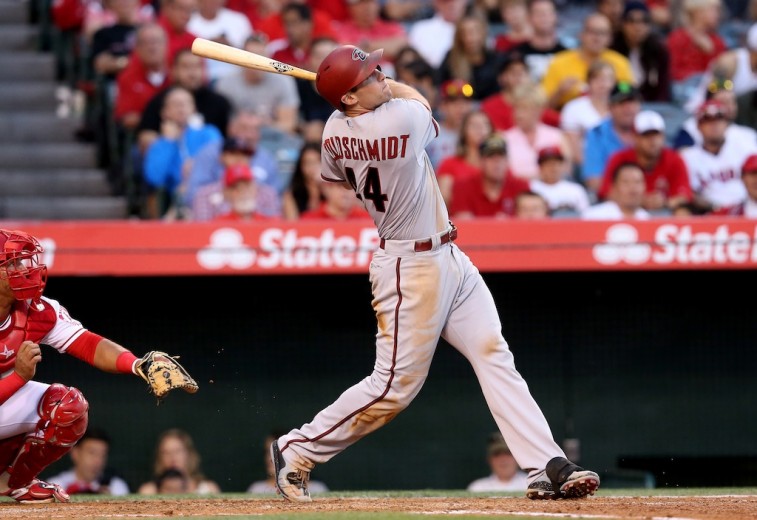 Maybe it's the fact that he plays in Arizona. Maybe an injury-plagued 2014 season made people forget about him. Whatever the case may be, Arizona Diamondbacks first baseman Paul Goldschmidt is still one of the more under-appreciated players in the league. As an eighth-round pick in the 2009 amateur draft at the age of 21, "Goldy" has flown under the radar during his entire five-year pro career.
The surefire first-round 2016 fantasy baseball draft pick made his third straight All-Star team last year and picked up his second Silver Slugger and second Gold Glove in 2015 as well. In his two fully healthy seasons (160 games in 2013, 159 games in 2015), the slugger finished second in the NL MVP race, so the praise and attention seems to be coming around at last. With 33 home runs, 110 runs batted in, a career-high 21 stolen bases, and the Gold Glove last season, Goldy is surely one of the premier talents in baseball.
2. Bryce Harper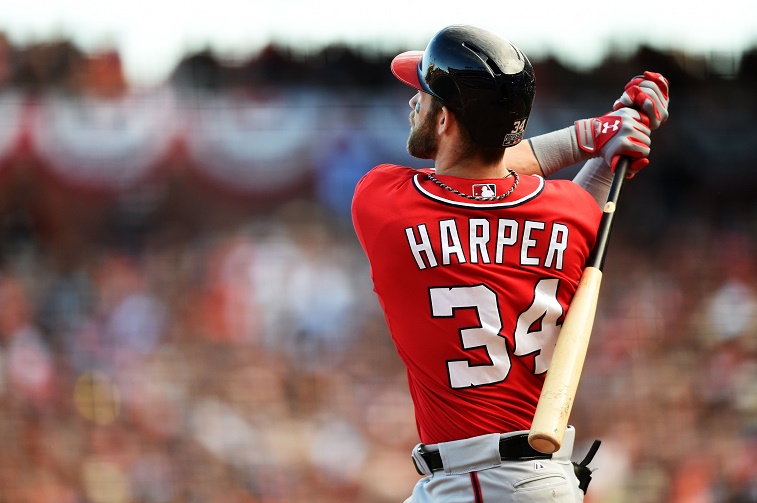 Easily the most controversial figure of this group, Washington Nationals superstar Bryce Harper comes in at No. 2 on this list. Of the five players featured, this fiery outfielder entered the big leagues with by far the most monumental expectations. Not many teenagers make the cover of Sports Illustrated and are considered by MLB scouts at around the time they also receive their driver's licenses.
After a few "eh" seasons to start his career, Harper took baseball by storm in 2015. He tormented any and all pitchers who tried to get in his way — to the tune of 42 dingers and a video game slash line of .330/.460/.649/1.109. With his MVP campaign, Harper has put some serious heat on our top-ranked player, but for now, the best in the business is still…
1. Mike Trout
What can't Mike Trout do? Seriously. As the best player in baseball, Trout also claims the title of most exciting athlete on the field. There are the walk-off bombs, the four-hit performances, the clutch stolen bases, the cannon-armed assists from center field, and the SportsCenter Top 10 home run robberies. Trout has got it all.
MLB fans are fortunate to have the two best all-around players in Harper and Trout, as they are yet to reach the age of 25. For the Los Angeles Angels of Anaheim's franchise star, sure, the mind-blowing statistics and countless accolades are impressive. But you really can't fully appreciate Trout's prowess until you see him in action. Here's to hoping that Trout stays healthy and dominant for many years to come.
Follow Victor on Twitter @vbarbosa1127
Statistics courtesy of Baseball-Reference.com and ESPN.com.